This article is about a perfect booking solution for your WooCommerce store. We will show you how WooCommerce Bookings and Appointments can help you set up a party service website where you can rent your products as well as services and manage the bookings easily.
An Overview
There has been a significant increase in demand for professionals groups who organize parties. In fact, a healthy number of people often search for these groups online. So, it makes sense to have a booking functionality on your website if you offer party services as well. And pointing out the obvious, adding reservation system can really help you streamline the bookings and manage your inventory well.
Things can really get out of hand if the bookings are not managed properly. Cancellations, clash between bookings, etc, are some of the cases where you might see the need for a robust booking software.
Interestingly enough, many little benefits come in light when you set up this facility on your website. For one, you can sell party equipment on the side as an up-sell. Renting these items to your clients won't seem a bad idea either. You can earn the few extras even when you are not working.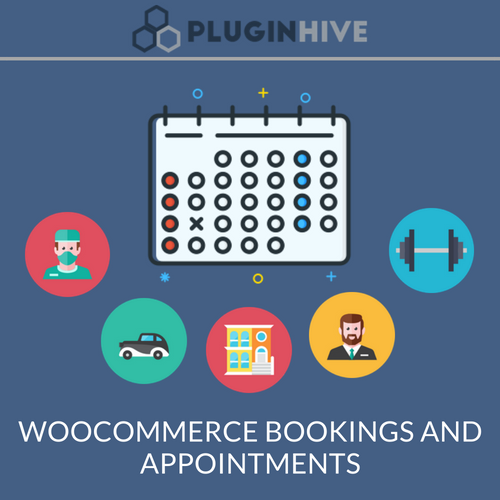 How to configure the plugin
The first thing you would notice right away post-installation is you can convert an existing WooCommerce product into a bookable product. So once you are done configuring the product, you would be able to configure the booking time period.
It's better to assume the working hours for the sake of demonstration. You can obviously make the necessary changes according to your business case. So, here we offer 4-hour slots where customers can book any one of the available three slots. As you can see in the above picture, we have also taken two 1-hour breaks in between the slots. In order to achieve this, the first thing you should be doing is defining the bookings opening and closing time, like from 9:00 AM to 10:00 PM.
The next thing you should be doing is defining the minimum booking duration. The option Minimum Duration lets you determine the least number of hours a customer can book, whereas the Maximum Duration option lets you define the upper limit.
Now that you have set up the booking period, it is now time to set the availability time. Since in this example, we want two 1-hour breaks, we have defined it under the Time Range option. Here we want a lunch break from 1:00 PM to 2:00 PM and an evening break from 6:00 PM to 7:00 PM. Please refer to the following image for the exact configuration.
The next step is to define the cost of each booking and how the rates would increase on weekends. As you can see below, the base cost of the booking is $50. We can increase this price on weekends by choosing the Range of days and then selecting Friday to Sunday as shown. So let's say we want to increase the price up to $70, so, we define the base cost $20 as shown below.
Sell extra party items
Like any other items on the store, you can also sell party supplies along with the bookings. So, let's say any one of your clients requires some extra chairs and complies to pay that extra amount. You can define chairs under the Booking Participants section where you would be able to set the minimum and maximum limits to the number of chairs. You can also define the cost of each chair by giving a value under the Per Participant Cost, as we did here.
How this works is when the booking amount is, let's say, $100 and the cost of each chair is $1, then if the customer selects 6 chairs then the plugin would display the total booking cost as $106. This is a great way to upsell some other items and earn that few extra money on the side.
The next amazing thing is the Booking Resources. So, here you would be able to add a few extra items to the booking. In this example, we are selling 100 ballons for an extra price of $8. Now, you can either choose to charge this extra amount or provide it as a free offer by selecting the Automatically Assigned.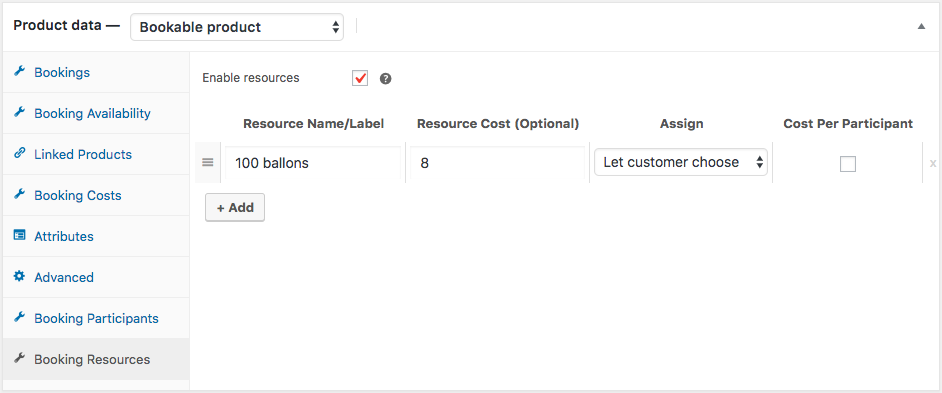 Usage
Once you are done configuring these settings, you would be able to see something like the following, just as we wanted. Your customers can see three 4-hour slots and two 1-hour breaks in between them. They can choose the number of chairs and choose the option of 100 ballons.
Sample product:
---