In this article, we will cover Aqaba Adventure Divers – one of the highly-rated adventure diving courses and accommodation providers in Aqaba, Jordan. We will check out how Aqaba Adventure Divers use WooCommerce Bookings and Appointments plugin on their website to provide a seamless booking experience to their customers.
---
---
Overview
Aqaba is a Jordanian port city on the Red Sea's Gulf of Aqaba, which is a top destination for scuba divers throughout the summers. Being set up in Aqaba, Aqaba Adventure Divers stand apart from the competition mainly because of the services and experience they provide to their customers. Apart from an amazing online booking experience, they provide a variety of scuba diving courses, as well as accommodation to their customers. They also provide group packages for schools, universities as well as various dive clubs where they can learn to dive, continue with their diving education or simply come along for some fun diving.
Now, let us check out how PluginHive's Bookings plugin for WooCommerce managed to help them set up all their services and diving courses on their WooCommerce store.
Online Scuba Diving Event Booking
Aqaba Adventure Divers provide scuba diving booking on their website in the form of the following services.
---
---
They provide Try Dives for Beginners at a one-time booking price of $50 per person. Apart from that, they do offer optional pickup from either downtown or Aqaba airport, based on customer preferences.
---
---
You can clearly see the elegant calendar based booking user interface showing the days of the July month. In this case, they have provided, a time based hourly booking with a booking duration of 2 hours. Also, they provide the diving service from 09:00 am to 05:00 pm, which they have set using the Booking Opening and Closing Time feature of the WooCommerce Bookings and Appointments plugin.
Guided Dive with Multiple Options
Apart from try diving which is mainly for the beginners, they also offer guided dives with the three options shown below.
---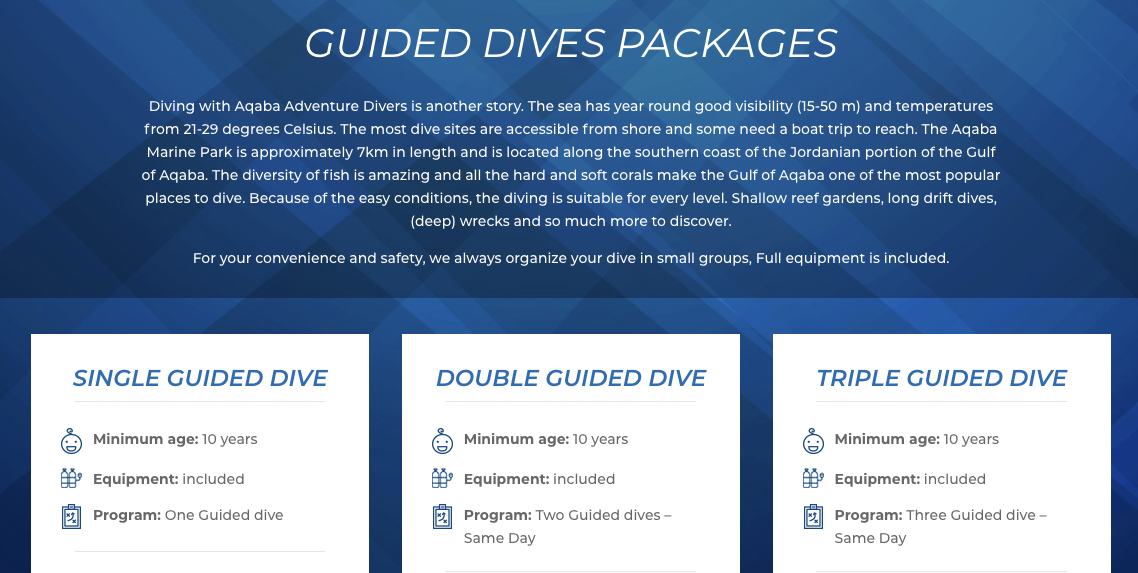 ---
Based on the customer selection they offer one, two or three dives per day where the dives will start from 09:00 am till 05:00 pm. Apart from the pickup service which they provide as an optional service, they also offer customers the choice of the diving certificate.
---
---
With the help of WooCommerce Bookings and Appointments plugin and WooCommerce Product Add-on, they allow customers to select the certificate option which allows them to select among options shown in the above image.
---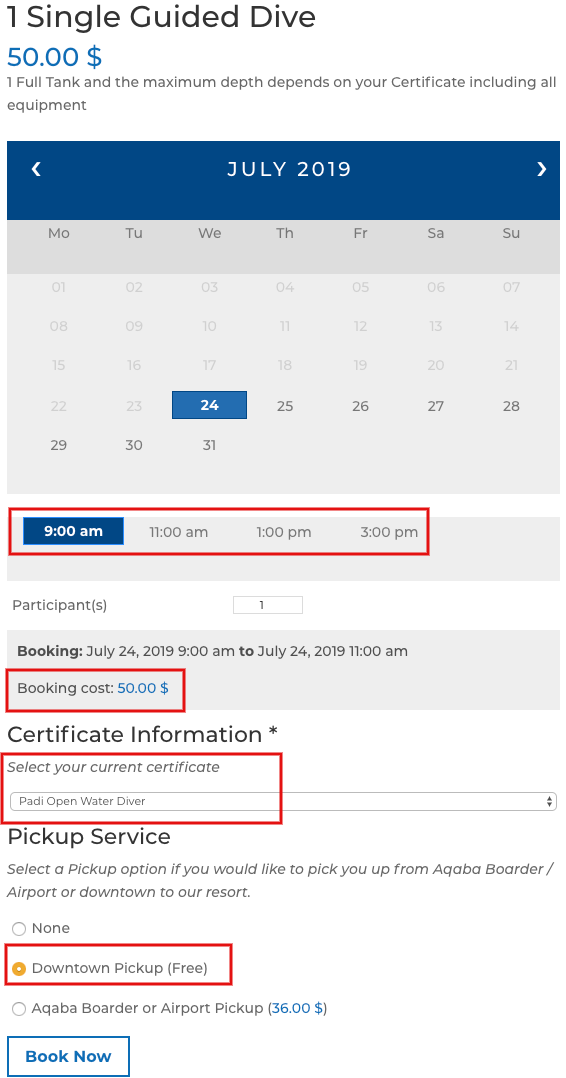 ---
Online Diving Course Booking
As mentioned earlier, Aqaba Adventure Divers also offer diving course booking on their website which is mainly divided into the following two categories:
Entry Level Diving Courses
Advanced Level Diving Courses
---
---
Aqaba Adventure Divers also provide customers with the diving course completion certificates. All you need to do is fill in the details like the Name, Phone Number and the Email ID, in the additional fields while booking the diving courses.
---

---
You can see how the additional cost of accommodation ($85) is added accurately together with the booking cost of $353 and displayed to the customer.
Online Accommodation Booking
One of the best things Aqaba Adventure Divers provide is the amazing accommodation with additional services like included breakfast and free Wi-Fi. Besides, the customers can choose from the following options mentioned in the image below.
---
---
Accommodation booking is provided for a minimum of 2 days 1 night with a fixed cost of $50 per night. Using the WooCommerce Bookings and Appointment plugin's booking cost rules and dynamic cost calculation, they can set up a per block cost of $50 and let the customer choose the number of days they want to book.
---
---
The image above displays the booking cost of $200 for a stay of 5 days and 4 nights with additional charges for pickup. The plugin also allows you to set up perfect check-in and check-out timings for your customers with just a single click.
A Professional Touch with Divi Theme
Based on the images shown in this article, you might have got an idea of why Aqaba Adventure Divers are one of the renowned online adventure diving bookings providers in Aqaba. When it comes to the website design they are using the Divi Theme by Elegant Themes – one of the most popular themes you can find for your WooCommerce store.
With the plethora of amazing features of the theme some of them which you can also use include,
Advanced Visual Builder
With the advanced visual builder, you can change the website layout efficiently as the changes will be visible on the go. This makes it easy for anyone to create amazing designs even if they don't have much knowledge about the UI designs.
Divider Shaping
One of the coolest features of this theme is that you can change the way your divider looks by adjusting the divider shaping.
Divi Layout Packs
This theme has an available layout pack for virtually every business scenario. You can visit the theme website and choose from tons of layout packs that will save you a lot of time as well as effort.
and most of all, the theme is extensively compatible with the WooCommerce Bookings and Appointment plugin. This way you can make use of all the features of the Divi Theme on your online bookings website without any hassle.
Do you want to Set Up Online Adventure Booking WooCommerce Website..?
In this article, we discussed how Aqaba Adventure Divers successfully provide an amazing experience to its customers with the help of WooCommerce Bookings & Appointments plugin. WooCommerce alone is a great platform for people who want to run their own business. By integrating WooCommerce with a robust and intuitive Online Booking System like WooCommerce Bookings plugin, even you can set up your own business.
---
Read More – How to Set Up Diving Adventure Booking with Additional Services using Bookings & Appointments plugin..?
---