Free Shipping is the go-to strategy of most eCommerce store owners when it comes to increasing sales. In this article, we will show you how to take advantage of Free Shipping to increase sales on your WooCommerce store.
You can use free shipping as a promotional tool to increase sales but at the same time, you should also make sure that you are not losing money by offering free shipping. so in this article, we will learn how to set table rate rules for free shipping.
Let us start with the Advantages of offering free shipping.
Benefits of offering Free shipping to your customers
There are lots of advantages of offering free shipping on your WooCommerce store.
Reduced Cart abandonment rate:

To most customers, additional shipping costs come as a surprise in the cart. They do not like the idea of paying extra on top of the product price, so, they decide to leave and check for a cheaper option elsewhere. Whereas, free shipping comes as a sweet surprise and encourages them to purchase from your store, thus resulting in reduced cart abandonment.

Competitive edge

: It is very easy for customers to check for the best prices when they purchase online. Customers always compare your offerings with that of your competitors before they make a decision. While you would have provided a competitive price for your product, free shipping could just be the decision making factor for your customers to purchase from you.

Buyers don't have to think:

In the absence of free shipping, online buyers are more conscious about their purchases on your WooCommerce store. They worry about adding more products to the cart, because of the extra shipping charges they have to pay.

Increase in average order value:

A promotional offer of free shipping for a minimum order value encourages the customers to add more products to their cart.

Increase in customer retention rate:

Most of the online buyers feel more comfortable to order products from the eCommerce stores that offer free shipping. Thus by offering free shipping, you will be building loyal customers.

Increase in sales:

This is the most obvious advantage of using free shipping. We have already discussed from above five advantages of how free shipping will result in better sales.
We know the advantages of offering free shipping, however, it is also true that bearing the shipping costs yourself can significantly reduce your profits. So, the best thing to take care of while offering free shipping is to check how you can save on your shipping costs.
How to reduce shipping cost while offering free shipping to your customers?
Negotiating the shipping rate with the shipping carriers:

You can negotiate the shipping charges with carrier companies based on the volume of your orders per month. Bigger the shipping volume better the negotiated rates you get from the carrier companies.

Use shipping plugin to compare shipping rates:

You can find

WooCommerce shipping plugins

which display the real-time shipping rates from different shipping carrier services. By using this feature you can compare the prices and select the cheapest shipping carrier service.

Cut down the extra charges over shipping:

Most of the shipping carriers you use will charge you extra over the actual shipping costs for things like a signature on delivery, Saturday delivery, residential delivery charges and more. Before using any carrier, read about these charges and try eliminating things that are not required for shipping packages to your customers.

Pack your product smartly

: Most of the carriers charge the shipping rate based on the package dimensions and weight. So it is very important that you pack smartly and use the best fitting boxes and for small non-fragile products to use bubble wrap.
Even with all the benefits that Free Shipping offers, it is not ideal to offer it on all the orders. Because the customer is not paying for the shipping, you have to strategize and add conditions in such a way that you do not lose money by offering free shipping. This is called Conditional free shipping and you can also use some of these conditions as promotions to drive more sales.
How to Offer Conditional free shipping?
WooCommerce store owner has to set the conditions for free shipping. Some of these conditions can be used as promotions to increase sales.
To offer free shipping based on the multiple conditions WooCommerce store owners could use shipping plugins like
WooCommerce Table Rate Shipping Pro Plugin
. Using this plugin you can add multiple conditions to provide free shipping.
Promotional free shipping:
1. Set a minimum total order amount
You can set conditions in such a way that customers can avail free shipping only when the total order amount exceeds a certain amount. This will encourage your customers to add more products to the cart to avail of free shipping.
| | |
| --- | --- |
| Free shipping if total order exceeds $50 | Customers have to pay for shipping if the order amount below $50 |
| | |
If you are confused about what is the minimum amount you need to set for the free shipping you can do this simple calculation. Calculate the average total order amount of your WooCommerce store, now just set the limit amount 10-15% more than the average order amount. So, you can encourage customers to add 10-15% more order value to the cart than they usually do.
2. Set minimum quantity of product
Similar to the minimum order amount to avail the free shipping you can set the minimum quantity of products required. You can set the condition for all the products or limit this condition only for a similar product type.
You can refer to the below image on how to set free shipping based on a number of items ordered on your WooCommerce store.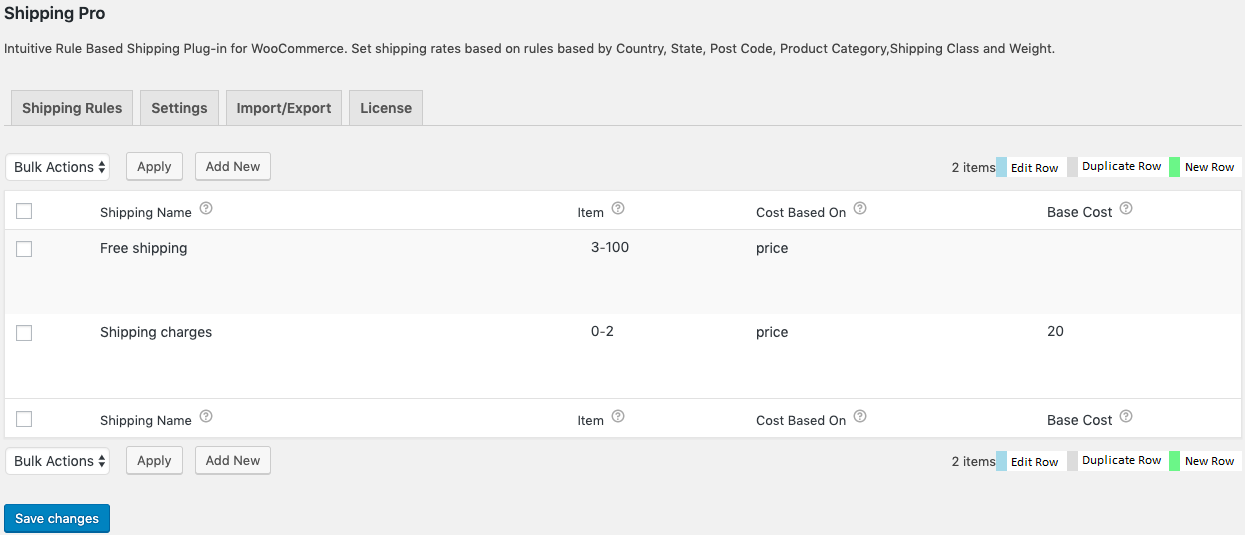 You can read this article to learn
how to set the shipping cost based on the total order amount and Quantity.
3. Only on the ground or economy services
Offer free shipping only on the ground or economy services. You can offer additional shipping methods like express shipping for a charge along with free shipping for customers to choose. At cart page make sure that you are mentioning the estimated shipping days required to ship the products for respective shipping methods. By providing ground or economy shipping services you will be able to save the shipping cost. Also if your customer needs the product soon then he can choose the express shipping services.
4. Offer free shipping only for a limited period
You can offer free shipping for a limited time, and run a marketing campaign around it. By providing the limited period offer you can turn your WooCommerce store visitors into customers.
All the above strategies can be used as a marketing promotion to increase sales. But while providing free shipping you will come across the factors which have to be considered to offer free shipping.
Conditions on free shipping:
1. Weight of the product
The weight of the product places a very influential role in the shipping cost. The cost of shipping bulky items is more compared to the regular items. In these cases, you can not offer free shipping and still make a profit. Thus it is better to offer carrier calculated free shipping rates for bulky items.
Read this article on
how to set shipping cost based on the weight of the product.
2. Type of products
Not all the products you sell on the WooCommerce store will have the same profit margin that you can use to pay for shipping. If you are selling electronics, you can offer free shipping on a laptop or mobile as you make up for the shipping charges with the high-profit margins. But when a customer places an order for a mobile or a laptop charger you can not offer free shipping because of its low-profit margin.
Conclusion
No doubt offering free shipping will increase sales, but that does not mean you offer free shipping for all cases. So we have discussed in this article the advantages of offering free shipping on your WooCommerce store. Also, we have discussed the scenarios where you could offer free shipping Finally, in this article, we have covered all you need to know on how to add the conditions for offering free shipping and also use it as the marketing promotion campaign to increase the sales of your WooCommerce store.
I hope this article has helped you with the setup of the free shipping method for your WooCommerce store and if you want any help with WooCommerce shipping you can feel free to
Contact PluginHive Customer Support
.
Good Luck!