Welcome to the world of WooCommerce! Maximize your success with some of the best WooCommerce blogs you need to follow in 2023. Stay up-to-date with trends, strategies, and insights to thrive in e-commerce. Get valuable advice, step-by-step tutorials, and expert tips to enhance your WooCommerce journey. Whether you're a beginner or experienced, these blogs offer easy-to-understand guidance on store setup, conversions, marketing, and more. Gain actionable insights, industry news, and practical strategies to boost your online business and attract customers. Unlock your WooCommerce store's potential and embark on a successful e-commerce adventure.
Here we've compiled a list of the best WooCommerce blogs that give WooCommerce & WordPress related updates and news often to help you out in difficult situations. Let's dive in!
---
This is the official WooCommerce website that gives every detail first. That is why this is more accurate. New features or product feature upgrades are initially revealed on this page, so stay up with it.

The WooCommerce blogs for developers and owners contain not only updates, but also tips, methods, and eCommerce inspiration from WooCommerce specialists. They also provide helpful guides for newcomers to the industry.

The primary blog categories include selling online, marketing, shipping, customer stories, and business ideas. The topic category for this blog reflects how informative it could be.

There is also a blog for developer resources only, which offers low-level documentation regarding features, libraries, extensions, and other components of WooCommerce architecture, which could be helpful while developing plugins for WooCommerce, Instead of hiring WooCommerce developers. Though, hiring one would be beneficial for you in terms of managing your store made easy.
---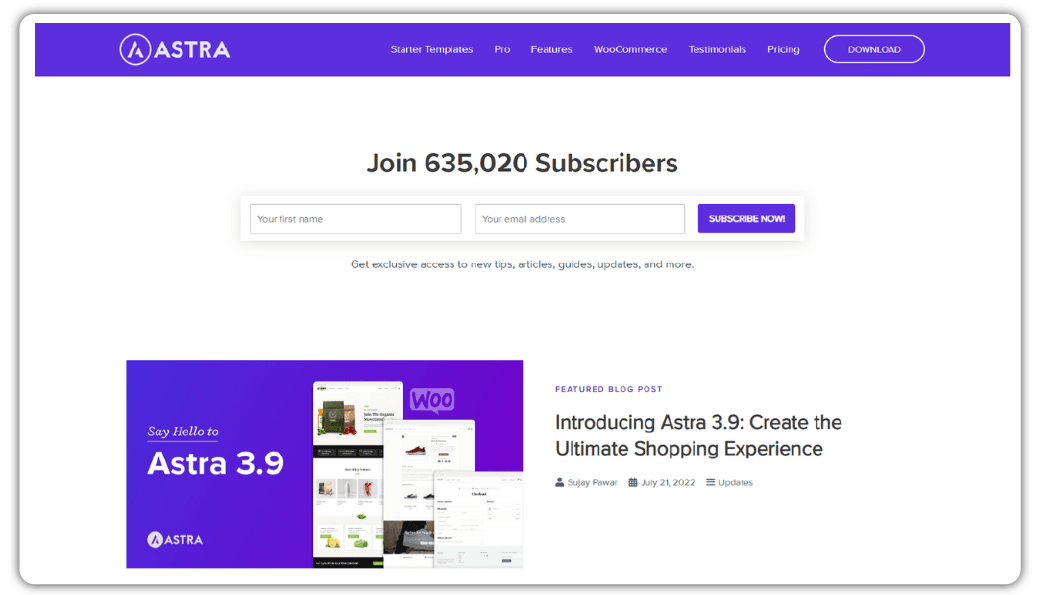 The Astra WooCommerce blogs are the go-to for a wide range of WordPress subjects. The aim of the blog is to make information accessible to anyone, at any skill level. Most posts are actionable how-to posts covering website design and build, setup, optimization, and similar topics.
The Astra blog also covers more in-depth topics like setting up eCommerce, optimizing images, onsite SEO, and other WordPress-related subjects. All are written in plain English with lots of screenshots to show and tell.
The blog started small but is growing rapidly in terms of readers, subscribers, and influence. It is becoming a prime resource for anyone interested in WordPress, from beginners all the way up to web design agencies.
---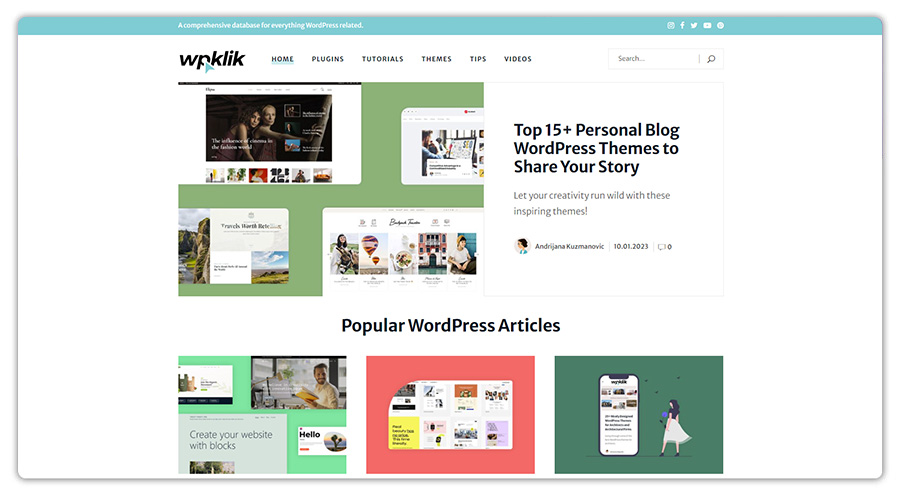 Created as a go-to source for all your WordPress needs, WPKlik WooCommerce blogs provide a wealth of precious information, tips, and tutorials. As such, it is an indispensable companion to all WordPress users, from beginner to expert.
While it focuses on other niches too, WPKlik is an excellent resource for WooCommerce users, as it covers everything from setting up shop, using the default functionalities, extending them with plugins, and picking the right theme or template for your shop.
The tutorials offered on WPKlik are comprehensive and easy to follow, ensuring that even total newbies can dive into the world of WooCommerce with confidence.
Furthermore, WPKlik offers valuable recommendations for choosing themes and plugins, helping users find their way easier through the wealth of available options. These handpicked suggestions are carefully curated based on their quality, functionality, and reliability, and, as such, they are a tremendous time-saver to users in search of the perfect additions to their WooCommerce websites.
The blog regularly publishes articles on new features, updates, and trends, ensuring that readers are up to date with the latest WordPress innovations.
---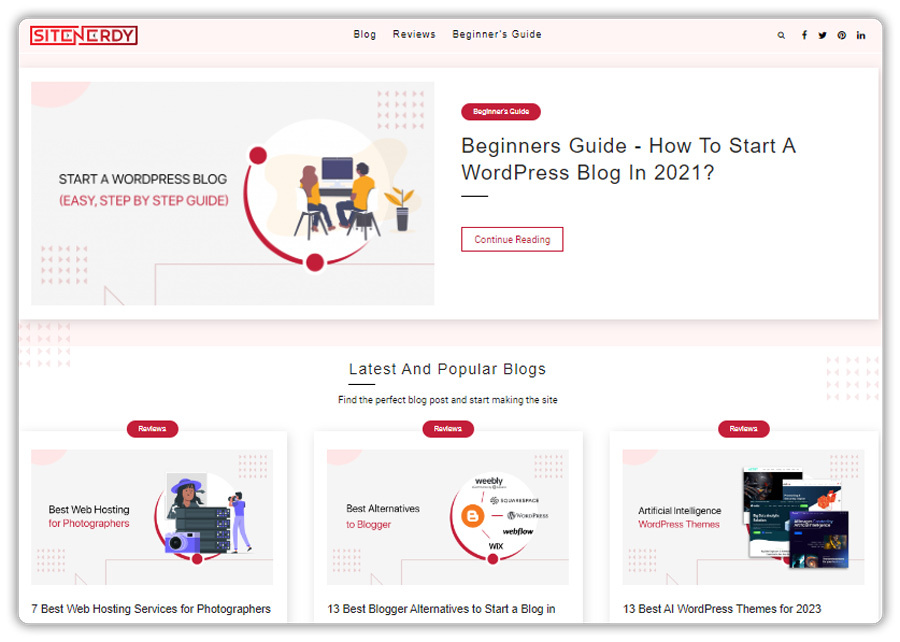 SiteNerdy is more than just a hub! It's your ultimate wingman in the world of website building and management.
A team of dedicated WooCommerce enthusiasts runs this treasure trove of knowledge. Every article demonstrates their enthusiasm for the platform. Further guaranteeing you receive knowledgeable advice from professionals in the field. You can find comprehensive tutorial guides covering everything from store setup and customization to advanced features. Along with different WooCommerce plugin reviews, comparison articles, inspiring tales of WooCommerce store owners, and so much more.
With their clear instructions and practical examples, you can become a WooCommerce pro in no time. Notably, SiteNerdy keeps you in the loop with regular articles highlighting new features, updates, and trends. This helps you stay ahead of the curve and make informed decisions for your WooCommerce store.
From actionable marketing strategies to aesthetically pleasing design with an engaging writing style, you get it all in one place. So what are you waiting for? Go to the SiteNerdy website right now and unleash the full potential of your eCommerce venture.
---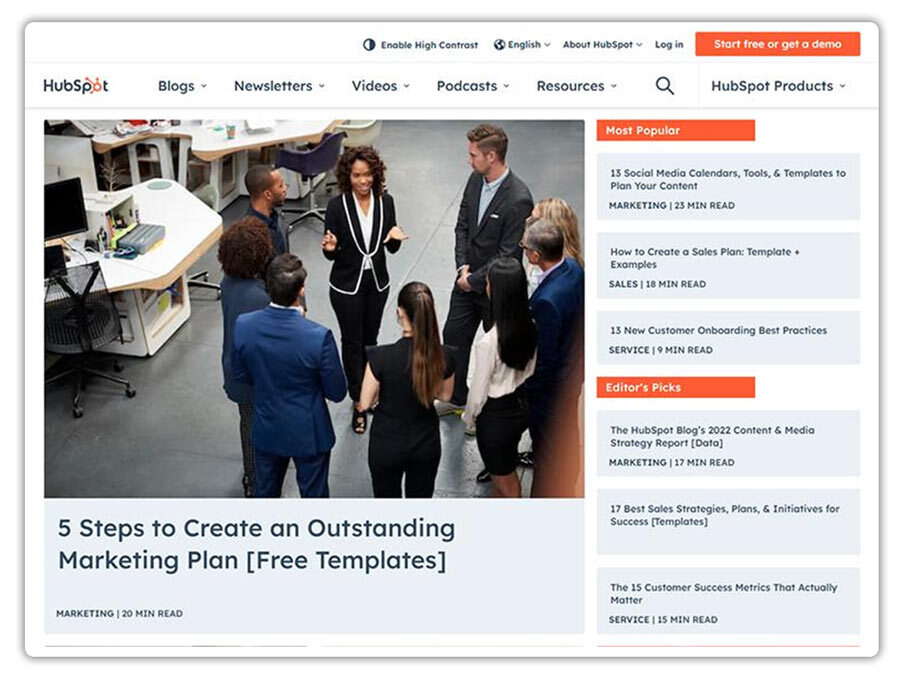 Hubspot provides you with knowledge on WooCommerce for free. Their WooCommerce blogs are the source of useful tips, newsletters, videos, podcasts, and other materials such as ebooks, manuals, and more.

Other areas in which they excel include customer retention, sales process, qualification, customer experience, marketing, and so on.
Hubspot provides evergreen and increasing information that can benefit everyone from developers to purchasers and owners.
---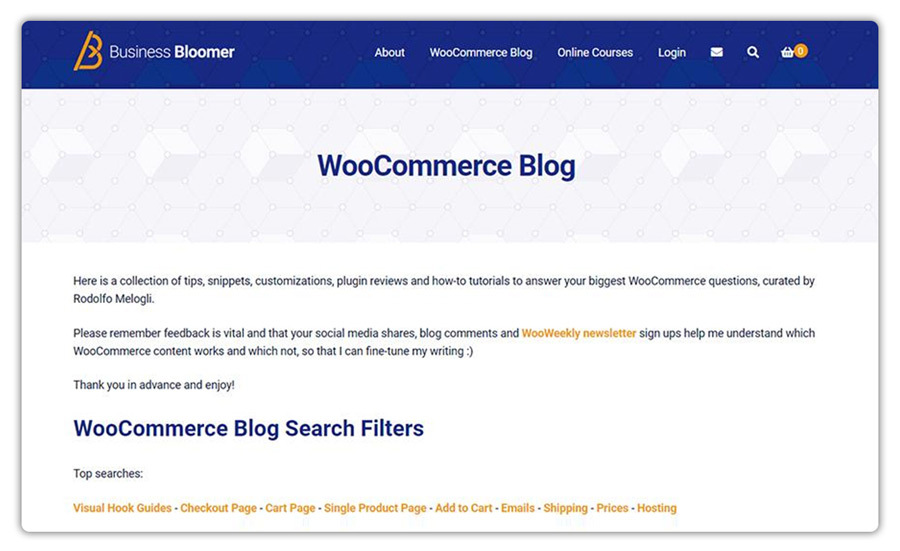 Although it is not the official WooCommerce blog, it does contain authoritative WooCommerce content. It contains a collection of tips, excerpts, and articles that will help you answer your most pressing WooCommerce customization questions. If you're more experienced with coding, you might wish to visualize the WooCommerce "hooks" – the popular "Visual Hook Guide Series," where you can find all the WooCommerce PHP operations in a user-friendly fashion.

They are well-known for their excellent resources. As well as video lessons and tutorials made them unique. They provide subscribers with weekly WooCommerce email roundups. This allows you to stay up to date on their WooCommerce details.
---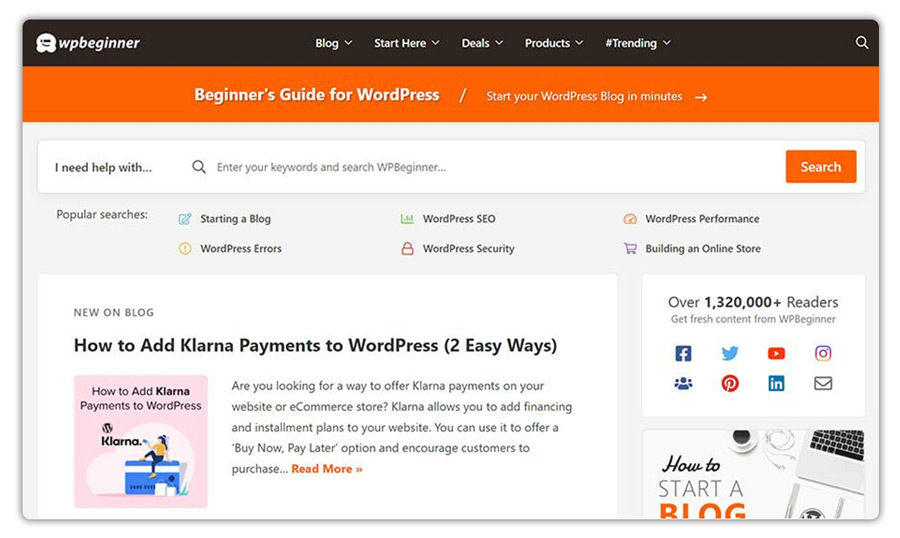 WPBeginners is one of the major blogging platforms in the field of WordPress and WooCommerce, and it is a must-read for newcomers to fully grasp the concept of this subject. It covers everything in detail, from a WooCommerce step-by-step lesson to the definitive WooCommerce SEO guide.

They provide a beginner guide containing topics such as how to start a blog, create a website, WooCommerce SEO, and so on. One of the best aspects of this website is that it offers blogs on the best plugins and themes for various scenarios that arise during the development stages. A lengthy How-to guide is undoubtedly for those seeking comprehensive knowledge on the subject.

Other categories in which they thrive include beginner's guides, news, opinions, plugins, themes, tutorials, and so on.
---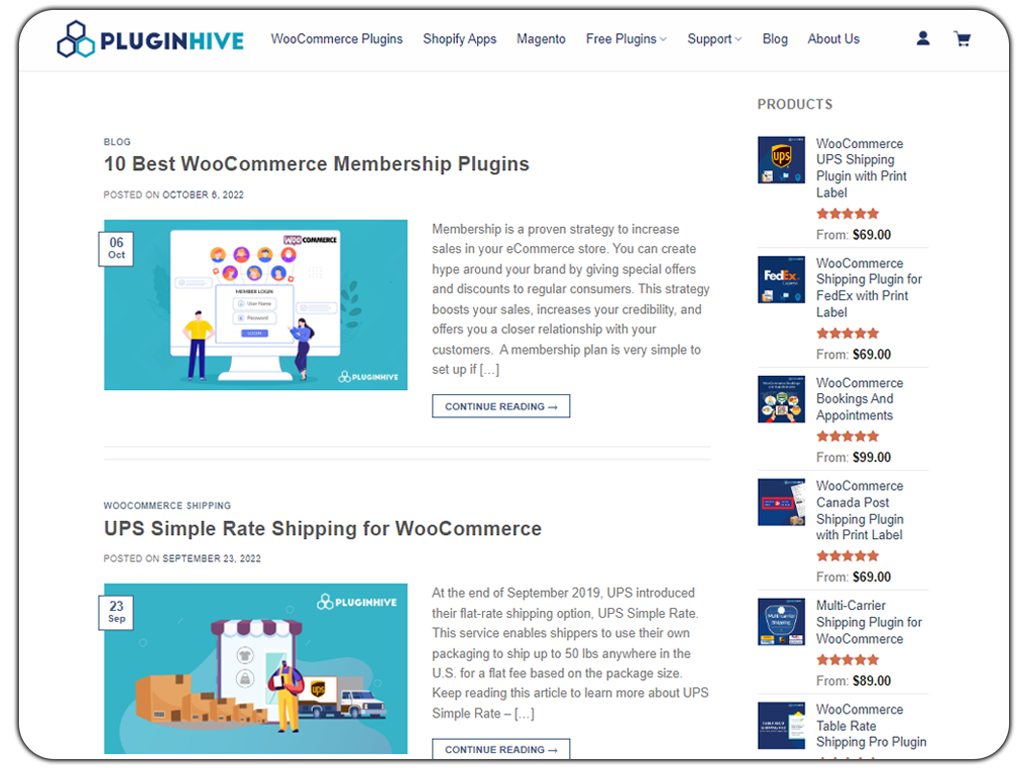 This website will let you share information about WooCommerce plugins. The majority of PluginHive's blogs are published in the context of reviewing various functional plugins. Specifically, shipping plugins, multi-currency plugins, best discount plugins, and so forth.

Bookmark this website if you want an instructive article on plugin selection or a review of the WooCommerce plugins. In short, PluginHive is the best source of knowledge on WooCommerce plugins.
---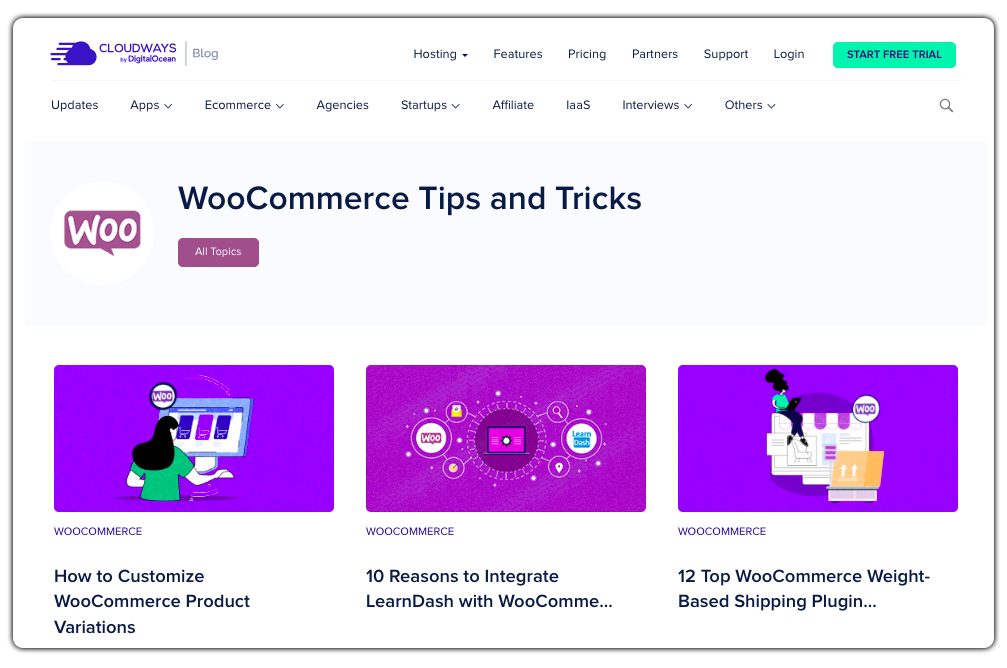 The Cloudways Blog provides easy-to-understand insights, strategies, practical advice, and the latest deals and offers tailored for WooCommerce users.
You get step-by-step tutorials and optimization techniques that will help you enhance your online store's performance. From increasing sales conversions to creating a seamless user experience, the blog guides you through the process in a beginner-friendly way.
The Cloudways blog also helps you to stay up to date with the latest updates on WooCommerce features, and learn expert tips and tricks to make the most of your store. Their WooCommerce blogs demystify complex concepts and provide clear explanations so that you can implement effective marketing strategies without feeling overwhelmed.
Cloudways blog is organized in a user-friendly manner, with categories covering everything from store design and development to search engine optimization(SEO) and security. Whether you need guidance on choosing the right theme or want to ensure your store is safe from online threats, they've got you covered.
---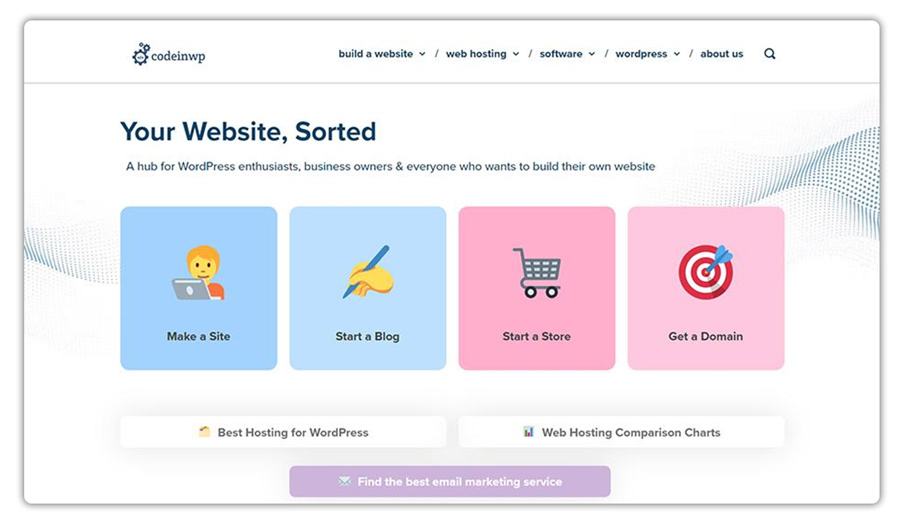 WP, as the name suggests, blogs about WordPress as well as WooCommerce. The major focus of this website is on how to improve your business with WooCommerce. CodeinWP answers common challenges that happen while designing and operating a WooCommerce website or store to assist developers.
It also publishes content for non-tech-savvy readers. This website contains several blog posts covering issues such as SEO, hosting, security, plugin collections, and more. It also provides a plugin comparison study to assist you in selecting the best solutions for optimizing your website. Code in WP is a must-read blog if you plan to utilize WooCommerce to establish your eCommerce store.
---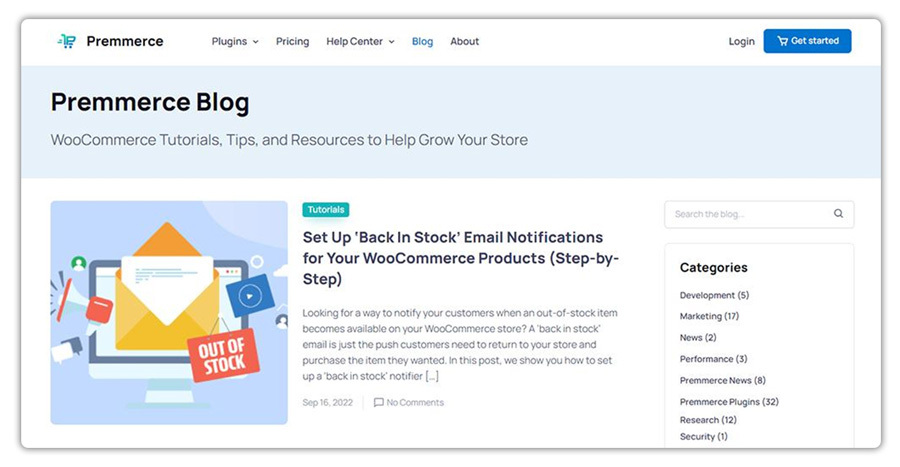 Premmerce offers WooCommerce lessons, ideas, and resources to assist you in growing your store. The major goal is to provide complete information about WooCommerce, from setting up your business to keeping it working properly.
They cater to the following categories: development, performance, marketing, plugins, security, SEO, tutorials, and especially "What's new." They also provide WooCommerce tutorials and step-by-step instructions for beginners.
---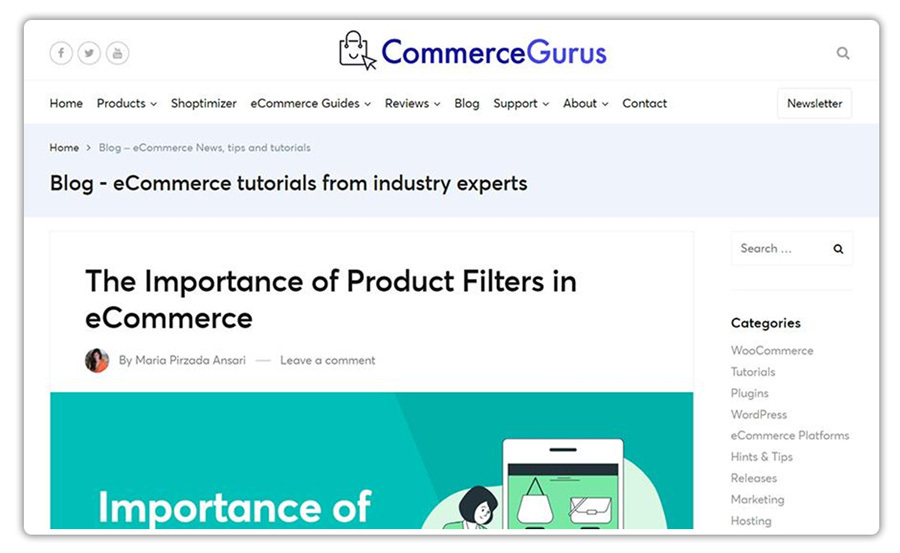 CommerceGurus is a blog that offers eCommerce tutorials from industry gurus. Their primary purpose is to deliver useful eCommerce guides. WooCommerce is one of their key categories. Shopify, tutorials, online selling, Magento, marketing, and eCommerce platforms are among the others.
Many of their articles also include neither step-by-step guidance on activities (such as creating a 404 error page). This makes it great for beginners who are still learning to know WooCommerce.
---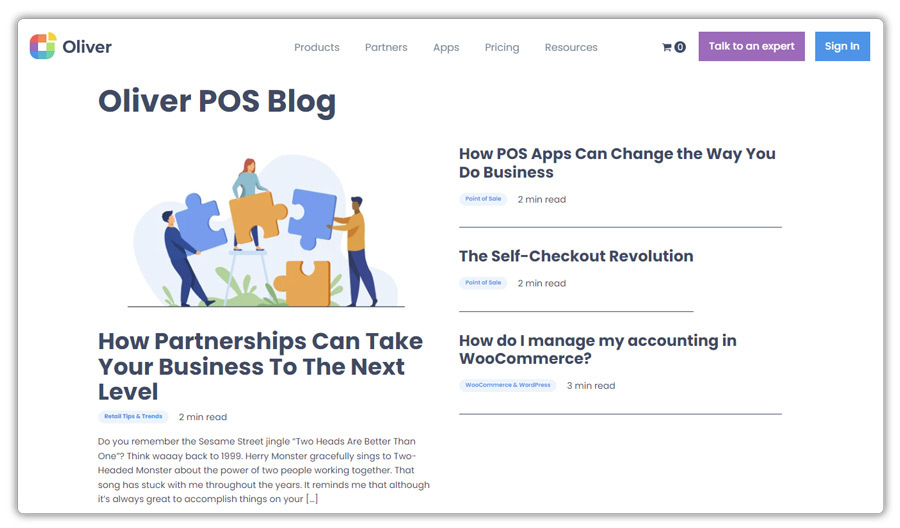 The Oliver POS blog covers a wide range of topics about WooCommerce and, more generally, selling online and in-person. In terms of WooCommerce guides, there is quite a selection to browse: everything from choosing to host to managing high-volume inventories to payment processing. Whether you have been using WooCommerce for a while or are brand new to the platform, this blog is sure to have something for you.
This blog is unique for a couple of reasons. As one would expect, there are lots of guides specifically about WooCommerce-specific POS systems and other aspects of brick-and-mortar commerce. Furthermore, the Oliver POS blog has lots of guides pertaining to its own POS product, which is one of the best in the WooCommerce market.
---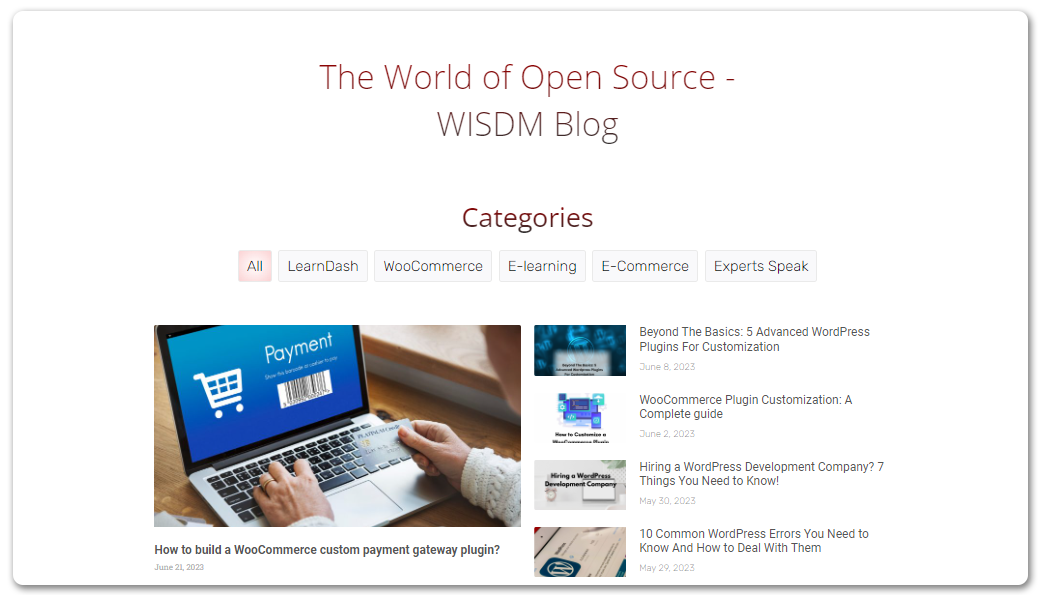 WisdmLabs stands out as one of the leading authorities in the list of WooCommerce blogs, making it an indispensable resource to follow. With their extensive knowledge and expertise in the WooCommerce ecosystem, they deliver valuable and up-to-date content that caters to both beginners and experienced users alike.
Their blog serves as a comprehensive hub, covering a wide range of topics related to WooCommerce, including best practices, tutorials, tips, tricks, and industry insights. What sets WisdmLabs apart is its ability to simplify complex concepts, ensuring that readers can easily grasp and implement the advice.
On the WISDM blog, you can find articles about WooCommerce development, migration, top tools, industry trends, and news, among other things. They also have resourceful How-to guides and E-books.
---
Stay updated with the best WooCommerce blogs
There you have it! With these best WooCommerce blogs at your fingertips, you're equipped with the knowledge and resources to excel in the e-commerce world. Stay ahead of the curve, implement the latest strategies, and watch your online business flourish. Remember, success comes with continuous learning and adaptation. So, make it a habit to follow these insightful blogs, stay inspired, and keep exploring new possibilities.
Here's to a successful and thriving WooCommerce journey in 2023 and beyond!