Building an eCommerce website is a delight nowadays with more and more online solutions constantly emerging. You have some amazing SaaS platforms like StorePep, Shopify, and BigCommerce, and some powerful WordPress solutions like WooCommerce. Surely, with the help of these platforms, you could plant the seed for your online store and watch it grow.
But what's changing in 2019?
Lately, SaaS models have been working hard to keep up with WordPress, but simply aren't able to do so. With versatility coming in hand with WordPress, you could be running a food blog on day one and selling furniture on day two. Something that you would miss on using a SaaS-based platform.
You could install any eCommerce plugin and turn your WordPress website into a fully functional online store. This very nature of quick transitioning and adaptability makes WordPress so desirable. And honestly, nothing beats it.
By looking at this trend, it's apparent that these eCommerce plugins play an important role in pushing WordPress into the world of eCommerce. For the very same reason, we've prepared the list of best WordPress eCommerce plugins in 2019. So please follow along, and we'll help you narrow down your pick.
Getting started
Most users generally like to test the plugin out before they make their website live. We suggest the same. But those who are in a hurry, or looking for an alternative eCommerce plugin can check out the following checklist.
WooCommerce
BigCommerce
Jigoshop
Easy Digital Downloads
WP eCommerce
Ecwid E-commerce Shopping Cart
WP EasyCart Shopping Cart and eCommerce Store
Now, for those who are still here can continue with the reading.
Best WordPress eCommerce Plugins in 2019
It's important to know what features make an eCommerce plugin successful. But once you figure out the prime features, the next step is to compare individual plugins with others which will eventually help you in making the right decision.
While comparing the plugins, you may find one or more additional features that are unique with respect to their respective plugins. So it's very important to find out these unique features as they can affect your decision. So keep reading and learn about these plugins well.
1. WooCommerce
WooCommerce, without a hint of doubt, tops this list. It is definitely the most popular eCommerce solution even outside of the WordPress ecosystem and for obvious reasons. WooCommerce is a free WordPress plugin that converts your WordPress website into a functional eCommerce website.
WooCommerce was created as an addition to the Jigoshop back in 2011. But it was later acquired by Automattic, one of the core contributors of WordPress, in the year 2015. After the change in ownership, WooCommerce has grown drastically and still continues to win new customers every day. Although WooCommerce is free, there's no cap on its extensibility. Meaning it will easily support unlimited products, visitors, pages, posts, etc., as long as your web hosting can handle it.
The best thing about WooCommerce is that you can expand its features by installing plugins. There are many premium themes for WordPress that will help you set up a beautiful Shopping Cart and Product Page. You could also install some feature-specific plugins to improve your store's functionality.  For example, the WooCommerce Bookings and Appointments will help you set up bookings and manage appointments on your website. It goes for $99, which is a lot cheaper than the one offered by WooCommerce at $249.
There are many other application-specific plugins like Shipping plugins. WooCommerce FedEx, WooCommerce UPS, and WooCommerce Table Rate plugins are few top plugins in the market. You may check out other WooCommerce Shipping plugins from the list and expand your store.
Why WooCommerce?
Store owners do not have to spend any money in order to own WooCommerce. Most of the themes and plugins offered by WooCommerce are Free or at the least comes with a Free version. This shows that WooCommerce is an economical way to start an online shop.
Since this plugin is owned by Automattic, one of the core WordPress authors, you can expect almost no issues with it. It also means that you're going to get regular updates and everything will be taken care of. Probably one of the many reasons why this plugin is quite popular. There are many other big plugin authors like, PluginHive, who offer such level of update facilities and provide top-notch premium support to the customers.
With WooCommerce installed on your website, you can pretty much do anything. You can sell digital goods, offer subscriptions, and provide appointments for bookings. There many in-built features like payment gateways and shipping options, that allow you to make your store online within minutes.
There are hundreds of themes available that are specifically designed keeping WooCommerce in mind. Which means that you won't be troubled with any type of integration issues.
Lastly, another great thing about WooCommerce is that anyone can use it. You may be a beginner or experienced user, WooCommerce will serve you well. The overall interface is made easy for newcomers, while the REST API and other open development features allow the pros to make any customization they desire.
You can start your online store with WooCommerce by checking out our ultimate WooCommerce tutorial for beginners.
2. Easy Digital Downloads

As the name suggests, this eCommerce plugin is simple to use and is quite intuitive when it comes to managing and selling items. Almost all users who use Easy Digital Downloads(EDD), use it for selling digital items. While you can also digital items and product with plugins like WooCommerce, EDD makes it more personal. And you should seriously consider EDD if you only sell items like eBooks, PDF files, video files, and other digital goods.
EDD is free to download. Which means that you can immediately download it, set up digital goods, set up coupons, set up store pages, and get going. With this plugin, you can easily set up advanced features like file access control and customers activity tracking. You can also install some famous themes and make your product galleries look more appealing to customers.
The overall process is simple as well. As soon as someone makes a purchase, the system automatically sends an email containing the download link to the buyer. And just so you know, EDD comes with built-in Shopping Cart and Checkout Page, so your visitors don't have to spend much time and can minimize the number of clicks needed.
You have the option to upgrade to a yearly subscription. The price starts as low as $199/year and goes all the way up to $899/year for complete access. The yearly plan bundles in customer support, site licenses, and regular updates. To help you start and get going, you'll also receive a few extensions for email marketing and payment gateways. You can obviously download other extensions. MailChimp, for example, can be installed for just $49, while there are other free add-ons in the library waiting for you.
Why EDD?
Like we mentioned before, EDD works great with digital downloads and thus, should not be used to sell physical products. It also comes with features that support advanced solutions that'll help you sell eBooks, music, documents, videos, and other similar items.
You can explore the Extension Library in order to find the right add-on(s) for your online store. There are some amazing add-ons that allow you to create a more advanced digital shop. Allowing you to set up things like frontend submissions for digital items and including software licensing to digital products.
You can also include some great payment gateways that will make the day easy for your buyers.
Since the main plugin(EDD) is free of cost, small business owners, YouTubers, artists, etc., will have no trouble installing, implementing, and generating revenue.
Also, advanced users and developers will love this plugin as they have access to the REST API. So say welcome to easier website customizations.
EDD comes packed with a built-in shopping cart, discount and coupon codes, customer management, data collection, and reporting. You'll also get features like refund tracking, affiliation systems, mailing lists, and much more. All these features make this eCommerce plugin quite special.
3. WP eCommerce
Many WordPress users consider WP eCommerce as a good alternative to WooCommerce. One of many reasons is WP eCommerce's setting process is almost similar to that of WooCommerce. Which also means that the plugin is easy to use, which is indeed true. Apart from having a similar installation process, the plugin also comes with almost similar Dashboard interface and have a similar pricing model.
So you can download the plugin for free, and later choose to install the paid add-ons if you'd like to expand or add features. WP eCommerce comes with a Gold Cart extension which is sort of like the premium version of the plugin. This premium extension is priced for $99 for a single site, and offers features like premium payment gateways, live search, and comes with a Grid view for your products in your gallery.
But if you're a kind of person who likes to focus on the functionality then WP eCommerce is a treat, but only in some cases. For instance, Advanced shipping options are given for free with WP eCommerce, while WooCommerce asks you to pay. On the other hand, the Product review is a feature given for free with WooCommerce but not with WP eCommerce.
The customer support by WP eCommerce is simply amazing and you can go further with an extra helping hand along with you. The 30-day access to premium support costs $49, and the yearly cost is $499. It might sound costly, but we can see this as more of a solution for beginners who want support, as opposed to the self-research you'll have to go through with WooCommerce.
Why WP eCommerce?
WP eCommerce is good replacement for WooCommerce. But if you're someone who can't imagine going through the setting process and then WP eCommerce is one for you. The premium customer support, although paid, can be much more helpful than what you would find with WooCommerce.
You have the ability to expand your online store with the add-ons that WP eCommerce offers. Many WordPress users and business owners enjoy the flexibility these extensions have to offer. You don't have to spend a lot of money on the add-ons as WP eCommerce comes packed with most features that are necessary for an eCommerce store.
If you're someone who is aware of the WooCommerce environment and how the plugin works, then using WP eCommerce should be difficult to start with.
4. BigCommerce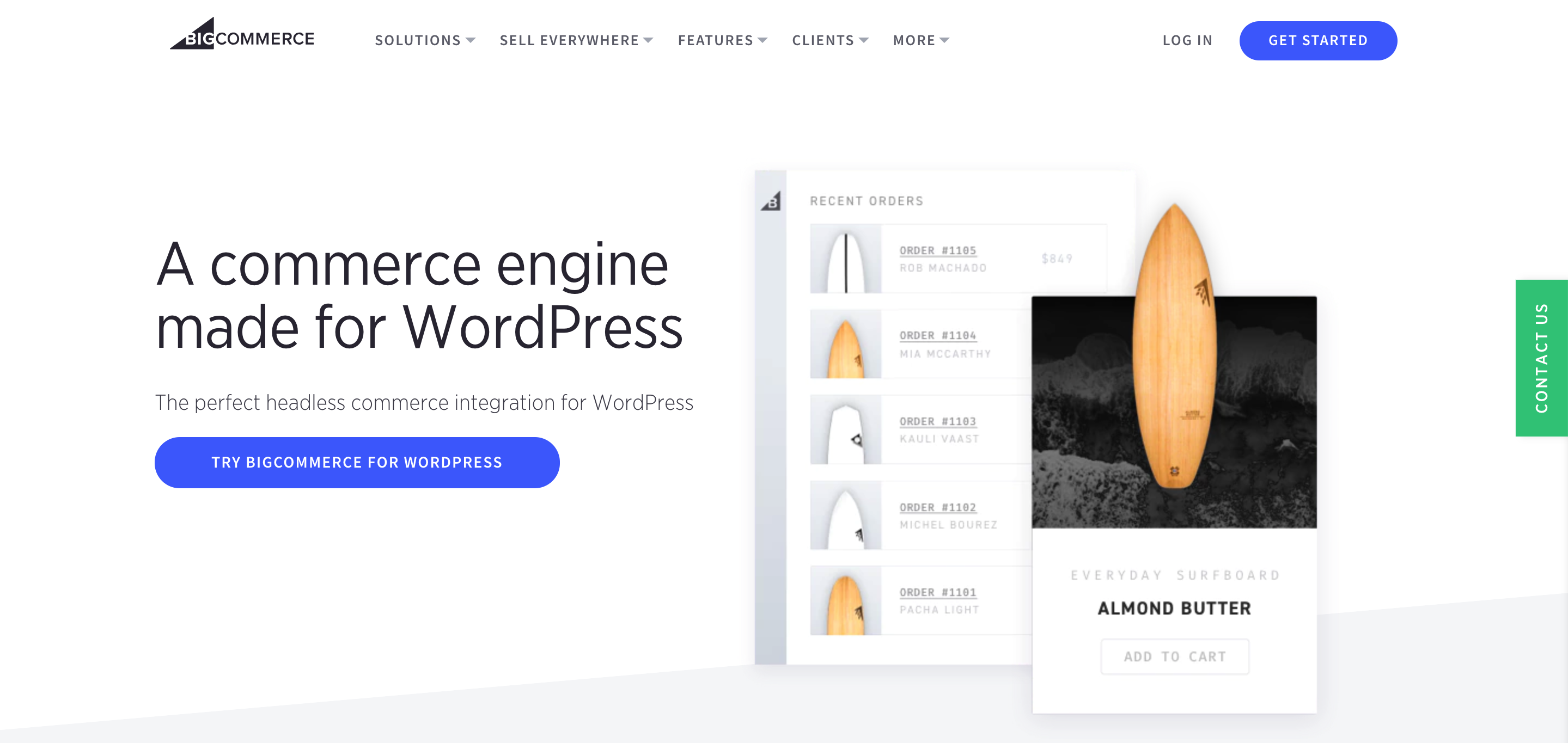 Some of you might be confused as to why BigCommerce is on this list. It's true that they have been running their own platform for quite some time now. But BigCommerce has now entered the world of WordPress to expand even further. So what's in it for you?
Well since they have been serving customers out of WordPress, they bring in new concepts that people might haven't been aware of up until now. So if you're one who has been looking for an eCommerce plugin with a different structure compared to the traditional ones, then you can definitely give it a go.
The main motive of BigCommerce is to bring in famous individuals and companies who have built their business on WordPress. Many YouTubers, for example, start small and generally open their websites/blogs on WordPress. But as they start getting bigger and famous, they usually look out to sell their merchandise online. Cue in BigCommerce!
And if you have multiple sites, then you can install BigCommerce on those sites. By doing that, your inventory and sales are managed together can be managed just from one dashboard. There are many such amazing features offered by BigCommerce and you should definitely check it out if you're interested.
Why BigCommerce?
You will experience one of the best content management systems working along with one of the top standalone eCommerce platforms out there.
As some of you may know, BigCommerce works sideways with many payment processing companies. Which means that you are going to get much better credit card processing rates, which is always a welcoming treat.
Since the eCommerce side of your store is managed by BigCommerce, you don't have to worry about the speed. And with WordPress coming in the front-end, you can manage your content better and effectively. All this means that your website is going to run pretty fast and you will save money on web hosting.
One unique thing about BigCommerce is that you don't have to worry about your website being PCI Compliant as it will be handled by BigCommerce itself. While in the case of WooCommerce, you need to contact your web hosting provider for the same.
What might attract some users out there is its ability to run multiple sites without a hitch. So, if you're one of them you can surely opt for it.
5. Jigoshop eCommerce

Jigoshop is one of the first, and the oldest, WordPress eCommerce plugins out there. Back in the year 2011, Jigoshop was the brainchild of a UK-based company called Jigowatt. The idea was to develop an opensource e-solution where a WordPress user could turn their blog into an online store. So, you could say that all of the WordPress eCommerce plugins on this list have been inspired by Jigoshop. Quite a bit has happened since its inception, but the most recent years have seen some rebranding and extensive development updates. The Jigoshop eCommerce brand states that it's now one of the fastest and modern eCommerce plugins on the market.
Jigoshop eCommerce is still opensource and open for free to the public. This is an advantage for several reasons. One, you get it for free. Two, the development is neverending. There's a significant community of developers behind the Jigoshop product, consistently releasing new updates and fixing problems. Some modern, stunning themes are provided from Jigoshop eCommerce and third-party developers. These run anywhere from $0 to $50. You'll also find a large extension store–similar to that of WooCommerce–where some are free and others might cost you a bit. Scrolling through the extension library, you'll find categories for marketing, networking, payment gateways, shipping, and more. It seems like most of the extensions max out at around $50, but there are exceptions.
As for the feature-set, Jigoshop eCommerce supports a wide range of product types like digital products, physical goods, variable products, and simple products. The platform has detailed reports, wonderful styling tools, and an area to manage all of your stock. It's actually quite intuitive and simpler than what WooCommerce and some of its other descendants have. You might save a little money on extensions with Jigoshop over WooCommerce, but that's only because the extensions seem to be a little cheaper. Regardless, niche shops generally have to turn to the add-on stores.
Overall, we'd say that developers and some beginners willing to learn might like Jigoshop eCommerce. It's a completely revamped product, so you're going to get some amazing features, but you're weathering the storm of a transition period. That could mean you run into some glaring problems. The user ratings are mixed, but I can see some people loving the themes and the interface–not to mention, it's supposed to be rather fast.
Why Jigoshop?
Jigoshop eCommerce has been around for a long time. It started the wave of WordPress eCommerce plugins, so there's something to be said about that. The older plugin has been completely replaced by a cleaner, faster version, which is definitely worth at least checking out.
Jigoshop eCommerce is an opensource, free project, making it an option for businesses of all sizes. Beginners and small businesses can save money, while advanced developers have the opportunity for extreme customization.
The theme store offers affordable, and beautiful templates for many types of industries and businesses.
Most of the Jigoshop eCommerce extensions seem to be cheaper than what you would have to pay with WooCommerce.
There's a large community of Jigoshop users and developers, so you can find documentation, blog posts, videos, and other support articles when developing your store.
Although you can't get direct support for free, there's an active forum for chatting with moderators and users. You can also pay for premium support, and it starts at $40 for support through email. This pricing goes up to $800+ but you receive full website management.
6. Ecwid eCommerce Shopping Cart

The Ecwid eCommerce Shopping cart boasts excellent ratings and a setup that looks like WooCommerce but is actually quite different. One of the main differences is that Ecwid can be used on any website you'd like. If you have a Drupal site, you can use Ecwid to launch an online store. The same goes for Tumblr, Facebook, WordPress, and many more. Alternatively, WooCommerce is only a WordPress plugin. It's a good one, but you're limited to that one content management system.
I would also argue that Ecwid might end up being less expensive than WooCommerce, and other WordPress eCommerce plugins, because of the simple fact that it sticks to a reasonable monthly payment plan. Not only that, but the core plugin is completely free and you're getting more built-in features as opposed to a library of add-ons.
For that reason, we figure many users would prefer Ecwid if looking for more built-in tools. It's similar to Cart66, where the features are already there and not scattered around a library or from third-party developers. The free plan is powerful in terms of the general online store. You get a mobile responsive shopping cart, support for up to 10 products, and the ability to sell on multiple sites.
Obviously, that 10 product limit will turn some users away, but that's only the Free plan. After that, you receive support for 100 products at $15 per month, 2,500 products for $35 per month, or unlimited products for $99 per month. Upon first glance, you might think that Ecwid is clearly more expensive than the likes of WooCommerce. But I often see it the opposite way, depending on your store.
And you could argue that even going up to the $99 Unlimited Plan might save you money–depending on how much you're going to spend with the WooCommerce add-ons. But overall, Ecwid has an incredibly clean interface and a smooth setup process. You're able to test out the free plugin and see if the extra monthly cost is worth it. In general, I'd argue that if you're going to spend too much on WooCommerce add-ons, or if you want multiple sales channels (like for marketplaces, eBay, and Facebook,) Ecwid looks like a quality plugin.
Why Ecwid?
Ecwid provides a free plan for up to 10 products. After that, it offers a beautiful installation process, interface, and feature-set for reasonable monthly fees.
Although this is a WordPress-based article, Ecwid is known for being able to integrate with most website builders and content management systems. This includes everything from WordPress to Squarespace and Adobe Muse to Wix.
Both phone and chat support are provided for some plans, along with free customizations and priority support in some plans.
All plugin upgrades happen automatically with Ecwid, whereas most other WordPress plugins require a manual upgrade.
Ecwid hosts the stores, so it's PCI-DCC Certified and completely secure for making transactions between your gateway and bank. For most of the other plugins on the list, you have to attain PCI compliance from your hosting provider.
Ecwid has a strong focus on helping you instantly sell from multiple sales channels. For instance, some of the pricing plans create Facebook Shops for you. There are also options for mobile point of sales, online marketplaces, a regular point of sales, eBay, and Google Shopping.
When you install Ecwid on one site all of your store data can be transferred to a different website and synced so that the selling happens on multiple fronts.
7. WP EasyCart Shopping Cart and eCommerce Store

The WP EasyCart Shopping Cart and eCommerce Store is one of the WordPress eCommerce plugins you don't hear about much in blog posts like these. However, it's starting to gain attention–and for good reason. Sometimes it seems like even basic plugins such as WooCommerce, Cart66, or Easy Digital Downloads still aren't the right levels for small business owners. They most definitely have the knowledge to learn about those eCommerce building tools, but having the time to do so is a different story. WP EasyCart is built for small business owners who want to create a beautiful online store without needing to train at all. The store would still run on WordPress, but it provides a stunningly fast configuration process and understandable tools meant only for those non-developers out there.
The WP EasyCart developers know that small businesses already work with other software, so there's the easy sync with Quickbooks along with an email marketing integration for MailChimp. TaxCloud and ShipStation also integrate into the WP EasyCart system, making for a small business owner's dream. What's more, is that you're able to sell anything from classic retail items to downloads, and subscriptions to gift cards. You also have options for sending out invoices, selling video content, posting eBooks, and asking for donations.
WP EasyCart works more like a SaaS eCommerce platform like Squarespace or Wix. All of the simple tools are there for you. The only difference is that you have full control over your site with WordPress and your own hosting. The features are surprisingly advanced in the free version, with support for unlimited products, live shipping calculators, and advanced product variants. After that, you can opt for the $69 per year plan to avoid any transaction fees that come with the Free package. The highest plan costs $99 per year and includes excellent features for the selling of subscriptions, the Quickbooks integration, Stamps.com, AffiliateWP, and more.
The basic features like coupons, promotions, B2B, and subscriptions are enough to make WP EasyCart look like a viable WooCommerce competitor. Add on the wide variety of common small business integrations and you have a powerhouse eCommerce plugin for entrepreneurs and small retailers. The plans start with a 14-day free trial, so you're able to test out WP EasyCart beforehand. Furthermore, free customer support is provided through a support center, online documentation, video tutorials, forums, and more. Paid customer support is available as well.
Why EasyCart?
A free plan is available with unlimited products and several tools for things like taxes, product variants, and selling videos.
The premium plans offer quite a bit for small business, and they don't bust your budget. A $99 per year plan is far from excessive with all of the extensions curated just for small businesses.
Each of the extensions is clearly made for small businesses. You get options like AffiliateWP, MailChimp, Quickbooks, Stamps.com, and a Groupon Importer.
This is some of the best free customer support I've seen from any of these plugins. You shouldn't expect to speak with someone on the phone or through email for free, but the forums are active and the video tutorials are helpful.
WP EasyCart supports the selling of several types of unique products like donations, invoices, eBooks, and video content.
Many of the advanced add-ons from WooCommerce are extremely expensive compared to the $69 or $99 per year plans from WP EasyCart.
WP EasyCart has one of the simplest interfaces for small business owners who want to get the site launched and spend more time with their day-to-day.
So, which one exactly?
It's difficult to select the best eCommerce plugin. But most WordPress users typically install WooCommerce or Easy Digital Downloads before they realize they've made a mistake. They usually don't spend time comparing the plugins and as a result, end up wasting a ton of time figuring out each and every plugin. Instead, you can start by figuring out your business case first and then choose the most suitable plugin. Let's go through some of the common business cases.
Developers who need development tools– WooCommerce, Easy Digital Downloads, or Jigoshop
Beginners – WooCommerce or WP eCommerce
Small-sized businesses – WooCommerce or BigCommerce
Free eCommerce plugin – WooCommerce or WP eCommerce
Looking to keep your costs in check – WooCommerce or WP EasyCart
Tons of add-ons to choose from – WooCommerce, Jigoshop, or WP eCommerce
Sell digital products – Easy Digital Downloads
Sell on multiple channels – Ecwid
For those who prefer BigCommerce – BigCommerce
We hope this article would have helped you choose. You can Contact PluginHive Customer Support if you have any doubts. We will help you set up shipping on your WooCommerce store.
Happy selling!