Blue Dart is an Indian-based logistics company and courier delivery service headquartered in Mumbai. It handles both domestic & international shipments by joining hands with DHL. Shipping with Blue Dart is quite competitive and affordable with the shipping options that they offer starting from standard or express to air or ground.
To get started with your business on eCommerce platforms like Shopify, WooCommerce, Magento & Bigcommerce, one will need Blue Dart credentials to automate Blue Dart with any shipping solution.

Follow these steps to get the required Blue Dart account credentials for your online store.
---
Sign up for an account with Blue Dart
Then you need to fill up all your details. Click on the submit button to complete the registration process as shown below: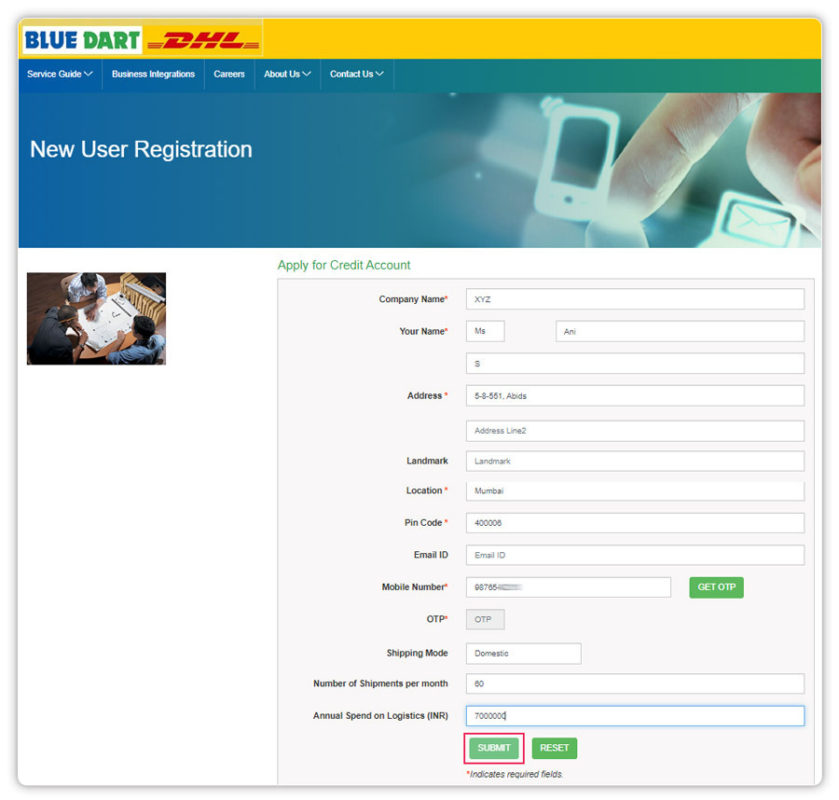 After the registration is done, you will receive a confirmation call from Blue Dart to verify the details.

After the verification they will send you all the credentials via email.
---
Integrate Blue Dart with your eCommerce store
Once you get the Blue Dart account details, you can integrate Blue Dart with your eCommerce store (Shopify, WooCommerce, BigCommerce and Magento) and start shipping.
The customer should configure the details under the carrier section: Customer Code, Login Id, Password, Shipping Licence Key, Tracking License key as shown below:
Some of the common things that one needs to keep in mind while registering their Blue Dart account:
Enter correct details in the following fields: customer code, Login Id, Password, Shipping Licence Key, Tracking License key.
Enter the correct Origin Service Area Code. For example:
GGN(Gurugram)
BOM(Bombay)
BLR (Bangalore)
Another important thing to note here is that with the PluginHive shipping solution, you can easily generate Blue Dart shipping labels. However, if labels failed due to "COD not enabled" the customer will have to reach out to Blue Dart and verify if the account is enabled for COD or not.
---
PluginHive allows eCommerce merchants to streamline their Blue Dart Shipping by enabling them to display live shipping rates, print shipping labels, schedule pickups & track orders at every step. Contact the customer support team to learn more about integrating PluginHive shipping solutions into your eCommerce store.
---