It's no longer possible to succeed as an online business without offering live order tracking services as part of your overall shipping strategy. It's a simple step to take that will make a world of difference for your global customers. Most if not all major shipping companies provide live tracking automatically in their express or international shipping. Many companies offer it for free with standard parcels as well.
eCommerce brands are now also expected to allow customers to choose a shipping method that works best for their unique situation. Often they have their own choices on which shipping company matches their budget, speed of delivery, and their own preference. Shipping & tracking applications are easily downloadable into your website, whether you use Shopify, WooCommerce or another platform.
If your eCommerce brand is based in South Asia, you've likely heard of Blue Dart. If live tracking is essential for consumers, then Blue Dart will not disappoint.
---
What is Blue Dart?
Blue Dart is a Mumbai, India-based logistics company and a subsidiary of the globally recognized provider, DHL. Blue Dart offers express parcel delivery services to major cities in the South Asia region, especially India and is a trusted brand for many eCommerce businesses. Most packages are guaranteed delivery within three days between major cities, making it a first choice among customers as well. For express delivery, live tracking is made available for free either through email, SMS, or APIs integrated into an eCommerce website.
---
Live Order Tracking With Blue Dart
Blue Dart shipments can be tracked up to 90 days after the date of dispatch. There are multiple ways in which you and your customers can utilize the tracking available from Blue Dart. According to the Blue Dart website, there are four web-based tracking tools. The three main ones which would most likely be used by an eCommerce business are as follows:
TrackDart
Shipments can be tracked by using the TrackDartTM box on the upper left panel of every page on the Blue Dart website. You may track shipments sent on Blue Dart services within India or to Nepal, Bangladesh or Bhutan.
ShopTrack
It is an API (Applications Program Interface) designed specifically to support and enhance the services provided by a portal or any e-business. The API can be downloaded into your website through the service of a web developer or a third-party plugin. By allowing customers to track their orders right from an eCommerce website, they maximize the amount of screen time spent on the retailer's website instead of being led to another platform.
PackTrack
It is another API (Applications Program Interface) designed for any client involved in logistics, distribution and inventory control. It has been designed to streamline and integrate shipping processes. This application is more likely to benefit if you manage a larger distribution-based business.
---
Blue Dart also offers a standalone tracking service for business customers who use Blue Dart shipping multiple times per month.
According to Shipdart, ShipDartTM is a Blue Dart proprietary solution specially created for the convenience of regular customers.
ShipDartTM enables user control over the entire shipping and tracking process. ShipDartTM needs to be installed at the customer's premises in order to interface with their own system for the pre-shipping and post-tracking activities, thereby playing a major role in bridging the existing gap in any package movement. A set of Master Files that controls the ShipDartTM system has to be downloaded from the site.
If your business is interested in using the services available from Blue Dart, PluginHive is here to help. Here is what you can expect from PluginHive solutions when integrating the Blue Dart APIs into either your WooCommerce or Shopify website.
---
Shopify Blue Dart Tracking
Shopify Blue Dart Shipping app is an authorised application from PluginHive. Your eCommerce business can completely automate the shipping process including label generation, order tracking, and so much more. You can also pay the postage for your customer orders right from your website without needing to log in to your Blue Dart business account.
Shopify Shipment Tracking & Notify App provides live tracking updates to customers of their Blue Dart orders. The live tracking app is built specifically to seamlessly allow businesses to benefit from Blue Dart's APIs. Live tracking is available for all orders domestically shipping across India or originating from India for international destinations.
Other options include the ability to print hundreds of shipping labels in a single click, requesting Blue Dart to pick up orders from your business or another location, and providing a dashboard for customers to stay updated on the status of their orders at any time.
---
WooCommerce Blue Dart Tracking
Your eCommerce business can integrate the Blue Dart tracking APIs into your website using WooCommerce Shipping Services from PluginHive. This application allows you to automatically generate live tracking for customers from many major shipping companies into WooCommerce. Your business will receive automated shipping label generation and tracking from Blue Dart and other shipping carriers such as UPS, Aramex, and FedEx.
The live tracking plugin, WooCommerce Shipment Tracking Pro requires only a one-time payment to start maximizing how simple it makes live tracking your orders. Your customers will receive email notifications from the moment they place an order until their package arrives at their door.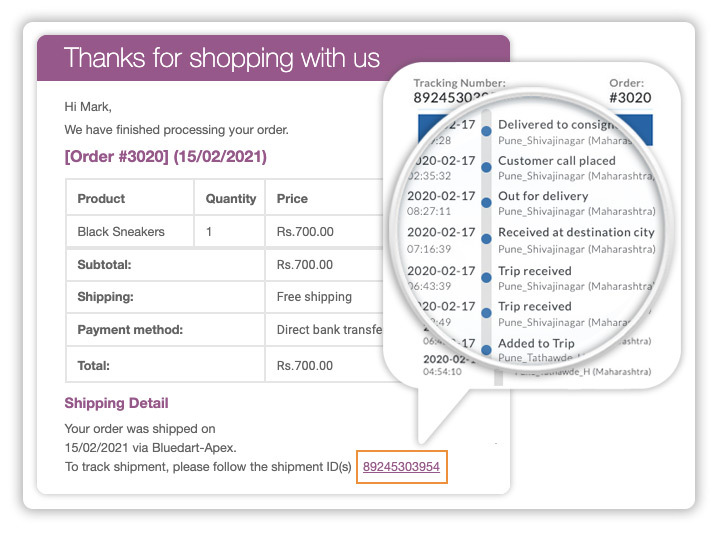 ---
PluginHive allows eCommerce merchants to streamline their shipping process right from cart to customers' doorstep through real-time shipping prices, tracking options, automation of shipping labels and more. Learn more about integrating PluginHive into your Shopify, WooCommerce, or another eCommerce platform by reaching out to our customer support team.