Nowadays, online boat rental websites are constantly improving and streamlining their workflow to improve customer satisfaction. Everything starting from page presentation, booking calendar, and contact form to the photo gallery, requires extra care as each plays an important role in generating revenue. The current trend suggests that your rental website should have a modern look and an alluring booking system to generate revenue and attract more customers. So it's imperative to find the best solutions that offer such facilities. In the WooCommerce environment, you could install a nice-looking WordPress theme and a professional WooCommerce Bookings plugin to set up your yacht charter & boat rental website. Which is simple considering you have so many options in the market. Driving down on the same road, we are going to look at the two best contenders – Claue theme and PluginHive WooCommerce Bookings, and see the best ways to use these two powerful tools to their potential and produce the best results.
The Gorgeous Claue theme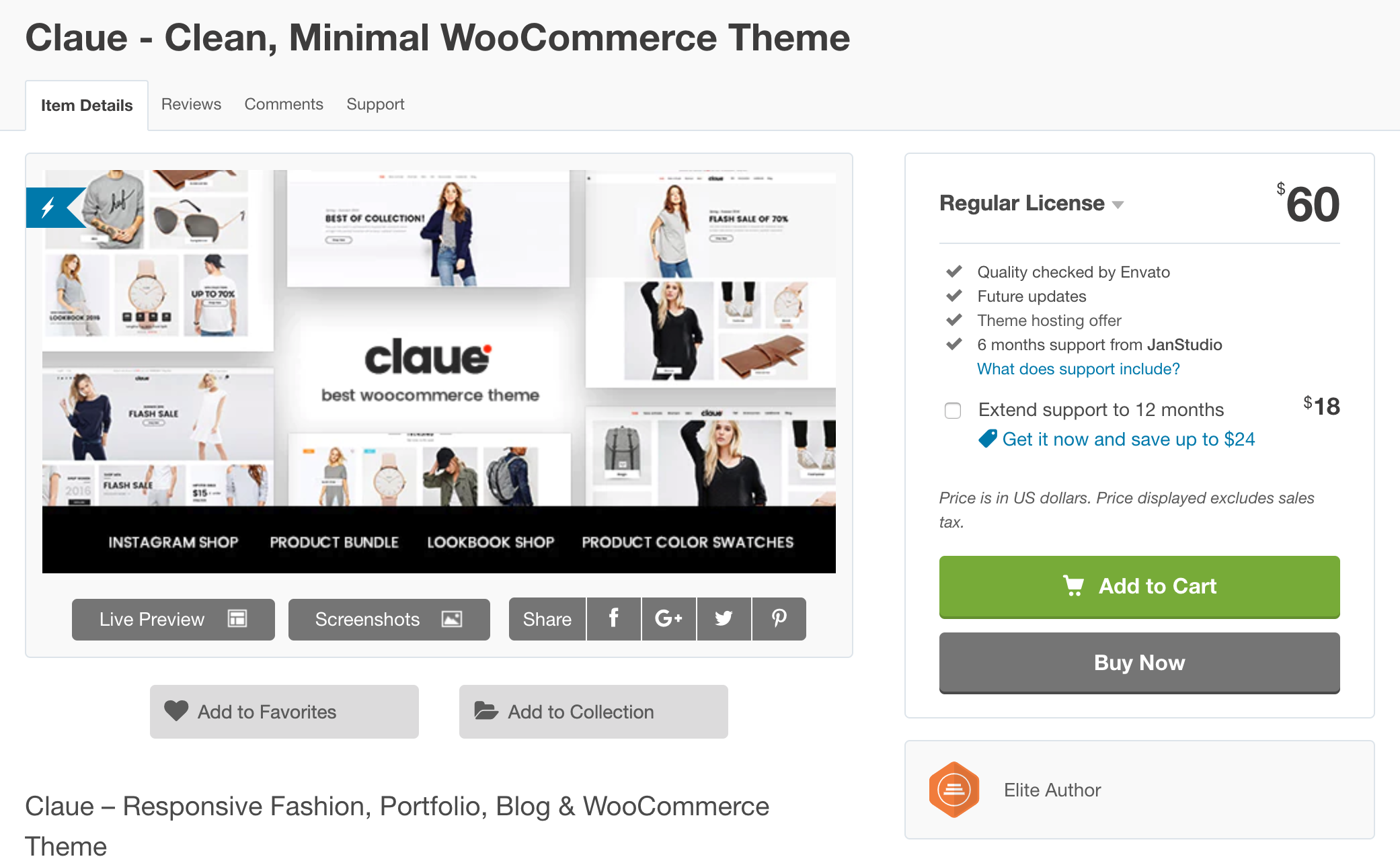 It's a smart decision to spend time enhancing every fragment of your website since the majority part of your business is online. Things like website design, on-page SEO, page speed, performance, responsiveness, etc., matter a lot and need vital attention. Thankfully we have a smart one in hand. Claue WordPress theme is one of the best-selling themes available. Its user interface is highly responsive and comes packed with powerful tools that help users manage all the things we mentioned before. And not to forget, it drastically increases the overall look and feels of your website, which is kind of a given thought. You also get additional tools like Visual Composer, Product Bundle, native social network, and Mailchimp support that can be used together to your advantage. You can check out the Claue theme to know more.
The Professional WooCommerce Bookings plugin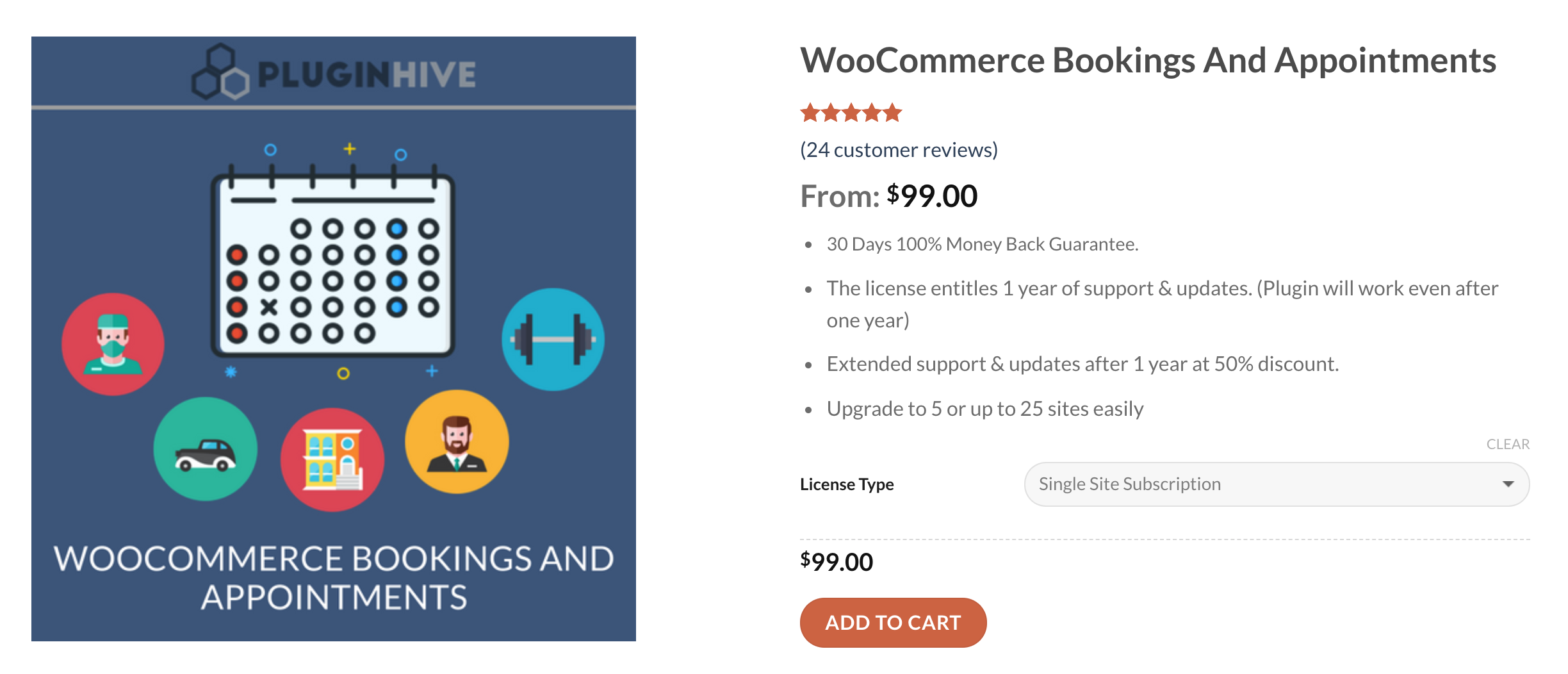 ---
A serious and professional rental website should use a robust booking system. It should be highly flexible, have advanced features, and offer room for future customizations as well. If you have these then you're already ahead in the game. One of the superior bookings plugins for WooCommerce is the WooCommerce Bookings and Appointments plugin by PluginHive. It offers some of the most sumptuous sets of features and integrates really well with your WooCommerce website. Its closely packed booking tools like Participants, Assets, and Resources can be used together to achieve any business goals which is why this plugin is so popular among WooCommerce users.
User experience with PluginHive WooCommerce Bookings and Claue
It doesn't matter if you're a power user or someone who is new to all this, both of these solutions are easy to use. Cluae's interface, in particular, offers a variety of options that are easy to come by. Whereas the WooCommerce Bookings plugin offers almost all of its features on the Edit Product page to keep things simple. Over to the customer side, i.e your website, you'll be amazed to see how handsome and fluid the overall booking experience is. In fact, most users who use these two solutions together don't necessarily need any help to set up the two products together, which will do well for your yacht and boat rental business.
How well is the overall booking experience?
In order to truly experience the booking process, let's take a real-life example. Suppose you offer boats/yachts for rent. The basic booking flow will consist of the following steps—
Customers first select the captain

Selects the available time slots

Define the number of guests

Select tow tubes, if required

And finally, click on the Book Now button!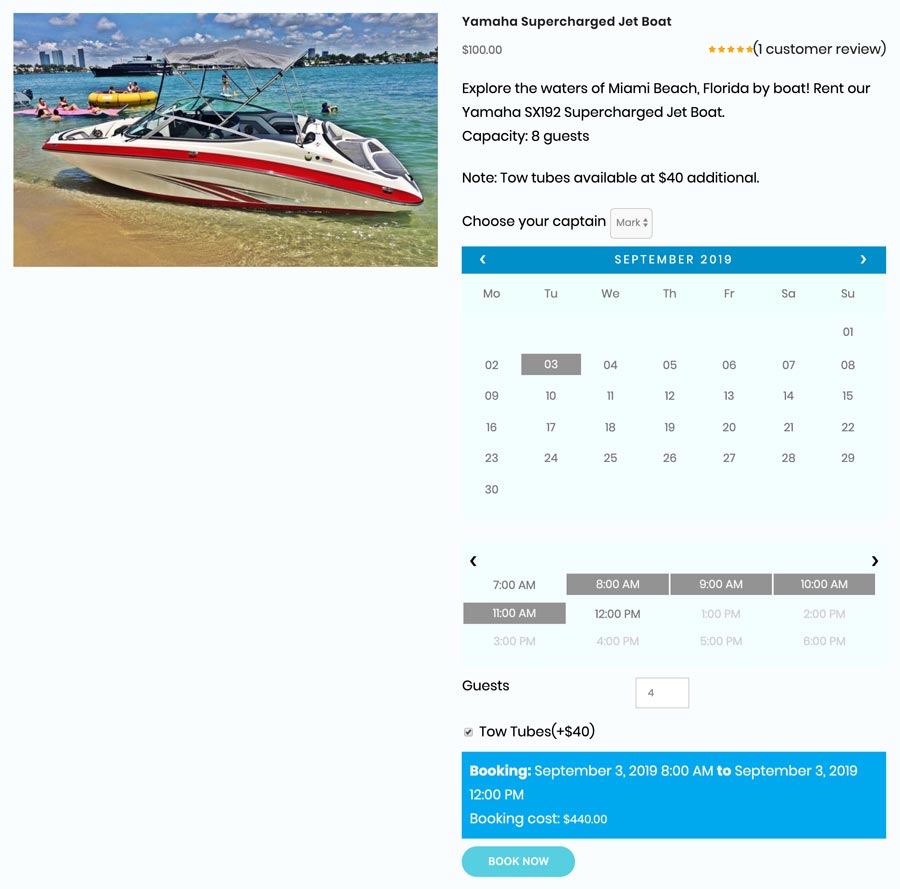 ---

---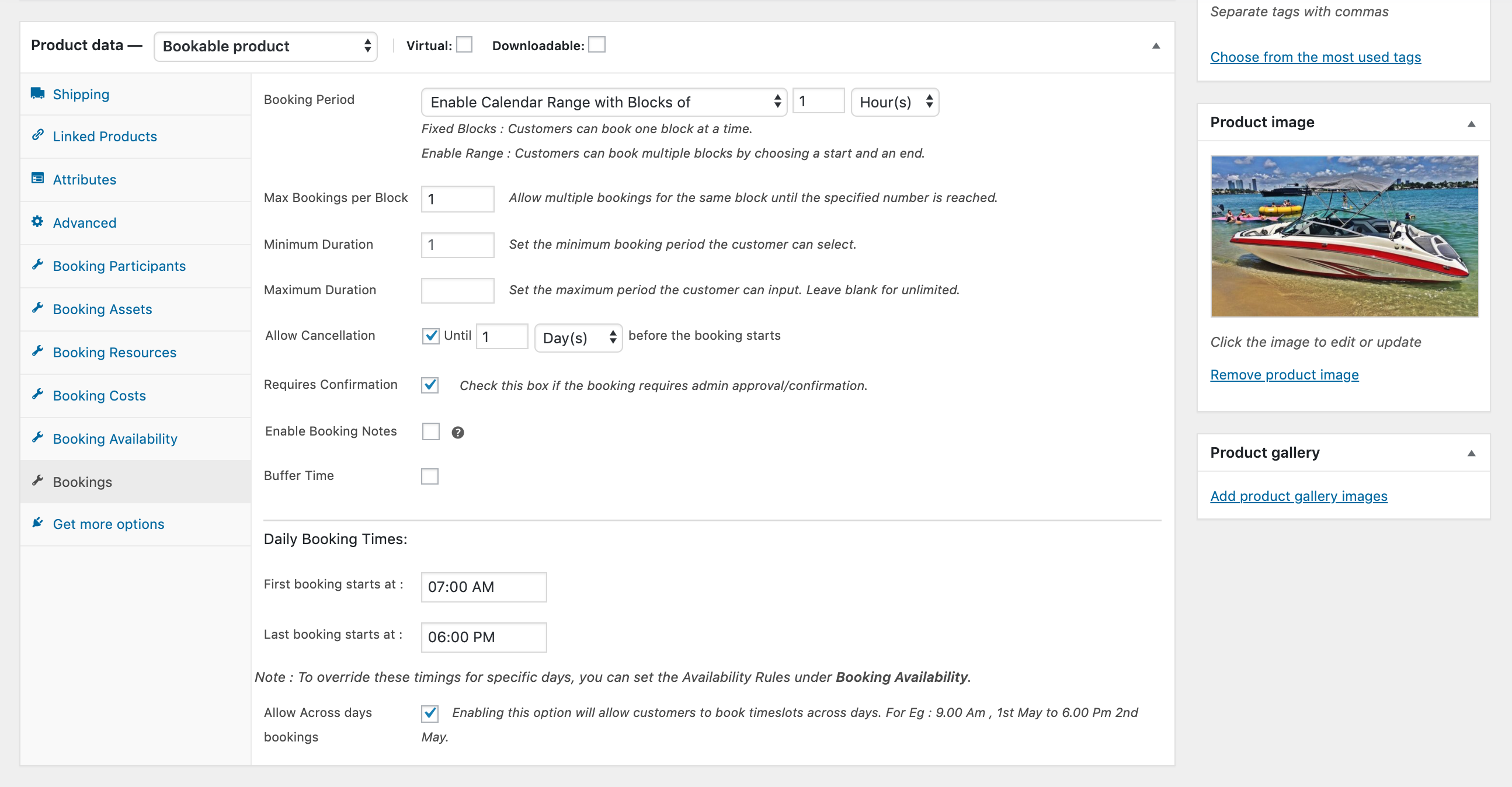 ---
In short, your bookings will depend largely on the availability of your captains – Mark and Alex. In the example above, you can see that Mark isn't available after 12:00 PM so customers cannot book the boat beyond that time and they would rather have to go with Alex, who would be available. The WooCommerce Bookings plugin allows you to define these assets(captains in this case) and their corresponding availability. The plugin has a separate section for this functionality which can be seen in the image above. You can also define a field that allows customers to enter the number of guests. You can set a standard cost for each additional guest, and the minimum and maximum number of acceptable guests. In this case, the maximum number is set as 8 which is also specified in the product description. Next comes the area where you can offer additional items, if necessary. In our example, we are offering Tow Tubes that carry an additional cost of $40. And yes, this can be easily added to the Edit product page under the Booking Resources tab.
How do the Cart and Checkout pages look?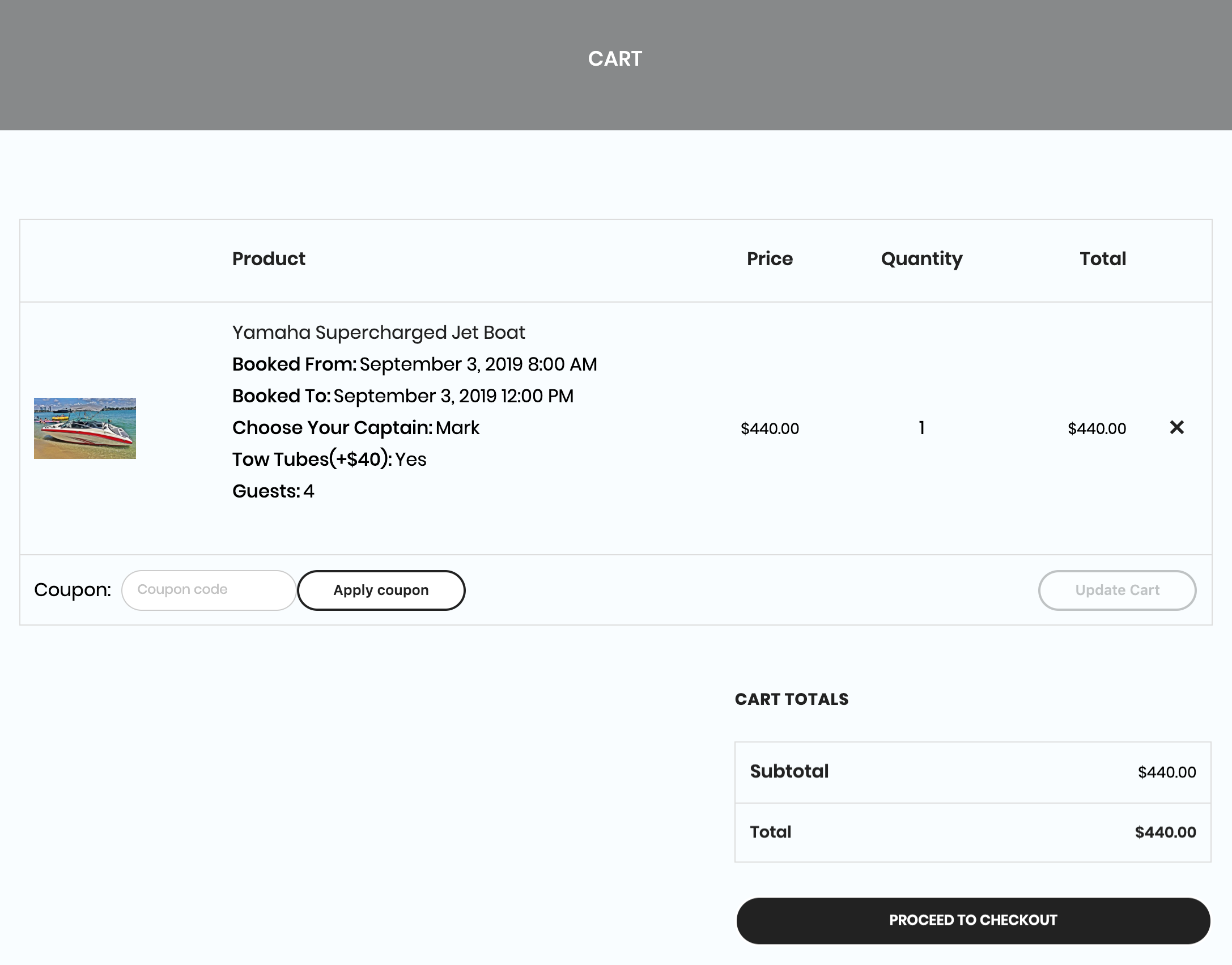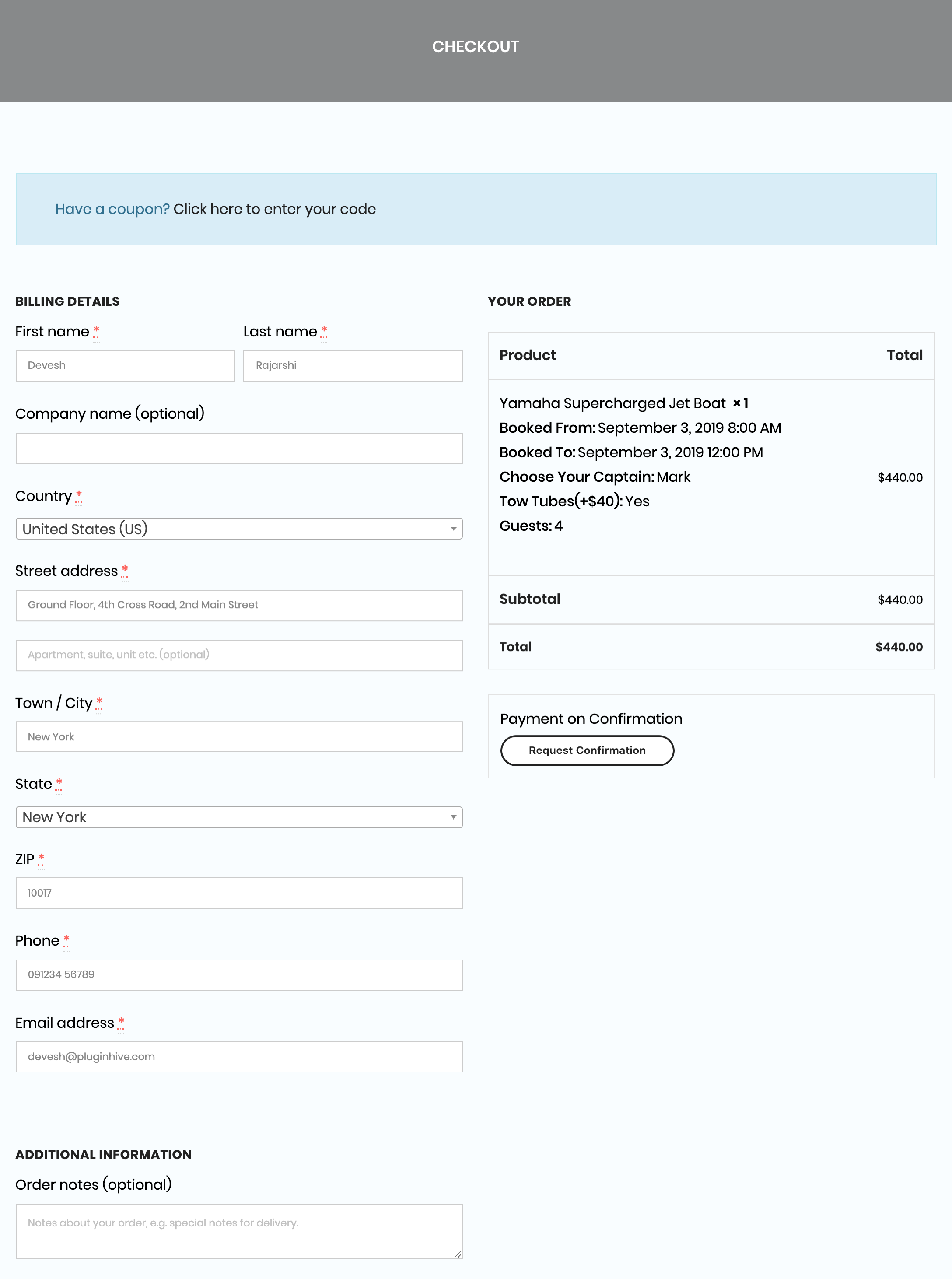 After all this, customers can click on the Book Now button to reserve the booking. The overall booking is considered as an item that is further moved to the Cart page where customers can verify the selected options. This is beautifully handled by Claue and can be seen in the image below. Coming up next is the Checkout page, which again, is clear and crisp thanks to the theme. Customers can clearly check out the detailed booking and payment information and finally request confirmation. The confirmation feature is provided by the Bookings plugin which is useful if you need to introduce an approval system. In addition to that process, a payment link is automatically sent to the customer via email once the booking is approved.
Conclusion
Claue theme offers exceptional features and benefits to users like you. And now you know how you can use these two products to launch your yacht & boat rental business online, with style. WooCommerce alone is a great platform for people who want to run their own businesses. By integrating WooCommerce with a robust and intuitive online booking system like WooCommerce Bookings and Appointments plugin, even you can set up your own business. You can also try the Free version of the WooCommerce Bookings plugin before switching to the premium version.