Royal Mail
is one of the most trusted shipping services that has been delivering items for more than 500 years now. They have a well-organized delivery system that can deliver millions of letters and parcels on the busiest days like Christmas. Unlike any other courier service, Royal Mail shipping has some of the most traditional yet effective ways of delivering packages to their destinations within the predicted time frame. This is the reason why many old and new WooCommerce store owners look forward to shipping their items using this service. And honestly, there are many other reasons why you should choose Royal Mail to deliver your package. If your business requires you to ship items that can fit into the various letters and parcels provided by Royal Mail then this article will be a lot helpful. In this article, we will guide you through some of the reasons why Royal Mail can be the best shipping service for your online store. We will also tell you about the
WooCommerce Royal Mail Shipping with Tracking plugin
and how it will eliminate the tedious process of calculating the shipping rates and sharing the tracking information with your customers.
Reasons to choose Royal Mail shipping for your orders
In order to know why you need Royal Mail for your shipping needs, you need to perform a qualitative analysis of the factors that affect shipping.
Cost of shipping
This can easily be one of the most important factors. Almost all business owners who are looking for a shipping courier would want the cheapest and the fastest shipping carrier. However, some may find the shipping cost of Royal Mail to be a tad higher when compared to other shipping services in the U.K. But, one should not overlook the fact that the services provided by them are value for money. They have incorporated some of the most advanced shipping mechanisms that will not only deliver your items quickly, but they will also do that accurately and much safer. Most of these advancements are not available in other shipping services and thus, they have a poor track record. This is one of the reasons why Royal Mail offers multiple shipping options over a single delivery path or route. People can choose the most suitable and cheapest service for their store.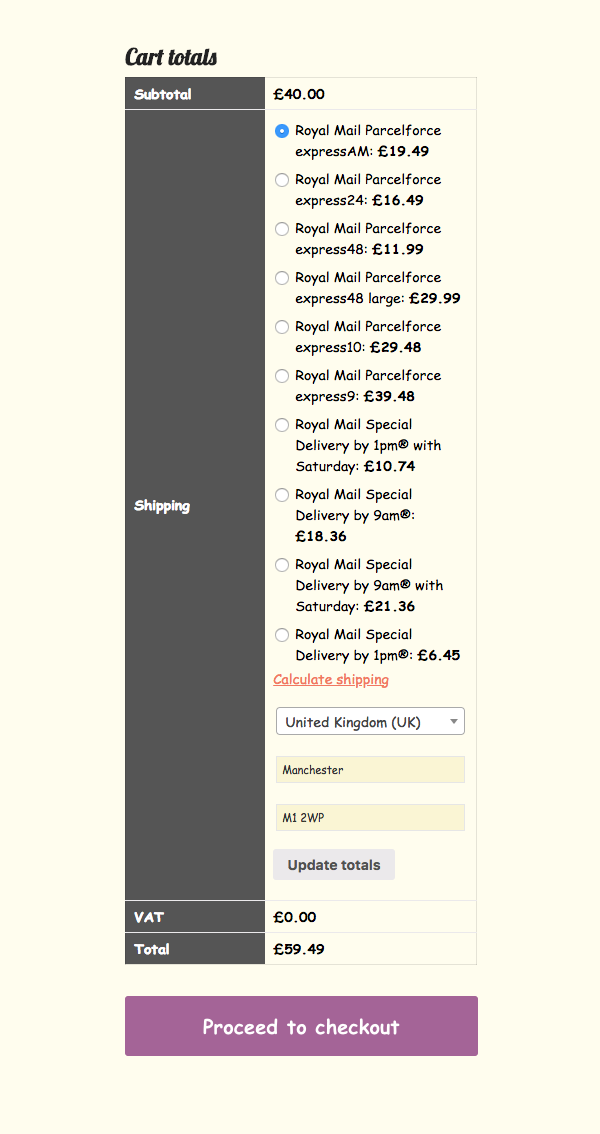 Just like Royal Mail, the WooCommerce Royal Mail Shipping plugin offers multiple shipping options to their customers instead of just a few from other shipping services. For example, the delivery from Edinburgh to Manchester using Royal Mail would have a list of services which can be seen in the image above. While UPS offers only a few shipping services which means that your customers would not have a lot of options to choose from. You can find the following image that replicates the similar scenario mentioned earlier:
Quality of shipping and technological aid
For a delivery service that has been operational for so long, people get used to their shipping process. And most of them tend to prefer their services for their future needs. However, there are some people who doubt that Royal Mail does not have advanced technologies and digital shipping solutions. Well, this assumption is absolutely incorrect. In fact, Royal Mail uses some of the most advanced IT solutions and courier services to safely deliver packages on time. In the year 2015, Royal Mail introduced around 76,000 next-gen hand-held devices for the staff working as postmen and postwomen. These portable devices are used to enhance the real-time tracking of parcels that contain information-rich barcodes. This advancement has helped many customers in situations when they are not at home and they can choose to deliver the letter or parcel to another safe location.
As tracking is quite important, the WooCommerce Royal Mail Shipping plugin has incorporated the tracking feature into the plugin. By using this functionality, both store owners and customers can track their orders in real time. As soon as you mark an order as 'Completed', the plugin attaches the shipment tracking information to the order completion email. The tracking information will also contain the tracking ID, when clicked, will directly take you to the tracking page of the official Royal Mail website. As you can see in the following image, the order completion email contains the tracking information: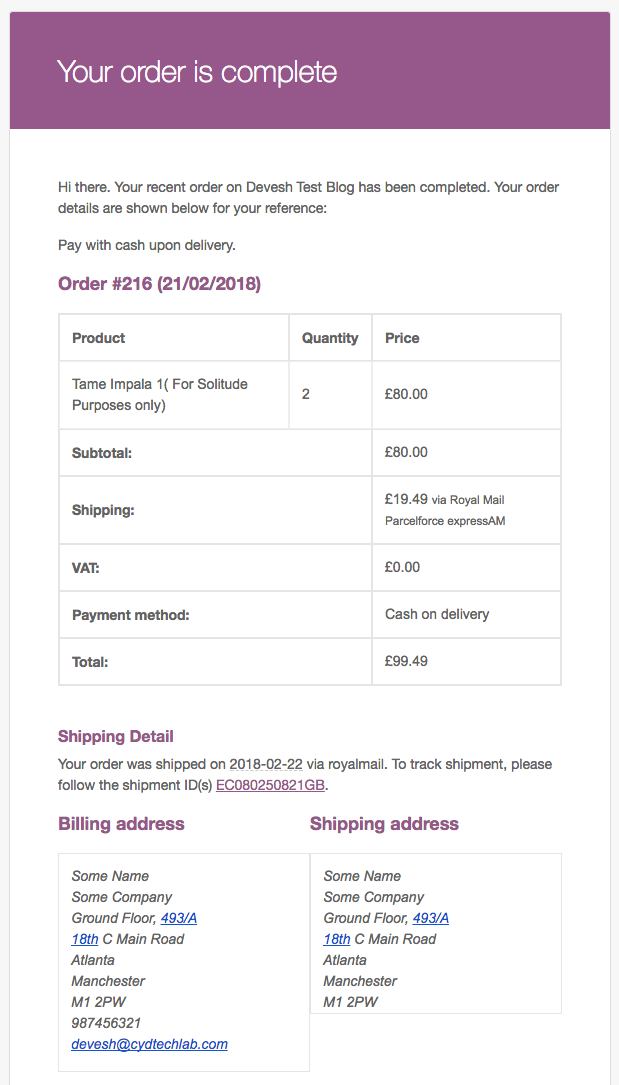 Shipping network and outreach
It doesn't matter if your customer is in Bennington(Edinburgh, U.K) or in Atlanta(Georgia, U.S.A), you can use Royal Mail to ship their orders to them. Parcelforce is a division of Royal Mail and uses its trading name to ship items within the U.K and international countries as well. Parcelforce has 54 depots across the U.K and processes approximately 35,000 parcels per day to more than 200 countries worldwide. And yes, Royal Mail delivers your order within the time allotted to that service. For example, almost all
international shipping
is done within 1-5 days, depending on the service chosen. When you compare other shipping services like UKMail, they may take a week to deliver some items to certain countries. Furthermore, there are some shipping services that hand over the package to the local shipping services when they have to deliver to a particular country. Whereas the Royal Mail has international services that have the 'Tracked' feature. This means that each shipment is tracked in real time which says a lot about their shipping outreach.
With the incorporation of Parcelforce in the Royal Mail plugin, store owners can easily deliver orders to their international customers. The
international shipping
services offered by this plugin will contain all the shipping services that Royal Mail provides. Meaning, you will see only those services that are valid and deliverable by Royal Mail. This plugin gives you the control to limit certain services to a particular location. So, if you don't want to show the Royal Mail International Tracked and Signed then you can uncheck in the plugin settings. You can refer to the following screenshot of the plugin settings page that shows the list of services.
Reputation and Reliability
It is a known fact that shipping services vary in reputation. It is important to find relevant opinions about these shipping services from the people who use them or have used them in the past. Doing this will help you choose the right carrier for your store accordingly. People tend to like the Royal Mail for their excellent service, tracking feature, and on-time deliveries. Their customer service is highly responsive and their support executives quickly respond to any query. They are also appreciated for their international services, especially for the deliveries in the U.S.A. Just like any other shipping carrier, it is difficult to handle millions of parcels every day. So, there are chances that some of the parcels be misplaced, but this usually happens to only 4 to 5 parcels in a lot of 10000 parcels. And Royal Mail does cover the cost of a lost or misplaced package and also allows the customers to insure their items. The WooCommerce Royal Mail Shipping plugin allows users to define the insurance value of the parcels that are going to be delivered via Royal Mail. You can have a look at the option in the plugin that allows store owners to add the insurance amount.
Final thought
Choosing Royal Mail for your online store can be a very good decision. It will help you fulfill all your shipping needs and will eventually help you increase sales. Let us know your thoughts on this article in the comment section below. Happy shipping!