In this article, we will explain to you the four crucial reasons why the PluginHive WooCommerce Shipment Tracking Pro is favored over AfterShip. Read along to know more.
WooCommerce is a brilliant platform that lets you set up an online store with ease. You can configure products, payment gateways, shipping methods, and much more. However, what it does not offer is the basic shipment tracking facility for your orders, which is considered one of the most important post-order fulfillment experiences.
So to fill in that gap, store owners often look for popular tracking solutions like WooCommerce Shipment Tracking Pro and AfterShip in the hope to provide a better online shopping experience to their customers.
But, which one to choose? Which solution is cheaper? And why is an integrated tracking solution a better option than a connector application?
Let's find out.
Four primary reasons why you should choose WooCommerce Shipment Tracking Pro over AfterShip
WooCommerce Shipment Tracking Pro is an integrated solution and not a connector software like AfterShip
Let's face it; it's always better to use one system rather than a combination of multiple systems. Having to switch between multiple windows is counterproductive and doesn't really help when you have a busy schedule. Moreover, software like AfterShip requires you to pay monthly charges separately, which will add up to your monthly budget.
You have to subscribe to an external plan that is not accessible from your WooCommerce backend. Moreover, AfterShip handles the complete order tracking outside of your WooCommerce store since it's just a connector. So you would have to go back and forth a lot.
So clearly, it's always better to have an integrated shipment tracking system within your online store. As mentioned before, the WooCommerce Shipment Tracking Pro is an integrated WooCommerce solution with complete tracking functionalities including the monitoring dashboard provided right on the WooCommerce backend. So you never have to move out of your WooCommerce store.
WooCommerce Shipment Tracking Pro provides a tracking page within your WooCommerce store and is not an external page like Aftership
Aftership provides its own tracking page with an Aftership subdomain in the URL. You can add your store logo and redirect the URL to make it look like your store's page. However, the fact that AfterShip offers an external page with very minimum control, doesn't really give you that level of confidence even though you're paying a lot.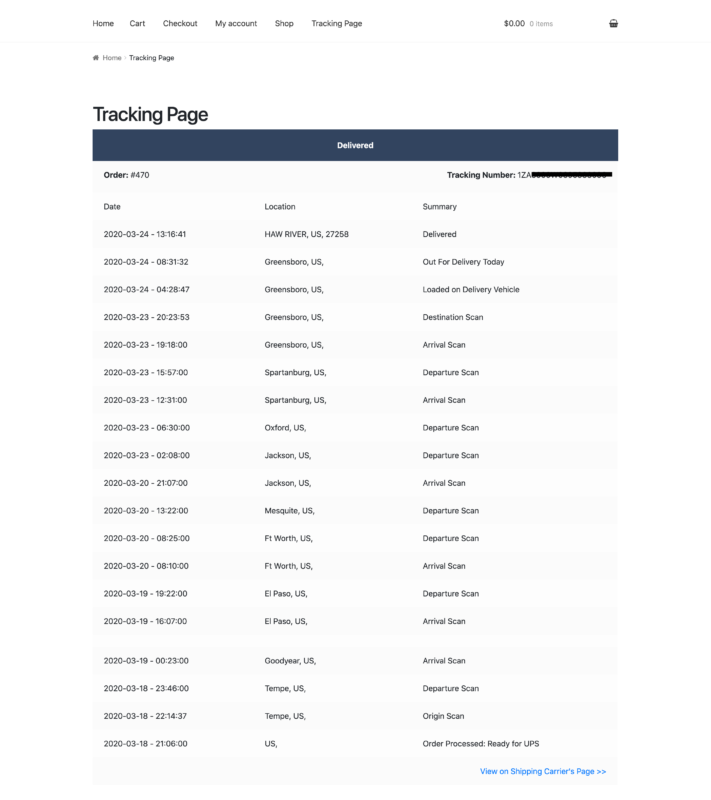 WooCommerce Shipment Tracking Pro, on the other hand, lets you have a Tracking Lookup Page within your WooCommerce store. This page is completely integrated and uses the same theme & design as your store. So, you have complete control and can run your own analytics on this page with ease.
No more "Via" or "On Behalf of" Emails using the WooCommerce Shipment Tracking Pro
When it comes to providing a premium online shopping experience, personalized order emails are the way to go. They help you connect with your potential buyers and convert them into loyal customers thereafter.
However, in the case of Aftership, the order notifications & emails contain wordings like "On behalf of…" or "via…" at the sender email address field. This simply means that the email is sent from your store which is handled by Aftership. Also, there's a high chance that the email might even land in the spam folder.
The WooCommerce Shipment Tracking Pro uses your own business email ID and mail server to send order-tracking notification emails. So, there are zero chances for the emails to land in the spam folder.
This email also includes the embedded order tracking link(s) and a message that can be customized as per your need. Additionally, the email content looks exactly the same as your other WooCommerce emails sent out of your WooCommerce.
You save a lot of money with WooCommerce Shipment Tracking Pro!
With its Notification and Custom Domain feature, Aftership pricing starts at $9 which includes 100 trackings per month and as your business grows, you have to pay a huge amount of $999 for 25000 trackings per month.
These prices are quite significant and with the limited order tracking per month, you will always have a concern to switch between the plans in the back of your head.
Whereas the WooCommerce Shipment Tracking Pro plugin starts at $89 per year for a single site license. There's no cap on the number of order tracking you're allowed to handle every month or year. This saves a lot of your money which you can invest in something rather more important.
Conclusion
Customers require a tracking lookup page to know the whereabouts of their orders. Offering an integrated and seamless tracking experience on your WooCommerce will not only benefit them but will give you immense control and information as well.
The WooCommerce Shipment Tracking Pro, as you saw, is the best solution available for WooCommerce that is explicitly designed to help you automate the entire order tracking process. And apart from the above-listed features, it also helps you,
Automatically send email notifications to your customers every time there is a change in the tracking status.
Make order tracking a part of your WooCommerce store with an integrated Tracking Lookup page, resulting in more customer engagement.
Get live tracking updates on the Tracking Dashboard and monitor all your shipments from various integrated carriers.
We hope we were able to justify why WooCommerce Shipment Tracking Pro is a better overall solution compared to AfterShip. Also, we hope this article would help you make the right decision.
Happy selling!