This guide will help you create a FedEx shipping label from your online store. We will explore the available label printing options on platforms like WooCommerce and Shopify. In particular, we will see the various FedEx label types, commercial invoices, international shipping, and more.
Shipping an item isn't as easy as delivering mail across your neighborhood. A delivery agent has to pick up the package, move it to the nearest hub, run through barcode readers, and move it again to a hub near the destination,.. there's just a lot to follow.
But what is much simpler to understand is FedEx shipping. Over the years, FedEx has fine-tuned its shipping process making delivering items a cakewalk for small business owners like you. They have made almost every resource accessible online with FedEx APIs.
E-commerce shipping solutions like the WooCommerce FedEx shipping plugin and Shopify FedEx App are a result of the increase in demand for online FedEx shipping. They both provide end-to-end shipping facilities to ensure store owners can maximize their business potential.
---
What is a FedEx shipping label?
Shipping label, in general, provides key information to FedEx agents who deliver packages to customers. A shipping label contains vital information like from and to addresses, shipment detail, package weight, item type, shipping service name, etc., Moreover, there's a lot of other shipping-related information hidden in the barcodes. Have a look at the sample FedEx shipping label here.
Labels are used at every checkpoint of FedEx's shipping process. Starting from the pickup point (warehouse or FedEx location), FedEx uses the label to identify the packages and assign them to the correct delivery vans. To make the process simpler, they follow a strict template which can be seen in the sample image above.
FedEx design its labels in a way that the packages are optimized with their own process, at the routing center, and at the storage warehouse. Keep in mind that these labels are designed to be read by both machines and humans. Each area of the label is being used along the way to inform specific partners of the supply chain.
---
Specifications of a FedEx shipping label
As you can imagine, a simple-looking FedEx shipping label contains a lot of information. And since you're going to use it to ship your items, it's better you understand a few important parameters used along with it. Here's the sample label from before. Observe the details carefully.
Let's start with something simple.
1. Sender address
This area indicates the location/address from where the shipment originates. You could also notice the phone number and the name of the shipper tagged along with it.
2. Destination address
As the name suggests, this area indicates the location/address where the shipment has to be delivered. And again, the phone number and the name of the recipient is also mentioned in this area.
3. Shipment information
This section of the label contains important information including the weight of the shipment and the shipping date. The CAD (cash against documents) is the invoice number which indicates the payment details. In addition, the BILL SENDER indicates that the payment for the shipping label is done by the sender, which is you, in this case.
4. 2-Dimensional Barcode
The 2-dimensional barcode is a special type of barcode that consists of a series of stacked linear barcodes. The symbology is capable of encoding the entire 255-character ASCII data set. FedEx's machines use this barcode to understand essential information.
5. FedEx Network
This area indicates what FedEx network is responsible to handle the shipment. FedEx has created a network of multiple services that are responsible for delivering all kinds of shipments. In addition, shipping services like FedEx Priority Overnight and FedEx Ground fall under FedEx Express and FedEx Ground respectively.
6. FedEx shipment tracking number
Tracking is a big part of FedEx shipping, so, FedEx places the tracking number next to the TRK# sign. Both you and your customers could use this FedEx tracking number to track shipments.
7. Estimated delivery date and time
FedEx determines the delivery date and time-based on the type of shipment and shipping service used. For instance, FedEx Priority Overnight, which is a next-day delivery service, delivers items to locations around 10:30 AM or noon to most areas in the U.S.
However, some of the services like FedEx Home Delivery (FedEx Ground for residential addresses) do not have a fixed delivery date and time. As a result, the delivery date and time of such shipments are not mentioned on the shipping label. Have a look at the sample label below.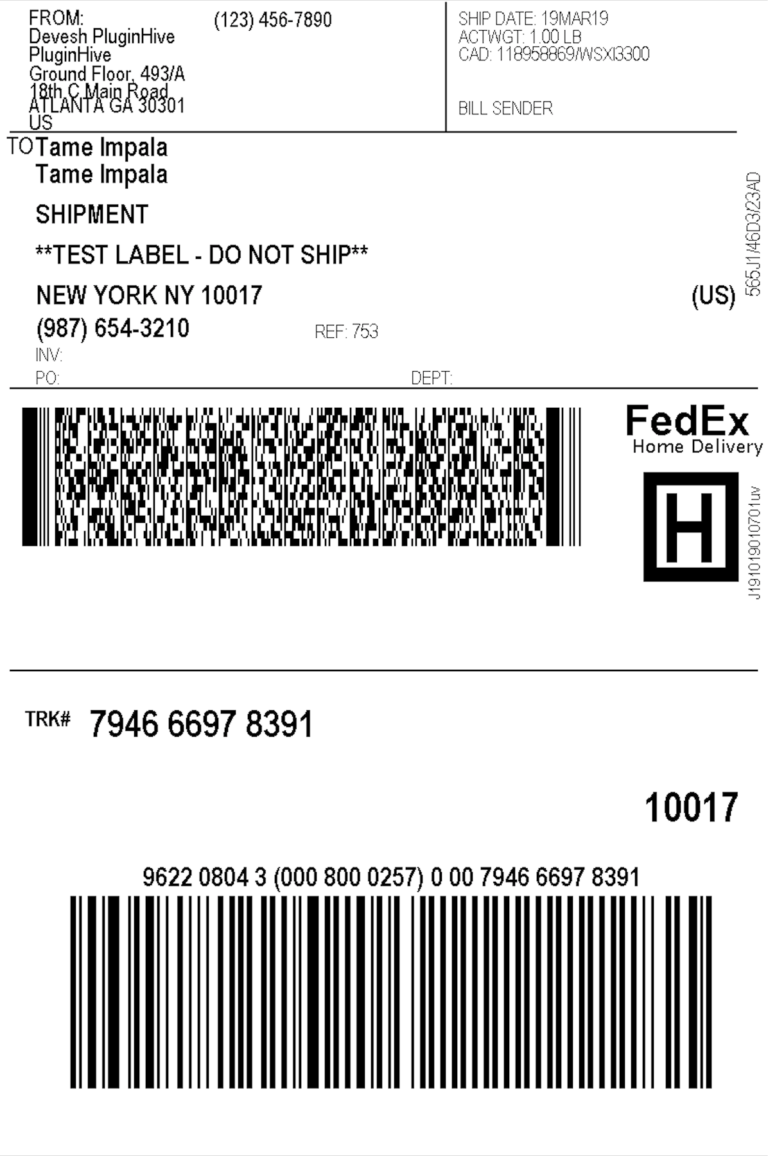 8. FedEx shipping service name
Here, you would be able to see the name of the FedEx shipping service used. In the sample label shown above, the service used is FedEx Priority Overnight.
9. FedEx Collect On Delivery
This indicates that the order amount has to be paid by the customer to the FedEx delivery agent. FedEx Ground designates the amount of money that a FedEx driver collects from the recipient when a package is delivered. However, FedEx Ground Collect On Delivery is not available with FedEx Home Delivery.
10. SSCC—18 Barcode
In an effort to provide shippers with a more convenient way of tracking their packages, FedEx Ground incorporated support for the SSCC-18 bar code into their bar code strategy.
The SSCC-18 is used to identify a shipping container for both the shipper and the recipient. FedEx Ground supports the use of the SSCC-18 as package identification for all systems.
---
What is a commercial invoice?
A commercial invoice is one of the most important documents involved in FedEx international shipping. It is essential for the clearance process used by customs officers as it helps them classify the packages. Commercial invoices also help them assess the necessary duties and taxes.
If you're planning to ship overseas then you would have to follow the right template. Doing otherwise would prevent the shipment to go any further. Here's a sample commercial invoice generally used along with international FedEx shipments. Have a look.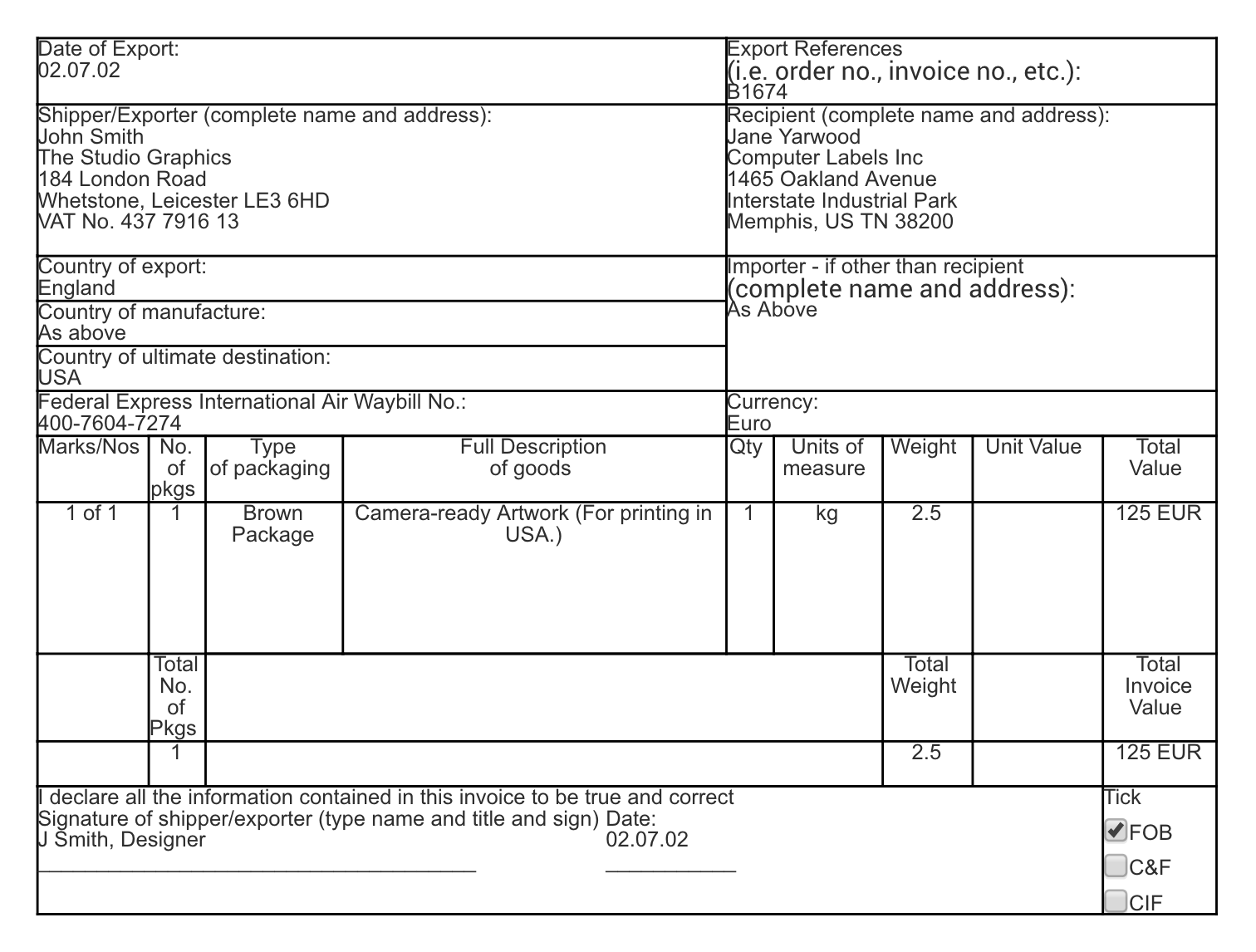 ---
Specifications of a commercial invoice
The sample shown is a suggested format, but your commercial invoice should include the following information:
1. Shipper/Exporter
This section displays the contact name, company name, full address, and VAT number.

2. Country of Manufacture
The area should mention the country in which each of the commodities in your shipment was originally manufactured or produced. Check out the sample below.
3. Importer
You can even mention the importer details here. This section can be used if the shipment will be handled by an importer who is not the recipient. As you can see, you have to add a full name and address here.
4. FedEx International Air Waybill number
The FedEx International Air Waybill number is a unique number that plays an important role in shipping. You must mention this number in the required area.
5. Commodity description

There are a lot of restrictions when it comes to exporting products overseas. You must check what items are allowed to be shipped in a country and what's strictly not allowed. In the commercial invoice, you must mention the details of the items you're shipping.
Here are the things your commercial invoice must contain. You can also refer to the sample image as well.
Full description
Harmonized code (where possible)
Reason for the export/intended use
Any part or serial numbers
Country of manufacture
The WooCommerce FedEx Shipping plugin has a feature that let's you add the commodity description on the FedEx shipping label. However, if you don't mention anything in the description box then, by default, the corresponding product name would appear on the label.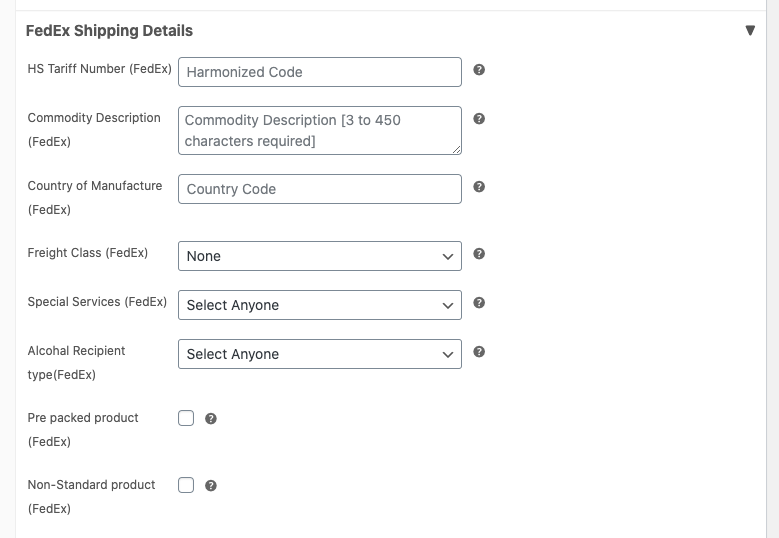 6. Sign the declaration
Ensure that all the information is consistent with the Air Waybill or your shipment could be delayed in customs. Certain commodities may need extra documentation or export licenses. FedEx needs one original commercial invoice with at least two copies and all should be individually signed. They recommend that you put a copy inside one package.
A few tips for store owners planning to ship overseas
Although people consider international shipping ticky, and sometimes dangerous, following the necessary rules and steps would ensure safe delivery. It's sort of like driving; it's dangerous, but once you get the hang of it, everything seems pretty safe and under control.
You have to ensure your packages are eligible for delivery. There are a few forms and documentation which you have to fulfill in order to do so. Here are some of the commonly required forms that should be fulfilled.
Certificate of Origin
Pro Forma Invoice
Packing List
Electronic Export Information (EEI) – Only if your shipment value is > $2,500 USD or qualifies under other EEI guidelines.
FedEx International Shipping Assist is a simple, free service to help businesses and individuals easily get the customs documents they need to ship internationally. All you have to do is complete a simple form with details about what you're shipping, and provide FedEx with the documents you need.
For a smoother customs clearance process, transmit your customs documentation electronically with FedEx ElectronicTrade Documents. This simple, efficient, and reliable solution helps you avoid customs delays and ensure the timely delivery of your international packages. You can enable FedEx ElectronicTrade Documents in FedEx Ship Manager at fedex.com.
How to clear the customs?
Getting a shipment through customs in any country can seem complicated, but if you stick to these best practices, you can minimize delays and maximize efficiency. Here are some of the best practices followed.
Declare the accurate value of your item, even if it's being provided to the recipient at no charge (i.e., sample or not for resale). The value will be used to assess duties and taxes
Keep multiple-piece shipments together, and label each piece of the shipment individually
Correctly complete all necessary documents. Keep your answers specific, accurate, and free of spelling errors
Make sure information is consistent across all documents
List each commodity separately, and provide a detailed, accurate description of each one, including what it's made of and how it will be used
Legibly print the commodity's country of origin/manufacture to indicate where your commodity was manufactured, grown, or produced
If you're using your own broker, please include their complete contact information
Provide a phone number or fax information for both the sender and the consignee
---
How to print shipping labels using FedEx Ship Manager?
FedEx Ship Manager is a good choice for store owners who don't want to have a dedicated shipping solution. They can manually print the shipping labels for their shipments.

But keep in mind that if you start getting more and more orders, you would probably want to have a dedicated FedEx shipping solution. In any case, you will have to first log in to FedEx.com to access the dashboard. Let's have a look at the steps required to do so.
Step 1
You need to first ensure your 'From' address is correct. This is just a first-time thing and your 'From' address will automatically prepopulate in the future. You may 'Edit' the address if you ever have to change the 'Ship From' location.
Step 2
Now you will have to enter your customer's information like name, address, etc. If you have recurring customers then you may even save their profiles under your Contact list, which you could use in the future under the Contact Name. It's like using the contacts App on any smartphone.
Step 3
In this step, you will have to basically define your shipment. You can define the number of packages, the weight of the shipment, the shipping service type, and the packaging type. Here, you may also choose between FedEx One Rate and FedEx Standard Rate. For those who don't know about FedEx One Rate, it's flat-rate pricing for shipments less than 50 pounds.
Learn here about FedEx One Rate and FedEx Packaging.
Step 4
Once you've defined the shipment, you will have to choose who gets to pay for the bill. You, the recipient, or a third party? Click one of the Edit buttons to choose other options like adding a signature requirement (under Special Services), entering pickup or dropoff details, and shipment notifications for you or the recipient.
When you click Calculate under Rates & Transit Times, you'll be shown a list of prices and delivery dates to choose from. That way, you can perfectly balance the budget and delivery speed.
Step 5
Lastly, click Ship to generate and print your label, or Save For Later to ship at a later time. To ship without a printer, first click Send a Mobile Shipping Label, check the box, and enter your email address. You'll receive an email with a barcode. Just take it with you when you drop off your shipment at any FedEx Office location or FedEx World Service Center.
If you create the same kind of shipment a lot, check the box to create a Shipment Profile. Next time, you can create the same shipment in just a couple of clicks.
---
Do you need labels for FedEx SmartPost shipments?
Yes. You need to attach the FedEx SmartPost shipping label along with your SmartPost shipments.
FedEx SmartPost uses both FedEx and USPS services where USPS is the one to perform the final delivery. As a result, many users are doubtful about whether they should attach a shipping label or not.
The FedEx shipping label will specify the origin and destination, the weight of what is being shipped, and the relevant tracking numbers for both carriers. Here's a sample FedEx shipping label for a FedEx SmartPost shipment.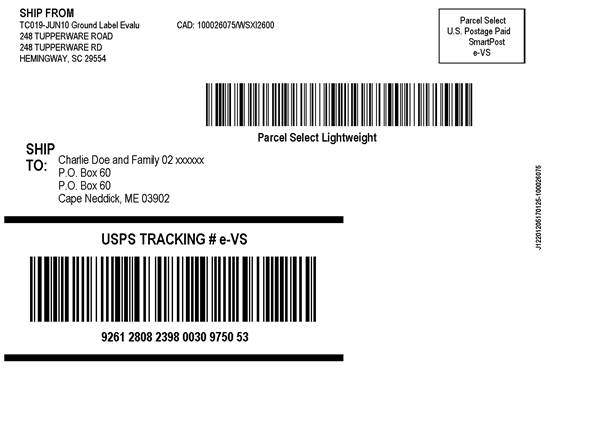 The label comes pre-loaded with both, the FedEx tracking number as well as the USPS eVS (Electronic verification system). You will also be notified in the label about who will carry out the delivery during the final leg of the shipment; be it FedEx or USPS.
---
How to create a FedEx shipping label in WooCommerce?
Running an online business asks a lot of you. One of the many tasks a traditional business owner performs is printing FedEx shipping labels. They visit FedEx.com and log in to their account to create a FedEx shipping label every time. The process is tedious and consumes a lot of your time and energy while doing so.
About WooCommerce FedEx Shipping plugin
As mentioned earlier, there are a few online solutions available to help you with FedEx shipping. They not only help manage your FedEx shipments, but they also help you print labels right off your online store. One of the prime examples is the WooCommerce FedEx shipping plugin.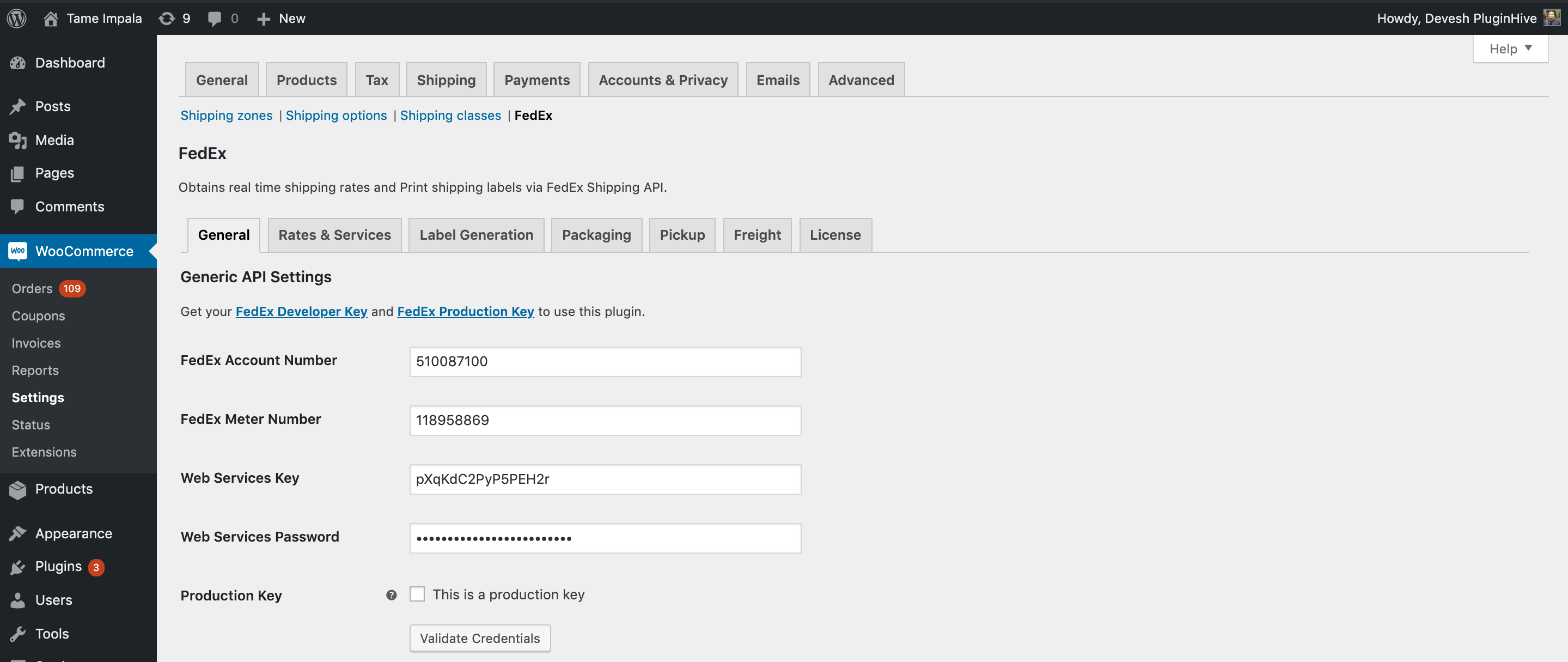 As soon as you receive the order on your WooCommerce store, this plugin automatically fetches the data from the order and sends the shipment details to your online FedEx account. From there, the generated shipping label is ready for download. The postage for this label is automatically paid from your FedEx account.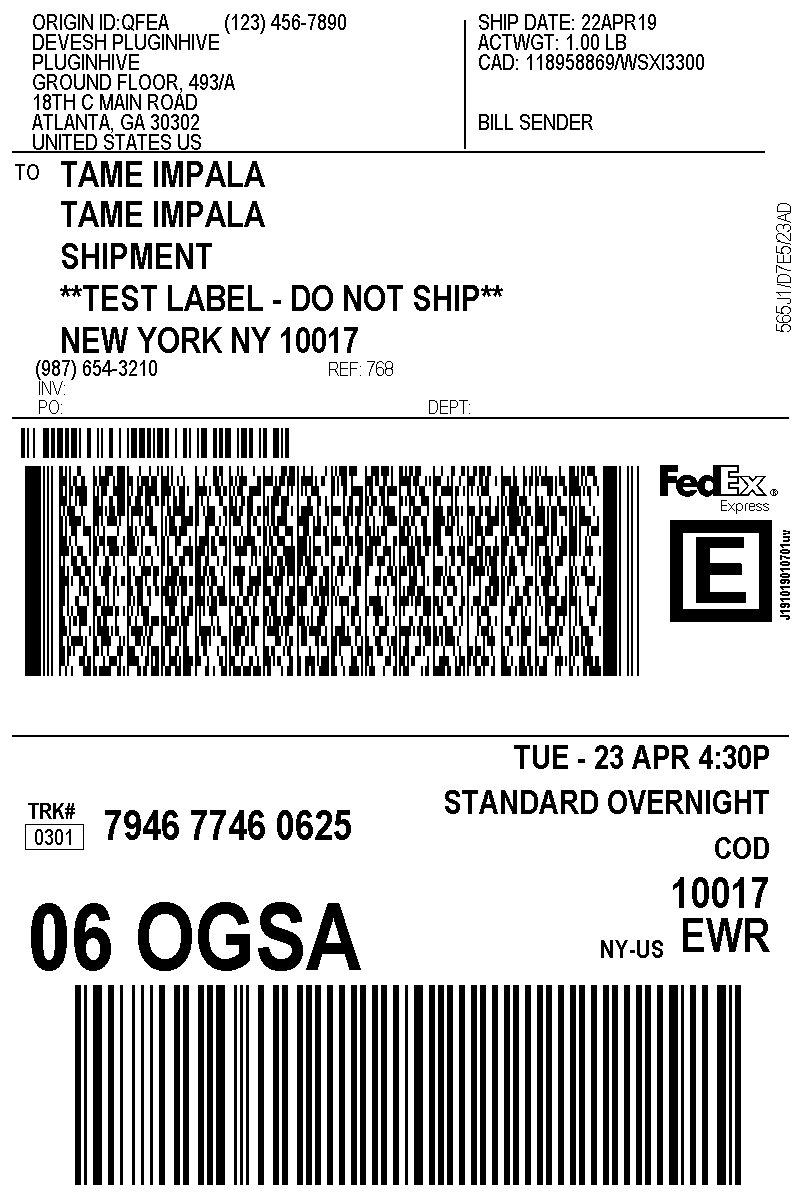 The label contains the customer's shipping address, the order's origin address, and other relevant shipment information. If you look carefully, along with the delivery date & time, the type of FedEx shipment is also mentioned. In the sample label, the FedEx Standard Overnight is clearly mentioned right below the delivery date.
This set of information is very important for FedEx delivery agents. It helps them to deliver the package to the exact location without much effort and confusion. With the introduction of so many barcodes reading apps, it has become even easier for customers to check out the basic information regarding shipment tracking. For example, if you share this shipping label with your customer as soon as the label is generated, they can scan the barcode and find out their shipment status.
Generating return shipping label
Using this plugin, you can even generate the return FedEx label as well. Below is one of the samples of a return FedEx shipping label. As you can see in the screenshot sample, the addresses are reversed in the return shipping label.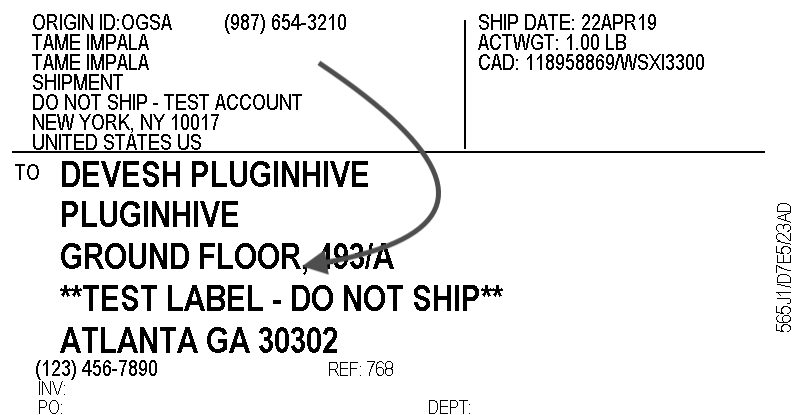 In addition to the FedEx label generation, you can even change the shipping service manually before the label is generated. You have the option to choose the shipping methods from the list of services according to your wish.
For example, if your customer has requested to deliver the package via FedEx First Overnight and you want to deliver via FedEx 2-Day service, you can do that here. Moreover, you can even change the physical dimension of your package or parcel before generating the shipping label.
Generating FedEx shipping labels from WooCommerce
The printing of the shipping label will require your manual authorization. Meaning, as soon as you receive a new order on your WooCommerce store and if you are ready to accept the order, you would have to allow the plugin to generate the package's shipping label.
You can do that by clicking on the Create Shipment button as shown in the image below.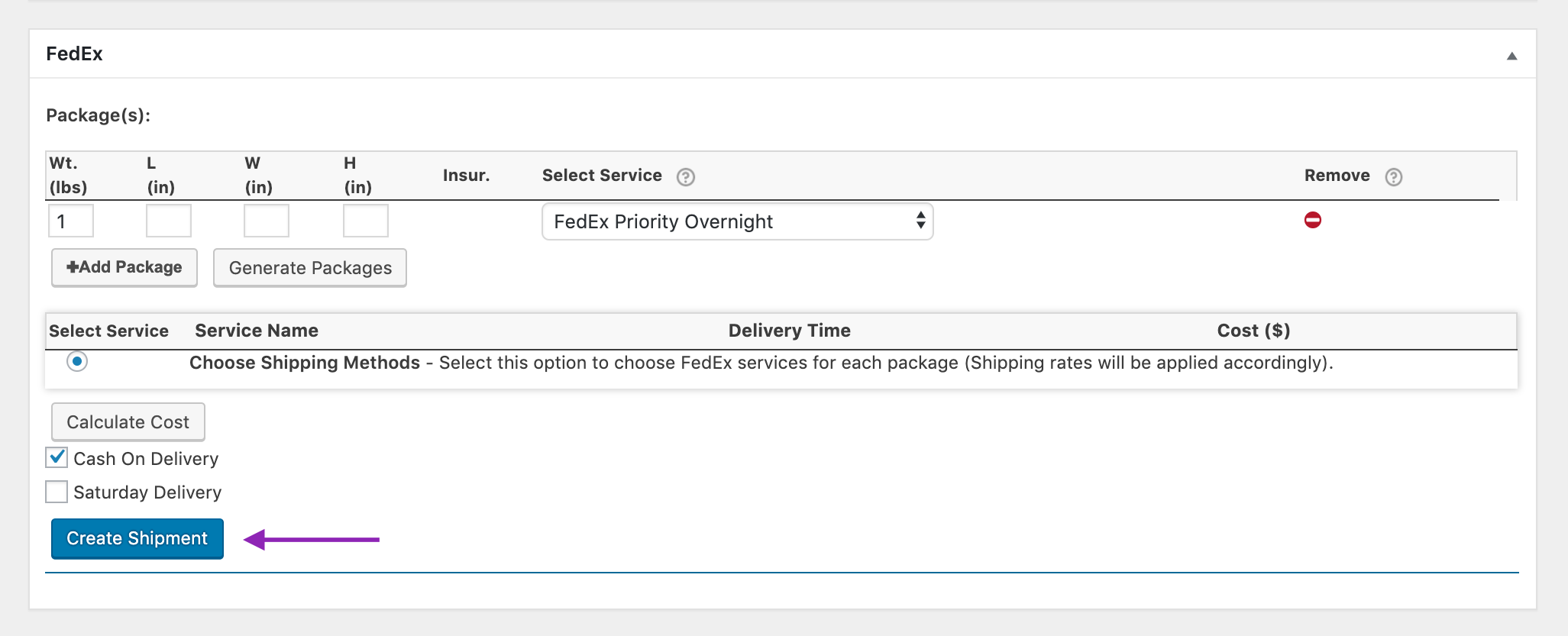 By doing this the page is refreshed and some new options appear. At this stage, the shipping label is generated and is ready to be downloaded.

Print FedEx shipping labels
You can even download the label according to the choice of the Image type. You can choose the appropriate image format based on your choice and this option is present in FedEx's settings under the Shipping option of the WooCommerce settings.
Following are the image format options that you can choose from,

The plugin also supports printing label in different sizes according to your specific requirements. Below are the available options:

As we mentioned in the label generation section earlier, this plugin also allows you to print the return shipping label. You can click on the Generate return label button in order to do that.
Using this plugin for your WooCommerce FedEx orders, you can even set a default service for printing the label. This plugin integrates with FedEx Label APIs to print domestic or international shipping labels with a tracking barcode.
Steps to activate the label printing option
There are two ways to enter the WooCommerce FedEx plugin settings. One of the methods is,
Go to the WooCommerce option on the Dashboard and then click on it
Click on the Settings options under the WooCommerce option
On the new page, click on the Shipping tab – this will open another tab under the Shipping page
You can now see the FedEx option below the main tabs- click on it
Another way is by going to the Dashboard and then click on the Plugins option. Further, you can click on Installed plugins to open the list of the plugins installed on your WordPress website. After doing this, scroll down and find the FedEx plugin and choose the settings option under it.
FedEx shipping label printing options
Now that you're in the FedEx settings, you can now scroll down to come to the Label Generation section. You can refer to the image given below.

Here, you can see that there are a few options including Generate Packages Automatically After Order Received and Generate Shipping Labels Automatically After Order Received as well. These options are self-explanatory and you can click on the Enable tick button to activate the required options. By activating these options, you will activate the shipping label generation and printing feature.
Now, if you need or want to give label access to your customers, then you can do that as well. These options are also under the Label Generation section of the FedEx settings page.
Thus, if you want to send the generated shipping label to your customer via email, this option will let you do that. Check the 'Send label in the email to customer after label generation' box and enable this function. Moreover, you can even allow users to download their shipping labels by checking the other option.
---
How to create a FedEx shipping label in Shopify?
Shopify is a great e-commerce platform to run an online business. With Shopify shipping, you can set up basic shipping capabilities by displaying Flat rate shipping, and shipping rates from carriers like UPS, USPS, and DHL. However, you don't have FedEx shipping so you won't be able to handle FedEx SmartPost by default.
About Shopify

FedEx

App
For Shopify users, you have the Shopify FedEx App to handle all your FedEx shipments. You can provide real-time FedEx shipping rates, print FedEx shipping labels, schedule FedEx pickups, and offer FedEx SmartPost shipping.
The Shopify FedEx App works directly with the FedEx API and the shipping rates are fetched from FedEx. So in order to use FedEx SmartPost, you need to have the FedEx Production credentials with you. Check out the FedEx Production Credential guide.
First, let us see how to create a shipping label for a single order. In order to generate the FedEx shipping label for a single order, there are two methods; Manual and Automatic.
Creating FedEx shipping labels manually
Go to the Order section and go to the "details" of the order for which you want to generate FedEx shipping label. Then click on More Actions and then on Generate Labels to manually generate FedEx shipping labels for the selected order.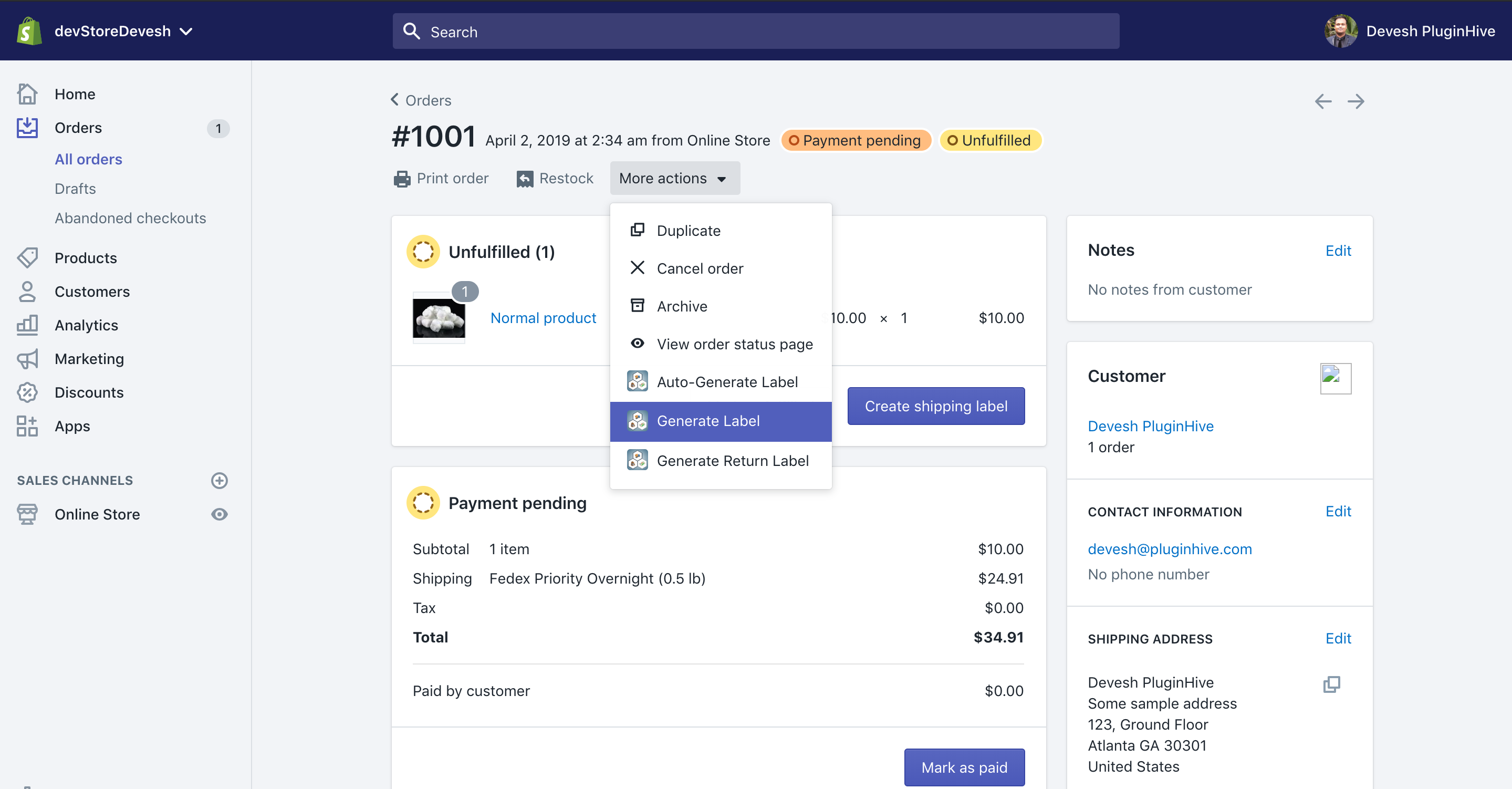 The page will redirect to the label generation page where you do the following.
Select the correct From Address for the FedEx label. For stores with a single location, there will be a single address available.

The packages will be generated based on the Packaging Method created in the app settings page.
For creating the label using Automatic Mode, you need to go to the Orders. Then select the order for which you want to create the FedEx shipping label. You will have to click on Actions and then on Auto-Generate Labels to generate FedEx shipping labels for the required order.

Creating Shipping Labels for Shopify Orders in bulk
You can even print multiple shipping labels in one go. To do that, you would have to go to the Orders under the dashboard of your Shopify store. Select all the orders for which you want the FedEx shipping labels and then click on Actions. And then click on Auto-Generate Labels to generate FedEx shipping labels for all the orders.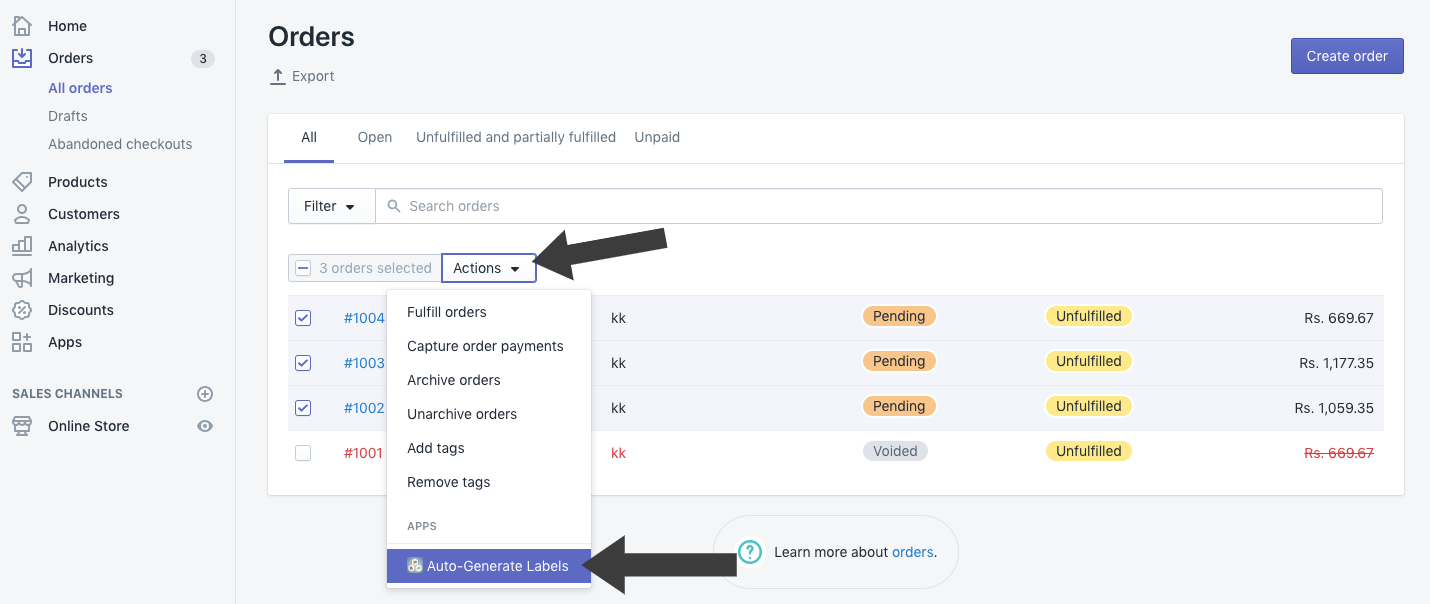 This will redirect you to the "Label Generation" page which will have the options to download label, track the order, and cancel the label (order). In the top section, you should be able to see the Download option. Click on it.
Once clicked, Shopify FedEx App will download the FedEx shipping labels for all your orders in a Zip file. Have a look at the image below.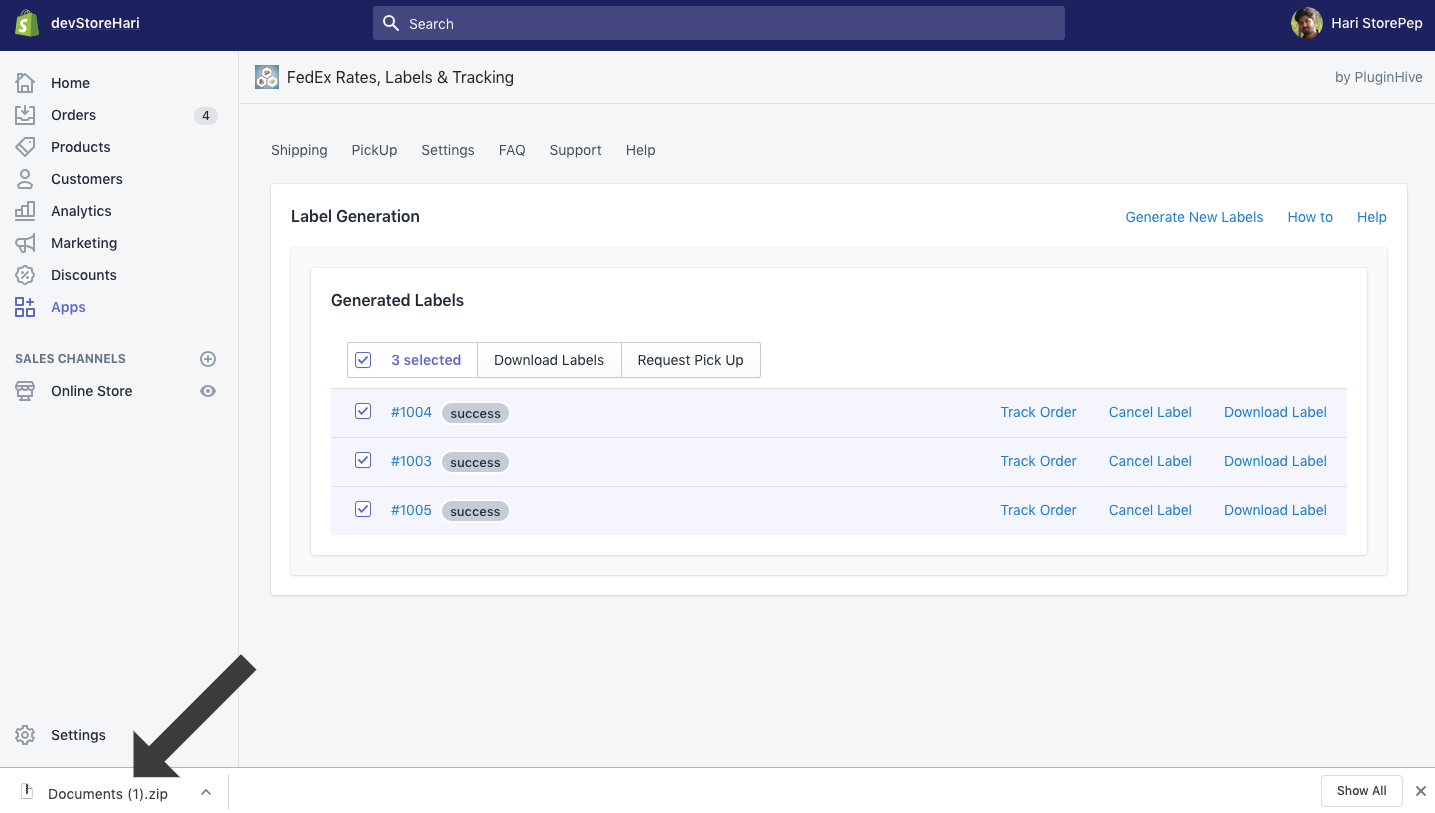 You would find all of your shipping labels in this Zip file. Here's a sample FedEx shipping label for you.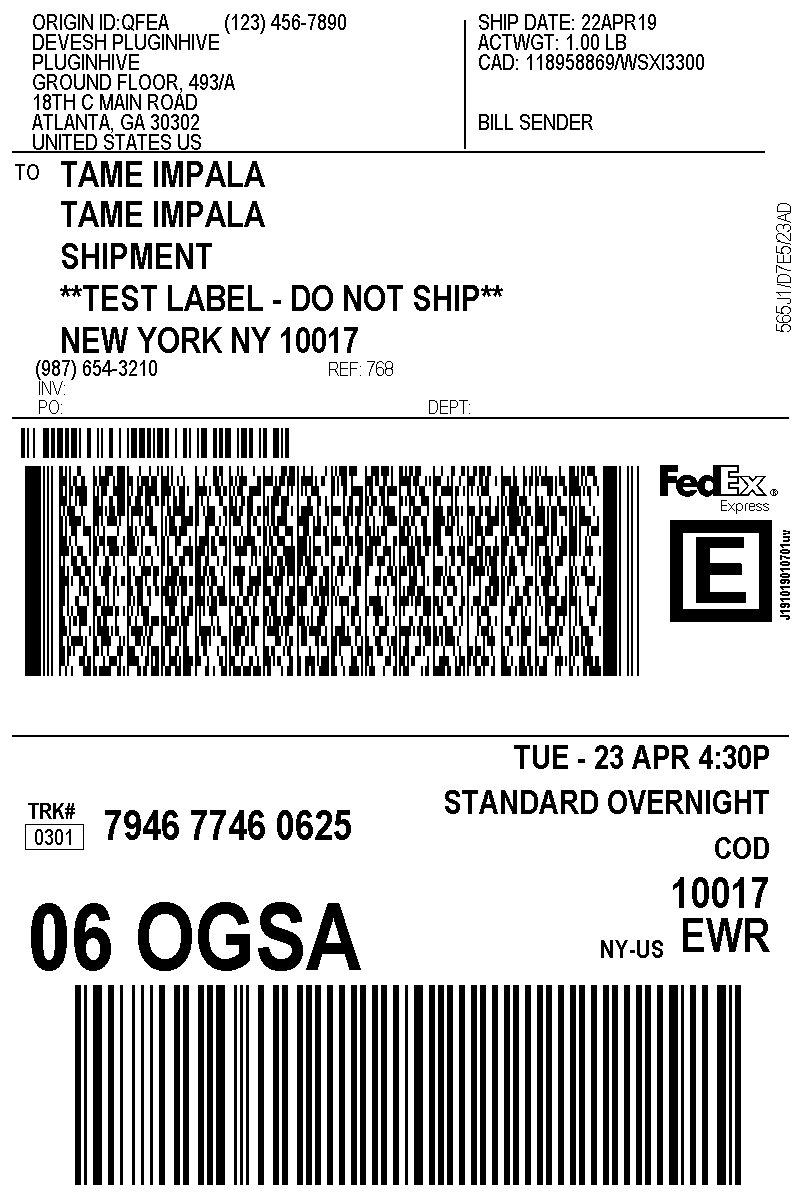 This app also prints commercial invoice for all the Shopify international shipping services, as shown below.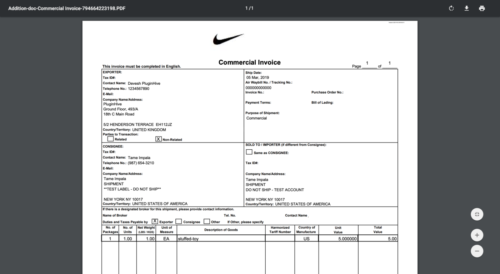 ---
Conclusion
This guide shows you how you can create and print FedEx shipping labels for your orders. We also saw how you can do that on your online store. Both the WooCommerce FedEx shipping plugin and Shopify FedEx App are wonderful FedEx shipping solutions that could help you print shipping labels for all your orders.
If you have any queries regarding this guide then feel free to contact our customer support. They should be able to help you out.
Happy selling!