Looking to deliver packages on weekends with FedEx? In this guide, we will tell you everything about it. We will also look into a few shipping solutions like WooCommerce FedEx Shipping plugin that provides services supporting Saturday delivery.
If you are an e-commerce store owner, you must be familiar with shipping carriers like UPS, FedEx, and the services they offer. Shipping carriers like UPS, FedEx, Canada Post, etc., provide easy domestic as well as international shipping. All you need to do is make sure you have chosen the right carrier with services suitable for your business needs.
Talking about the shipping carriers, did you know that not all FedEx shipping services deliver on Saturdays? Well, yes!
FedEx is well known for its reliable and secure shipping services. It provides some of the best in class shipping services that cover both domestic and international shipping. That being said, as you can see in the image below, there are some services which don't provide a Saturday delivery.
You can easily see that the shipping services like FedEx Ground don't deliver on Saturdays. In fact, if the delivery doesn't happen by the end of Friday, the package is scheduled automatically for a Monday delivery.
FedEx Ground is a secure shipping option when it comes to delivery on the weekdays. Hence, most of the business owners prefer to use FedEx Ground for their deliveries. However, if a Saturday or Sunday falls in between the delivery period of three to five days, it can increase the transit time of your packages to around 7 days.
Under these circumstances, displaying accurate delivery dates become even more important for services that don't deliver on Saturdays. You could face situations where your customers are expecting a delivery on Saturday when the selected shipping service would be delivering the package 2 days later on Monday. Customers waiting for a whole day or two for the delivery, especially when the delivery date displayed on your website was on Saturday, is a disaster. And you would want to avoid it at any cost.
Hence, you need a mechanism to provide accurate delivery dates to your customers on the cart page. This way the customers will know that if they choose FedEx Ground, they will get their delivery after a certain number of days. And they can get the delivery faster without any additional cost by choosing, let's say, FedEx Home Delivery option. For this, you would require a shipping solution that allows you to get an accurate delivery date on your cart page
In this article, we will talk about how important it is to display accurate delivery dates. We will cover some of the best ways to provide accurate order delivery dates to your customers.
How To Provide Accurate Order Delivery Dates on your Website?
In this section, we will check out two ways to ensure your customers get an accurate delivery date every time they order something from your website. One of these ways is a carrier specific option using which you can provide shipping options as per your needs on your online WooCommerce store.
Using this solution, your customers will get an accurate delivery date from FedEx on the cart page for every shipping option they select. The other one, however, focuses more on the delivery date based on any shipping option irrespective of the shipping carrier and lets you manage delivery dates based on your preferences.
WooCommerce FedEx Shipping plugin is the best FedEx shipping plugin you can get on the web. This plugin automates real-time FedEx shipping estimate from FedEx and displays it on your website. Moreover, it supports all the FedEx shipping services for domestic as well as international shipments. You can enjoy tons of other amazing features of WooCommerce FedEx Shipping plugin on your WooCommerce store.
The plugin supports all the official FedEx Shipping Services. Have a look at the image below.
The image displays all the FedEx shipping services that this plugin supports. Using this plugin you can easily display any and all of the shipping services on your website. Not only that, this plugin provides real-time shipping rates with accurate delivery dates for your customers.
The image below displays the accurate delivery dates for all the shipping services from FedEx. Hence, your customers will know which service they can choose to get their package earliest.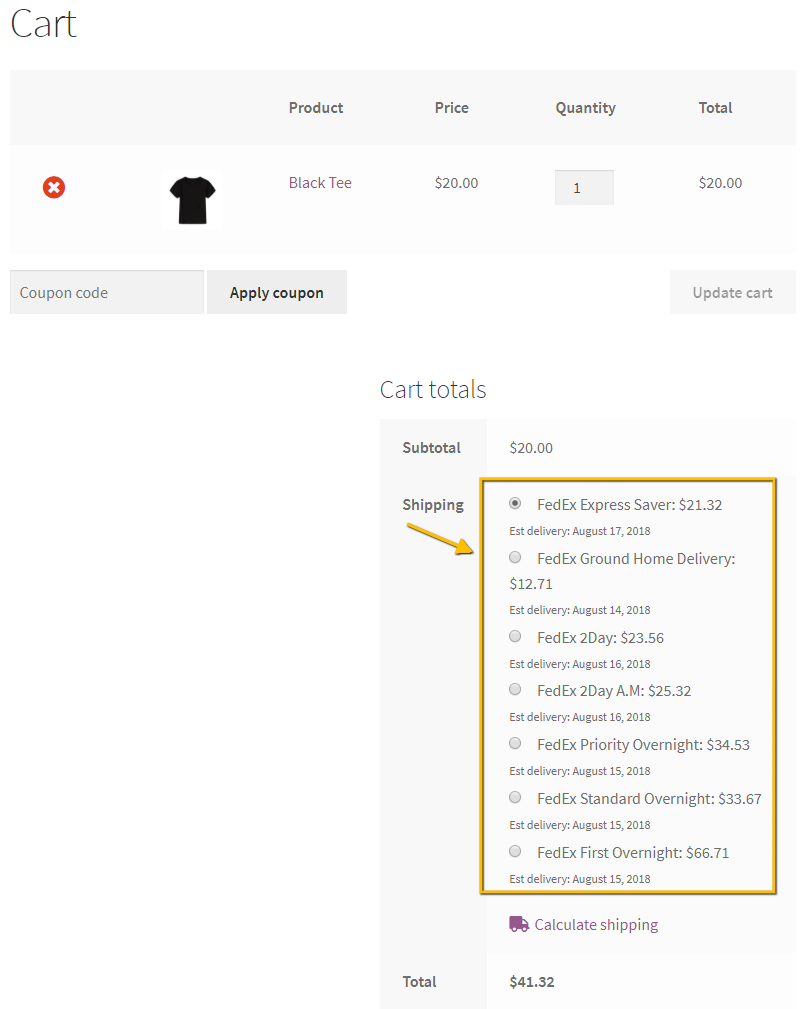 WooCommerce Estimated Delivery Date plugin allows you to calculate and display delivery dates on your website. It provides estimated delivery dates on the basis of various factors like shipping location, the type of products in the cart and even the shipping services.
Let's take the example of FedEx Ground. Since this service doesn't deliver on Saturdays, you need to display an accurate delivery date for this service. Hence, the plugin allows you to set up non-delivery days for the shipping service. The plugin will calculate the delivery date and will display it on the cart page. Take a look at the image below.
The image displays the plugin settings where you can configure a non-delivery day for any shipping service. All you need to do is get the shipping method value from the cart page and set up the non-delivery days for that. The plugin will skip that day and will calculate estimated delivery accordingly. You can see the delivery date for FedEx Ground on the cart page in the image below.
Final Thoughts…
Displaying accurate delivery dates on your website can serve you well by letting your customers know exactly when they can expect their packages. Even in the case of tricky weekend delivery scenarios, you can save yourself a lot of trouble by choosing any one of the solutions we discussed in this article.
Being an online store owner, you would not want your customers to go away just because you were not able to display accurate delivery dates for them. Hence, opting for advanced delivery date calculation plugins is the best bet that is a permanent and reliable solution.
If you own a Shopify store and are looking for ways to integrate FedEx shipping then check out Shopify FedEx App. Shopify FedEx App is an end-to-end FedEx shipping solution for your Shopify-based store. It works in a similar way as the WooCommerce FedEx Shipping plugin. With the help of this App, you can show real-time shipping rates on your Checkout page.
If you need any help regarding shipping or WooCommerce shipping, then feel free to contact our customer support. They should help you out.
Happy selling!