What if the customer isn't home when the delivery truck arrives? How to schedule deliveries for such shipments? Concerns like this put most small businesses in a pickle. Even if you could manage the final deliveries on your own, achieving a perfect delivery system could be a definite stretch. For the most part, FedEx Pickup and its wide range of delivery options seem to have solved this problem. FedEx has designed its time-definite services keeping your interests in mind. You can customize your shipments extensively with their special delivery options. They even allow you to schedule a pickup for your orders, something which e-commerce giants like Amazon.com have mastered over the years. We will guide to how to use various FedEx pickup services for your business. We will also explore the special delivery options like Hold at Location, FedEx Delivery Signature Options, and others, provided by FedEx.
---
What is FedEx Pickup?
FedEx Pickup is a special service that is offered by various FedEx services. With this, you can have your shipments picked up right from your warehouse at a pre-defined time and date. Upon request, FedEx agents would arrive at your location to pick up your shipments. Specifying the pickup time beforehand should give you enough room to plan your shipments. You can easily prepare and pack your items into the packages a night before the FedEx truck arrives the next morning. Talking about packages, FedEx offers pickups for both normal (less than 150 Lbs) and freight shipments. So even if you own a business that entails in shipping heavy items, you'll be capable of providing time-definite deliveries to your clients. Many online store owners prefer using a third-party e-commerce solution to schedule pickups. Most e-commerce solutions allow users to automatically do that without even entering into their FedEx account. For instance, there's the WooCommerce FedEx Shipping plugin for WooCommerce users that provide the necessary features to schedule FedEx Pickup. We will discuss more on this later in this article.
---
Things you need to get started with FedEx Pickup
FedEx has certain restrictions when it comes to scheduling pickups. To begin with, FedEx will only pick up shipments billed to a FedEx account number. So it's important to get yourself a FedEx account before you proceed any further. The payment process is quite simple as you can either choose to pay by cash, check, or credit card. But the payment must be taken to a staffed shipping location, and a government-issued photo ID is always required. You can contact your FedEx account executive to see if you qualify for a regularly scheduled pickup or a FedEx Ground Automated Pickup. There are three types of FedEx Pickup options available for store owners. Based on your needs and comfort, you can select any one of the three.
One-time Pickup
Recurring FedEx Pickup
Dropoff at a FedEx Location
What is FedEx One-time Pickup?
With One-time Pickup, you can arrange a quick pickup for a one-time shipment. Most users who go with this option usually don't have multiple shipments going out regularly. They rather prefer saving both money and time by going with this service. You can use One-time Pickup to schedule a one-time pickup at your location for FedEx Express, FedEx Ground, and FedEx Express Freight shipments. FedEx allows you to view, edit or cancel your pickups on their website. They also create email notifications to keep recipients informed about the shipment(s). There are three ways to arrange a one-time shipment pickup. You can either call them or schedule a pickup while creating a shipping label in FedEx Ship Manager or use a third-party e-commerce solution.
What is Recurring FedEx Pickup?
Most people go with the Recurring FedEx Pickup option so they can ship multiple times a week. If you run a business that deals with deliveries daily then this service is for you. You can simplify your shipping routine and plan ahead for recurring delivery needs. Going with the Recurring FedEx Pickup will allow you to save a lot of time. You don't have to contact FedEx every time to schedule pickups for your shipments. You can even specify the pickup time and days of the week when you'd be shipping.
What is Dropoff at a FedEx Location?
This service is exactly as it sounds. With Dropoff at a FedEx Location option, once you have your shipments ready, you can bring them to any FedEx Pickup nationwide location. FedEx will take your shipments thereon and you don't have to worry a thing. Most businesses that participate in this kind of business model usually fall under the general or grocery stores category. FedEx allows you to use its famous shipping services like FedEx Express, FedEx Ground, and FedEx SmartPost. Keep in mind that these services work 24/7, so you can really benefit more from this service.
Various features and options for FedEx Pickup
Apart from the above three types of FedEx Pickup options, there are a few more terms you should know. You can read about them more here.
FedEx Door Tags
You cannot always be present when
FedEx
arrives for the pickup. FedEx door tags system notifies you when they've been at your location. This gives you important information regarding various services like FedEx Express and FedEx Ground shipments which are scheduled for pickup. FedEx recently added this nifty feature to simplify their shipping process. You can use this feature is a shipment was picked up successfully. This will also show you the options you have if you missed the scheduled pickup.
You have to match the following information with the numbers shown on the pickup notice above.
Package picked up: Indicates that FedEx has picked up your package and tracking information is provided on the back of the pickup notice.
Package not picked up:

Explains why FedEx was unable to pick up and what steps you can take.
Status Door Tags
You have to match the following information with the number shown on the door tag.
Package not delivered or picked up: This section has details on FedEx's pickup attempts and you can find more information is provided on the back of the door tag. FedEx may make three attempts to pick up FedEx Ground Call Tag shipments. While the pickups for other shipment types must be rescheduled later.
FedEx Saturday Pickup
Because of many reasons, businesses sometimes require the pickup to happen on Saturdays. FedEx offers pickups on Saturdays for most shipping services. This includes the services within the U.S., international and some other. Saturday pickup is available in primary service areas for,
First Overnight
Priority Overnight
Standard Overnight
2Day A.M.
2Day
Express Saver
FedEx Express Freight Saturday pickup is also available in several U.S. markets with,
First Overnight Freight
1Day Freight
2Day Freight
3Day Freight
International Priority Freight
International Economy Freight
Shipments to international destinations may be picked up in the U.S. on Saturday and are only applicable in primary service areas for a special handling fee. There is no additional charge to drop off your shipments on Saturday at a FedEx location (not all FedEx Express Drop Box locations offer Saturday pickup). Saturday pickup is not offered for FedEx International Economy or FedEx Express Freight international services except in countries where Saturday is a regular business day. As an exception, Saturday pickup and drop-off are available in Anchorage for Alaska.
FedEx Ground Alternate Address Pickup
For regular-scheduled-pickup customers, FedEx may provide pickup service to another address other than the shipping location associated with the FedEx Ground account number for an additional charge per unique address per week. Whereas, for customers who do not have a regularly scheduled pickup, FedEx may provide pickup service to another address other than the shipping location associated with the FedEx Ground account number for a per-package charge.
FedEx Inside Pickup
When you request, FedEx may move U.S. express freight shipments and FedEx International Premium shipments from positions beyond the adjacent loading area. In doing so, FedEx usually assesses an inside pickup charge in addition to all other applicable charges. The adjacent loading area is defined as a pickup site that is directly accessible from the curb and is no more than 50 feet inside the outermost door. This is one of the special FedEx special pickup services.
FedEx Liftgate Pickup
FedEx makes shipping really easy for business owners. With the Liftgate pickup service, FedEx can bring along their lift-gate device and raise shipments from ground level to the level of the trailer. This way they can load the freight packages much quicker.
---
FedEx Express Pickup
FedEx Express Pickup is a service that is specifically designed for FedEx Express packages. This service allows customers to schedule a pickup for their time-sensitive or valuable packages such as important documents, fragile goods, or perishable items. It saves time and effort by eliminating the need to drop off packages at a FedEx location and ensures that the package is securely transported to its destination. FedEx Express Pickup is available for both domestic and international shipments.
Delivery Options: Customers can choose from a variety of delivery options when scheduling the pickup, including standard delivery, same-day delivery, and next-day delivery. The delivery options and associated fees may vary depending on the package's destination and the delivery time frame selected.
Delivery Charges: There is no additional charge for scheduling a FedEx Express Pickup if you are a FedEx account holder. However, if you are not a FedEx account holder, you may be charged a fee for the service.
Package Requirements: FedEx Express Pickup is available for packages weighing up to 150 lbs. and measuring up to 108 inches in length and 165 inches in length and girth combined. Packages must be properly packaged and labeled, and they must be accessible for pickup.
---
What are the FedEx Special Delivery options?
FedEx offers a few special delivery options along with FedEx Pickup. These options can prove to be really beneficial to your business in many ways. Read more about them in the section below.
FedEx Delivery Signature
FedEx allows multiple options when you need a signature upon delivery. Based on the type and kind of shipment, FedEx will as the receiver to sign in to the final document. Failing to do so may even void the shipment which will be returned back to the origin address, i.e, your warehouse. To avoid such a scenario to ever happening, FedEx allows three types of signatures—
Indirect Signature Required
Direct Signature Required
Adult Signature Required (required in the U.S. and Canada)
Please note that Indirect Signature Required is available for residential shipments only. You can visit the FedEx page and choose Pickup and Delivery and then select FedEx Delivery Signature Options to know more.
There are times when you'd want to hold package(s) for some time before delivering to the final address. Customers usually raise the request to do that because of some reason. Maybe they had to leave the city for a few days or simply aren't available at the moment. Nevertheless, FedEx offers a special delivery service that allows you to hold package(s) at a FedEx location upon further information. If you have enabled Hold at Location option for your shipments then you can have your eligible FedEx Express or Ground shipments held for pickup. You can select this option when you prepare your shipment once it's on its way. To find the relevant FedEx locations and where this option's available, you can enter an address and then select 'Hold at location'.
FedEx Home Delivery
This delivery option is used when customers have special delivery needs. In fact, it's a widely used delivery option for many small business owners. FedEx Home Delivery falls under the FedEx Ground service which is a well-known FedEx service. It takes 1–5 business days to deliver a package within the U.S. and 3–7 business days to and from Alaska and Hawaii. The working days are restricted to Tuesday–Saturday (from 9 AM to 8 PM), while the service is applicable to all 50 States in the United States of America. There are three shipping services that fall further under FedEx Home Delivery. Check out each one of them below.
FedEx Date Certain Home Delivery: This service can be used when you want to request delivery on a specific date your customer selects. However, this service can only be used from Monday to Saturday, so no delivery on Sunday is possible. Please note the selected date should not be before the standard delivery date and is within 14 days from the pickup date.
FedEx Evening Home Delivery: Another special service from FedEx in which the delivery can be requested between 5 PM and 8 PM on the scheduled date of delivery.
FedEx Appointment Home Delivery: FedEx will contact the customer personally asking in advance to arrange the final delivery. So it is upon the customer to specify the date and time for the scheduled delivery.
FedEx Inside Delivery
As discussed before in the FedEx Pickup section, you can request inside pickup service for FedEx Express Freight Services. The inside delivery option is intended for store owners who do not have the necessary equipment to move shipments to the loading area. FedEx moves shipments from positions beyond the delivery site which are directly accessible from the curb.
FedEx Inside Delivery is available for FedEx 1Day Freight, FedEx 2Day Freight, and FedEx 3Day Freight shipping services. These services do not require special service contracts with FedEx. And if a shipment breakdown is needed to fit a shipment through the doorway, additional charges may be assessed. FedEx does not provide piece count or piece verification when a breakup of a freight shipment occurs at the delivery site.
FedEx Liftgate Delivery
FedEx also provides a Liftgate Delivery feature which is the final part of the liftgate process. Once FedEx reaches its destination address, it can lower the freight items from the trailer level to the ground level. So the recipient can take shipments right at their gate without worrying about anything else.
---
How to schedule FedEx Pickup in WooCommerce?
With the WooCommerce FedEx Shipping plugin, you can easily schedule FedEx pickup. This feature has been seamlessly integrated with FedEx services and works great for your business. You can find a separate section that talks about FedEx Pickup. You have all the necessary options available here.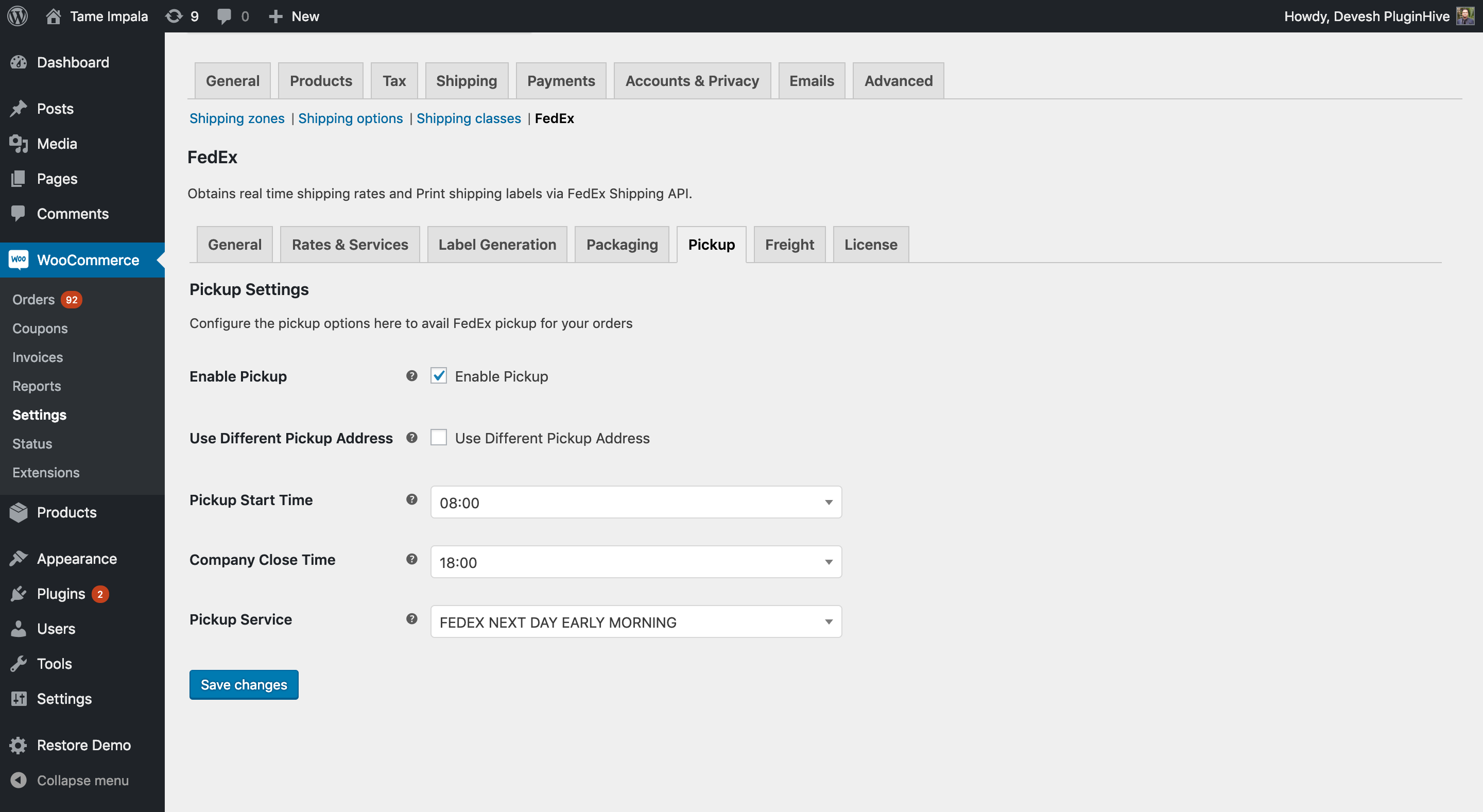 By clicking on the Enable Pickup option you would be able to see the above option. You can now enter the Pickup address if you have a different location (warehouse, etc.,) where you hold your shipments. Here, you can even mention the Pickup start time and company close time as well. Furthermore, you can even choose the FedEx Pickup service depending on your comfort and business model. Here are the FedEx services that support FedEx pickup.
SameDay
SameDay City
Distance Deferred
You also have the various FedEx NextDay services like,
Early Morning
Mid Morning
Afternoon
End Of Day
Freight
Now suppose you received a new order. You can go to the WooCommerce Orders page and click on that order to view.
---
---
Thereafter, you need to follow the following steps to enable FedEx pickup for that order–
Click on the Enable button
Click on the drop-down menu
Select the Request FedEx Pickup option
Now click on Apply button
Upon doing this, the web page will refresh and you'd see the Requested comment under the FedEx Pickup column. Please refer to the following image for the same.
---
---
You can even cancel the FedEx pickup. To do that, select the order(s) and click on the drop-down menu and then select the Cancel FedEx Pickup. Here's a screenshot for your reference.
---
---
How to access special delivery options in WooCommerce?
With this plugin, you can access FedEx's special delivery options on your WooCommerce store. Here are the places where you can access these options.
FedEx Delivery Signature
Go to the plugin settings, WooCommerce Dashboard→Settings→Shipping→FedEx→General→Advanced settings. Here you should be able to see the following options.
---
---
FedEx Saturday Pickup
If you refer to the above image again, you have the option to select the Saturday Pickup. So if you're using FedEx services that support Saturday Delivery then you can enable this option.
Hold at Location
Go to WooCommerce Dashboard→Settings→Shipping→FedEx→Rates & Services. Now hover down and enable Hold at FedEx Location as shown in the image below.
---
So once the customer is on the Checkout page, he or she can select the nearest location as shown in the image below.
---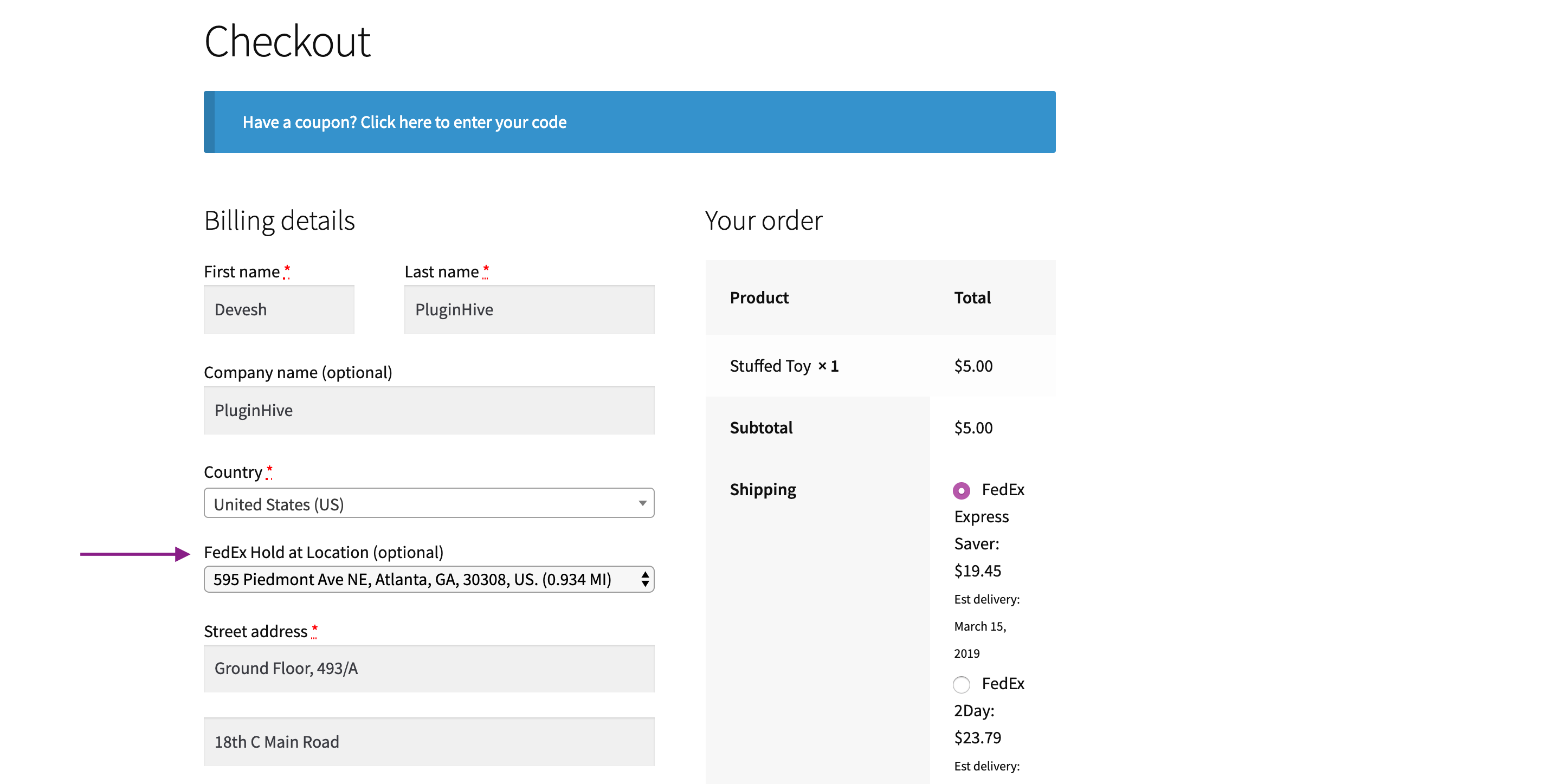 ---
FedEx Liftgate and Inside options
You can access all four special features under the WooCommerce Dashboard→Settings→Shipping→FedEx→Freight. Refer to the following image. Keep in mind that you need to have a FedEx Freight account in order to access these features.
---
---
Conclusion
FedEx Pickup services are really useful for your online business if you look closely. The WooCommerce FedEx Shiping plugin is an amazing WooCommerce plugin that helps you accomplish all your shipping needs. If you have any queries regarding this article or the integration of the WooCommerce FedEx Shipping plugin, feel free to share your views in the comment section below. We will be more than happy to help you understand how this plugin can work together in fulfilling your shipping requirements. And if you have any queries regarding the plugin or WooCommerce shipping then feel free to contact our customer support. They should be able to help you out. Happy selling!