Sometimes choosing a popular shipping option is better than experimenting with a new one. FedEx Standard Overnight is one of the widely-used shipping services in the world. It's the go-to-go shipping service for most businesses and for obvious reasons. It is really quick, considerably economical, and delivers packages all across the country where it operates.
FedEx Standard Overnight offers a healthy set of shipping facilities to its users. To understand how these facilities could benefit your business, you need to understand each one of them in detail. And only then you can make the most out of this service.
In this article, we will discuss FedEx Standard Overnight and try getting to know more about it. To provide better analysis, we will compare it with other relevant FedEx services and look into a few cases. So let's begin.
What is FedEx Standard Overnight?
FedEx Overnight Delivery, in its entirety, is a domestic shipping service offered by FedEx. This delivery category if responsible for deliveries to locations by the next business day. It is divided between three services—FedEx First Overnight, FedEx Priority Overnight, and FedEx Standard Overnight.
FedEx Standard Overnight provides next business day by 3 PM to most U.S. addresses. While the delivery could extend up to 4:30 PM for rural areas and by8 PM for residential addresses. Moreover, in the United States alone, FedEx Standard Overnight will deliver packages to all 50 states wherever FedEx Priority Overnight delivery is committed by 10:30 AM or Noon (not applicable to Hawaii).
The service operates from Monday to Friday and does not deliver packages on Saturday and Sunday. However, you can opt for the Saturday Pickup if you want FedEx to pick up shipment(s) on Saturday. Just to be clear, this doesn't mean they will deliver on Saturday.
Additional information about FedEx Standard Overnight
Coming to the package types, FedEx Standard Overnight promises to deliver packages up to 150 Lbs. However, if you have FedEx One Rate enabled for your account, then each FedEx Envelope must weigh 10 Lbs or less. Considering other boxes like FedEx PAK, Boxes, and Tubes, the maximum weight limit is set to 50 Lbs and no more than that.
Although FedEx promises to deliver packages by the next business day, the promise isn't the same for Alaska and Hawaii. It usually takes 1 or 2 business days to deliver packages to these locations. Nevertheless, if you require to ship items to these places on time, you may go with FedEx First Overnight or FedEx Priority Overnight.
What other shipping options does FedEx Standard Overnight support?
Each business has a different set of requirements. It's not necessary that one service with its default features would suffice other business needs. For instance, businesses that deal with chemicals and have to transport raw materials from one state to another. Shipping services would require special permits to clear the delivery trucks.
Saturday Delivery
Because of many reasons, businesses sometimes require the pickup to happen on Saturdays. FedEx offers pickups on Saturdays for most shipping services. This includes the services within the U.S., international and some other.
Saturday pickup is available FedEx Standard Overnight. It's also available for other two FedEx Overnight services—FedEx First Overnight and FedEx Priority Overnight.
Hold At Location
There are times when you'd want to hold package(s) for some time before delivering to the final address. Customers usually raise the request to do that because of some reason. Maybe they had to leave the city for a few days or simply aren't available at the moment.
Nevertheless, FedEx offers a special delivery service that allows you to hold package(s) at a FedEx location upon further information. If you have enabled Hold at Location option for your shipments then you can have your eligible FedEx Express or Ground shipments held for pickup.
You can request the consignments/shipments to be held/retained at the FedEx destination location. You can select this option when you prepare your shipment once it's on its way. To find the relevant FedEx locations and where this option's available, you can enter an address and then select 'Hold at location'.
FedEx Delivery Signature
FedEx Standard Overnight allows multiple options when you need a signature upon delivery. Based on the type and kind of shipment, FedEx will as the receiver to sign in to the final document.
Failing to do so may void the shipment entirely and the package will be returned back to the origin address, i.e, your warehouse. To avoid such scenario to ever happen, FedEx allows three types of signatures—
Indirect Signature Required
Direct Signature Required
Adult Signature Required (required in the U.S. and Canada)
Please note that Indirect Signature Required is available for residential shipments only. You can visit the FedEx page and choose Pickup and Delivery and then select FedEx Delivery Signature Options to know more.
FedEx Returns
There are times when you have to return certain packages. FedEx Standard Overnight allows you to generate and print return shipping labels for your shipments. You can use their FedEx Ship Manager to print the shipping labels.
If you're a WooCommerce store owner then you can use the WooCommerce FedEx Shipping plugin to print the return labels. This plugin will allow you to print the shipping labels in bulk. Check out the plugin page to know more about it.
Dangerous Goods
FedEx provides reliable delivery for dangerous goods. If your business deals with dangerous goods then FedEx Standard Overnight is the right shipping service for you. It offers all the support you need and guides you on how to ship, download job aids and forms, and get the latest updates.
FedEx also updates you with the latest changes to IATA regulations, IATA variations, and other regulatory information. These are necessary information which you should be aware of. Check out the article on Specifying Dangerous goods using FedEx shipping to know more about it.
They also offer dangerous goods training for new business owners. On another note, if you're looking to ship Hazardous materials then you will have to go with the FedEx Ground shipping service. FedEx Standard Overnight does not support Hazardous materials.
Comparing Shipping prices of FedEx Overnight services
Before you go ahead and start using this shipping service, you may want to compare its prices with other Overnight services. For that, we are going to take a sample package of 3 Lbs. We are then going to ship from a location in New York to another location in Atlanta, Georgia.
Let's check out the rates in the FedEx rate calculator.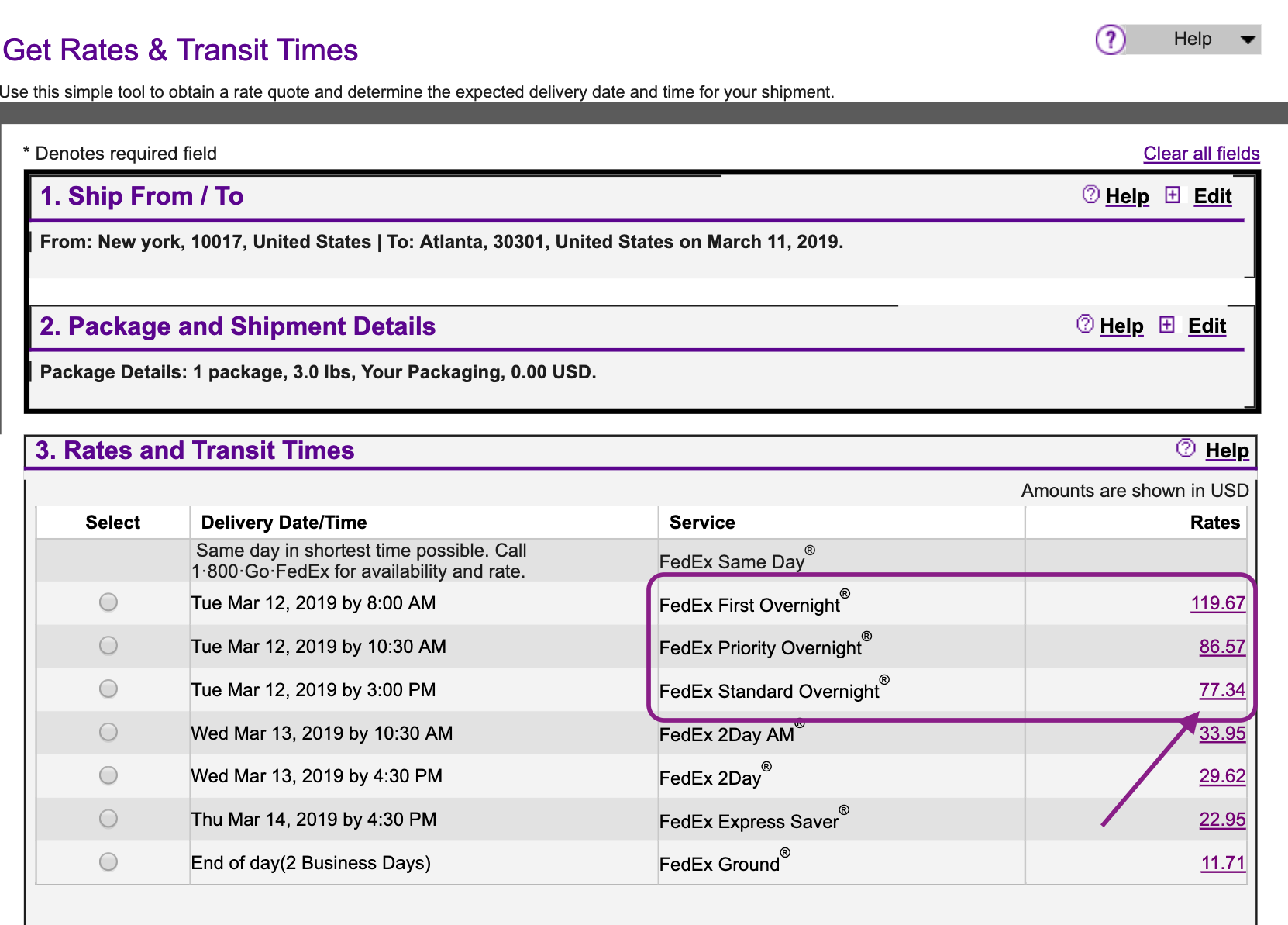 As you can see, the FedEx Standard Overnight shipping is the cheapest among the three FedEx Overnight services at $77.34. However, if time is a factor for you and your business, then you may go up and choose FedEx Priority Overnight.
How to use FedEx Standard Overnight in India?
FedEx Standard Overnight shipping service is one of the most popular shipping services in India. FedEx labels this service as FedEx Standard Overnight TM and operates under that name. It's an intra-India domestic FedEx service which provides door-to-door next day business day delivery.
Commercial packages/consignments can be shipped using this service. FedEx Standard Overnight TM is currently available in 359 key origins and delivers packages to 880 major destinations across India. To find out more about origin and destination cities, please refer to fedex.com/in/domestic.
Just like its delivery impression and history within the U.S., FedEx Standard Overnight TM to meet all your requirements for day-definite, express deliveries of your commercial consignments/shipments.
You can ship commercial consignments with an invoice value up to Rs.50,00,000 and where each individual piece does not exceed 68 kgs in weight. You can also ship multi-piece consignments of up to 999 pieces on a single Waybill as long as each piece does not weigh more than 68 kgs.
Dangerous goods, perishables and other items that are classified as restricted and prohibited commodities will not be accepted. Please refer to the Conditions of Carriage for the complete list of items which cannot be carried.
Shipping requirements
FedEx's shipping procedures are really easy to understand and implement. To use the FedEx Standard Overnight TM service all you need to ensure is the following:
Your consignments/shipments are commercial in nature
Package(s) value is no more than Rs.50,00,000
Each individual piece should not exceed 68 kgs
The maximum size of an individual piece should not exceed 274 cm in length or a maximum of 330 cm in length and girth combined (girth = 2 x height + 2 x width)
How to use FedEx Standard Overnight in WooCommerce?
WooCommerce doesn't have the necessary features to either set up or show FedEx Standard Overnight. With the help of WooCommerce FedEx Shipping plugin, you can add this feature.
So you will be able to configure your FedEx account, have live shipping rates (corresponding FedEx Express services) appear on the storefront, generate and print shipping labels for your shipments, and display real-time order tracking to your customers. Read more about the amazing features of the WooCommerce FedEx Shipping plugin.
Once you have installed the FedEx shipping plugin on your WooCommerce, you need to further enter the FedEx credentials in. Have a look at the following image.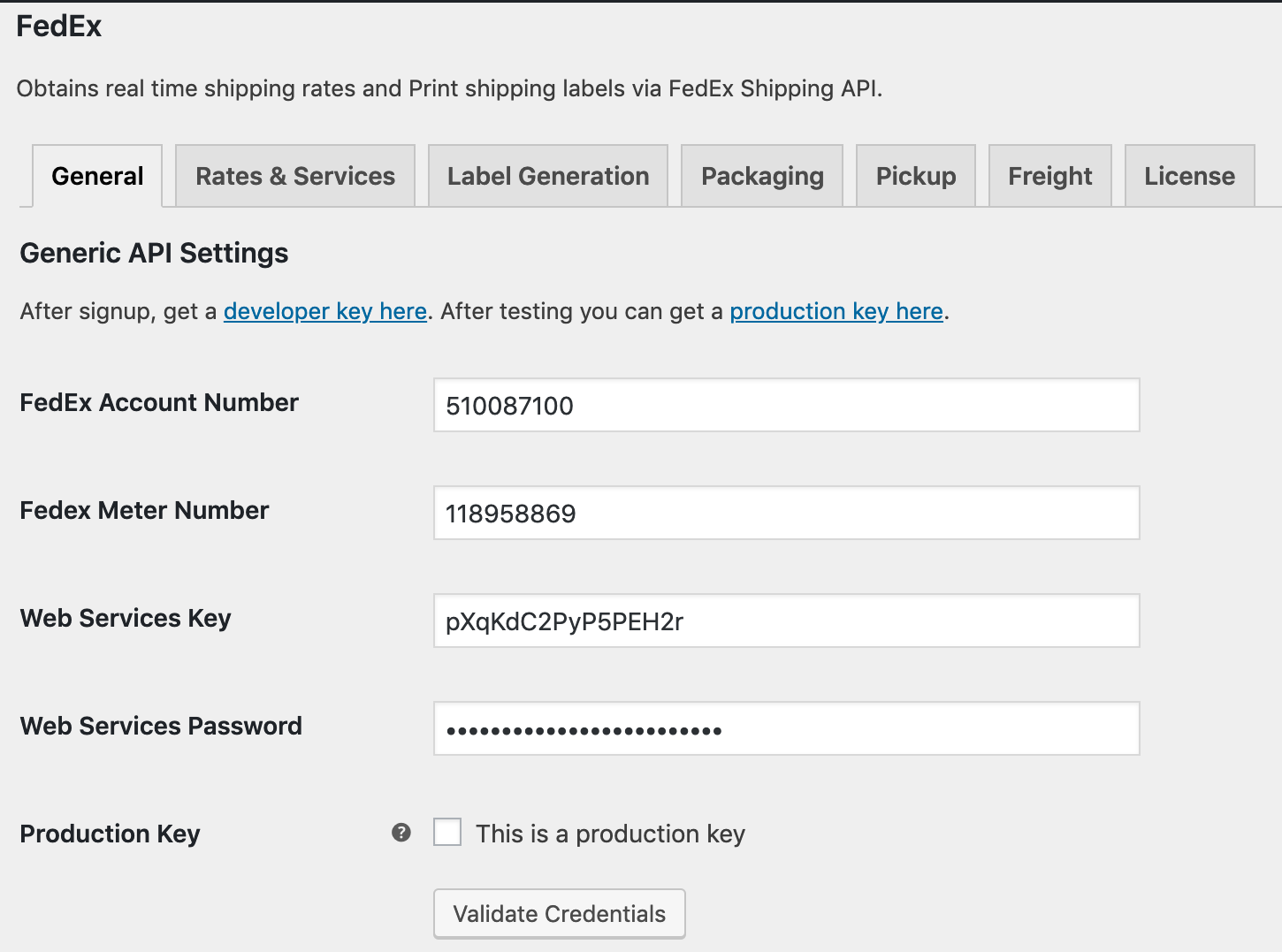 How to show FedEx Standard Overnight rates on the Cart/Checkout page?
As soon as you finish configuring the plugin with your account, you need to go to the Rates & Services tab and scroll down to the list of services. Here you can select the services you want and disable services you don't want to be displayed on the Cart/Checkout page.
Now let's go to the Cart page and try placing a domestic order. We are using the FedEx Standard Overnight service in order to ship a sample item.
How to generate FedEx Standard Overnight packages from your WooCommerce?
The process is quite simple. Once your customer places an order, WooCommerce will notify you with a New-order email. When you go into your order page, you should be able to see the new order. When you go in this order, you should be able to see the following screen.
As you can see in the image above, the order contains the shipping service name right under the product name "Stuffed Toy". As mentioned before we are using is the FedEx Standard Overnight; the corresponding shipping rate can be seen next to its name.
You can scroll below and click on Generate Package which will generate the package show the further option to create the shipment. Have a look at the following image.
Here, you can enable the Saturday Delivery option which will enable the Saturday delivery for this service. You can even add enable Cash On Delivery option and add additional packages to the order if required. These features are really useful when creating order and can save a lot of your time.
How to print shipping labels for your FedEx Standard Overnight packages?
Once you have reviewed your order and generated the packages successfully, you can now click on Create Shipment. Doing this will place an order in your FedEx account requesting to deliver this order. FedEx, in return, will validate the request and if everything is good, they will give you the corresponding shipping label(s).
You can now print the shipping label by clicking on the Print Label option as shown in the image below. Also note that you have the option to Void the shipment, which can be used when you want to cancel an order.
Now if your customers need to send the package back to you for some reason (like product repairs and damages) then you can print the Return labels as well. For that, you can click on the Generate Return Label and FedEx will send you the return shipping label right there. Here's the sample label generated.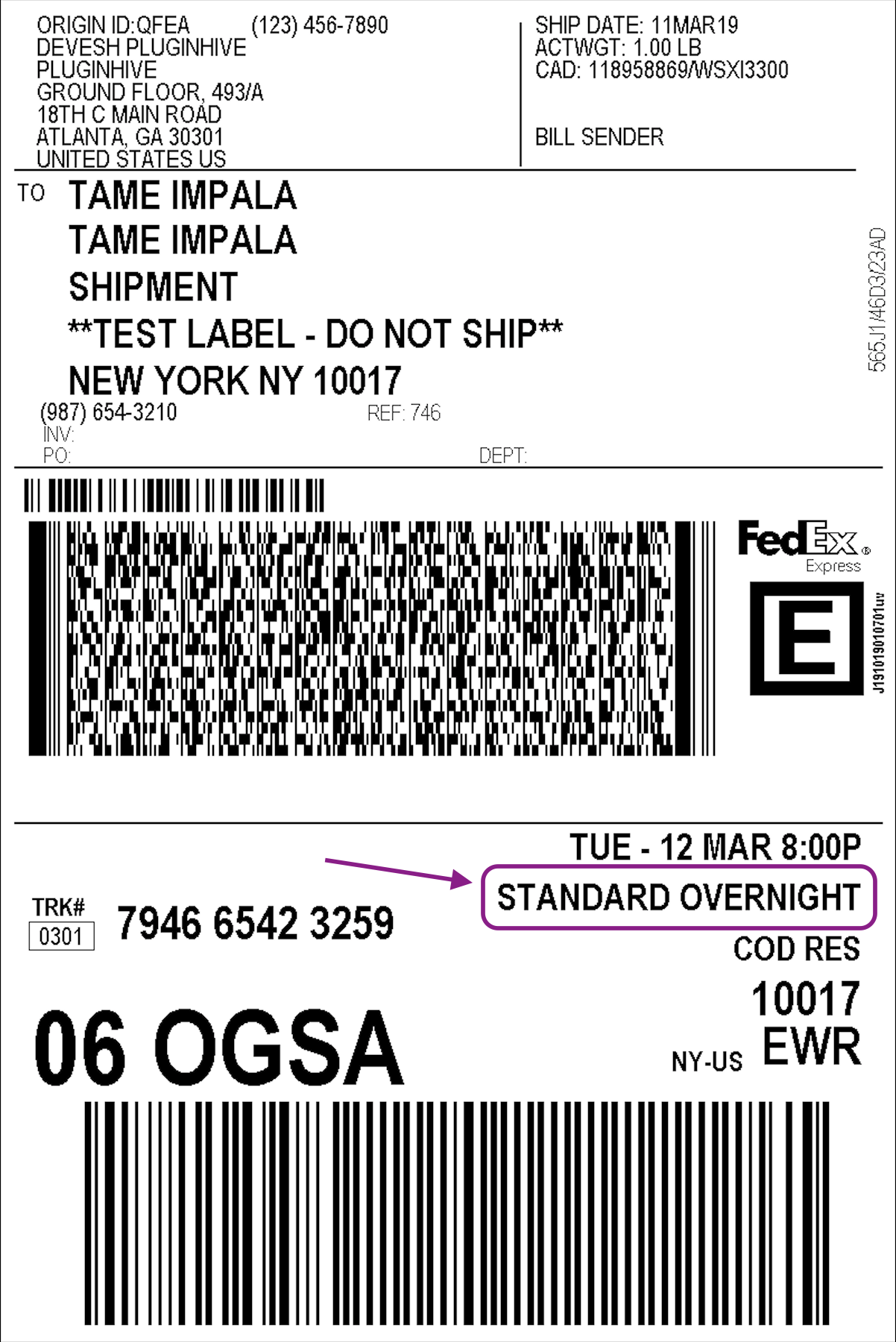 More about WooCommerce FedEx Shipping plugin
The plugin is packed with a lot more features and services which store owners can make use to enhance their business sales. Here are a few more features this plugin offers.
Bulk shipment creation and label generation
Choose parcel packing method—Weight-based, individual parcel packing, and packing based on both weight and dimensions
Add handling charges
Add insurance
Ship dangerous and hazardous goods; items containing dry ice
Ship alcohol products
Support for FedEx SmartPost and FedEx One Rate
Conclusion
Shipping is more complicated than just sending an envelope to your neighbor down the street. Therefore, it's really important to select the right FedEx shipping service and know its functionality beforehand.
This guide shows you how to make the best use of FedEx Standard Overnight for your online orders. The WooCommerce FedEx Shiping plugin, on one end, is the best e-commerce tool to accomplish all your international shipping needs. Luckily, it has all the FedEx services, live/real-time shipping rate calculation, label generation within the WooCommerce store, live shipment tracking, and a lot more!
If you have any query regarding this article or the integration of WooCommerce FedEx Shipping plugin, feel free to share your views in the comment section below. We will be more than happy to help you understand how this plugin can work together in fulfilling your shipping requirements.
And if you have any query regarding the plugin or WooCommerce shipping then feel free to contact our customer support. They should be able to help you out.
Happy selling!