How Danna makes $250000 from her pole fitness website
Danna Rossi's Pole fitness website has over 1400 active members. Today, with the help of WooCommerce Table Rate Shipping Pro, her Pole Fitness website pulls in over $250,000 per year and the income consistently doubles every year. Here's her story. Get Inspired!
"My name is Danna Rossi, I am an artist, dancer, and entrepreneur. I'm originally from a very small town in Wyoming, under 5000 people – a very small country town that doesn't even have a Walmart. There wasn't much for work opportunities there and I spent most of my time in dance class and teaching pole fitness classes on the side in the evenings for extra cash. It was barely enough to get by and pay my $450 monthly apartment rent.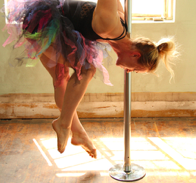 My passion is dance, it always has been since I was a kid. I was told very early that you can't make good money as a dancer or in the dance field. At first, I believed everybody, and I ventured out to make a "REAL" career between the ages of 18-28, completely abandoned the idea of making money with as a dancer because I thought it wasn't possible.
At age 21, I made bronze sculptures and sold them at art shows. I couldn't sell enough art to get by, so I gave up. Around age 24, I moved on to airbrushing graphics on cars. They were beautiful, and I was good at it, but in the end, it was still hard to pay the bills. Around age 26, I got into investing in real estate. I made good money in real estate, but I worked long hours and had no fun in life. I didn't enjoy what I was doing.
I went to college for the first time at age 30 and during college, started designing websites for local small businesses and that grew into a full-blown business called Sunrise Web Design LLC with some major clients. I was still teaching pole fitness classes on the side as well.
I hit a wall right around the age of 30, call it a mid-life crisis if you want, but I just realized I built a good life around me, and I didn't love it. I guess, I realized I couldn't live my whole life without dance and what a big mistake I made by abandoning what was in my heart the whole time. I wanted to make some BIG money, the trick was to merge what I love (my passion) with my Internet marketing and website design skills.
I took a risk and built a website for Pole Fitness Dancing lovers to access everything they needed to pole dance for a workout at home. My students begged for copies of the pole dancing routines they learned in class and I figured if they could use them at home, then so could other people. I recorded all the 8 weeks block classes on video and added them to the website for people to purchase.
My primary focus when recording the videos was to bring pole fitness to the "everyday" woman. Every day women and moms have different fitness needs. So, I created my own way of teaching to cater to the woman who wants to get in shape with pole dancing.
I also sold few pole fitness equipment for a couple years while I focused on the marketing aspects of web design like SEO for better Google rankings and social media engagements. I had no money to invest, but I did invest in SEO knowledge, learning as much as I could about SEO because I knew that you could build a nice website, but that doesn't mean that people will find it – let alone buy anything. Mike Long at OMG Machines was a huge inspiration for me in the SEO world. There are many other mentors who helped me to learn good SEO that truly works along the way, but OMG Machines sparked a fire in me and that fire has never gone out.
While leaning SEO, my goal was just to pay my small bills with ease and have some extra cash to go play at the beach someday. I didn't live at the beach then, it was just a dream to go once a year fora vacation at the time.
Times were tough at some points. I still struggled to pay the bills at times and finding my own happiness grove was an ongoing learning curve. I even sold my GTO and walked everywhere so I could pay the bills, pay for extra website software, plugins and any other SEO education I could get my hands on.
To my surprise, my dedication paid off bigger than ever. Traffic drastically improved. Customers requested new things and I expanded the shop to accommodate more requested products and availability to other countries as the months passed. The shop now has 141 pole fitness products and over 1400 active members who enjoy pole dancing lessons and counting.


Today, my Pole Fitness website pulls in over $250,000 per year and the income consistently doubles every year. That's more than I ever really thought possible in the beginning. Now I LIVE walking distance to the beach and paying bills is never a worry.
All the growing business brought tense challenges as well. Shipping the equipment and products became a HUGE headache. My website handled affiliate products, International shipping, flat rate shipping, and other items that need calculated shipping by weight. It felt like shipping was a bloodsucker for most of my time and I found myself doing things that I didn't love ……. again!
It's fun when your business expands and scales rapidly, but if you or your business platform are not prepared for the traffic demand, then it can be more stress than you bargained for.
There was a point where I really felt like I got myself into more than I could handle. I was spending more time dealing with shipping problems, back-end tech issues, and other run-of-the-mill business activities that I really wasn't getting to do what I love (dance). I got into this business to share and make money with my passion, not to have the business make me miserable which is what it was doing.
Knowing that software can automate tasks, I searched for plugins to solve all my shipping issues and found the WooCommerce Table Rate Shipping Plugin from PluginHive. The team at PluginHive was a life saver for me because my shipping needs were complicated and I'm not an expert coder either!
Anindo at PluginHive was kind and supportive to my unique needs and helped me get all my shipping woes completely resolved very quickly, something not all support teams behind Plugins will do for you. Once the PluginHive plugin was configured, it seamlessly handled ALL my shipping issues with ease. My shipping needs have evolved and PluginHive evolves seamlessly with my business no matter where it grows.
I have tried a LOT of plugins over the years and if there is one MAJOR lesson I learned from selling products online is that plugins are going to be a HUGE part of doing business in WordPress. Plugins can also completely crash your website if not used correctly, they can literally make or break you in business. Using free plugins isn't always the best answer. Getting a GOOD quality plugin with a great support team behind it will SAVE you in the Internet Marketing game.
Today's Tip
Less is more – One plugin that can handle multiple situations is by far better than 10 free plugins to handle all those same situations. PluginHive is truly a secret gem I wish I had uncovered long ago.
Now that the shipping issues are resolved, it freed up a lot of my time to go back to dancing and make videos again. Future plans are to simplify business tasks, so I don't lose sight of why I started this business in the first place. I haven't lost sight completely, but I do feel that I have been too overwhelmed with "business" tasks that I haven't danced or communicated with my followers on a personal level as much as I would love too.
To re-group and strengthen my business growth (and my heart) I opened a new "spiritual growth for dancers" section in the PoleFitnessDancing blog. In the future, I still plan to make more pole fitness videos for my fans.
I am following my own advice (practicing what I preach) by expanding my own passions into other areas that nurture my inner artist by creating limited edition sea life paintings and sculptures. (another new business and yes, I'm using PluginHive as the primary shipping plugin, I can't do business without it!).
I plan to help others learn how they can make money with their passions just like I did and to encourage them to never abandon the passion in their hearts, no matter what it is.
There is room in life for all of us to make a good living while simultaneously feeling freedom and fulfillment in the heart. I want to be sure everybody knows this is possible : )
Life should be full of fun, joy, and play at every age!