WooCommerce UPS Shipping – Default Service Selection and Additional Email Notifications
Our UPS plugin has long been a hit among various sections of shipping customers. It is a very light, yet compact plugin that has loads of features like Real-time Rates, Automated Label Generation, Shipment Tracking, Box Packing, Weight-based Packing, and even Access Point Deliveries. However, as part of some tweaks we did recently across all plugins, we have added some cool features in the latest version of the plugin. This should make it even more enjoyable.
Select by Default the Customer's Choice of UPS Service
The plugin has made order handling really easy. Now, there is no need to search for the exact service the customer chose while placing the order. You know how cumbersome it gets when you have thousands of shipments! The latest version has a feature that automatically selects the service selected by the customer.
For example, earlier, you had to choose among the following services to generate a label for the order as shown below :

After the release of the version (3.8.6), the service gets auto-selected as shown below :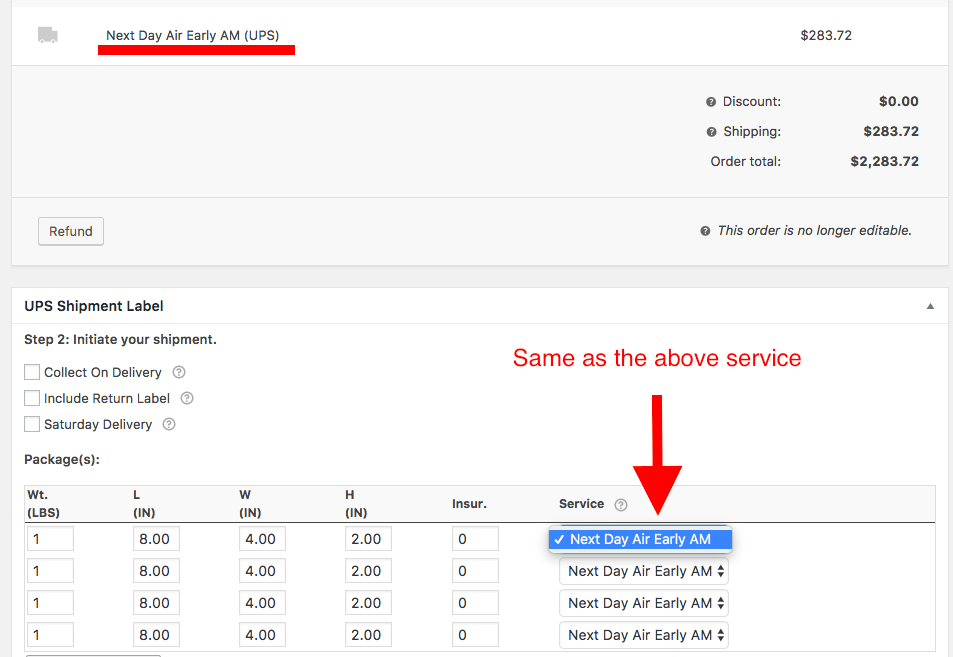 Seems Cool! Doesn't it?
Easy Email Notifications for WooCommerce UPS Shipping
This proves to be a very useful feature for businesses using third-party companies for packaging and shipping.
Let's understand more with the following business case:
[porto_blockquote footer_before="Business Problem from Jason" skin="quaternary" color="00FFFE"]
We're having a packing company ship our products to customers. So we need to email the generated shipping label to this packing company (third party). The question is how/where do I enter the email address from where I want the shipping label to be sent?
[/porto_blockquote]
Solution: A solution that can let you customize your functionality is always a welcome move! We followed the same approach. The following snippet can be pasted in Appearance –> Editor –> functions.php file which would give the shop owner flexibility to add multiple email addresses.
So, as soon as the label is generated in the order page, enable "Send label via email to customer after label generation" in the "Label Generation (Advanced Settings)." The above solution will work and trigger another email to the mentioned email addresses.
NOTE: To use the above solution, you need to have the version (3.8.7 or above). Also, find the setting for sending email on label generation below: