Setting Up Magento Shipping Services
This guide will help you integrate your shipping carrier accounts to your Magento store and automatically display real-time shipping rates, print shipping labels, and easily track your shipments, using Magento Shipping Services by PluginHive.
---
On this page
---
Add new Integration within your Magento store
Visit the Magento dashboard and click on Integrations under the System option, as shown below.
It will display all the integrations along with their status. The active integration means that you have successfully generated the API Key for that integration. Now click on Add New Integrations option.
Add the following details required to create new integration with your Magento store.
Integration Name
Your Email ID
After filling in the details click on Save, as shown in the image below.
Now you need to provide resource access to your integrations using the API Key that will be generated. We recommend providing complete resource access to integrate with PluginHive Magento Shipping Services.
Once you have provided the access, click on Save.
Once you have saved the integration, it will appear among the list of integrations, as shown in the image below. To get the API Keys, click on Activate.
Magento will again confirm the resource allocation for the integration. You will be able to see all the resources the integration has access to. Click on Allow to proceed further.
Once you proceed with the access, you will get the following Access Keys for the integration.
Consumer Key
Consumer Secret
Access Token
Access Token Secret
After getting the API Keys, you can view the API Keys for the integration by clicking the View option.
---
Integrate Magento Shipping Services with your store
After getting the API keys, you need to enter the keys within the StorePep. Login to your StorePep account & visit Settings, as shown below.
Click on the "+" icon in front of the Store option. This will allow you to integrate StorePep within your eCommerce store.
Here you can select Magento2 to proceed further.
Now, enter the following details to integrate StorePep with your Magento store and click on Add Store.
eCommerce Store URL
Access Token
Once you click on Add Store, your online Magento store will be successfully integrated with StorePep.
You can validate whether your store is successfully integrated with StorePep or not by checking the shipping rates on your checkout page as shown below.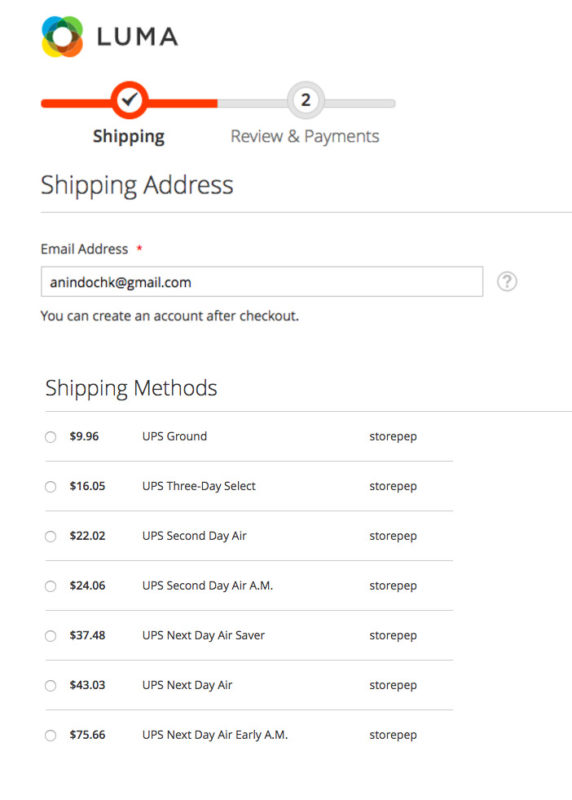 ---
In case you feel any issues or difficulty in getting the API keys to your store, feel free to contact our customer support.