Every hotel owner finds the need to give his or her hotel rooms and services for rent online at some point in time. As a result, the growing significance of a booking software cannot be left unnoticed. 
But the thing is, building an online booking system all by yourself will consume a lot of resources. You'd require a website to maintain every bit of information and to accept bookings in the first place. And not to forget, this website of yours has to look attractive and work precisely.
WooCommerce offers a default theme called Storefront, which works just fine. But it doesn't have the sheer power or built-in features to sustain a full-fledged hotel booking website. So it's necessary that you get out and look for the best booking solution and an equally attractive theme. 
Our recommendation for your website is the Kalium theme by Laborator. And when coupled with Pluginhive WooCommerce Bookings plugin, it produces the best hotel-room booking portal for your business.
Choose the Kalium theme for your Hotel Website
Kalium theme is the perfect choice for a hotel website. It has got everything you'll ever need, plus a few extras perks. Features like Coming Soon Mode, Maintenance Mode and Backup options are usually rare to find in a WordPress/WooCommerce theme.
Another thing that's great about this theme is its highly interactive user-interface. Every option is available right there in one place so you don't have to move around a lot. There's also a built-in documentation page for you in case you need some help with a feature. 
Along with the persuasive hotel room bookings, the Kalium theme would ultimately compel the customers to keep coming back to your website. To know more about its features, you can check out the Kalium theme. 
Best booking solution – WooCommerce Bookings and Appointments
For customers, the ability to book rooms online at their favorite hotel is convenient and exciting. So being available 24×7 to accept reservations will allow you to cater to more customers irrespective of their location. That's what PluginHive WooCommerce Bookings plugin is all about. 
The WooCommerce Bookings and Appointments plugin offers a ton of features and options to create a reformed online booking system. The plugin is capable of handling almost all business scenarios and is quite flexible. 
You can easily manage your hotel room bookings in the back-end. And since the plugin integrates really well with WooCommerce, it's really simple to play around with its features to set up the booking rules all by yourself. 
Showing room availability on the calendar
The WooCommerce Bookings and Appointments plugin offers several features that can be quite useful while setting up your hotel-room booking website. You can easily define booking rules with varied time durations which will allow travelers to reserve multiple days. The plugin also allows admins to set up a guest field and offer prices based on the number of guests.  
There's another cool feature that allows you to set the same day Check-in and Check-out. Suppose if a customer books a room for 3 days and checks out on the third day. Then the same day must be available for another traveler who is looking to book the same room on the third day. The Bookings Per Night features under the Bookings tab allow you to access this functionality.
Now suppose you have three room types, Standard, Business, and Luxury. Each has a limited number of rooms and each room can be booked only once. In that case, you can use the Booking Asset feature to define these room types individually and manage their quantity(rooms, in this case). This way, customers would need to select room type first. And based on the selected room's availability, the calendar would allow bookings. 
Offering paid services and activities
Based on the previous example, imagine that you offer a couple of Business Rooms to companies for their annual meetings and conferences. With the correct settings enabled in the plugin, your clients can easily choose the Conference Area right under the booking calendar.
In the image below, you can see the option where the clients can select the Conference Area. There's also an additional field for the customers to mention any additional requirements. This field is really important as it allows the admins to customize the rooms/services based on their customers' requirements. 
And as mentioned before, you can also let customers mention the number of guests. You can even set a small price for every additional guest which is a great way to earn a tad more. 
Beautify your website with the custom-design calendar
Kalium is a well-thought theme that offers exceptional design options. The Theme Options and Typography sections are the two best places to customize the overall look and feel of your website. And if you don't feel like designing the website yourself then you can always choose any one of the Pre-made designs and improvise on it.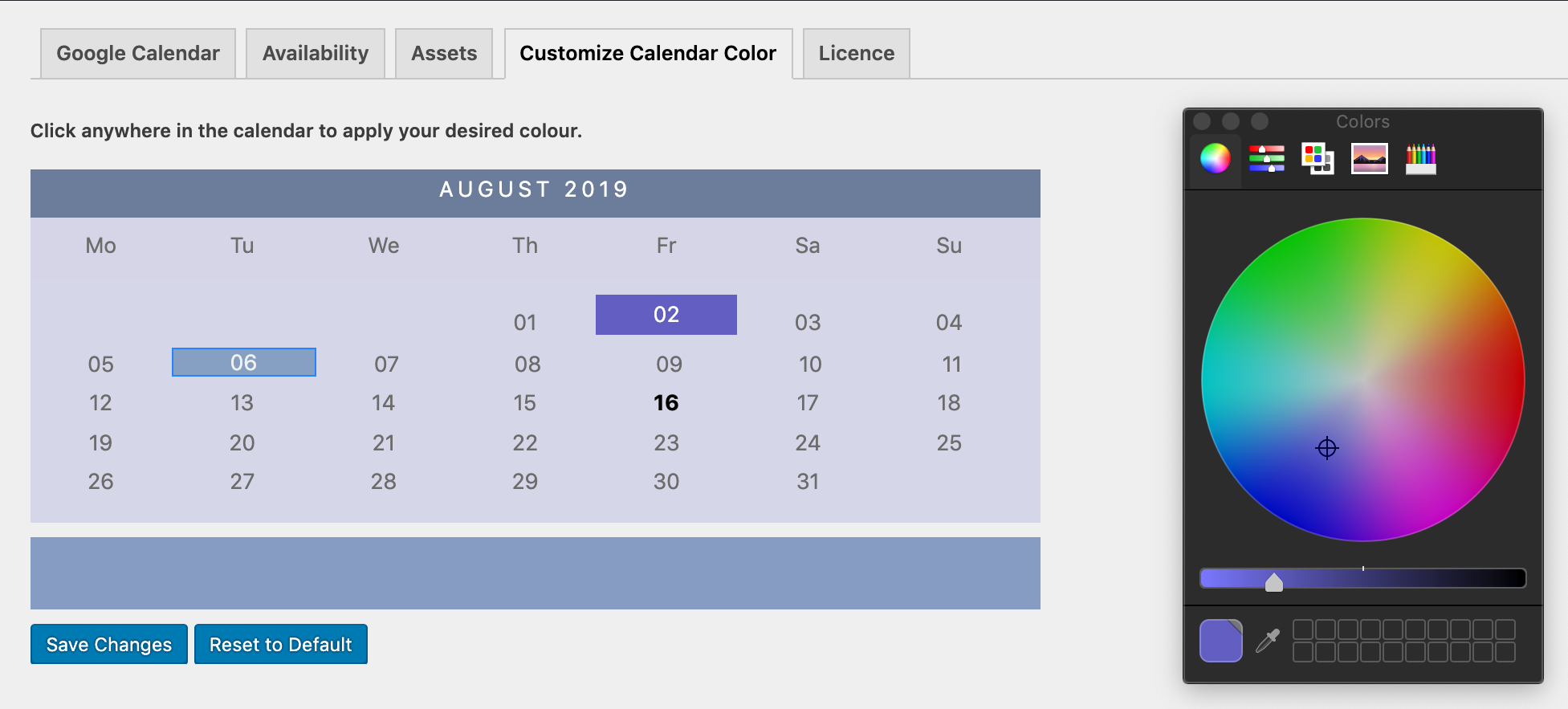 The PluginHive WooCommerce Bookings plugin offer users to customize the booking calendar design and color to match your website's theme. This will give you an edge by making your hotel-booking website even more desirable.
Hotel-room booking experience with Kalium
Apart from the hotel-room booking calendar from WooCommerce Bookings plugin, there are certain things that determine how good your website actually looks. Starting from the Cart to the payment window, every step plays a crucial part. 
But luckily, both Pluginhive Bookings plugin and Kalium theme work great together to provide the best booking experience. The Cart page, for instance, shows all the important booking information and is beautifully described and structured by the Kalium theme.
The Checkout page is also quite attractive and offers quite a detailed view of the booking information and payment details. 
Final thoughts
A hotel-room booking website built with WooCommerce requires a good-looking theme and a robust booking solution so you can stay ahead in the game. Both Kalium and WooCommerce Bookings plugin prove to be the best options for you. They offer a variety of design options and functionalities and thus, are the ideal choice. 
Good luck 🙂