PluginHive has partnered with Australia Post to help you save time and money on shipping with MyPost business. Sign up & use the promo code supplied to fast-track your savings, and for the first 12 weeks, save up to 30% on domestic parcel sending and 25% on international sending. Get started here. T&Cs & Eligibility Criteria apply.
---
Eligibility for MyPost Business Offer
The 12-week offer activates after entering the promo code "MPB23$" into the MyPost Business dashboard after signing up to MyPost Business before 31st March 2023.
---
Already Signed Up?
If you signed up with MyPost Business after the 1st of June 2022, you'll still be eligible for this offer.
---
If the promo code is entered into the MyPost Business dashboard by a user who does not fall within these parameters, the promo code will be declined. The offer is valid until 31st March 2023 & it is the last date for the promo code activation.
---
Sign up with MyPost Business
Go to the MyPost Business website and sign up for a MyPost Business account.
Log in to the MyPost Business online portal
---
---
Select Business Details from the menu located under your name, then select Promo code.
---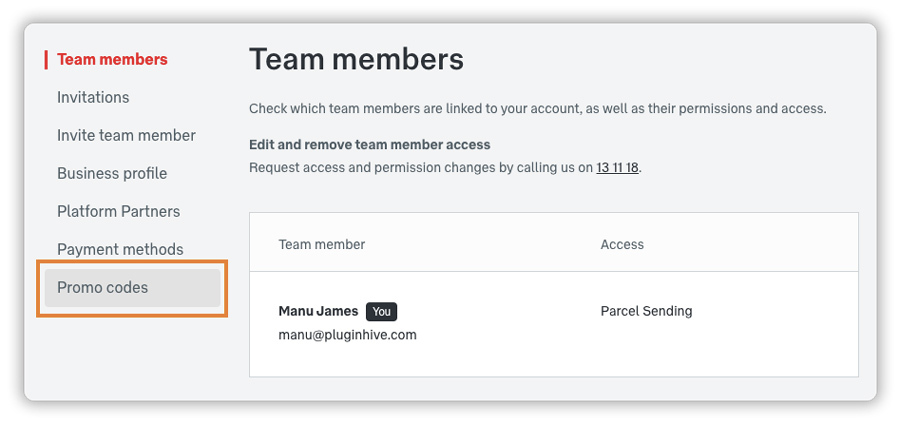 ---
Enter promo code MPB23$ and select Submit.
---
---
Connect your MyPost Business account to PluginHive under Platform Partners.
---
---
Accept the Terms & Conditions and click on Continue.
---
---
Add a payment method by entering your card details & click on Add Card.
---
---
Head back to your Shopify store & install the PH Multi-Carrier Shipping Label.
---
---
Under Apps select Multi-Carrier Shipping Label. Within the app go to Settings > Carriers > Australia Post My Post Business
---
---
---
Get the Token from the Australia Post Platform Partners page & enter it at the Merchant Token field as shown below
---
---
Choose the payment method as Stored Payment or Charge Payment.
If you choose Charge Payment as the Payment Method then you have to enter the Charge Account Number.
---
---
---
Benefits of MyPost Business
Save money by shipping more packages
MyPost Business can provide up to 40% savings on domestic sending, and up to 35% off international shipping.
Save Effort with Easy Shipping Tools
MyPost Business integrates with eCommerce partners to make sending easier by displaying rates, printing labels, scheduling pickups & live order tracking.
Prompt Local Support
Get help by visiting the local Post Office, or contacting https://auspost.com.au/help-and-support