The United States Postal Services is one of the leading delivery services in the United States. Most individuals and business owners use their popular services like Priority Mail, Priority Mail Express, and First Class Mail to deliver items within the States. Not to forget these services are really cheap, and while that may be enough reason, you'd be pleased to know their Priority Mail International service is quite affordable as well. So online store owners (especially) can enjoy international shipping without breaking a sweat. It's a great delivery service that offers quick delivery and also has a few additional services that can help businesses feel more secure when shipping internationally. This article is an introduction to USPS Priority Mail International service. We will show you the prime benefits of using it with your online business. In addition, we will walk you through some requisites like customs documents, package preparation, required envelopes & boxes; basically the whole deal. We will also show you how the WooCommerce Multiple Carrier shipping plugins can help you in shipping packages out of the United States.
Priority Mail International
USPS categorized Priority Mail as a separate service that deals only with domestic shipments (within the United States). The idea was to introduce a fairly quick yet affordable shipping service that ships items within 1-3 business days irrespective of the distance. Priority Mail International, on the other hand, originated from the same idea but for international shipments. So while the prices remain comparatively economical in this case, the delivery timings extend to 6-10 business days.
A few important aspects of this service
As time is most certainly of the essence for eCommerce business owners, Priority Mail International fall right in the middle. So when you compare the delivery timings of Priority Mail International with others (FedEx and UPS), then yes, you'd be disappointed. But when you bring the price factor into play, you'd be rather happy and would consider going for it. So just to conclude the above argument, the service is comparatively slow but the prices are really cheap. All things considered, if your business allows you the time then going for this service wouldn't be such a bad idea. Another point is since it's an international service, the mail will only originate from the United States and will be further transported to another country. However, the situation is a bit tricky in the case of shipping to U.S. territories. Since we already know, shipping laws don't apply exactly apply the same for territories as it does for domestic states, USPS still considers them as domestic shipping. So you won't be able to use Priority Mail International services. You won't be able to use this service to ship to the U.S. Military posts destinations that are also considered domestic.
Pricing
Let's face it, finding the right shipping price is the second biggest concern for any shipper, if not the first. If you charge too much, customers would probably leave the Cart right away; and if you charge too less, you're going to suffer. All-in-all, in order to provide the best customer shopping experience without spending too much, it's better to figure out the prices before you display rates on your website. Like a few other services, Priority Mail International also has two separate rate calculations—Flat Rate pricing and pricing based on weight and destination country.
Priority Mail International Flat Rate
USPS has prescribed two separate packages, i.e., Envelope and Box. The cost of shipping an Envelope (9.5″ x 12.5″) to Canada and Mexico is $ 9, whereas, shipping to other countries would cost $11. Please note the weight limit is 4 Lbs and anything above is not permitted in the Envelope. Moreover, you can all items permitted in the First Class Mail International. Now, the cost of shipping a Box to Canada and Mexico is $23, whereas, shipping to other countries would cost you $37. Keep in mind that the weight limit of a Box is 20 Lbs (or the limit set by the individual country) and merchandise is permitted. However, written communications having the nature of current and personal correspondence are not permitted.
Priority Mail International (prices calculated by weight and destination)
As mentioned before, the shipping prices will be calculated based on the weight of the shipment and the country to which the parcel(s) is going to be shipped. You can use the International Price Calculator to calculate the expected shipping costs for international shipments. The rule remains the same for Canada and Mexico. The WooCommerce Multiple Carrier Shipping plugin calculates the shipping rates in real-time and displays them on the Cart and Checkout pages. We will discuss more on this later in this article. What about the additional rates? If you're worried about balloon rates and dimensional weight pricing, then don't. Priority Mail International does not charge these fees.
Restrictions
Item Restrictions
Shipping to other countries comes with a list of restrictions. If you don't meet the requirements then you're in for big trouble, and I'm pretty sure you wouldn't want that. But what about shipping alcohol, beer, cigarettes, fruits, or vegetables? Yes, you may think these items are allowed but it's not as simple. USPS has restricted some items for domestic and some for international shipments. And all prohibited domestic items are also prohibited from being shipped internationally. However, some items that are prohibited from being shipped internationally can be shipped domestically (with some restrictions). Here's a small list of domestic items that are prohibited,
Airbags
Ammunition
Explosives
Gasoline
Marijuana (medical or otherwise)
Items prohibited for international shipments
Aerosols
Air Bags
Alcoholic Beverages
Ammunition
Cigarettes
Dry Ice
Explosives
Fresh Fruits and Vegetables
Gasoline
Marijuana (medical or otherwise)
Nail Polish
Perfumes (containing alcohol)
Poison
Here are other helpful links which should help you eliminate prohibited items away from your package. Publication 52: Hazardous, Restricted, & Perishable MailIMM® 135: Mailable Dangerous GoodsIMM 136: Non–Mailable GoodsInternational Restrictions by Country
Package Restrictions
Shipping internationally also comes with a few package restrictions like weight and package type. The maximum weight limit for the Priority Mail International is 70 lbs and the maximum weight limit for the Priority Mail International Flat Rate Envelopes and Small Flat Rate Priced Boxes is 4 lbs. On top of that, the maximum weight limit for medium and large Priority Mail International Flat Rate Boxes is 20 lbs. However, these rules will not always be applicable to all countries. Meaning, some countries have lower weight restrictions and so you need to find out the exact value. You can check out the Country-Specific Restrictions to know more. Apart from the normal restrictions, there are a few more things you need to care. For instance, when sealing a Flat Rate Envelope or Box, the container flaps must be able to close within the normal folds. Also, you need to print the correct destination address in capital letters with either a pen or permanent marker; also, you should not use any commas or periods. Here's a brief guide on preparing the package for international shipments.
Flat Rate and Priority Mail Flat-Rate Envelopes
At this time, you cannot add insurance amounts to Flat-Rate Boxes and Priority Mail Flat-Rate Envelopes. However, these services are available for international use and are a good cost-effective shipping option. For additional security, your Priority Mail International Flat-Rate Envelopes can be sent to Registered Mail to provide you with proof of delivery or attempted delivery. USPS also offers a Certificate of Mailing, which only provides evidence of mailing, and is available for all Priority Mail International shipments. With a sizable 20-pound weight limit for allowed contents, a Flat-Rate box is an excellent option for shipping larger goods internationally. If you have something a bit smaller, such as documents or machinable goods, the flat-rate envelope with a 4-pound weight limit may be a good choice for you.
Shipment Tracking
No matter, if it's domestic or international shipping, order/shipment tracking, plays an important role in determining the level of customer satisfaction. Most successful businesses that you see have an exceptional customer satisfaction rating. Amazon, for example, offers exceptional order tracking feature which many people like. And it clearly shows how important tracking is for them. USPS offers a good tracking experience but it's not as amazing as UPS or FedEx, or Amazon for that matter. If you're looking to establish a big and strong eCommerce website then I'd recommend you go for UPS or FedEx. But keep in mind that they do cost a lot considering how cheap the USPS shipping is overall. Anyway, many people want to know what kind of tracking is available for their Priority Mail International. With this service, tracking is available only to Canada, Europe, and Asia. Please note the above only applies to variable-weight packages and flat-rate boxes. Tracking for Priority Mail International Flat-Rate Envelope is currently unavailable and is not supported by USPS. Coming to WooCommerce, the WooCommerce Shipment Tracking plugin provides the best tracking experience and no other plugin comes near it. Find out more about it on its product page.
Insurance
When you talk shipping, USPS isn't quite famous for its package handling. There have been many real-life cases, where USPS has allegedly damaged or even lost a package on its way. But recently, the number seems to have decreased and more and more business owners have now started taking USPS seriously. However, that isn't enough reason to entrust your customers' packages and thus, it's a good idea to consider insuring your shipments. Priority Mail International packages have some options that include limited coverage for loss, damage, or rifling. You just have to make sure you always have the value of your shipments listed on any relevant documents. That is to avoid any hassle at any point in time. You can learn more about international insurance. Even though USPS provides insurance, there are a few restrictions. For instance, USPS does not offer insurance on the following items:
Coins, Banknotes, Currency notes (including paper money)

Securities of any kind payable to the bearer

Traveler's checks

Platinum, Gold, and silver

Precious stones

Jewelry

Watches and other valuable articles (however, f

or these items, you can purchase additional merchandise insurance)
Customs
Clearing customs is yet another task. If you don't have the right papers and documents ready with your shipments then your package(s) might get stuck at a foreign airport. So it's better if you clear everything beforehand to avoid such issues. USPS allows you to generate and print your international postage with their Click-N-Ship and other tools to prepare the customs documents for your package. So if you need to create the customs form then you can fill out the form here. Or else, if you want to order the customs forms from the Post Store then you can click the link here.
Everything sounds good until you go for the implementation. Likewise, you may think you've hit a dead-end when you begin thinking of displaying Priority Mail International rates on your eCommerce website. Well, that's not true in the case of WooCommerce. You have the WooCommerce Multiple Carrier shipping plugins with you to display USPS shipping rates on your store.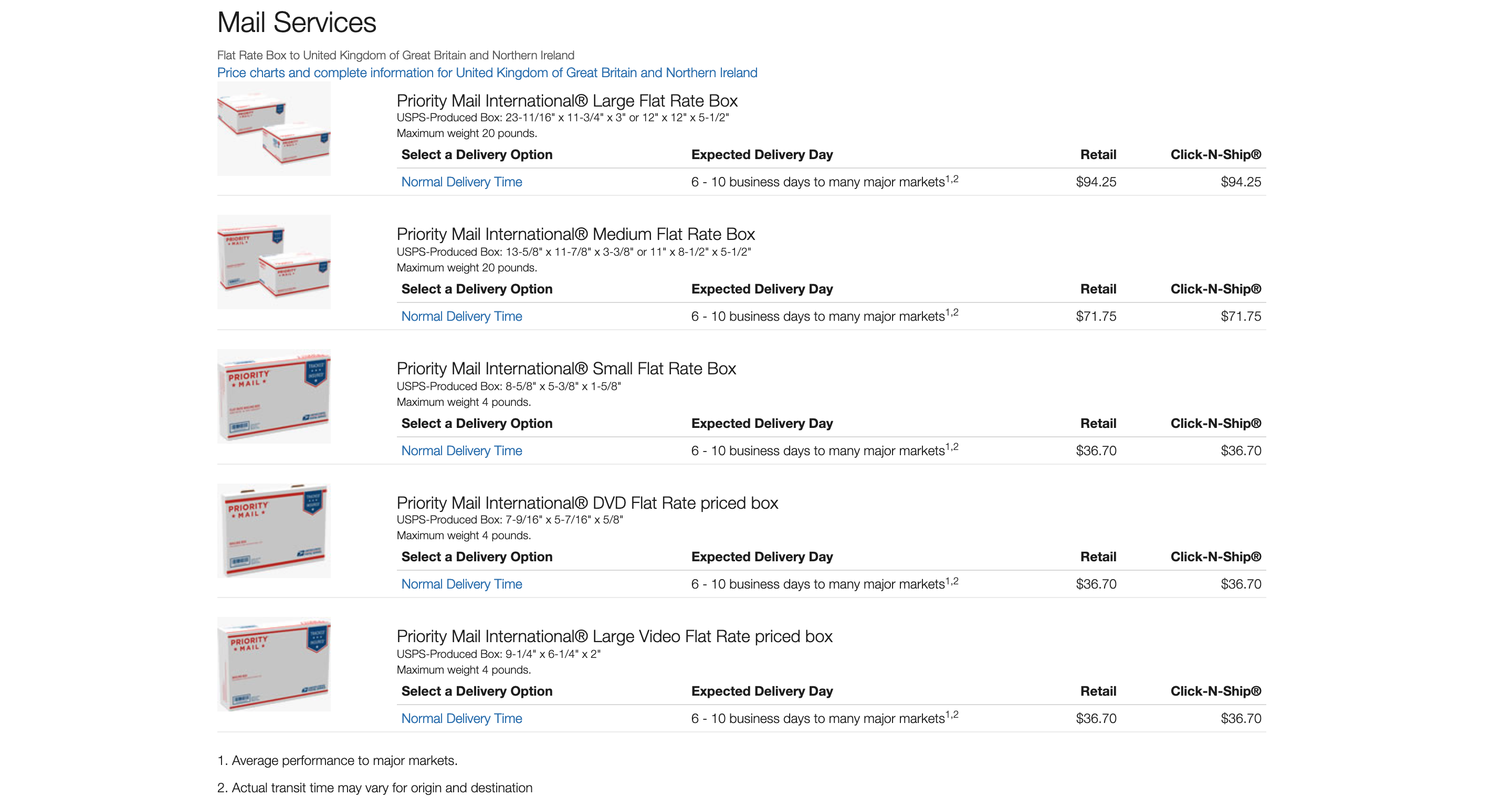 Using this plugin, you can display live shipping rates for both domestic and international services on your Cart/Checkout pages. So when a customer selects a service (in this case, Priority Mail International) along with an order, the plugin tags it to the order, and the total price is displayed as the sum of the product cost and shipping charge. Have a look at the following image.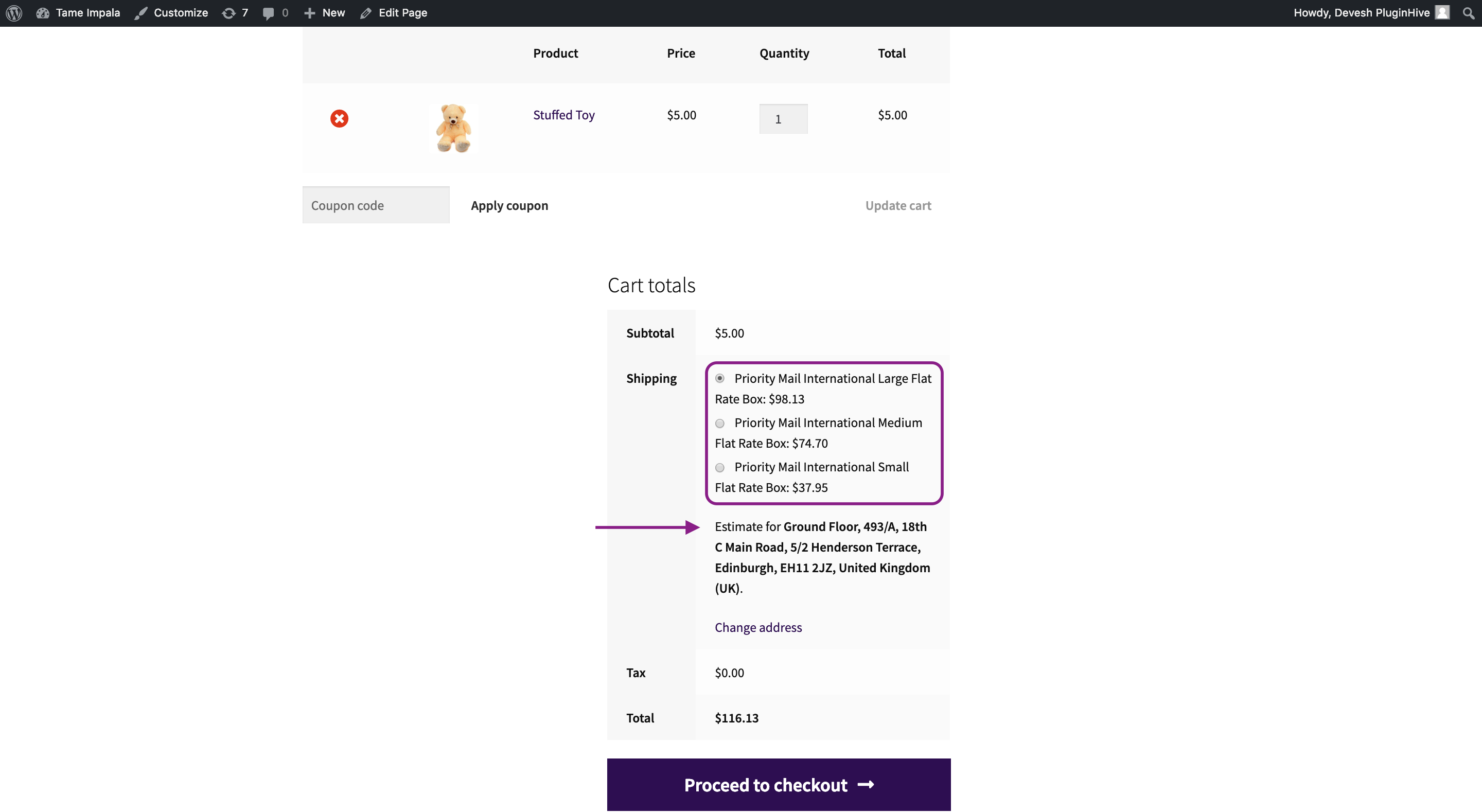 Please note that we have only taken three services for demonstration—Priority Mail International Large Flat Rate Box, Priority Mail International Medium Flat Rate Box, and Priority Mail International Small Flat Rate Box. Also, you may notice the price difference in the shipping rates, and that is because the estimates provided on the USPS website are approximate amounts. Whereas, what you see on the Cart page are the exact shipping rates calculated by taking the weight and destination into account. In order to achieve such a case, you need to simply define the rules in the plugin settings. Have a look at the following image.
As you can see, you can control the services based on many different factors. You can read more about them on the product page.
Conclusion
The USPS is hands down, the cheapest delivery service option for companies that ship small items. The USPS provides the cheapest shipping for many packages under two pounds, and USPS simply can't be beaten for packages under 13 ounces. If you're shipping products under 13 ounces, you should use USPS and nothing else if you want to save money. The Priority Mail International service by USPS is an amazing service that you should consider using if you want to deliver items out of the United States without spending a lot on shipping. The delivery timing is average and businesses can make the most out of it.
---
I hope you liked the article. You can let me know your thoughts in the comments below. If you have any issues or help setting up shipping on your WooCommerce store then feel free to contact our customer support. They should be able to help you out.

Happy selling!