Starting from COD, delivery signatures to even deliveries on Saturdays are some of the ways top shipping carriers like DHL, UPS, FedEx, & many more are equipping themselves to meet the growing needs of the online markets. Since the demand for quick delivery is getting an upper hand, Weekend or Saturday delivery is a necessity to build a long-term relationship with customers. Wait, not just that! Your business can catch the eye & become successful in its marketplace by providing weekend deliveries.
In this article, we will discuss Saturday Delivery and its advantages. We will also compare the Saturday Delivery for DHL, UPS, USPS & FedEx carriers and help you choose the right carrier to plan delivery on weekends.
---
What is Saturday Delivery?
As the name suggests Saturday Delivery simply implies the delivery of products on Saturdays. It is a special shipping service provided by different carriers to deliver a package to a recipient on Saturday, similar to the usual business days of Monday-Friday.
---
What are the advantages of Saturday Delivery?
Providing a smooth yet distinct shopping experience to customers distinguishes a business from the competition. Allowing extra services such as Saturday Delivery is one step to delight the customers. Let's have a look at the benefits you may gain from this:
Since Saturday Delivery is a special service and not all sellers provide this, there is a massive chance of attracting customers.
If you deliver urgent products like medicines your customers must be looking for a service that provides weekend delivery. And here you can make the most out of Weekend Delivery.
Who doesn't like to get their package/s as quickly as possible? Hence top eCommerce websites and shipping carriers are introducing new services like weekend delivery to meet these growing demands. Providing these services not only gives your business a professional look but also helps you compete in the market.
---
Does USPS Deliver on Saturday?
USPS is the leading courier and mail delivery service in the United States. Along with normal week deliveries, USPS delivers on Saturdays and there is no added extra cost. As part of the USPS assurance, packages would arrive within 1-3 business days, both USPS Priority and USPS Priority Express deliver on Saturdays. Mail and parcels sent by USPS First Class shipping, on the other hand, are less certain about whether or not they will be delivered on Saturdays. It is normally up to the decision of the local service employees.
USPS Saturday Delivery options are listed below:
With USPS, Saturday delivery is not assured unless Priority Express (overnight) is selected on Friday. Other delivery companies, such as FedEx, may be a better alternative because they can more readily satisfy customers' specific needs.
Customers who want to have their packages delivered on Saturdays and not on any other days can arrange pickup from a post office as well.
Along with delivery on Saturdays, USPS delivers on Sundays only if the customers choose USPS Priority Express on Saturdays which guarantees overnight delivery. 
---
Does UPS deliver on Saturday?
UPS is among the world's top logistics companies. Similar to other shipping carriers it also provides delivery on Saturdays for some of the shipping services with a motive to make "you reach your customers sooner". UPS shipping services like UPS Ground, Next Day Air, Next Day Early, etc., deliver on Saturdays whereas services like UPS Standard, UPS Priority Mail, etc., don't. 
Not just UPS offers this service only to selected major metropolitan areas in the United States & in other major metropolitan areas where the UPS Worldwide Express shipments work. These countries include the United States, Canada, Germany, France, South Korea, and the United Kingdom, which support this service.
Another interesting UPS service is UPS Saturday Ground. If you are shipping on Saturdays all over the year then this service schedules pickups and receives deliveries covering 52 more days.
And if you are thinking about whether UPS delivers on Sundays or not, then yes it does. You can offer Sunday delivery via SurePost service only for residential packages. Whereas UPS offers a Mon-Sat delivery service for residential and commercial packages. Though there are no additional fees for ground residential delivery packages. However, for Saturday ground commercial delivery packages, there is a $4 per package fee. There's no delivery charge if the customer enrolls in commercial delivery services with a scheduled Saturday pickup.
---
Does FedEx Deliver on Saturday?
FedEx is one of the leading courier services, shipping both domestically & internationally. FedEx, like USPS and UPS, offers Saturday delivery. FedEx provides 4 different services for the Saturday delivery service:
FedEx Express: FedEx First Overnight, FedEx Priority Overnight, and FedEx 2Day provide delivery on Saturdays to the majority of United States cities.
FedEx Home Delivery: Saturday is considered a standard delivery day with the FedEx Home Delivery service. This service delivers packages to residential addresses in the U.S. at no extra cost.
FedEx SmartPost: FedEx SmartPost can deliver to any P.O. box in the United States, in addition to any residential address in the country.
Hold at FedEx Location: Customers who are not available on Saturday can receive a package by sending it to a FedEx location. 
Similar to UPS, FedEx delivers on Sunday. This is supported by the FedEx Home Delivery service for residential locations.
---
Does DHL deliver on Saturday?
Unlike other shipping companies that offer assured Saturday delivery, such as USPS, FedEx, or UPS, DHL offers delivery on Saturdays with certain requirements and conditions.
DHL will offer delivery to residential addresses on Saturday, provided you live in Europe. Customers in the United States, on the other hand, will be unable to take advantage of delivery on Saturdays to residential locations for the most part.
Apart from that, the Sunday delivery option is not available with DHL.
---
How to automate UPS, DHL, FedEx & USPS Saturday Delivery in your Shopify & WooCommerce store?
Achieving Saturday Delivery is made easy for Shopify & WooCommerce store owners with Shopify Multi Carrier Shipping Label App & WooCommerce Shipping Services. As soon as the order has been imported into the app all you need to do is select the order & change the order status to initial and under "Advance Section" as shown below: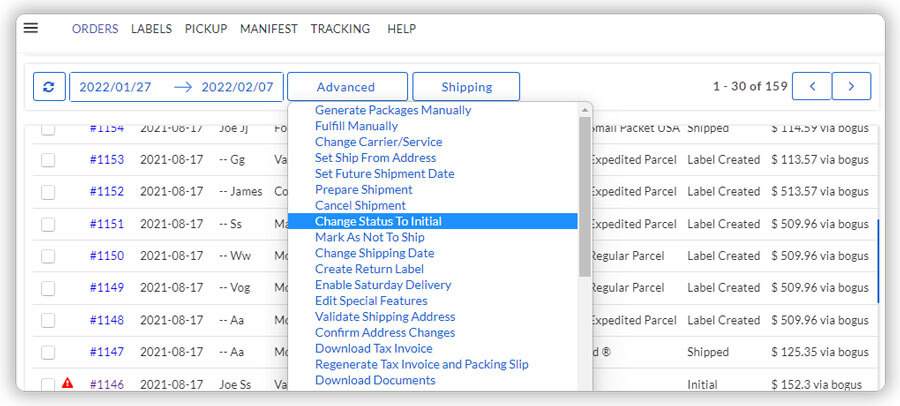 After changing orders to Initial you have to select "Enable Saturday Delivery" under the Advance section itself.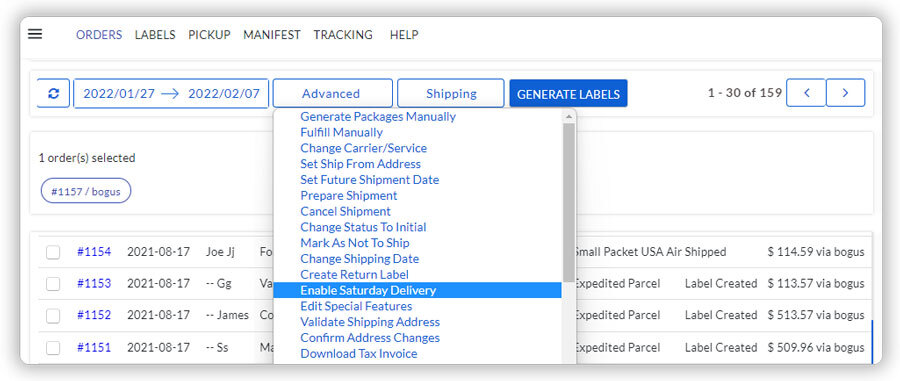 If you are using FedEx & DHL, the app helps you to add Saturday Delivery separately under the same dashboard. For DHL you need to click on "Add DHL Special Services" and choose the "Saturday Delivery" option as shown below: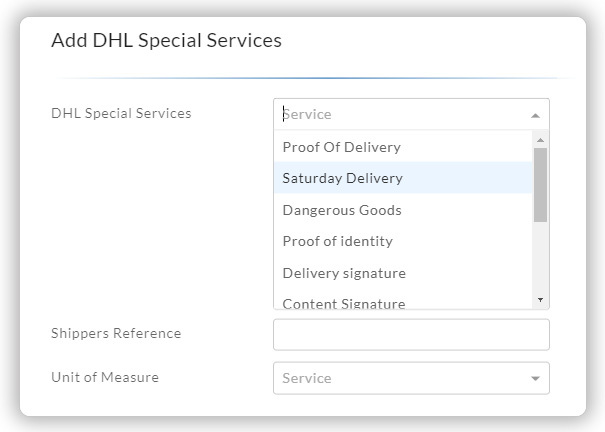 For FedEx you need to click on "Add FedEx Special Services" and choose the "Add Saturday Pickup" option as shown below: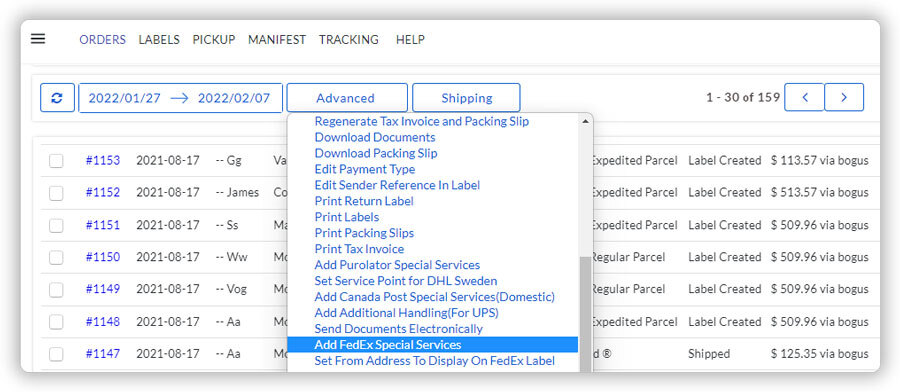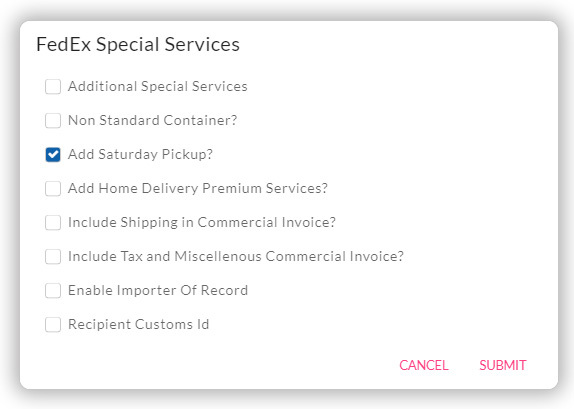 Using the PluginHive shipping solution you can now automate Saturday Delivery in your Magento and BigCommerce store as well.
To know more about this & other shipping automation-related queries for your eCommerce store reach out to our support team.