A whole 59% of online shoppers bought clothes in 2021. Although the pandemic kept many of us home in sweatpants, many Americans spent time online shopping – picking out the perfect outfits for when they could finally return to life outside the home. As a retail eCommerce brand that sends a large number of clothing items, you want to pick a shipping option that is fast, dependable, convenient, and cost-effective.
With many shipping companies to choose from, it's hard to know which one will best suit all your needs. Before choosing the first option you find – or even your usual go-to company – it is best to research what each offers and compare prices.
USPS, UPS, and FedEx are the three most popular shipping options in the United States. Let's look and see what each offers for shipping clothing.
---
Shipping Clothes – USPS
USPS shipping offers a First Class option, which has become popular for sending clothing to customers. It takes 2 – 3 days for First-Class Mail & Postage to reach the destination, and it is quite affordable, with prices ranging from $2.66 – $5.54.
Items must fit into the large envelope provided with no issues closing it, and the weight needs to be under 1 pound (It's a good thing most clothes are relatively light). It is a perfectly affordable option for those sending smaller and lighter items. If the items you send will be over 1 pound, USPS Priority Mail Express may be a good option. 
---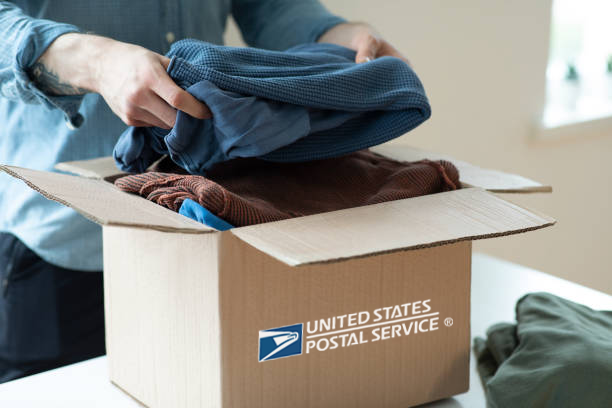 ---
Next-day delivery is available to most locations in the US, and it is a 2-day by 6 pm delivery guaranteed for all other locations in the US. They offer Flat Rate Envelopes, and you can send packages weighing up to 70 lbs. Prices start at $26.35 and go up depending on the size and location.
---
Shipping Clothes – UPS
Using UPS shipping is another popular choice for clothing and retail items. They offer cheaper options for sending clothing and are good for sending larger or heavier packages since they don't have as many size weight limits as USPS. They offer the UPS Ground Shipping option, which is very affordable and takes 1 – 5 days for delivery. The cost of sending a 2-lb. package will be around $2.47.
---
---
If you need a faster service, the price goes up. The UPS 2nd Day Air guarantees delivery to all 50 states by the end of the second business day, with prices starting at $20.86 for a 2-lb. package, varying depending on the delivery location and weight.
---
Shipping Clothes – FedEx
FedEx shipping offers an affordable ground shipping option with 1-5 business days within the contiguous US or 3-7 business days to Alaska and Hawaii. Anything under 150 lbs. in weight can be shipped using this option. Prices start at $9.42 for a 2-lb. package and go up depending on the delivery location.
---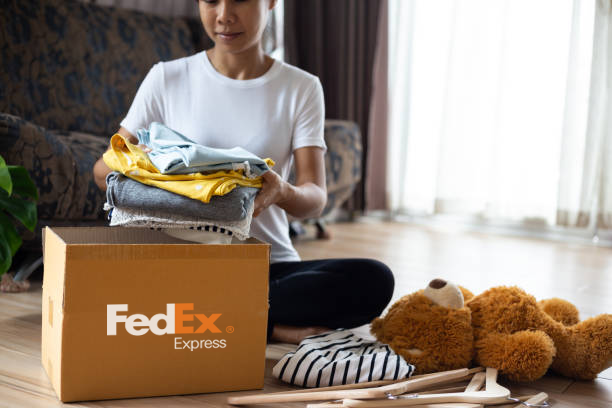 ---
If you need a quicker service, you can go with FedEx 2-Day, which will be delivered on the second day by 4:30 pm. The price for this option starts at $20.85 for a 2-lb. package and goes up depending on the delivery location and weight.
---
Shipping Clothes – Do's & Don'ts
Shipping clothing comes with unique challenges when compared to other items. Considerations such as the speed at which the items arrive, how you want to present your items, and your branding are all important factors. Comparing multiple shipping options based on a specific, popular item can help you decide – especially if you're looking for the cheapest way to ship clothes in the US.
A T-shirt, for example, sent as a small parcel via USPS, FedEx, or UPS could cost:
USPS First Class arrives in about 2 days and costs approx. $2.66 – $5.54
UPS Ground arrives in 4 days and costs approx. $11, depending on the size and location of delivery
FedEx Ground also arrives in 4 days and costs about $11 as well
---
Choosing a shipping company for your retail business based on the cheapest delivery method, your best option would then likely be USPS. Other factors come into play, so it's important to research before committing to one shipping option. This is when choosing a multi-carrier option comes in handy. PluginHive is an excellent method of allowing multiple carriers with the bonus of so many other tools and features to streamline your shipping process.
---
Interested in discovering how PluginHive can integrate the best shipping services, like real-time shipping rates, order tracking and multi-carrier shipping, right into your Shopify, WooCommerce, or another eCommerce platform? Contact our customer support team now!
---