Heatwaves in London; forest fires in Australia; flooding in Bangladesh. As the cataclysms continue to pile up, the world at large is gradually waking up to the fact that climate change isn't merely a theory – but a tangible threat.

Worse still, some of our favorite pastimes are direct contributors to the current climate crisis. (The red meat and travel industries, in particular, are both notorious for their carbon emissions.) But there's another serial offender that's just as bad, yet tends to hog far fewer headlines…eCommerce.

Yep – from the fuel required to transport and ship goods to the astronomical amount of waste generated along the way, eCommerce has a lot to answer for.

Which begs, of course, the big question – particularly if you're an eCommerce business owner. Can shipping for your Shopify store ever become carbon neutral? Can you sell with a clean conscience – or will you and your customers always be, in some way, feeding the world's climate woes?

The answer is yes, Shopify shipping can be carbon neutral – but only if you, as a Shopify store owner, put in the work.
Here's how.
Use Sustainable Packaging
The first step you can take toward your Shopify shipping's carbon neutrality? Packaging your products sustainably.

Often, the cheapest, most readily available packaging material isn't recyclable. And even when it is, the worry is that people won't actually recycle it (as of a couple of years ago, America's average recycling rate was a shabby 32%). Plastic bottles, for instance, can take up to 450 years to decompose in a landfill; for plastic bags, it's longer.

But we're not just talking about plastic. Left to rot in a landfill, these commonly used packaging materials don't fare too well:
Bubble wrap (contains polymers which don't biodegrade)
Styrofoam (can take up to 500 years to break down)
Cardboard (adds to methane emissions while breaking down)
Glass
Aluminum foil
Obviously, everyone has to do their part to recycle (so it's not all on you!). But you can do your bit by shipping your Shopify store's goods only in sustainable packaging. This includes:
Compostable mailers (pouches made from plant-based materials, such as straw and corn husks)
Biodegradable packing peanuts (like Styrofoam, but made with starch rather than non-recyclable plastic)
Bioplastics
Mushroom packaging (you heard right!)
By packing the goods you're selling sustainably, you won't make the shipping process itself any greener – nor can you guarantee the packaging will be recycled by the end customer. But what you can make sure of is that the goods reaching them won't still be hanging out in landfills come 2522 –and, in the process, bring your Shopify store that one step closer to carbon neutrality.
Reduce Your Return Rates
In today's eCommerce landscape, being able to return goods bought online is as crucial to the experience as buying them in the first place.

After all, studies suggest that a quarter of all consumers return between 5% and 15% of the items they buy online (other data puts this at 20%!).

Being able to offer your customers a forgiving returns policy is good, of course – for them. But for the environment? Ah…not so much.

Add up the extra shipping, the wasted packaging, and the scrapped products, and it's easy to see why a quarter of eCommerce emissions result from return rates alone.

We know that not offering returns isn't an option. So what can you do to discourage, where possible, your customers from returning your products?

While there aren't any 'one size fits all' solutions, here are a few ideas:
Ensure each product has high-quality, realistic images and descriptions (and offer as much info about your products as possible!).
Extend your deadline for returns. The more time customers have to decide whether to return the item, the less urgency – and the less chance they'll feel pressured into a 'now or never' moment.
If you sell clothes, add a size guide – or, better yet, a fitting tool – so people know the garment they receive will fit.
Clamp down on 'serial returners' – 30% of people will deliberately over-order items to take advantage of flexible returns policies. By monitoring the data, you can catch these consumers before they have an impact on the environment (and, of course, your bottom line!).
Plus, 20% of customers report products arriving broken – due to insufficient packaging – as their main reason for initiating a return. So remember, when investing in the sustainable packaging we discussed above, to also ensure that packaging is thorough. If it's not fit for purpose and results in a return, you're only counteracting that initial good work!
Get the Shopify Planet App
While sustainable packaging and reducing return rates are neat ways of reducing the potential amount of carbon dioxide your Shopify store's shipping produces, there's still one heck of an elephant in the room.

What about all the CO2 your business is already producing?

One study puts the amount of carbon emissions for cross-border orders at up to 16.5lbs CO2e per parcel shipped. 45% of those come from packaging, and 25% from return rates. 15% are property-level; 13% are transport-level; 2% are logistics-based.

Amidst all these emissions-causing factors, simply reducing your CO2 emissions isn't enough. You have to offset them, too. That means working not only to prevent the carbon that ends up in the atmosphere but removing that which is already there.

Fortunately, it's an area in which the new Shopify Planet app can help.
With Shopify Planet, you'll make a small monetary contribution every time you ship an order. This buys you carbon removal credits – verifiable emissions reductions from certified climate action projects, which offset the impact of that sale on the environment – from companies that are part of the Shopify Sustainability Fund.

Via a dashboard, you'll be able to track exactly how big an impact you're having. You can deep dive into the number of carbon-neutral deliveries you've shipped, the total distance your deliveries have traveled, and the weight of all that carbon you've removed.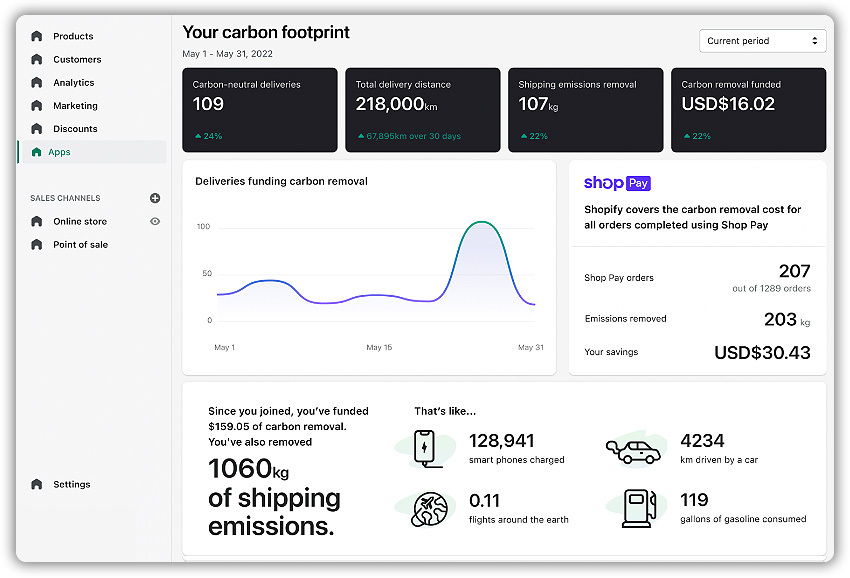 When you get involved with Shopify Planet, you can choose between three pricing tiers (fittingly titled 'Decade', 'Century', and 'Millennium'), but the costs are never prohibitive. The lowest per-package cost is 3.5 cents, and you'll never pay more than 15 cents per order.

Plus, Shopify Planet doesn't just offer a route to a clean climate conscience. Being part of the scheme is also good marketing for your Shopify store. It comes with storefront icons, allowing you to showcase your commitment not only to preventing harmful emissions from reaching the atmosphere –but to pulling out the ones already there.
Shopify Shipping: As Carbon Neutral As You Make It
Selling with Shopify is a no-brainer hence why it is often ranked as one of the best website builders. And now – thanks to the Shopify Planet app – the popular platform allows you to be sustainable while you sell.

So to reiterate, yes – shipping for Shopify stores can become carbon neutral.
If that is, you do your bit. Thanks to Shopify Planet, many merchants just like you are already trading on a carbon neutral basis.
But that's at an individual store level. To create true change – and for Shopify shipping to be totally, unquestionably carbon neutral – everyone has to get involved. Not just through using the app, either: but by both adopting an array of carbon-reducing practices, and encouraging your customers to do the same.
So aim for carbon neutrality, and go achieve it. When it affects both your Shopify store and the planet at large, it's not an issue you can afford to remain neutral about!