Shopify is a widely used eCommerce platform, chosen by over 1.9 million businesses worldwide for its robust features, user-friendly interface, and affordable pricing options. It provides a comprehensive solution for managing online stores, including order processing, inventory management, eCommerce micro fulfillment, shipping costs, and more. This post will explore Shopify's pricing plans to help you make an informed decision when using the platform.
---
On this page
Shopify Pricing Plans – Features and Cost
How Much Is Shopify?
Shopify Plans Comparison
Yearly Savings on Shopify Pricing Plans
Shopify Starter and Shopify Plus
Shopify Pricing Comparison with Competitors' Pricing
Additional Shopify Costs
---
Shopify Pricing Plans – Features and Cost
Whether you are a brand-new small business or a large and established one, Shopify offers excellent pricing plans to match your requirements and budget.
Shopify offers a free 3-day trial to all its customers upon signup. Once the trial expires, you can choose a plan that suits your business size and budget. You can also upgrade or downgrade your Shopify plan at any time. If you are unhappy with the Shopify eCommerce platform for your business, you can cancel your account at any time.
Shopify offers five subscription options to choose from –
Basic

Shopify

Advanced

Starter

Shopify Plus
Basic, Shopify, and Advanced plans are the primary plans that cover the cost of using the eCommerce platform. While Starter and Plus plans offer additional features for specific use cases.
How Much Is Shopify?
Shopify offers three primary pricing plans: Basic Shopify costs $29 per month, Shopify at $79 per month, and Advanced Shopify costs $299 per month, allowing you to choose the best plan for your business needs. Additionally, there is a Shopify Starter plan available for $9 per month, and a Shopify Plus plan which is customized to meet the specific needs of high-volume merchants. The details of both plans have been discussed below.
The screenshot below shows the Shopify fees as stated on its official website:
---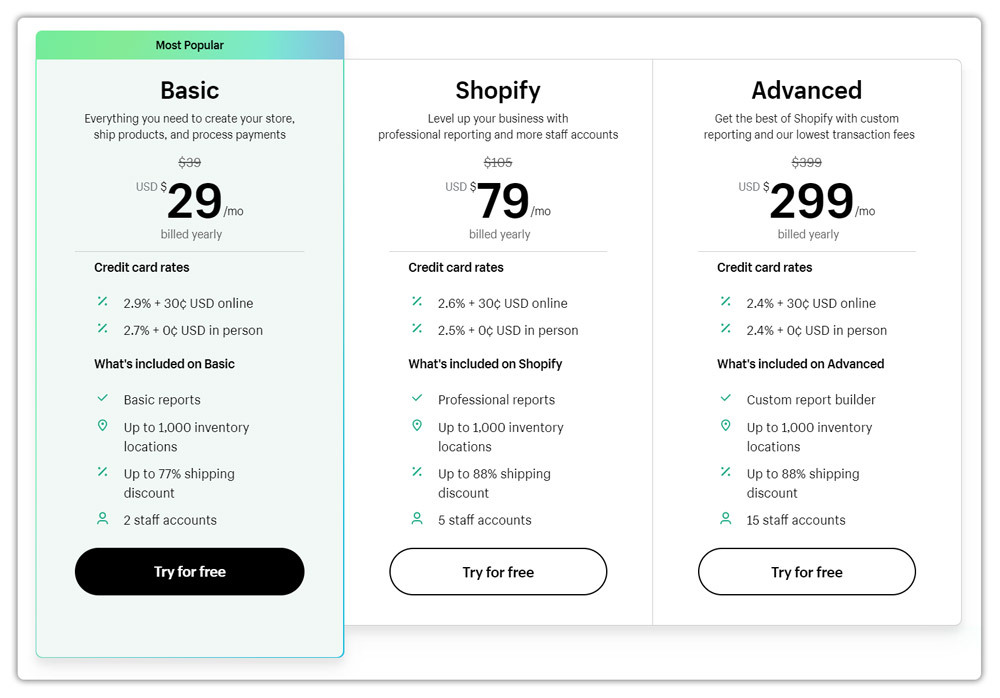 ---
Shopify Plans Comparison
Here is a quick overview of all the Shopify fees, features, and more:
---
| | Basic | Shopify | Advanced |
| --- | --- | --- | --- |
| Pricing | $29 per month | $79 per month | $299 per month |
| Online Credit Card Processing Fees | 2.9% + $0.30 per transaction | 2.6% + $0.30 per transaction | 2.4% + $0.30 per transaction |
| Staff Logins | 2 | 5 | 15 |
| Inventory Locations | 4 | 5 | 8 |
| Unlimited Products | Yes | Yes | Yes |
| Manual Order Creation | Yes | Yes | Yes |
| Discount Codes | Yes | Yes | Yes |
| Free SSL Certificate | Yes | Yes | Yes |
| Reports | Basic reports | Professional reports | Custom report builder |
| Shipping Discounts | Up to 77% | Up to 88% | Up to 88% |
| Transaction Fee for Non-Shopify Payment | 2.0 % | 1.0 % | 0.5 % |
| International Domain | No | Yes | Yes |
| International Pricing | No | No | Yes |
---
Yearly Savings on Shopify Pricing Plans
Besides monthly plans, Shopify allows businesses to opt for yearly pricing and save up to 50% on subscriptions. However, this discount is applicable only for the first year for new stores in the US and Canada.
---
| Shopify Pricing Plans | Basic | Shopify | Advanced |
| --- | --- | --- | --- |
| Monthly Plan | $29 | $79 | $299 |
| Annual Plan | $14.44 | $39.44 | $147.78 |
| Total Savings | 50% | 50% | 50% |
---
Shopify Starter and Shopify Plus
Now, let us learn about Shopify's Starter and Plus plans and what these plans offer in detail.
Shopify Starter
Shopify's Starter Plan is the cheapest option among its offerings. It is ideal for small businesses willing to integrate Shopify functionality into their social media accounts, such as Instagram and Facebook, website, and messaging apps like Messenger and WhatsApp. It helps businesses leverage the power of social selling by providing their customers with reliable transactions and faster checkouts.
Priced at $5 per month, Shopify's Starter plan helps businesses to launch their ventures without spending a lot of time and money on building a full-fledged website. It offers the right features to start selling your products to the desired target audience on social media, and through SMS and emails.
Some of the features included in this plan are –
Simple storefront

Product pages

Faster and secure checkout

Shopify order management module

Access to other Shopify apps

Linkpop – Shopify's link in bio tool

Contact page
Shopify Plus
Shopify Plus is an excellent plan for enterprise-level companies with higher order volume. This plan is crafted for big businesses and offers powerful features, such as multi-currency selling, automation, security, fulfillment, and more to ensure a seamless buying experience for the customers and streamlined order processing and management for the businesses.
For example, the outstanding web hosting that the Shopify Plus plan offers ensures that your eCommerce website is up and running all the time and it never crashes when there is a surge in traffic.
Shopify Plus plan offers numerous features that help large businesses amplify their growth.
Full-store customizations

Specialized apps and channels

Customizable checkout

Unlimited staff accounts

Role-based permissions

Expansion stores

APIs and integrations
The table below presents a quick recap of Shopify Starter and Plus plans and the difference between them.
---
| | Starter | Plus |
| --- | --- | --- |
| Most Suitable For | New merchants who wish to sell on social media and website | Enterprise-level businesses who wish to set up multiple stores |
| Pricing | $5 per month ($1 for 3 months) | $2000 per month |
| Online Store | Not included | Included |
| Abandoned Cart Recovery | Not included | Included |
| Advanced Reports | Not included | Included |
| Staff Accounts | One | As many as required |
---
Shopify Pricing Comparison with Competitors' Pricing
Shopify is the best eCommerce platform when compared with others available in the market. Let us briefly go through the pricing structure of some of the Shopify alternatives.
WooCommerce – 2.9% + $0.30 for each transaction. No monthly fees.

Adobe Commerce – Starts from $22000 per year

BigCommerce – Starts from $29.95 per month

Wix – Starts from $22 per month

Squarespace – Starts from $23 per month
Additional Shopify Costs
Besides the Shopify fees, businesses often have to pay for premium features, such as website themes, domain names, plugins, and other add-ons. Here is a list of common additional costs associated with using Shopify for your eCommerce store.
1. Website Building Cost
This includes the costs of buying a domain name for the business, hosting the website, purchasing website themes, and more.
Domain Name – Must be purchased separately from a domain names registrar, such as GoDaddy, DreamHost, NameCheap, and others for approximately $15 per year.

Themes – If you wish to give a professional look to your website that speaks of your brand, investing in a premium theme is a must. The cost of a premium Shopify theme can range from $100 to $1000 depending on the features, customization, and support it offers.

Apps for Customer Support – To make the most out of your Shopify store, you will have to pay for premium apps or plugins. For example, businesses can use a product search plugin to improve product discoverability.

Similarly, you can check standalone customer service solutions if you're a huge eCommerce brand making over $1M ARR to streamline and enhance your customer support.

The pricing for such plugins or apps starts from $5 per month.
2. Shopify Transaction Fees
Shopify charges a fee for all the transactions that take place through the store depending upon your subscription plan. If you use Shopify's payment gateway i.e. Shopify Payments to carry out the transactions, you can save on the transaction fees for every sale you make.
3. Shopify Credit Card Rates
Shopify charges a small fee for credit card transactions, such as Visa and Mastercard in your store. The credit card rates often vary depending on your Shopify subscription plan. The fees start from as low as 2.4% + $0.30 per transaction.
Wrapping Up
Shopify offers a variety of plans for businesses to choose from as their needs grow. The pricing for a Shopify eCommerce store depends on factors such as monthly fees, credit card rates, premium themes, and additional plugins. This post aims to clarify Shopify's pricing system and the benefits each plan provides.
Before committing to a monthly subscription, take advantage of Shopify's free three-day trial to test the platform.