Thousands of eCommerce business owners will spend hours attempting to make the most attractive website possible for their customers. Because, well, the better the website the more likely visitors will convert into customers. Your website's quality and reputation will depend – at least in some part – on the design.
It takes about 0.05 seconds for visitors to a website to form an opinion that will determine whether they like your site or not. That fast opinion will also determine whether they stay or leave.
Remember, most themes allow you to add your own design flair, change settings and formatting, etc., so it matches your needs. And, of course, you can integrate your favorite third-party application to ensure your entire website is streamlined for your customers, from browsing, checkout, and shipping.
Shopify offers about 76 themes to purchase or use right from the platform and there are many more available through other third-party sources. Picking a theme can be daunting, especially when there are so many to choose from. We've gathered the top Shopify themes, both free and paid, that are currently trending with the eCommerce site. Depending on the style and goals of your business, you may find one that will work perfectly for your business.
---
Shopify offers multiple free themes that businesses of all sizes and purposes can use to build their website. While many free themes can lack somewhat in design and functionality, for those businesses on a budget, they can provide the right amount of customization to set themselves up for some sales. In fact, some of the best Shopify themes are free.
Here are the top free Shopify themes of 2023:
Debut Theme
Narrative Theme
Simple Theme
Envy Theme
Symmetry Theme
---
Debut Theme
Debut is a free Shopify theme designed with a simplistic showcase in mind. It provides all the basics eCommerce sites need to get started and scale their business. Tools include slideshows, predictive search, and product filtering. It's designed for smaller catalogs.
---
Narrative Theme
Designed by Shopify, Narrative is optimal for brands with a focus on storytelling. It's great for small catalogs and provides features such as hero video, fixed navigation, and a wider layout option
---
Simple Theme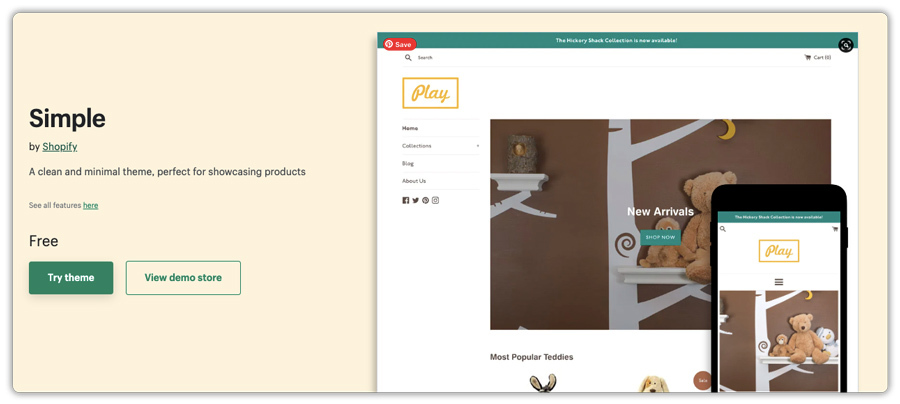 ---
Shopify Simple theme is a minimal theme for Shopify businesses wanting to just focus on their product. It's clean and showcases catalogs well with great image outlines. It comes with a sidebar menu, product image zoom, product recommendations, and more.
---
Envy Theme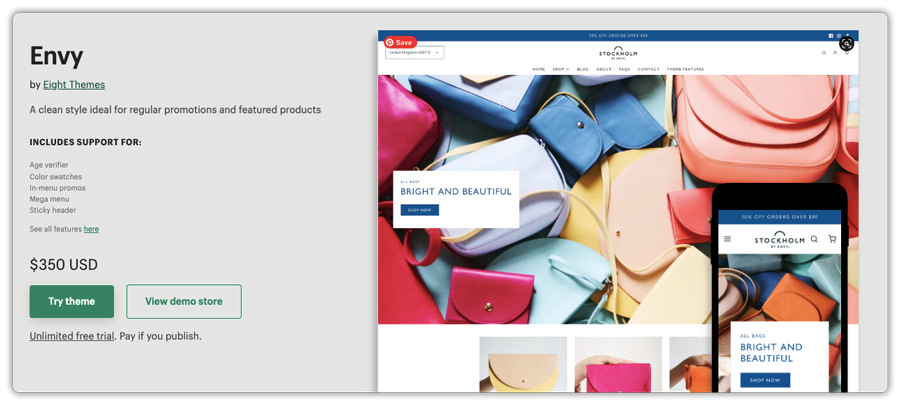 Shopify Envy Theme is ideal for regular promotions and featured products. It is designed for running time-based promotions, processing a large number of transactions in a given period, and doing in-person selling. It comes with flexible, well-designed blocks for images, products, videos, quotes, and more.
---
Symmetry Theme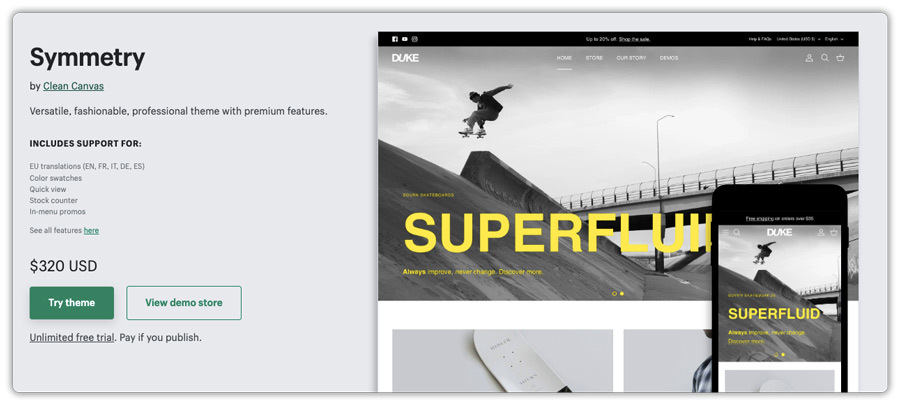 Symmetry Shopify Theme is designed to showcase images to support visual brand storytelling. It comes with a versatile, fashionable, professional theme with premium features.
---

---
Premium themes are for businesses that need a little more than the broader themes available for free. They often need to manage multiple areas with an abundance of tasks or perform more than what a free template can be used to create. Or, they might just prefer a paid theme because it's less likely to be found across hundreds of other websites.
Here are some of the top premium Shopify themes:
Responsive Theme
Testament Theme
Handy Theme
Flow Theme
Loft Theme
Boost Theme
Story Theme
Mobilia Theme
Booster Theme
Galleria Theme
Split Theme
---
Responsive Theme
Likely the most popular and most recognizable theme from Shopify, the Responsive theme by Out of the Sandbox is $220 USD and looks incredible on any screen, from a tiny iPhone 6s to a desktop and beyond. The themes are highly customizable and provide a variety of layouts to choose from. It's designed for stores that also do in-person selling and want to tell a story with their content.
Key Features:
Highly customizable layouts, and typography
Wide layout with features like image zoom, hero videos, and promo banners
Editorial content capabilities with extended text sections
---
Testament Theme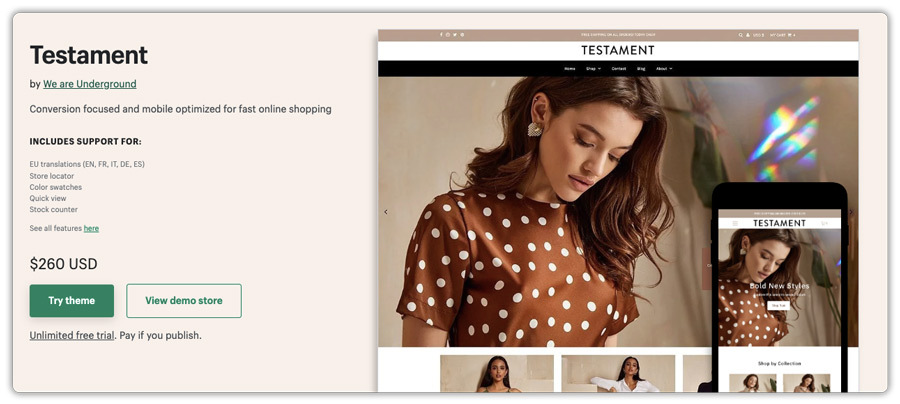 The Testament theme is another widely popular theme and for good reason. For $260 USD, it's best for stores selling apparel, household items, and beauty products as it is mostly image-based but of high-def quality. It's optimized to provide a streamlined customer experience and fast online shopping. There's also an unlimited free trial – you pay when you publish.
Key Features:
Designed for stores that process high amounts of transactions in a specific time period
Contains elements of visual storytelling
Designed exclusively for stores that sell in-person
---
Handy Theme
Great for arts and entertainment and clothing and accessories, the Handy theme by Red Plug Design Co. is meant for mobile-first browsing and smaller screens. For $180 USD, online shipping is simplified and quick with many selling options available as well as a wide variety of marketing tools. There's also an unlimited free trial – you pay when you publish.
Key Features:
Mobile friendly designs
Simple navigation with search focused & multi-column menu
Search engine-friendly template
---
Flow Theme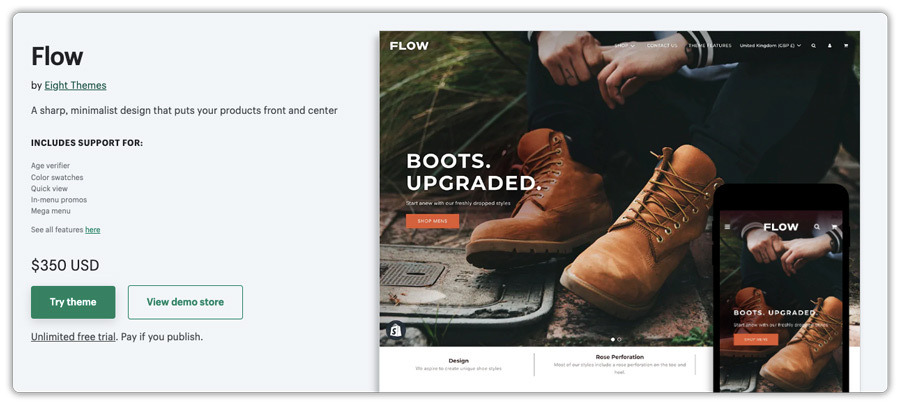 A more expensive theme option at $350 USD, Flow by Eight provides a minimalistic design that still provides sophistication to the shopping experience. It's intended for high-volume stores with smaller catalogs. Visual pages are high-quality and appealing without being distracting. An unlimited free trial is available.
Key Features:
Ideal for high-volume stores, flash sales, and international selling
Easy customization with drag-and-drop sections and blocks to create custom pages without coding
Marketing and conversion features like back-in-stock alerts, blogs, promo pop-ups, and more
---
Loft Theme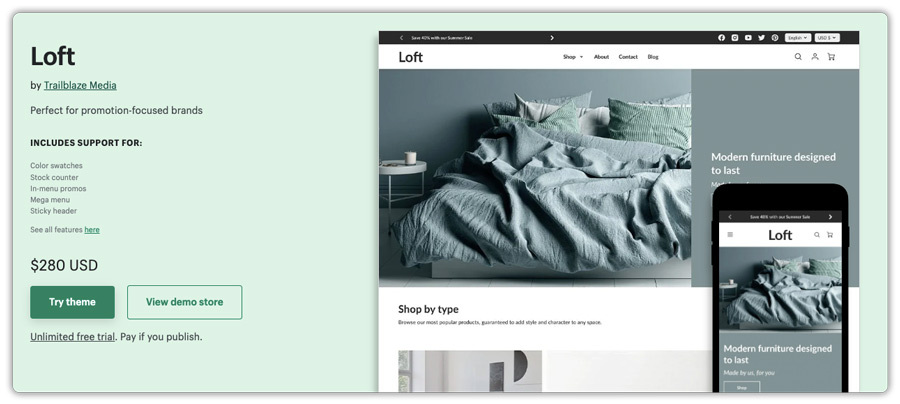 Designed by Trailblaze Media, Loft is geared toward businesses that value a promotion-first brand. It allows for great long-form content and storytelling and comes with many marketing and promotional tools to sell your products and your brand. There's also an unlimited free trial – you pay when you publish.
Key Features:
Designed for large inventories with modern and minimalistic designs
Optimized for high-resolution images
Story-focused product pages and white space-rich landing pages
---
Boost Theme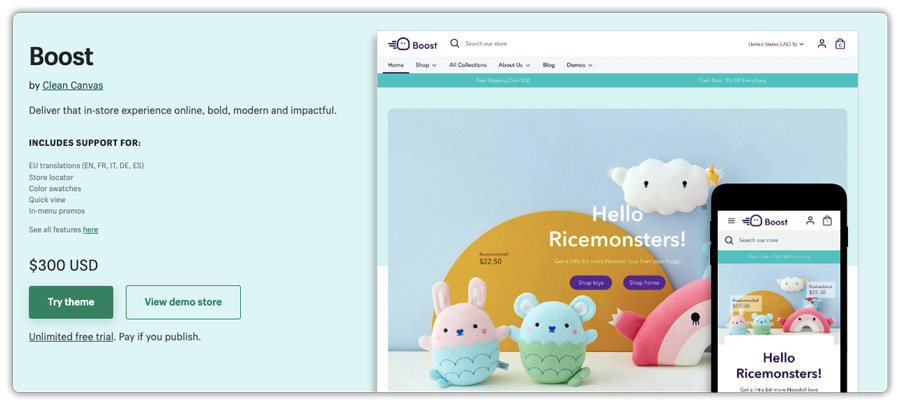 Boost by Clean Canvas is a colorful theme that brightens up a shop for products such as children's toys and accessories, pet items, and games. It's set up for higher volume shops as it provides a large catalog ability but works well for any sized eCommerce store. It's available for $ 280 USD and also comes with a free unlimited trial.
Key Features:
Optimized for longer-form text sections to support brand storytelling
Designed for stores that process a large number of transactions in a given period
Theme setup steps are minimal to allow for a quick launch
---
Story Theme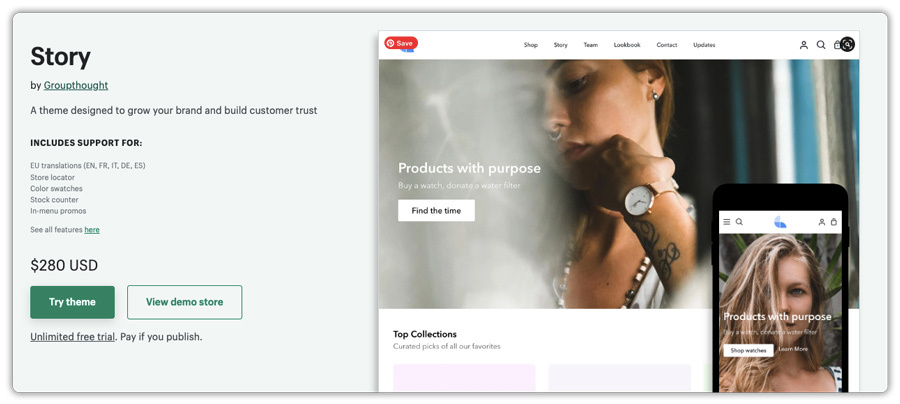 ---
As its name implies, Story by the Group Thought provides a platform for brands wanting to focus on storytelling. For $280 USD and a free unlimited trial, users gain access to customizable and powerful filtering for catalogs, multiple sections, and a mobile-first optimization. 
Key Features:
Designed to showcase images to support visual brand storytelling
Simple design with decent color combinations
Designed for stores that do in-person selling
---
Mobilia Theme
Another popular theme by Out of the Sandbox, Mobilia allows you to showcase your brand with smooth content integration, custom promotion lists, and quick buy options. It is designed and built for medium-sized catalogs and is available with a free trial or $ 180 USD.
Key Features:
Clean and slick design with re-sizable landing page banners
Custom promotion tiles for featuring products, promoting sales, and discounts.
Search engine-optimized templates
---
Booster Theme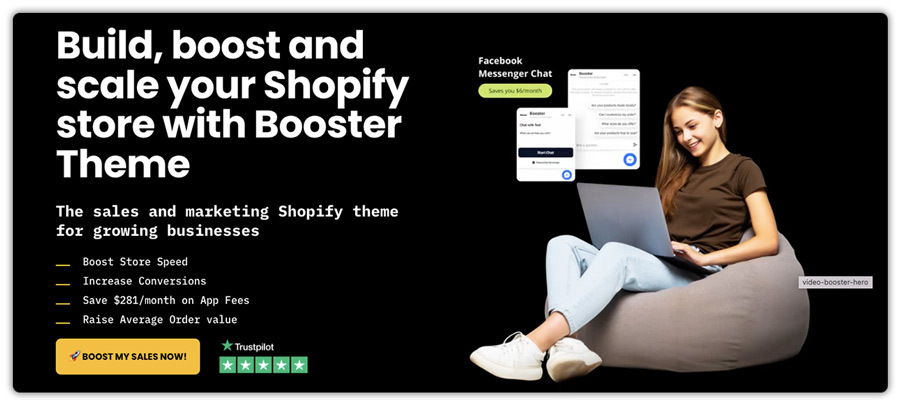 Booster Theme will turn your visitors into buyers. It's more than a simple theme; it's a complete marketing toolbox. Inside Booster, you will find integrated apps, conversion-optimized designs, and loading speeds that you can't find in any other theme. Increase your sales today. Get your license today at BoosterTheme.com
Key Features:
Versatile design style with a responsive layout
Designed for stores that process a large number of transactions in a given period
Flexible, well-designed blocks for images, products, videos, quotes, and more
---
Galleria Theme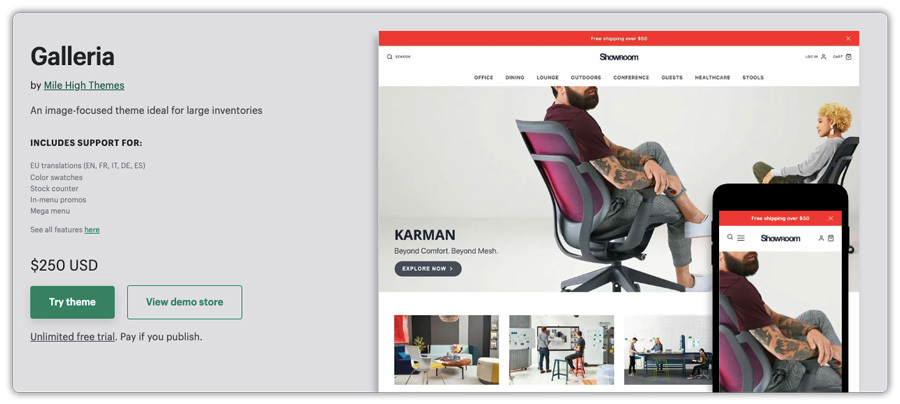 Galleria by Mile High Themes is $250 USD and is an image-focused theme intended for large inventories, and any size of the catalog. As its name suggests, Galleria comes with stunning gallery options and slideshow capabilities so you can provide a strong image for your brand and products.
Key Features:
Image-focused theme ideal for large inventories
Versatile gallery to beautifully showcase your brand or product imagery on your home page or in a lookbook
Unique design elements to create a stunning home page
---
Split Theme
Intended for very visual brands who still want to include an aspect of storytelling, Split by Krown Themes suits any catalog size and provides options for quick sales and a split-screen layout. It comes with many promotional tools to help boost conversions.
Key Features:
Designed with features for running time-based promotions
Tools that help with conversions, such as unique promotion banners, countdown headers, dynamic cross-selling, and more
Balanced split screen layout to create a truly engaging user experience
---
Interested in learning more about how PluginHive's Shipping Solutions will collaborate with your Shopify theme? Regardless of how your site is set up, PluginHive's Solutions will provide your customers with a seamless shipping experience. Shipping rates will show in real-time at checkout and customers will be able to choose which option fits their budget and time constraints. Parcels will arrive faster than ever and spend less time processing because the app will automatically print shipping labels & track orders in real time.
Reach out for a conversation with our team of experts today!