This article covers the service UPS SurePost and the benefits of using UPS SurePost to ship light weight goods. UPS (United Parcel Service) is a multinational package delivery operator that is headquartered in Sandy Spring, Georgia. The company was founded on August 28 1907 by James Casey who named the company American Messenger Company and was later changed to United Parcel Service in 1919. We'll cover the basics of UPS SurePost along side the ability to retrieve SurePost rates within WooCommerce by using the WooCommerce UPS Shipping plugin.

What is UPS SurePost?
SurePost is an economical, residential, ground service that is acquired on a contractual basis. The service provides the user with the consistency of the UPS Ground services and network and the final leg of the journey will be provided by U.S.P.S where the package will be delivered to registered P.O. Boxes. The carrier to deliver the package is decided by UPS WorldShip.
Features of UPS SurePost
UPS SurePost provides its users with a list of features, some of them are:
The SurePost service is available only for residential deliveries and those packages which are shipped from and delivered to any of the 48 contiguous states including Alaska, Hawaii, Puerto Rico. UPS does not provide SurePost services for any International packages.

Each package offered for UPS SurePost will have a minimum and maximum weight restriction. These packages should be a minimum of 4 inches high, 6 inches long and a minimum thickness of 0.75 inches. Basically, no individual dimension should exceed 60 inches in length which means that the maximum dimension (length + girth) combined will have to be limited at 130 inches.

SurePost has a maximum weight limit of 70 lbs.

The rates for SurePost are solely based on the shippers location, package characteristics which include delivery ZIP code, weight of the package, size and volume of the package.
Rates and Additional Charges for shipments using UPS SurePost
Reason

Charge

Non-Machinable charges –

Applied as an additional charge to packages with

One dimension measuring between 34 inches and 48 inches

Two dimensions each measuring between 17 inches and 30 inches

If a package weighs greater than 35 lbs

$2.95 per package

Additional Handling – 

A package with any one dimension greater than 48 inches

A package with any 2 dimensions greater than 48 inches

Any product that is encased in an external shipping container made of wood or metal

Any and all Cylindrical items – barrels, drums, tire (items that are not entirely encased in a corrugated cardboard container for shipping.

$14.25 per package

Surcharge based on the Delivery Area – 

SurePost shipments delivered to particular ZIP codes within the listed 48 contiguous states.

DAS: $1.85

DAS Extended: $2.35

DIM – Dimensional Weight of the package –

UPS SurePost and UPS Ground follow the same dimensional weight formula

 (Divide the cubic size of your package in centimetres by 5,000. Increase any fraction to the next half kilogramme.)

Billable rate

Peak Surcharge – 

A peak surcharge is an additional charge that is collected based on service level and package characteristics and will be applied on packages shipped during a Peak period..

Refer – https://www.ups.com/assets/resources/media/en_US/peak-surcharge.pdf
Key points to remember while using UPS SurePost
With SurePost enabled, you can process shipments from the 48 contiguous states within the U.S to the same 48 states along with Alaska and Hawaii.

All SurePost shipments are processed as small packages and validated before shipping.

There are 4 services made available to the customer depending on weight and dimensions; SurePost Less than 1 lb, SurePost 1 lb or Greater, SurePost Bound Printed Matter, and SurePost Media.

Each USPS delivery would require an Endorsement value to be assigned.

The packages total dimension can not exceed 130 inches for 

SurePost Less than 1lb or SurePost 1lb or greater

The packages total dimension can not exceed 108 inches for

SurePost bound printed matter or SurePost Media. 

Dimensions are determined by measuring the length of the package and by adding twice the width and twice the height. 

In case the unit of measurement for the store has been set to 'Metric'; UPS SurePost automatically changes the unites to Imperial only for their shipment.
UPS Service Box available services (For Contract Holders)
| | | |
| --- | --- | --- |
| | | |
| | | |
| | SurePost greater than 1lb | |
| | SurePost bound printed matter | UPS SurePost and SurePost bound printed matter |
| | | UPS SurePost and SurePost Media |
Weight and Dimension restriction for UPS SurePost services:
SurePost less than 1 lb: 1 ounce – 15.9 ounces. Package dimensions cannot exceed 130″ (length × twice width × twice height).

SurePost 1 lb. or greater: 1 lb. – 70 lbs. Package dimensions cannot exceed 130″.

SurePost Bound Printed Matter: 0.05 kg – 15 lbs. Restricted to books and printed material. Requires a SurePost Bound Printed Matter contract in addition to a SurePost contract.

SurePost Media: 0.45 kg – 70 lbs. Restricted to specific items such as binders, films and medical binders. Requires a SurePost Media contract in addition to a SurePost contract.
Pros & Cons of using UPS SurePost
Wouldn't it be great to be able to save at least 20% off the shipping cost? The answer is, Yes! Reduced shipping costs are not the sole benefit of using SurePost. There are many  potential benefits to highlight, including the following:
Pros
Regular pickup options are made available: SurePost does not require out of the box treatment for pickups or drop-offs. Shipments can be combined with the typical UPS pickup service as trips to the post office are not made mandate

Tracking of packages are made easy from the point of pickup till the item is delivered:  UPS provides its users with the ability to track packages. This is included when you utilize the SurePost service. The same reference/tracking number can be used even when U.S.P.S is handling the last leg of the delivery.

SurePost can be integrated with Shipping software: The key behind managing large shipments is by having SurePost integrated with the Shipping software you use.

 Manages the expensive section of the shipment: As stated above, the most expensive part of the shipment is the last/final leg where the package is delivered by U.S.P.S. This makes up 28 percent of a shipment's total costs — nearly 1/3rd of the overall shipping cost. With the help of SurePost  this high cost is taken care of and UPS has created a more cost-efficient option for sellers who ship large volumes of packages.

Saturday delivery is made available: With SurePost, most packages are handed over to USPS for the final leg of delivery. Delivery of packages over the weekend is made possible and is not at any additional fee as the cost for Saturday delivery is included in the service by default. This is an important benefit as weekend delivery normally balances the drawback of SurePost being a slow service.

Shipping to more address is now possible: On a regular day, UPS does not deliver to PO boxes, depending on your business, this may or may not be a sticking point. It is good to remember that since SurePost is a hybrid UPS and USPS service. The flexibility to reach more geographic locations that regular UPS services are unable to reach is one of the hidden advantages of using SurePost

Deliveries are made to residential addresses and packages are generally lightweight (less than 10  lbs)

If you are a member, you are allowed to use the "UPS My Choice" membership which will enable you to make use of the reschedule and redirect deliveries feature respectively. By doing so, upgraded packages may arrive a day earlier.

SurePost guarantees that the deliveries made would normally take between 2-7 days to arrive at their destination. However, that is not the case, a few users have reported that SurePost would result in an average of a 3 day delay when compared to typical UPS services. 

Due to the fact that packages have to be transferred from one carrier to another, the shipment sent via SurePost is generally delayed but is also the main source of a reduction in the cost. It is important to consider the benefits and the drawbacks of SurePost in order to determine what is right for your business.
Cons
 Along with the list of benefits of using SurePost, SurePost users also face a few drawbacks. Namely:

SurePost might take a little longer for the package to get delivered.

Making the last mile more efficient does slow down the delivery process slightly. The UPS team (drivers) have to pass on the package to USPS who in-turn sort these packages appropriately so they get to their correct addresses respectively. Is it cost effective? Yes. But it is a lot slower than the regular services.
Terms and Conditions to follow while using UPS SurePost.
Regulations
UPS will provide each customer with a unique mailing identification number which is to be manifested with each UPS SurePost shipment. This mailing identification number must be used solely for SurePost services and should have no other purpose. In any instance where a customer uses the mailer ID on another service, UPS terminate the UPS SurePost service to the customer and the customer is liable to reimburse UPS for any additional postage charges incurred due to the unauthorised use of the mailer ID.

UPS SurePost is a service that is provided to and from the 48 contiguous states set by UPS as specified in the SurePost Service description.

UPS SurePost sets weight and size limitations for the packages tendered. Additional charges will be collected for those packages that exceed the size and weight prescribed by UPS. Charges and shipping rates are assesses based on the package used for the shipment.

UPS and UPS SurePost services will not entertain packages containing lithium batteries, hazardous materials, dangerous goods or other items subject to regulation under the U.S. Code of Federal Regulations, Title 49. All customers are liable to pay a penalty or a damages fee in instances where the customer fails to comply with UPS requirements and USPS regulations.

UPS SurePost does not guarantee the time and date of delivery for any package. UPS SurePost will not support the UPS Service Guarantee as prescribed in the UPS Tariff sheet. The customer, on behalf of himself and his/her consignees, waives any right or claim for damages against UPS which may arise from or relating to delayed delivery of packages tendered for UPS SurePost service.
Transportation Clause
The mode of transportation for UPS SurePost service will be provided at the sole discretion of UPS. Each customer will acknowledge that transportation may be made in whole or in part by USPS. There will only be one delivery attempt made for each package and can be released to the consignee's physical address without any signature.

Packages may or may not get delivered; USPS determines that a package can be returned to the customer or destroyed in the instance where USPS is handling the last leg of the delivery. If UPS is unable to deliver the SurePost package, this package is returned to the customer at the customers' expense.
Termination of Service
The UPS SurePost service can be terminated at any given time if t

he customer fails to comply with the service terms and agreement which was signed upon acquiring SurePost services.

The customer will be notified if USPS terminates or changes the terms under which it provides service for UPS SurePost.
Rates and Services
All rates and charges levied by UPS SurePost will be incurred by the customer. Changes made to the rates and charges will be effective from the date specified in the notice sent by UPS.

Rates and service charges for UPS SurePost are subject to change at any time for any reason. Third party billing and consignee billing are not applicable. 
Liability and Delivery
 The customer can and should use an approved UPS ready solution that meets the requirement to process SurePost packages. The customer will apply a special UPS SurePost label on each package, which is readable by USPS and is an identifier for the UPS SurePost service.

All UPS SurePost packages will be provided with a USPS Delivery confirmation that must be used by customers.

UPS has a liability limitation for any loss or damage to a UPS SurePost package, this is limited to a maximum of $100 per package. UPS will not be held liable for any claim which arises from loss of the package, theft, non-delivery and delayed delivery. After packages are tendered to USPS, UPS will not be held liable or accountable for any damage, loss or non-delivery of the package.
---
UPS SurePost with your WooCommerce Store
By using WooCommerce alone you will not be able to obtain SurePost rates and services. This can be achieved by using the Pro version of the WooCommerce UPS Shipping plugin with Print Labels.
The plugin comes fully equipped with the ability to fetch Real-time rates from the UPS API provided that the products in the store have Weights and Dimensions configured. Since UPS SurePost is a paid contractual service, it is recommended to obtain the contracted API key so that when the plugin sends the request to UPS with the weights and dimensions, UPS sends a response with the available rates for UPS SurePost and the rates are calculated Real-time within the plugin.
To obtain the contracted account credentials you will have to access UPS.com and proceed to Sign Up following which you will have to reach out to their customer care team and get a clearer image about the various contractual services they provide. 
The above step can be accomplished here
Once the WooCommerce UPS Shipping plugin has been set-up you will be able to view the available services based on the UPS Access Key and the Account Number

UPS User ID 

UPS Password

UPS Access Key

UPS Account Number
The fields shown above have to be filled with the appropriate contracted account information. Only upon completing this will you be able to secure SurePost rates and services within the plugin.
Now that the account has been set-up in the appropriate manner proceed to the store and add a product into the cart; make sure the products weight and dimension meet the required limit for SurePost in order to obtain rates in the front end. In the example below, the item in the cart is 1.25 lbs (weight) 7 in x 7 in x 2.5 in (LxWxH). SurePost classifies this item as large enough to be shipped using the SurePost 1 lb or greater service.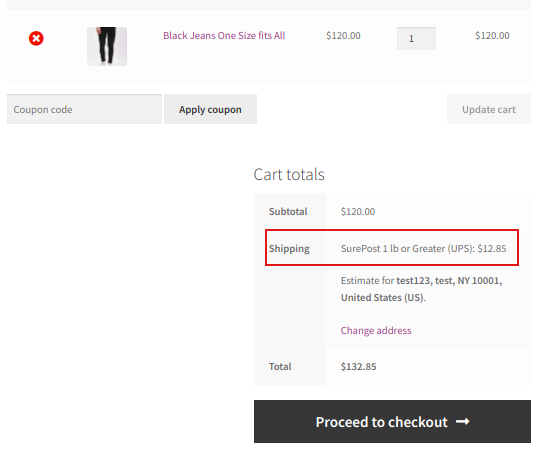 Proceed to the Order details page in the back-end of the store to process the packages and generate shipping labels.

In the Order page you are able to 'Print Shipping Labels', Track the order (tracking number is populated in the order notes and on the order page in the customers account), you're also able to void/cancel the shipment.
The tracking number for the UPS SurePost shipment gets populated in the order notes section of the Order page (shown below)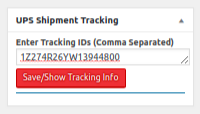 However, in the case if a customer would request to return the product or package, UPS SurePost does not support returns to the Store owner and the store owner will receive an error in the order page while trying to generate return labels so in this case an alternate shipping service will have to be used to process a return or will have to be done by the recipient of the package out of his/her own pocket.

The shipping label will specify the origin and destination, the weight of what is being shipped and the relevant tracking numbers for both the carriers.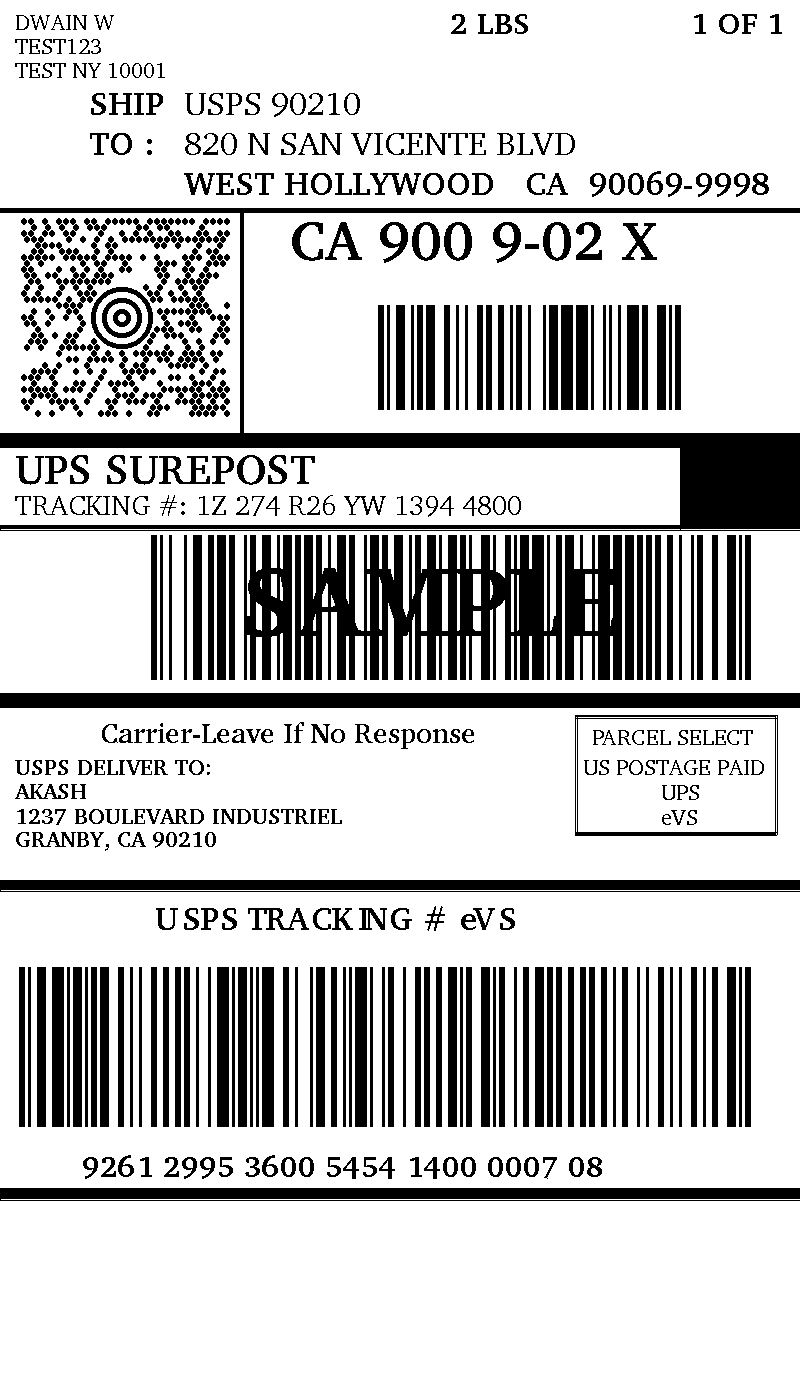 The label comes pre-loaded with both, the UPS tracking number as well as the USPS eVS (Electronic verification system). You will also be notified in the label about who will carry out the delivery during the final leg of the shipment; be it UPS or USPS.
---
Final Thoughts…
This article is regarding UPS and their service UPS SurePost. The reason why it is used, advantages and disadvantages of using SurePost and also the functionality within the WooCommerce UPS Shipping plugin with Print Label. Hope this article was informative and easy to understand. However, if there are any questions pertaining to SurePost or what is published within this article, please feel free to reach out to us by contacting our Support team or by providing us with your feedback in the comments section below.