We all know that shipping's a tough job for merchants out there. With so many shipping carriers to choose from, it can be really difficult to know which one should you use for your shipments. But with the latest eCommerce Solutions like WooCommerce, people can finally streamline their shipping and delivery system without breaking any sweat.
You have some really advanced WooCommerce shipping solutions which could be of real use to you. The WooCommerce UPS Shipping, WooCommerce FedEx Shipping, and WooCommece Multi-Carrier shipping plugins work at your command and will help you sort out most of the shipping problems.
---
For the very same reason, we have curated the major benefits and problems of using the three shipping services—UPS, FedEx, and USPS. We have also compared their shipping rates, label printing facilities, shipping tracking capabilities, parcel/box packing procedures, delivery timings, and a lot more. So read along and learn what each carrier does well and how these WooCommerce shipping plugins can help you do that.
Let's begin with UPS!
Shipping experience with UPS
Founded in the year 1907, UPS (United Parcel Service) is the oldest of the lot. It has gained its popularity since then and continues to thrive till date. Their unbeatable services offer a high level of security, speed, accuracy, and truly reliable delivery experience to both the business owners and customers. In fact, with the introduction of various robust APIs recently, most eCommerce store owners now prefer their in-house comprehensive UPS shipment tracking and label printing system.
---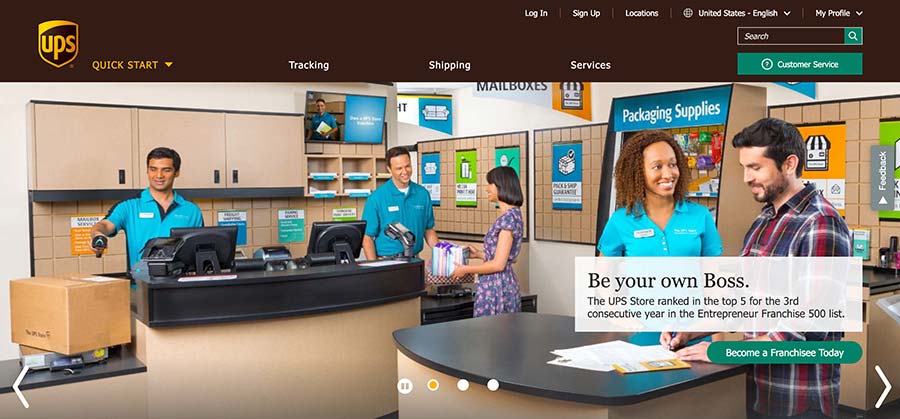 ---
Of course, one has to pay more in order to witness the true shipping and delivery experience and all of this makes for a slight increase in the shipping rates. Which could also very reason why most Americans prefer UPS for their shipping needs.
---
Benefits of using UPS
Prices aside, there's nothing more to argue about and in fact, there's a lot to love about this exceptional service. We go on for hours talking about it but for the sake of this article, let's just go through the primary reasons why companies and online sellers choose UPS for their shipping.
Just like Amazon's Prime deliveries, if you need to deliver a package on a particular date, UPS is the right one to go with. UPS provides ultra-fast shipping services like the UPS Same Day and UPS Next Day, which are probably the fastest shipping services one could ever ask for.
---
---
The best thing is if you have enabled the UPS pickup in your plugin settings, you can allow UPS to pick up the packages for you. This will save you the trip to their pickup centers and will help them deliver the packages starting right from your warehouse.
As you can see, you can set up the pickup time, company closing time, and even mention the working days. So UPS will know when you are going to ship your packages.
---
---
Coming to the guaranteed deliveries, you can choose the premium services right in the plugin settings. You just need to select the services which you'd like to appear on the Cart/Checkout page. You can even make small adjustments to the shipping prices (only if your business case allows you to do so).
Choosing the guaranteed shipping services will definitely give you the peace of mind that your packages will arrive on time, which will eventually keep customers satisfied.
Cheapest shipping rates for heavy packages
While USPS is the king of providing cheapest options for very small and small packages (we'll discuss more on this later), prices increase dramatically for heavier shipments, even for FedEx.
Meaning, UPS will give you the best deals when shipping heavy items. So in general, if your package weight is more than or equal to 2-3 pounds, you should consider choosing UPS services. Not just that, UPS will deliver your package quicker (and securely) than any other services around.
On another note, if you want to ship large amounts or volumes of packages (or UPS Freights), you can easily take advantage of the discounts offered by UPS. Otherwise, you may lower your rates through the UPS negotiation.
For that, you need to display proof of your previous shipments which you handled using UPS services. The WooCommerce UPS Shipping plugin allows you to enable the Negotiated rates on the plugin settings as shown below.
---
Better shipment/order tracking
Now talking about the shipment tracking, as mentioned earlier, UPS Tracking offers a comprehensive list of features. It really helps customers find where their packages are starting from the pickup point to their doorstep.
Their detailed tracking information will give both you and your customers a sense of security, even if your package is delayed, or you ever lose a package (which is highly unlikely), you would be capable of doing something about it as quickly as possible.
In order to stay ahead in the game, you can make use of the shipment tracking feature that comes with the plugin. Once you're in the Orders page, you should be able to see the following,
---
---
This essentially helps you send the order tracking details to your customers via Order completion email. And just so you know, you don't need to enter the tracking number all by yourself. As soon as you Create the Shipment, the plugin will automatically fetch the tracking info and assign it to the order. And once you mark the order as Completed, the Order completion email is triggered.
---
Superb label printing facilities
UPS allows you to generate and print the shipping labels right from your office. So you neither have to ask them about the label nor go to their website and print the shipping labels. With a bunch of eCommerce solutions now supporting UPS Shipping, merchants can now print UPS Shipping labels with no effort.
Once the plugin is installed and activated, all you have to do is change the image type of the shipping label to png. This is because the plugin only supports the bulk label generation in the png file format only. You can find the option to change the image type in the plugin settings under the Label Generation tab. The image below shows the option under the Label Generation tab.
---
---
Once you change the image type and save the settings, all you have to do is wait for the customers to place orders. WooCommerce UPS Shipping plugin not only helps in generating the shipping label but it also helps the store owners to download the shipping labels. This way the store owners can make use of the shipping label and fulfill their orders.
You can also print return UPS shipping labels with this plugin. Doing this would help you manage return orders in a much easier way.
Once you have successfully generated the shipping label, you need to select the order you want to get the shipping label and click on the option to print it. The image below shows the option to print the shipping label.
---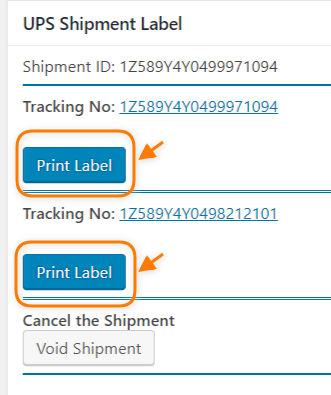 ---
And the shipping label will be downloaded as a PNG file. You can download it using any printer. The image below shows the UPS Shipping Lable printed using the plugin.
---
---
With the UPS Saturday Delivery, you can basically deliver packages to your customers even on a Saturday. And UPS can provide this service to you only if require it. Similar to other shipping carriers, say FedEx, UPS also provides Saturday delivery for some of the shipping services including the UPS Air services —
UPS Next Day Air Early
UPS Next Day Air
UPS 2nd Day Air
UPS Ground
UPS 3 Day Select
UPS Worldwide Express Plus
UPS Worldwide Express
UPS Worldwide Express Freight
With this plugin, you would be able to display real-time UPS shipping rates to your customers. The shipping services along with the corresponding shipping rates are directly fetched from the UPS APIs; you can outright enable or disable certain shipping services. So if you don't want to provide UPS Ground Saturday delivery to customers, you can simply enable it in the plugin settings. Have a look at the image below.
---
---
Problems with UPS
While UPS is a great shipping carrier for most users, it isn't actually perfect. A few things about this shipping carrier can really make you sad. So let's go ahead and check out the areas where you might have to compromise when using UPS.
Pricey shipping rates for small packages
Yes, that is indeed true. Shipping services from UPS can cost you a bit more than what other shipping carriers usually offer. There are a few reasons for this, first, the fees and surcharges that UPS add to their base rates can increase the prices drastically.
This is especially true in cases where the shipping address is in a residential area and the delivery truck has to reach the doorstep. The prices are even costlier when shipping packages to an international destination (we'll see more on this later in the FedEx section).
Another reason why prices are higher is the fact they offer premium shipment tracking features. And indeed, when compared with other shipping carriers, UPS's tracking page is way more informative and thus, results in a spike in the final shipping rates.
---
Costly UPS pickup services
You need to pay a flat rate cost for the scheduled pickup service to UPS. USPS, on the other hand, offers the same pickups for free of charge, which is another reason why some people hesitate using UPS pickup services. But on the bright side, the pickup prices are way cheaper when compared to FedEx (we'll see more on this later).
If you want to reduce the cost of shipping drastically then you could use one of their special services called the UPS SurePost. This is basically a type of consolidated shipping service which extensively uses the logistics from UPS and further uses USPS for the final delivery to your customer. You can save a lot of money on shipping just by using this service. You can read more on UPS SurePost vs. FedEx SmartPost, which explores more on this topic.
---
Shipping experience with FedEx
FedEx is another top shipping which has been in a tough competition with both UPS and USPS and for obvious reasons. FedEx was founded in the year 1971, and have been people's go-to-carrier for several years. No other shipping carrier has seen such drastic growth in its popularity. They are popular for their FedEx international shipping because of their cheaper FedEx shipping estimate and better package handling procedure.
---

---
But from what we have seen and experienced till date, there isn't much of a difference between the UPS and FedEx in terms of service, packaging, or logistics in general. Store owners and merchants all over the place, prefer FedEx over UPS because of their better vast delivery network and locations.
---
Benefits of using FedEx
FedEx has many of the same advantages that UPS does, including a great tracking system and speedier delivery. And with the WooCommerce FedEx Shipping plugin, you get real-time FedEx shipping rates, shipping label printing option, various parcel/package options, freight shipping, and much more actually. Here's what else you can expect from FedEx as a shipping service.
More precise order tracking
FedEx a much better tracking feature to the customers with their robust tracking system. They can easily view their shipments' progress in real-time which is always welcome. There's another feature beyond shipment tracking—Delivery Manager, that essentially allows you to hold packages at a FedEx office or schedule delivery for a specific time. This ensures you have the real command over your packages.
---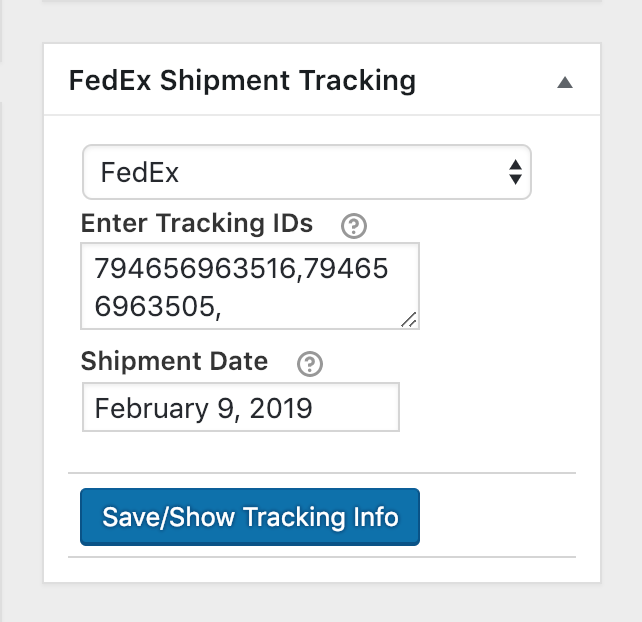 ---
The tracking process remains exactly the same in case of the WooCommerce FedEx shipping plugin as well. The tracking details are transferred further to WooCommerce which later sends it along with the Order completion email. This email will contain the tracking ID with the link, which when clicked, will take you to the FedEx order tracking page. Customers can track their order in real-time on very this page.
---
Indeed, you heard it correctly. Unlike UPS, FedEx provides FedEx Saturday Delivery as an included feature in their standard shipping packages. This is one of the key reasons why many people opt for FedEx services. With FedEx Saturday Delivery, packages that would typically arrive on a Monday when shipped mid-week via UPS, are delivered on the Saturday prior. It's a well-established fact that delivering packages to your customers two days earlier through FedEx with Saturday Delivery can significantly enhance their satisfaction level.
---
Cheaper international shipping charges
As mentioned before, shipping internationally with FedEx is a wonder as the prices are much cheaper compared to UPS. Once you install the plugin, you should be able to select the FedEx international shipping services from the plugin settings page. Have a look at the image below.
---
---
FedEx also offers international shipping services for the Freight shipments, and as one would expect, the prices are relatively cheaper. You can actually make use of any of the services— FedEx 1 Day, FedEx 2 Day, and FedEx 3 Day Freight, and save a lot of money on the shipping.
---
Multiple benefits with FedEx One Rate
FedEx One Rate is a type of shipping service which essentially FedEx users to ship products locally by paying a flat rate upon using a specified FedEx package. One Rate and its services are only applicable in the 50 states of the U.S. but do not cover all areas of Hawaii and Alaska.
So you're allowed to use the FedEx Express packaging and FedEx Express U.S Services with each package having a specific weight limit.
Apart from that, there are no additional fees included like the fuel, residential and delivery area surcharges. Which eventually does not alter the base rate for the shipment and can be really convenient for both business owners and customers.
In order to use this feature with the plugin, you need FedEx One Rate enabled for your account. And once you do, you can simply enable the following option in the plugin settings as shown below.
---
Problems with FedEx
Even though FedEx is one of the most popular shipping carriers out there, it has its fair share of issues coupled with it. Here a few downsides of using this carrier for your business.
Comparatively higher shipping rates
When you compare the shipping rates of FedEx with that of UPS, you'd find FedEx ones to be slightly high. For medium to large-sized packages, the prices are relatively higher which could demotivate business owners like you. Of course, you can reduce the prices significantly by negotiating with FedEx, but it does appear to be a trend. Most users ultimately end up choosing UPS for all their shipping purposes.
FedEx also offers the FedEx SmartPost shipping service which is similar to UPS SurePost. Choosing this shipping service can save you a lot of money if you are willing to opt FedEx. You can refer this article to know more about this service and the features it comes with.
---
There are over 1,900 FedEx Offices worldwide, whereas UPS provides over 5,000 UPS Stores across the globe. Store owners and merchants should be able to find a FedEx Office nearby; however, it's probable that the office won't be quite as convenient as UPS.
---
FedEx shipping options for Shopify store owners
When you look over Shopify, the next best e-commerce platform after WooCommerce, you have the Shopify FedEx App. This App is capable of handling the complete FedEx shipping, end-to-end, without breaking a sweat.
The App allows you to show real-time shipping rates on your Checkout page. You can select the services you want to be displayed along with respective estimated delivery dates. Refer to the following image.
---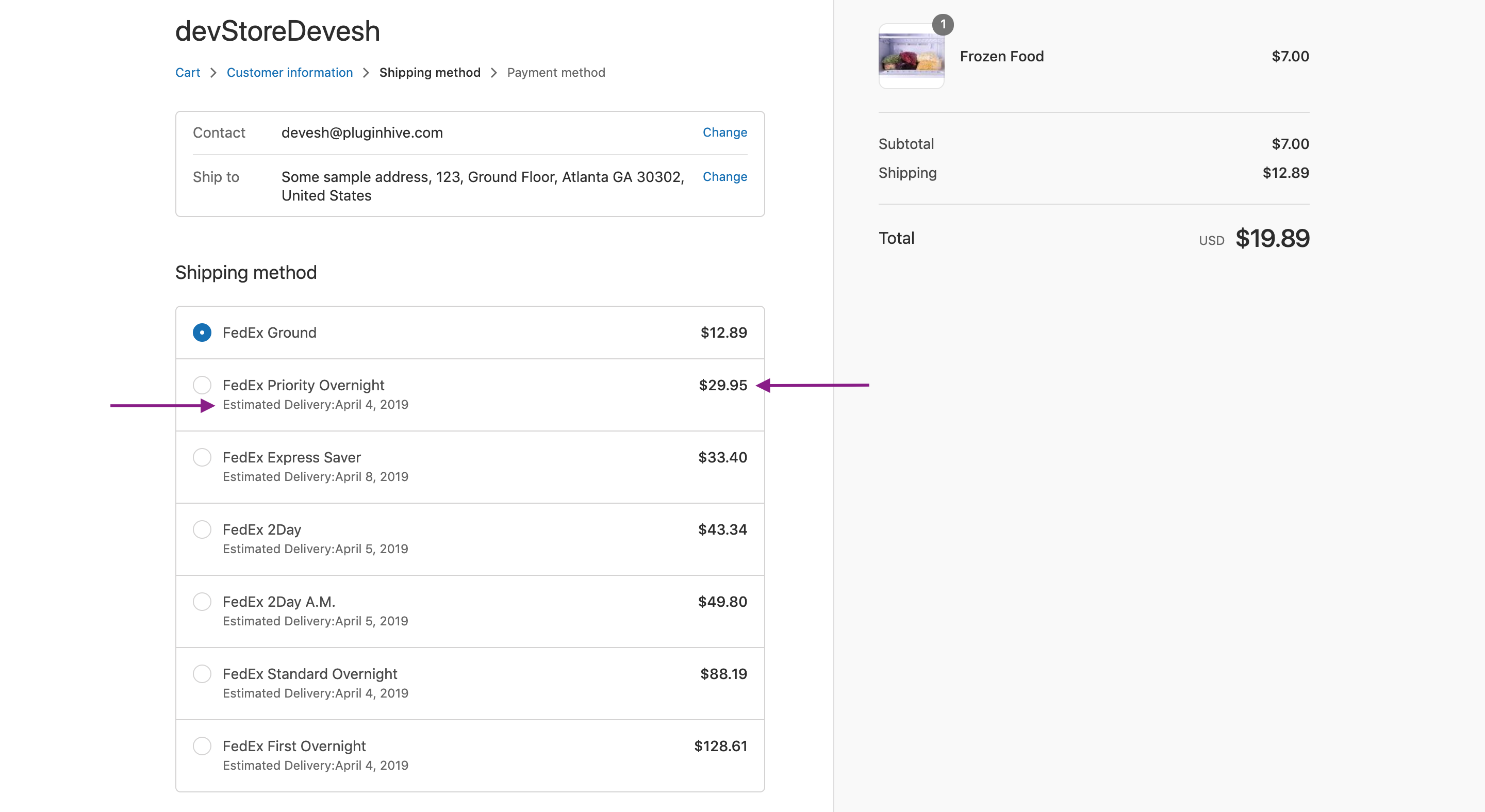 ---
The shipping rates are calculated based on the product's weight and dimensions, and also the shipping destination. The App fetches the postage rates from your FedEx account. You need to have the FedEx Production credentials with you to do that.
---
---
Shopify FedEx App also generates shipping labels for your Shopify Orders. You can fulfill the order and generate a shipping label with just one click. Upon clicking the Auto-Generate Label option, the App creates the shipment, passes on order information to FedEx, and provides you the Download Label option in return.
---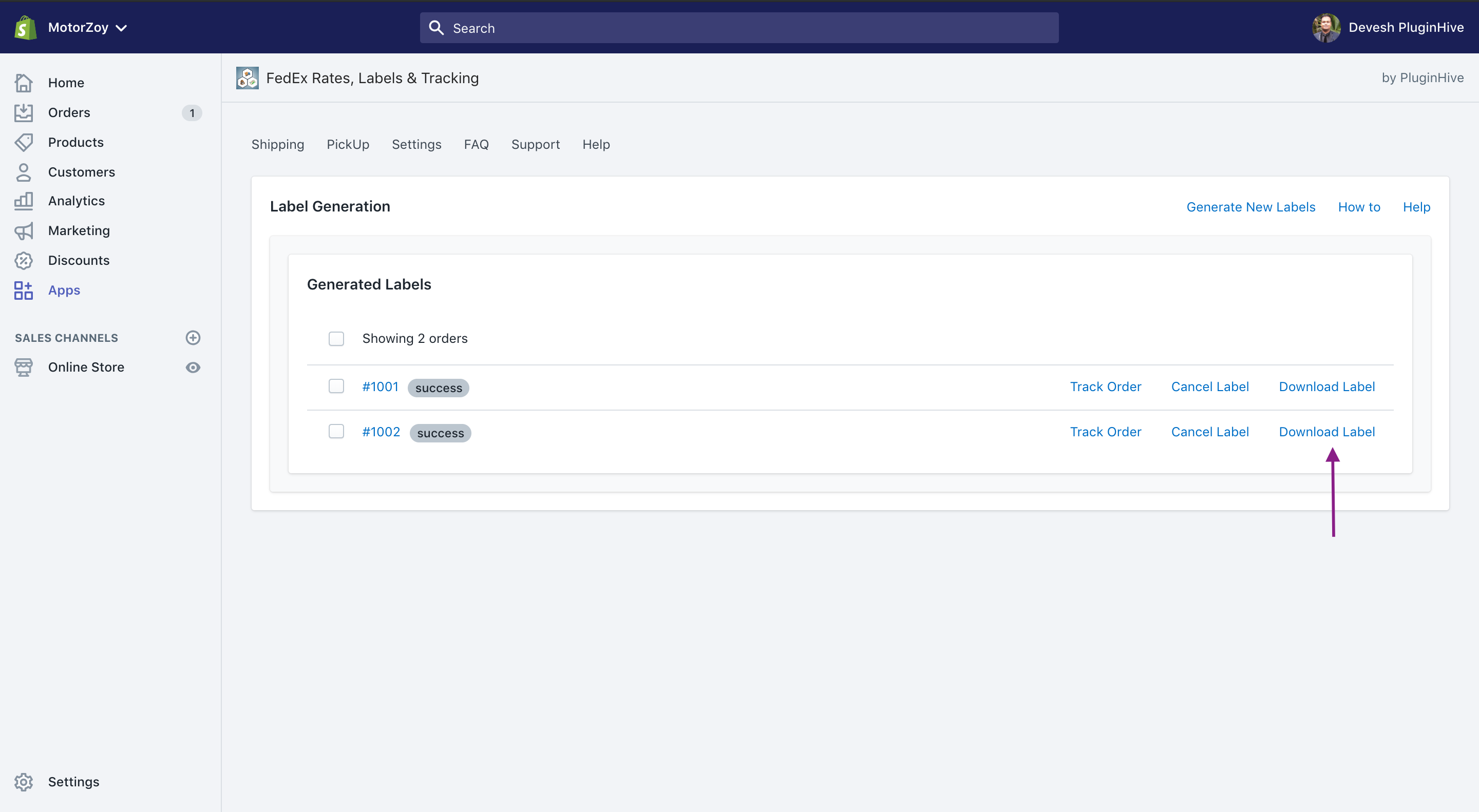 ---
The App also integrates well with the FedEx Shipping Label APIs to print shipping labels along with a FedEx shipment tracking barcode/number. This order tracking number is returned from FedEx (fedex.com) when generating the shipping label. Both you and your customers can track orders by clicking on the View your order in the Order Shipped email. Here's how the tracking page looks like.
---
---
You can also see the shipment tracking number under the FedEx tracking number section. This number is clickable and takes you directly to the FedEx tracking page. Both you and your customers can track orders in real-time.
---
Shipping with USPS
USPS (United States Postal Service) was founded in the year 1971 (same as that of FedEx) and is a public shipping carrier. The good thing about this shipping carrier is no matter what, they will keep on delivering letters and packages to people living in the United States of America. They are well known and it proves to be the staple for both business owners and individuals.
---
---
The USPS is the #1 shipping option for many merchants, especially those who ship or want to ship small and light products. However, USPS is not perfect by any means. Here's what you should keep in mind as you consider USPS for your business:
---
Benefits of using USPS
There are a lot of praises to sing about USPS. Here's what merchants love most about the postal service:
Cheapest deal for shipping small packages
Online merchants often want to know what's cheaper: USPS, UPS or FedEx. And while there's no one-size-fits-all shipping solution for every merchant, merchants who are searching for a cheap shipping carrier should look first to their local post office.
The USPS is hands down, the cheapest delivery service option for companies that ship small items. The USPS provides the cheapest shipping for many packages under two pounds, and USPS simply can't be beaten for packages under 13 ounces. If you're shipping products under 13 ounces, you should use USPS and nothing else if you want to save money.
In addition, many merchants benefit from USPS's flat rate options through Priority Mail. For one price, you can ship products of any weight across any distance; it just has to fit into one of USPS's flat-rate boxes
Merchants also save by utilizing USPS's free packaging material. Priority Mail boxes are available for free at the post office, and you can even arrange to have them delivered to your place of business.
---
More reliable than in the past
While in the past, USPS was infamous for misplacing packages or delaying shipments, in recent years, they have greatly improved their reliability and on-time delivery rates. Deliverability is pretty solid you will rarely lose any package but there are a few occasional hiccups here and there in their system. Basically, when you track a package on their website, it may seem like the package hasn't moved in days, and that can sometimes cause annoying issues.
If your concern is lost packages, it seems that concern is now unfounded. Merchants often state that their savings from using USPS more than covers the very few packages that go missing.
---
Best choice for store owners in the United States
The USPS has a monopoly on mailboxes and PO boxes. They're the only shipping service that does not have to drop off packages at customers' doorsteps. By far the best option when it comes to price, USPS also offers insures overnight delivery. USPS also delivers to most locations such as post office boxes, has pick-up options, a wide array of packaging (some free), and offers insurance for Priority Express mail and Priority Mail as well as tracking for various services.
Because the USPS routinely delivers across the country, it excels in getting packages to out-of-the-way destinations. So you can say that they're definitely the king of the lightweight package. Since they try to prioritize every address equally, they'll occasionally surprise you with how quickly they can ship something to "the middle of nowhere," so to speak. If you're looking for a service that will allow you to deliver your packages along with customers' daily mail, USPS is the only way to go.
---
Choose the Small and Medium Flat Rate boxes
You will have to go for the Small Flat Rate box in order to ship items less than 2 Lbs, and Medium Flat Rate for items equal or more than 2 Lbs. Assuming that you aren't getting hit by dimensional weight, the break-even point between FedEx or UPS Ground and a Priority Mail flat rate medium box is approximately 3 lbs.
You can say that FedEx and UPS offer better deals when shipping items less than 2 Lbs. And above 2 lbs, the USPS medium flat rate box is slightly cheaper than FedEx or UPS Ground. The break-even point compared to FedEx and UPS for a large Priority Mail flat rate box is about 5 lbs. And if you need a large flat rate Priority Mail box, make sure it's heavier than 5 lbs. Otherwise, FedEx or UPS Ground will always be cheaper.
Now let's sum it all up—If the package weight is more than 2 Lbs, use the USPS Flat Rate Medium box.
For the sake of understanding, let's take an example of the following product that weighs 1 Lb.
---
With the help of the Rule Table in the WooCommerce Multi-Carrier Shipping plugin settings, you can set the below rules. If you look carefully, we have selected USPS Small, Medium, and Large Flat Rate Boxes as the USPS services. And we have also selected the FedEx Ground and UPS Ground services.
---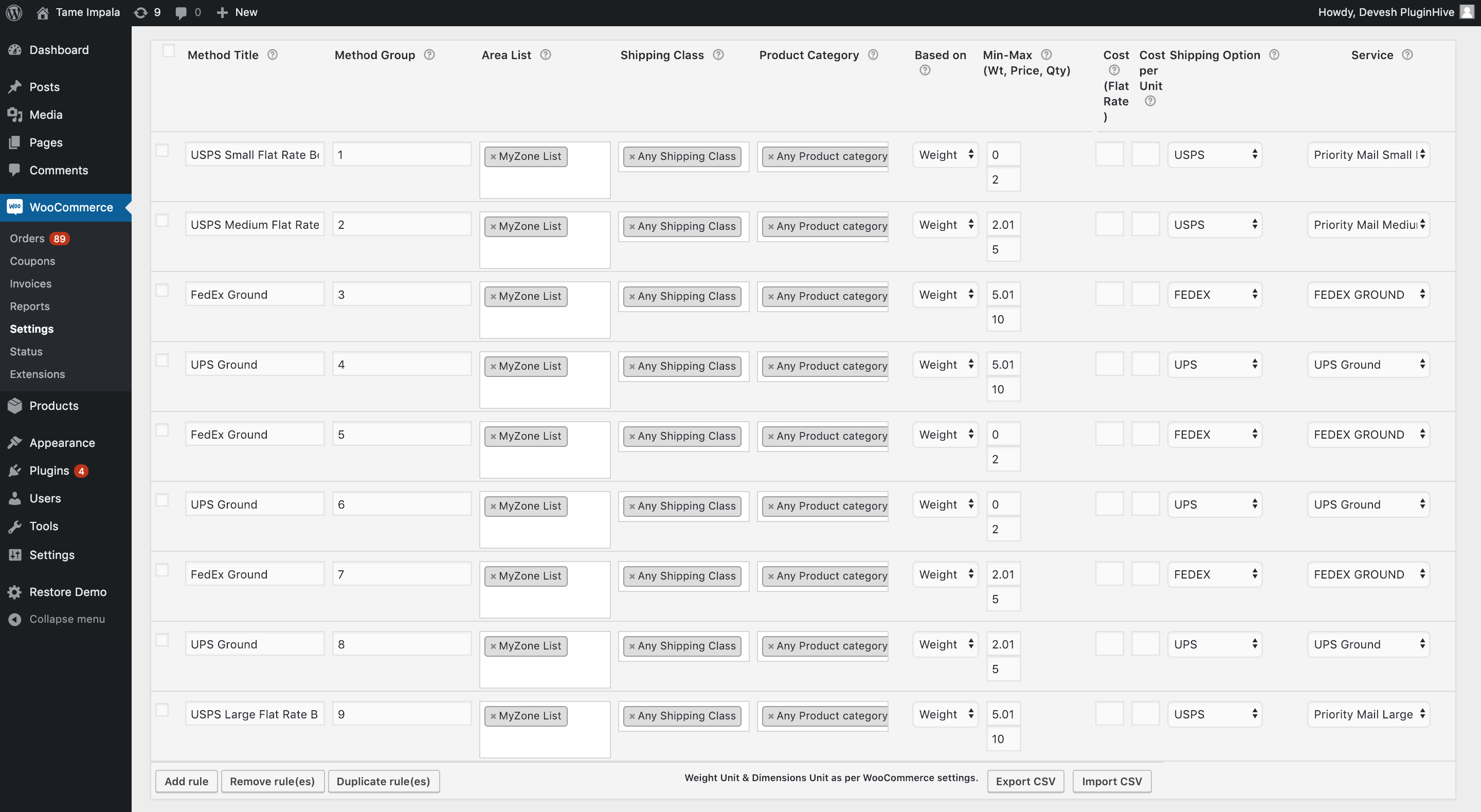 Here is the necessary rule that is required in order to find the cheapest shipping option among the three shipping services.
---
0-2 Lbs—USPS Small Flat Rate Box should be the cheapest option
Let's now check out the Cart page.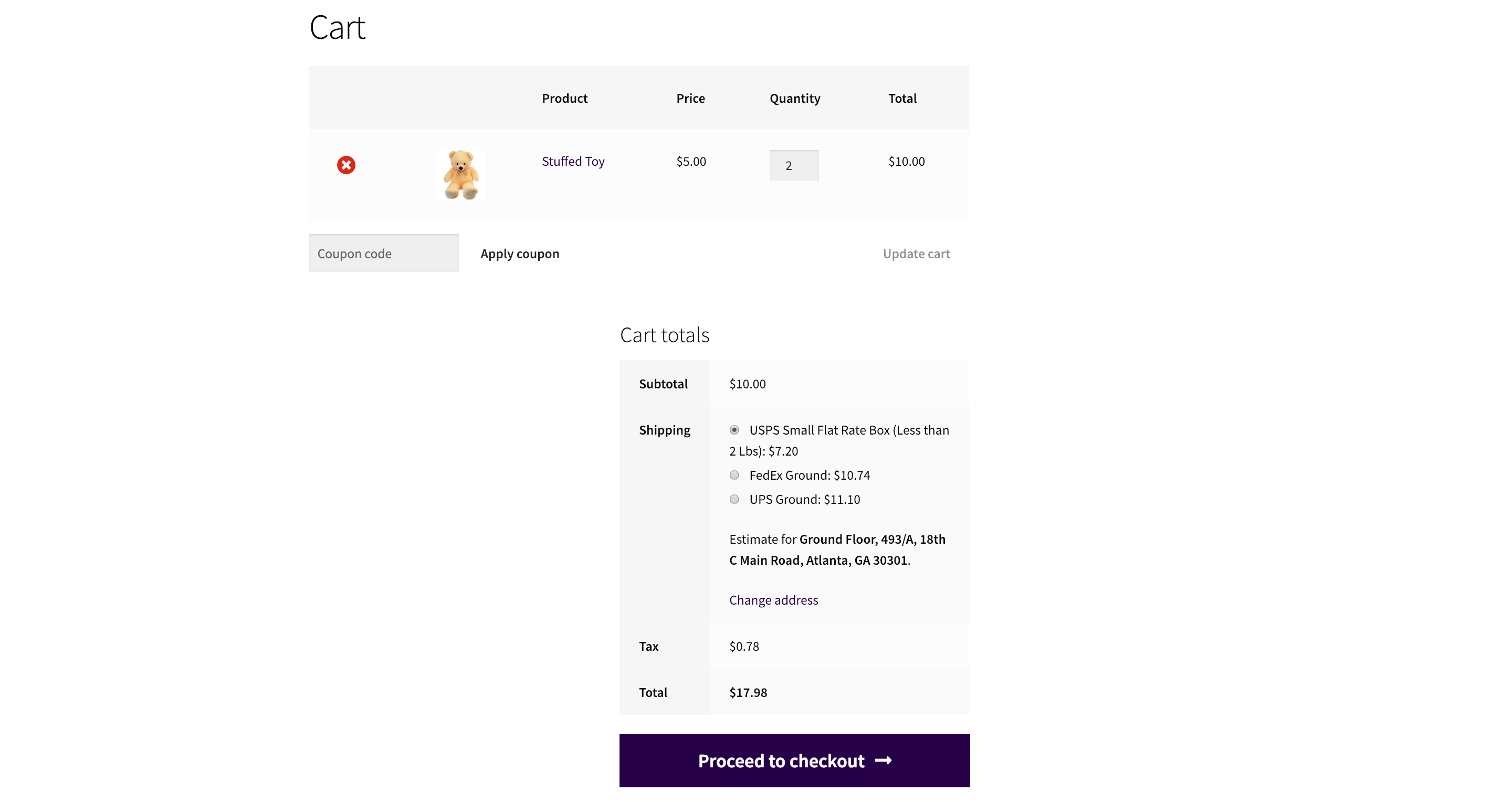 ---
Problems with USPS
While USPS is great for many purposes, it is by no means a perfect solution. Here are a few of the downfalls you'll have to look out for:
USPS Tracking Is Not Great
While USPS has improved their reliability in recent years, packages still go missing from time to time. The USPS's less-than-perfect tracking system does not help matters when deliveries are delayed or lost. This is one of the most annoying things about USPS in general.
While USPS may often be the cheapest choice, they can never guarantee a delivery date, and rarely if ever provide accurate USPS tracking. This can be very frustrating to your customers, and frustrating for you when you can't provide more information about a shipment. For better tracking capabilities, you'll have to look into more expensive package delivery alternatives, which could either be UPS or FedEx.
---
Merchants report that when packages do inevitably go missing, it can be difficult to have them located and to get the refund you've been assured. People don't really like their customer service. Some business owners have said that it's impossible to fine lost packages, and USPS doesn't make it easy for the customer to do the legwork themselves
Another issues is that getting refunds is not easy and sometimes USPS doesn't even deliver on time and the process for requesting refunds is antiquated. In order to get the affordable shipping rates USPS offers, it appears you'll have to sacrifice a bit in terms of customer service.
---
Summing up:
UPS vs FedEx vs USPS
As you choose shipping carriers for your business, it's important that you don't limit yourself to just one shipping provider. Most merchants use a mix of two or even three delivery services to offer customers the fastest, cheapest shipping every time.
Is the USPS or UPS cheaper? Should you use FedEx or UPS for international shipping? Which is better, UPS, USPS, or FedEx? There aren't any hard and fast answers to these questions. The solution you choose will depend entirely on your company's structure and shipping needs.
---
Which shipping carrier should you choose?
You may, for example, choose to save on shipping costs by shipping light packages with the USPS and heavy packages with UPS. Or you may ship everything through the USPS, with the exception of expedited shipments, which you send through FedEx. It all depends on your business model, your average order weight, and your shipping destinations.
Both the WooCommerce FedEx Shipping plugin and Shopify FedEx App seem to outright offer exceptional features and facilities. Online store owners can save a lot of time and money by using any one of them depending on their platform.
If you need any help in configuring the plugin or app then feel free to contact our customer support. They will help you out and should get you started with FedEx shipping.
Happy selling!