With this article, we'll talk about Shopify & WooCommerce USPS First Class Mail shipping, a list of features they offer, and the processes required to carry out shipments from your online store. We'll also show you how to ship First Class Mail using e-commerce shipping solutions including the WooCommerce Multi-Carrier Shipping plugin, Shopify USPS Shipping App, and StorePep. 
Popular eCommerce USPS Shipping Solutions for Store Owners
As mentioned before, there are primarily three e-commerce USPS shipping solutions used by general users all around the world. 
StorePep
Before going deep into these solutions, let's check out the USPS First Class Mail and USPS First Class Mail International. This information would help you prepare the orders and the corresponding shipments in a much better way. 
USPS First Class Mail
The USPS First Class Mail is probably the most economical and popular service for delivering postcards, large envelopes, letters, documents, and small packages weighing up to 0.99 lbs. First Class Mail prices are based on the size, shape, and weight of the item and support Non-Machinable Envelopes and Larger Envelopes. It is categorized into Retail and Commercial; these rates are calculated based on a few criteria. And only when the shipment has been packed to meet the specified requirements can it be shipped using First Class Mail. 
The Fees and Shipping requirements for First Class Mail Retail are:
Determine the single-piece weight

In order to find out the single piece weight of a shipment comprising of non-identical weight pieces, each item is to be weighed individually. If the shipment is of identical weight then a sample group of roughly 10 pieces should be weighed together and the total to be divided by the number of pieces.

Description of Service

USPS First Class Mail Retail service will receive swift handling and transportation. USPS does not provide an On-time delivery guarantee with First Class Mail Retail services or delivery within a specific time.

Inspection of Contents

All shipments with First Class Mail Retail will be sealed and are not permitted to undergo a postal inspection.

Forwarding and Return Service

All First Class Mail Retail Shipments will include the forwarding service to an alternate address for up to a year and in the event that a shipment is not delivered, the shipment will be returned to the original shipper.
Eligibility Standards for Card Price First-Class Mail
The USPS First Class Mail has two standard pricing models. Read more below.
Card Price
A card may be a single or double(reply) stamped card or a single or double postcard. Stamped cards are available from USPS with postage imprinted on them. Postcards are commercially available or privately printed mailing cards.

To be eligible for a card price, a card and each half of a double card must meet the physical standards and the applicable eligibility and preparation standards for the price claimed. Ineligible cards are subject to letter-size prices. Cards may be prepared and mailed at the First-Class Mail single-piece card price, Presorted card price, or automation card prices.
Cards and Letters
Pieces claimed at First-Class Mail card prices and pieces claimed at First-Class Mail letter prices are each subject to a separate minimum volume criteria whether prepared as separate or combined mailings. Either way, card-size, and letter-size pieces may be presented at the same time and reported on the same postage statement.
USPS First Class Mail Specifications
Lowest pricing available for mail shipments up to 0.81 lbs.

A speedy delivery where shipments reach their destination within 1 to 3 business days.

Packages containing merchandise will receive up to $5000 as insurance for loss or damage

First Class Mail can be combined with other extra services to enable delivery confirmation.

Commercial-priced letters and cards will receive up to an additional 0.21 lbs free.
List of Extra Services for First Class Mail
| | |
| --- | --- |
| | |
| | |
| | |
| | |
| | |
| | |
| | |
| | |
| Return Receipt for Merchandise | |
| | |
| | |
| | |
| Adult Signature Restricted Delivery | |
Size and Weight Restrictions of First Class Mail
| | | | |
| --- | --- | --- | --- |
| Mail Item Type | Width | Length | Weight |
| | | | |
| | | | |
| | | | |
| | | | |
USPS First Class Mail International
As the name suggests, the USPS First Class Mail International is an affordable cross-country service for sending letters, postcards, and Envelope flats from the U.S. to over 190 countries including Canada. 
It is the most affordable international offered by USPS and permits the delivery of postcards, letters, and large envelopes. With this service, you can ship Flats up to 4 lbs and the delivery charges do vary based on the destination address.
The Fees and Shipping requirements for First Class Mail International are:
International regions have been divided into groups, below are 4 sets of groups that have rates set on the destination the shipment is being sent to. These are:
Group 1 (Canada) – Prices start at $16.39 and up

Group 2 (Mexico) – Prices start at $20.43 and up

Groups 3–5 (countries such as Australia, Germany, Great Britain, etc.) – Prices start at $22.33 and up

Groups 6–9 (countries such as Taiwan, Brazil, Venezuela, etc.) – Prices start at $23.28 and up
RestrictionsAll postcards, envelopes, and flats must be rectangular when shipped with First Class Mail International. Letters and flats must contain only documents and no goods. Additional size restrictions apply depending on the type of mail you're sending. Mail has to be a maximum of 4 lbs when shipped. There are restrictions for mailing restricted, prohibited, and hazardous materials, including cigarettes and smokeless tobacco.
Prohibited International Items
Aerosols

Air Bags

Alcoholic Beverages

Ammunition

Cigarettes

Dry Ice

Explosives

Fresh Fruits and Vegetables

Gasoline

Marijuana (medical or otherwise)

Nail Polish

Perfumes (containing alcohol)

Poison
WooCommerce USPS First Class Mail Shipping
While WooCommerce does not provide USPS Shipping services stand-alone, you're able to generate and display rates for USPS services upon using the WooCommerce Multi-Carrier Shipping plugin. This shipping plugin offers shipping from carriers like USPS, Stamps.com, DHL, FedEx, and UPS. Here we'll cover the rate calculation and how to display shipping rates using the plugin in WooCommerce.In order to receive rates for USPS shipments, you will have to follow the below steps:
Now that the Rule Table has been configured, you can head over to the store and begin purchasing items.

Add an item to the cart and enter the destination address, here in this example, we've set California as the Serviceable area. (shown below)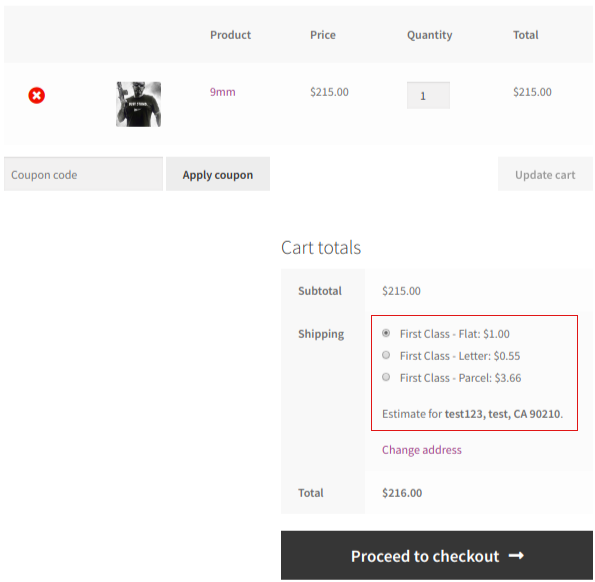 Since both the services are targeting California, both services will reflect in the shipping calculator.

Upon confirming the order, the shipper will be able to view the service selected in the Admin panel of the website (shown below)
Generating Shipping Labels and Shipment Tracking for WooCommerce using StorePep
With StorePep users are able to generate and print shipping labels and track their shipments using the authentic USPS Tracking number. *While configuring the USPS credentials in StorePep you will have to make sure the USPS credentials used have e-VS (Electronic Verification System) pre-enabled and only then proceed with the set-up. In order to Enable e-VS for USPS, you will have to refer to the following link.In order to generate labels and receive the tracking information, you will have to follow the below-mentioned steps:
Begin by

WooCommerce USPS Integration

with

StorePep

.
Once the integration has been completed, you will have to set-up the carrier for your store (in this case USPS) by navigating to StorePep > Account Setup > Carriers > Add.
When you select 'Add Carrier' the list of available carriers will appear and select USPS from that list.

Now complete the account details with the relevant USPS credentials in order to receive real-time rates in your store. Refer to the image below.
WooCommerce Shipping Automation with StorePep
Click on ADD, toward the top right corner to save the settings. Once done, you can proceed to add items to your cart and allow the system to calculate the rates based on the destination address.
Process the order and proceed toStorePepand then navigate to Orders > All Orders. Select the relevant Order ID and click on More Actions > Generate Labels to generate the shipping labels as shown below.
Now that this has been completed, you can now proceed to the Label Batch(shown in the left panel) and select the respective Order ID. Towards the right-hand side of the Order ID, click on the Print option to print the shipping for the order.

The shipping label would be generated and can be printed directly from your browser. A simple USPS First Class Mail shipping label fromStorePep is displayed below for your reference.
Now that this has been done, you are also able to Track the shipments using the USPS Tracking number that is generated when the labels are printed. This is possible by navigating to Label Batch and clicking on the order id as shown below in the image.
Shopify USPS Shipping App
TheShopify USPS Shipping Appis a complete package that automates USPS shipping on your Shopify-based website. It displays real-time shipping rates from USPS on your Shopify Checkout page and lets you pay the postage from your USPS account.
This App also prints the USPS shipping labels in bulk right from your Shopify dashboard. With this App, you can easily handle both domestic and international shipping while offering live shipment tracking to your customers.You could read more about theShopify USPS Shipping Appto know more about its features and benefits.
Conclusion
So this article covers the two popular USPS shipping services, i.e, the USPS First Class Mail and USPS First Class Mail International. We have covered the features and restrictions of shipping with USPS First Class Mail and First Class Mail International and also the ability to ship through WooCommerce by utilizing the WooCommerce Multi-Carrier Shipping plugin, Shopify USPS Shipping App, and StorePep.If there are any queries pertaining to the topic USPS First Class Mail with WooCommerce or Shopify, feel free to Contact PluginHive Customer Support.

Good luck!