Upon conducting a light analysis, you'll find that almost 90% of digital buyers originate from countries outside of the United States. The number of international buyers is increasing at such a rate that it's kind of getting out of hand. But no way that's a bad thing, rather it's good news for your online business and sales in general. However, when you build the courage to ship your items to other countries, one thing may come your way—shipping. Yes, international shipping is one tough nut to crack as you have so many carriers to choose from—UPS, FedEx, USPS, Aramex, and so many others. But one surprise that awaits your recognition is the USPS International shipping. USPS is known to deliver your items domestically at the lowest rates possible. The statement proves true in the case of international shipping as well, and businesses that ship items to foreign places happily make use of this carrier. Even WooCommerce users who seek to get benefits out of international orders could install an inexpensive plugin—WooCommerce Multiple Carrier shipping. So it's not just the brick-and-mortar stores that have the ability to serve foreign customers now. So keeping everything above in mind, I thought of writing this piece for WooCommerce users looking to explore international shipping with USPS and clear the fog that surrounds it. In this article, I am going to give you some insights into the various USPS international shipping services and some basic requirements like packages, customs, taxes, pricing, and much more.
A few alluring thoughts on USPS international shipping
If you're planning on taking your sales to the next level then international shipping is one way to go. Going global will allow you to grow more both in terms of sales and audience.
Asia (the most populous continent) is a great destination for sellers in the United States, where China is one of the biggest importers of American-based products. Major leading eCommerce brands, especially in the field of electronics and clothing, ship tons of packages and parcels over here and earn huge profits.
Europe is another great destination for many U.S. sellers. Some famous shipping carriers like UPS and FedEx ship their packages to various locations. But the problem with going with any of the private carriers is they cost a lot. You can check out the comparison between UPS vs USPS vs FedEx, and find out more. Coming back to the topic, USPS offers much cheaper deals compared to any other shipping carriers. The obvious is that online businesses having more frequent visits to other countries would want to save money on shipping. Which is why most businesses go for the international service provided by USPS.
Issues surrounding USPS international shipping
Although the shipping prices proposed by USPS are comparatively cheaper, the problem that doesn't elude is the issue with their end-to-end shipping. Let me explain this a bit more. As we all know, the United States Postal Services is responsible for picking up the parcel from your warehouse and then further delivering it to your customer's doorstep.
However, the process changes drastically when they try getting the package out of the country. USPS doesn't operate out of the United States of America. So how do they do it? Allow me to take an example and explain this to you. Imagine your business is situated in Georgia and you recently received an order from a customer living in London. What are you going to do? Well, you first need to pack the item(s) into a parcel, prepare the shipment, attach necessary documents, and finally pass it on to USPS agents. They will take this shipment further and deliver it to their hub somewhere in the United Kingdom. The local shipping service, Royal Mail, will grab your shipment and plan the final delivery right then and there. So what did you learn from the example above? Since USPS doesn't actually perform the final delivery, they instead take help from the local shipping service of the destination country (in this case, Royal Mail). This process is much simpler and results in an overall decrease in shipping prices. But contrary to the benefits, it also induces unavoidable problems like delays in delivery and difficulty in tracking. Many customers find remain in the dark since they cannot track their parcels. But USPS recently began upgrading their tracking systems so things are ought to get better.
Services that support USPS international shipping
Compared to other carriers, USPS has a decent number of shipping services covering almost all requirements. Meaning, there are services that are really pricey and fast, while there are ones that are cheap and slow. It's also good to know that most of these services are available in more than 190 countries. So let's explore each one of them.
Global Express Guaranteed
The Global Express Guaranteed is the prime service offered by USPS. It offers the fastest USPS international shipping delivering any package within 1-3 business days. The best thing about this service is it's a Guaranteed service so there's a money-back guarantee you can rely on.
Since the service is categorized as fast, you also get overnight international shipping to multiple destinations in Canada. Keep in mind the transportation and final delivery is fulfilled by FedEx Express. You can use this service at your nearest USPS office or online.
Priority Mail Express International
Priority Mail Express International is part of Priority Mail Express that deals only with international shipments. It is considered one of the most economical shipping services that offer fast delivery but not as quick as the Global Express Guaranteed.
The delivery timings are not as bad as you'd think and the parcels usually get delivered between 3-5 business days. And just like the service mentioned above, this service also comes with a money-back guarantee. Coming to the prices, the service offers Flat Rate shipping prices and the shipping supplies are available for free. You can use this service at your nearest USPS office or online.
Priority Mail International
Priority Mail International (similar to Priority Mail Express International) is part of Priority Mail service and deals with international shipments only. They are much more reliable and affordable compared to other services, and thus are more popular.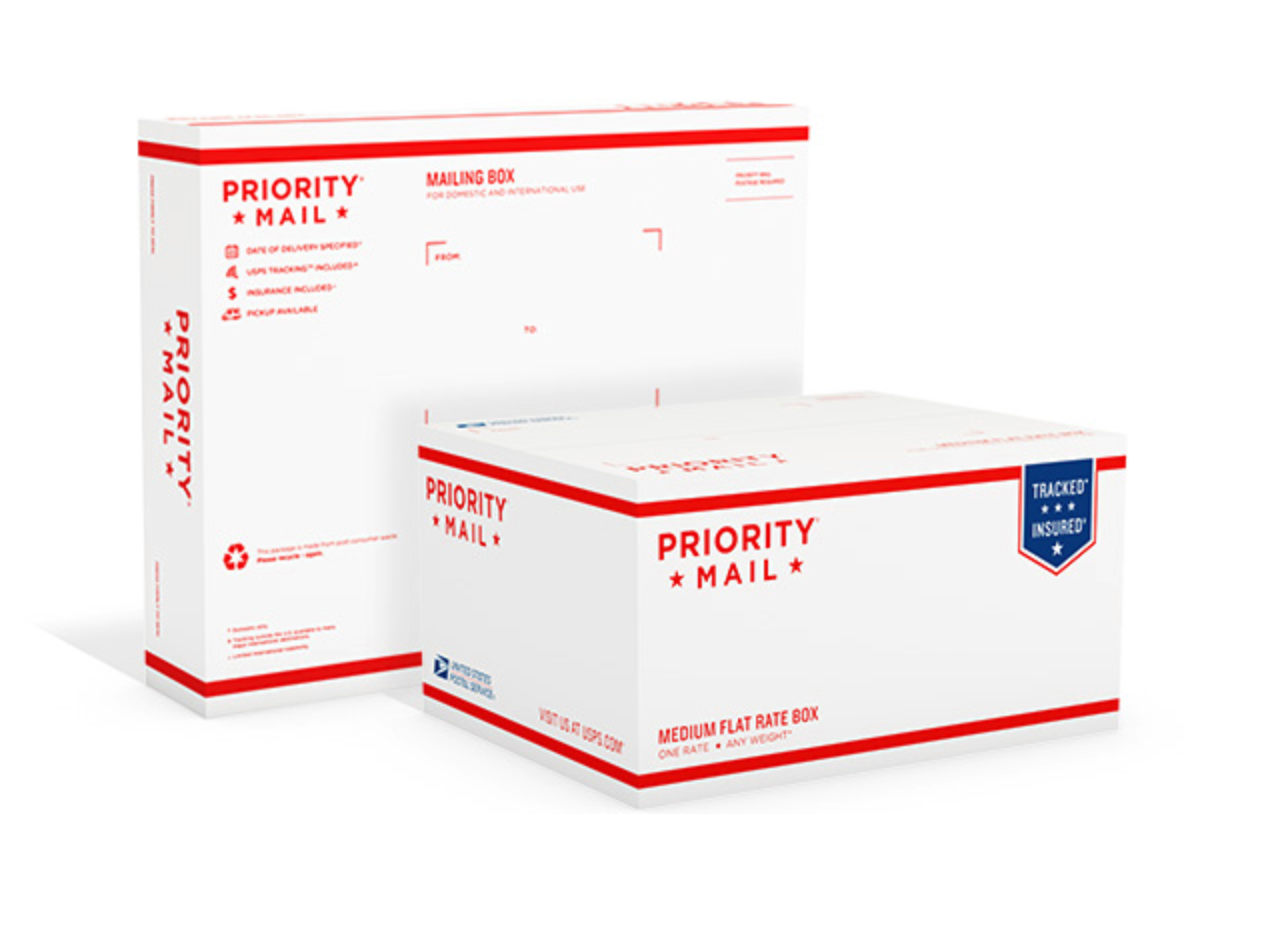 Both business owners and individuals use this service to deliver mail and packages. The delivery timings are considered averages since it usually takes them 6-11 business days to deliver a package internationally. And just like Priority Mail Express International, Flat Rate shipping prices are available along with the shipping supplies at no cost. This service can be used from both the Post Office or online.
First-Class Mail International
If you really want to save money on shipping then you should go with First-Class Mail International. It's their most affordable international shipping service but only for small packages like postcards, envelopes, and flats.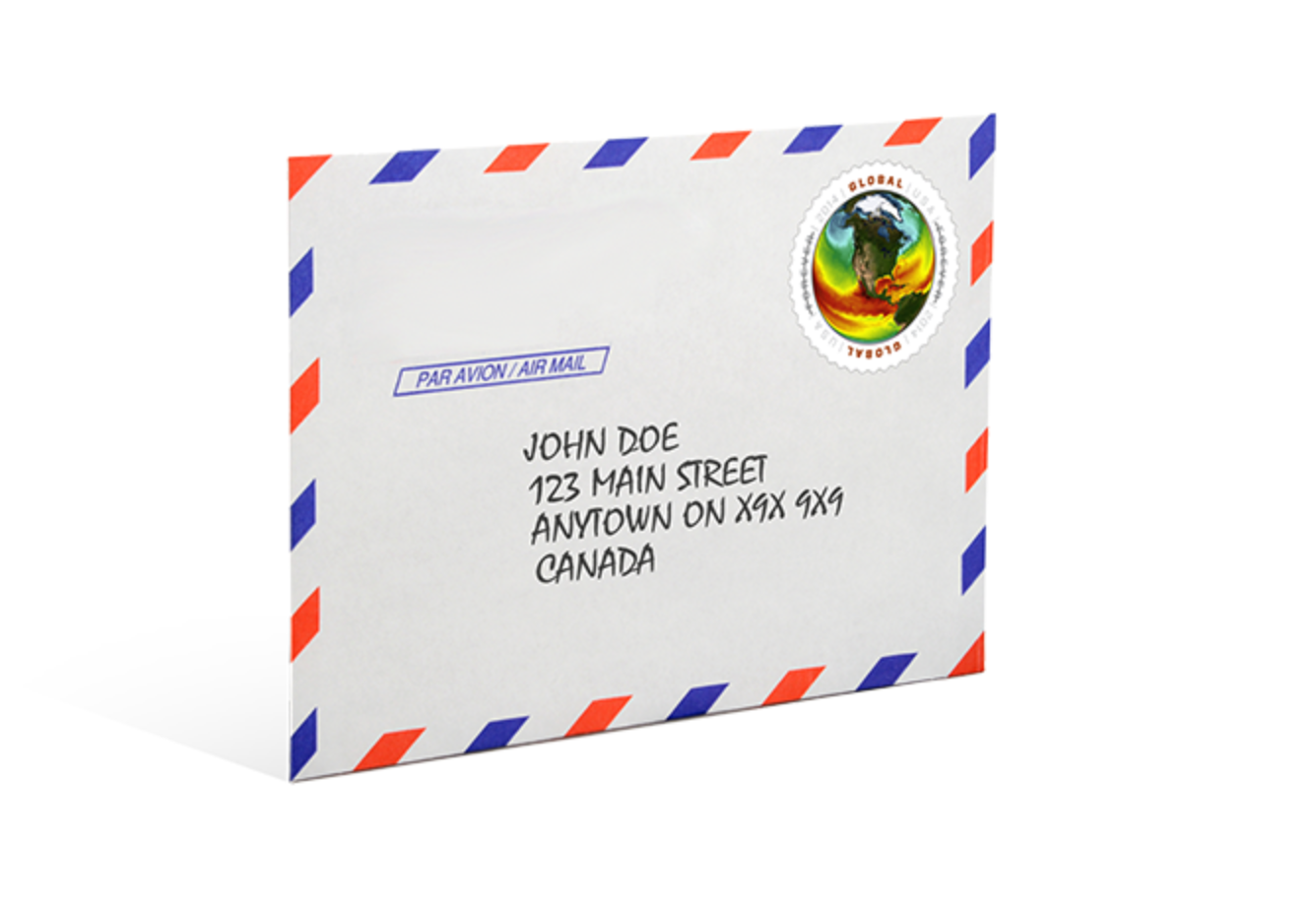 Since the packages have certain size restrictions, you're only allowed to send non-prohibited mailable correspondence or non-dutiable items that weigh up to 4 lbs. Moreover, the value of the packages shall not cross beyond the defined value of $400. Another restriction allocated to this service is that you can only access it in a USPS Post office and not online.
First-Class Package International Service
If you want to ship or deliver small items in a small package then the First-Class Package International Service is to go with. It's also an economical way to ship packages weighing up to 4 Lbs which also does not exceed the value of $400. This service is bound to a few restrictions prescribed by some countries. But luckily, this service is accessible from both the USPS Post Offices and online.
Airmail M-Bags
This is a rather new service and yet, is one the most affordable way of shipping large amounts of printed material internationally. However, this service is accessible only from their Post Offices. You can know more about this service here.
Cheapest shipping service among the lot?
Let's face it, finding the right shipping price is the second biggest concern for any shipper, if not the first. If you charge too much, your customers would probably leave the Cart right away; and if you charge too less, you're going to suffer. All-in-all, in order to provide the best customer shopping experience without spending too much, it's better to figure out the prices before you display rates on your website. Researching USPS international rates online can feel overwhelming to you. There are just so many different services based on your delivery time frame and it can get really confusing sticking with just one. There's another thing you should think about, i.e., the price calculation based on the weight and destination of the shipment. USPS has specific pricing for certain countries, while some countries are assigned to a particular pricing group. (In my case, I found out Hong Kong is under "Group 3", while mainland China actually has its own specific rates.) Do keep this in mind if you're brave enough to navigate their complicated pricing tables. Like a few other services, Priority Mail International also has two separate rate calculations—Flat Rate pricing and pricing based on weight and destination country.
Flat Rate Pricing
USPS has prescribed two separate packages, i.e., Envelope and Box. The cost of shipping an Envelope (9.5″ x 12.5″) to Canada and Mexico is $ 9, whereas, shipping to other countries would cost $11. Please note the weight limit is 4 Lbs and anything above is not permitted in the Envelope. Moreover, you can all items permitted in the First Class Mail International. Now, the cost of shipping a Box to Canada and Mexico is $23, whereas, shipping to other countries would cost you $37. Keep in mind that the weight limit of a Box is 20 Lbs (or the limit set by the individual country) and merchandise is permitted. However, written communications having the nature of current and personal correspondence are not permitted.
At first glance, Priority Mail International – Flat Rate service appears to be the cheapest way to mail a package. A small box being sent to Hong Kong from my zip code in Connecticut is priced at $31.95 with a maximum weight of 4 lbs. Seeing that the box dimensions are 8 11/16″ x 5 7/16″ x 1 3/4″, the caveat here is that if you are a small business shipping out goods, it is unlikely to fit merchandise that is heavier than 2 pounds into a box this size. It is more realistic to say that you'd use the medium flat rate box to ship anything that weighs over 2 lbs. Before we go any further, let's see how the price of the small flat rate box compares to other USPS services at the 2 lb mark, in addition, to express couriers: It turns out that Priority Mail International – Flat Rate service is the cheapest way to ship internationally, especially if you don't have a business account with express couriers. It's interesting to see that the retail price for express couriers such as UPS and FedEx can reach 3 figures compared to USPS.
Prices are Calculated by Weight and Destination
As mentioned before, the shipping prices will be calculated based on the weight of the shipment and the country to which the parcel(s) is going to be shipped. You can use the International Price Calculator to calculate the expected shipping costs for international shipments. The rule remains the same for Canada and Mexico. The WooCommerce Multiple Carrier Shipping plugin calculates the shipping rates in real-time and displays them on the Cart and Checkout pages. We will discuss more on this later in this article.
Determining the Flat Rate for a medium-sized box
Now, let's go back to the assumption that it's more realistic to use the medium flat rate box to ship anything that weighs over 2 lbs. The medium box's dimensions are 14″ x 12″ x 3 1/2″, is priced at $67.95, and the maximum weight is 20 lbs. After studying the pricing charts, my research shows the break-even point for using the international medium flat rate box, in this case, is 6 lbs. So, if the weight of the package is between 6-20 pounds, the medium flat rate box will be the cheapest way to ship. Let's compare prices of the medium-sized Flat Rate box, with a package weight of 6 lbs. But you will get what you pay for. Now, if we were to base our experience strictly on costs, clearly USPS is the cheapest way to send a package by a long shot. But considering USPS' not-so-stellar record of delivery times (they do not guarantee or commit to them), paired with spotty tracking service, it may not be worth it if you're running a business and looking to build trust with your overseas customers. What about the additional rates? If you're worried about balloon rates and dimensional weight pricing, then don't. Priority Mail International does not charge these fees.
What are the restrictions?
Shipping to other countries comes with a list of restrictions. If you don't meet the requirements then you're in for big trouble, and I'm pretty sure you wouldn't want that. When it comes to USPS, the general rule for shipping items internationally is divided between items and packages. Let's explore both of them and see what's the real deal here.
Item Restrictions
What about shipping alcohol, beer, cigarettes, fruits, or vegetables? Yes, you may think these items are allowed but it's not as simple. USPS has restricted some items for domestic and some for international shipments. And all prohibited domestic items are also prohibited from being shipped internationally. However, some items that are prohibited from being shipped internationally can be shipped domestically (with some restrictions). Here's a small list of domestic items that are prohibited,
Airbags
Ammunition
Explosives
Gasoline
Marijuana (medical or otherwise)
Items prohibited for international shipments
Aerosols
Air Bags
Alcoholic Beverages
Ammunition
Cigarettes
Dry Ice
Explosives
Fresh Fruits and Vegetables
Gasoline
Marijuana (medical or otherwise)
Nail Polish
Perfumes (containing alcohol)
Poison
Here are other helpful links which should help you eliminate prohibited items away from your package. Publication 52: Hazardous, Restricted, & Perishable MailIMM® 135: Mailable Dangerous GoodsIMM 136: Non–Mailable GoodsInternational Restrictions by Country
Package Restrictions
Shipping internationally also comes with a few package restrictions like weight and package type. The maximum weight limit for Priority Mail International is 70 lbs and the maximum weight limit for the Priority Mail International Flat Rate Envelopes and Small Flat Rate Priced Boxes is 4 lbs. On top of that, the maximum weight limit for medium and large Priority Mail International Flat Rate Boxes is 20 lbs. However, these rules will not always be applicable to all countries. Meaning, some countries have lower weight restrictions and so you need to find out the exact value. You can check out the Country-Specific Restrictions to know more. Apart from the normal restrictions, there are a few more things you need to care about. For instance, when sealing a Flat Rate Envelope or Box, the container flaps must be able to close within the normal folds. Also, you need to print the correct destination address in capital letters with either a pen or permanent marker; also, you should not use any commas or periods. Here's a brief guide on preparing the package for international shipments.
Flat Rate and Priority Mail Flat-Rate Envelopes
At this time, you cannot add insurance amounts to Flat-Rate Boxes and Priority Mail Flat-Rate Envelopes. However, these services are available for international use and are a good cost-effective shipping option. For additional security, your Priority Mail International Flat-Rate Envelopes can be sent via Registered Mail to provide you with proof of delivery or attempted delivery. USPS also offers a Certificate of Mailing, which only provides evidence of mailing, and is available for all Priority Mail International shipments. With a sizable 20-pound weight limit for allowed contents, a Flat-Rate box is an excellent option for shipping larger goods internationally. If you have something a bit smaller, such as documents or machinable goods, the flat-rate envelope with a 4-pound weight limit may be a good choice for you.
How to use the shipment tracking feature?
No matter if it's domestic or international shipping, order/shipment tracking plays an important role in determining the level of customer satisfaction. Most successful businesses that you see have an exceptional customer satisfaction rating. Amazon, for example, offers exceptional order tracking features which many people like. And it clearly shows how important tracking is for them. USPS offers a good tracking experience but it's not as amazing as UPS or FedEx, or Amazon for that matter. If you're looking to establish a big and strong eCommerce website then I'd recommend you go for UPS or FedEx. But keep in mind that they do cost a lot considering how cheap the USPS shipping is overall. Anyway, many people want to know what kind of tracking is available for their Priority Mail International. With this service, tracking is available only to Canada, Europe, and Asia. Please note the above only applies to variable-weight packages and flat-rate boxes. Tracking for Priority Mail International Flat-Rate Envelope is currently unavailable and is not supported by USPS. Coming to WooCommerce, the WooCommerce Shipment Tracking plugin provides the best tracking experience and no other plugin comes near it. Find out more about it on its product page.
Can you add insurance?
When you talk shipping, USPS isn't quite famous for its package handling. There have been many real-life cases, where USPS has allegedly damaged or even lost a package on its way. But recently, the number seems to have decreased and more and more business owners have now started taking USPS seriously. However, that isn't enough reason to entrust your customers' packages and thus, it's a good idea to consider insuring your shipments. Priority Mail International packages have some options that include limited coverage for loss, damage, or rifling. You just have to make sure you always have the value of your shipments listed on any relevant documents. That is to avoid any hassle at any point in time. You can learn more about international insurance. Even though USPS provides insurance, there are a few restrictions. For instance, USPS does not offer insurance on the following items:
Coins, Banknotes, Currency notes (including paper money)
Securities of any kind payable to the bearer
Traveler's checks
Platinum, Gold, and silver
Precious stones
Jewelry
Watches and other valuable articles (however, for these items, you can purchase additional merchandise insurance)
How to clear the customs?
Clearing customs is yet another task. If you don't have the right papers and documents ready with your shipments then your package(s) might get stuck at a foreign airport. So it's better if you clear everything beforehand to avoid such issues. USPS allows you to generate and print your international postage with their Click-N-Ship and other tools to prepare the customs documents for your package. So if you need to create the customs form then you can fill it out the form here. Or else, if you want to order the customs forms from the Post Store then you can click the link here.
Everything sounds good until you go for the implementation. Likewise, you may think you've hit a dead-end when you begin thinking of displaying Priority Mail International rates on your eCommerce website. Well, that's not true in the case of WooCommerce. You have the WooCommerce Multiple Carrier shipping plugin with you to display USPS shipping rates on your store.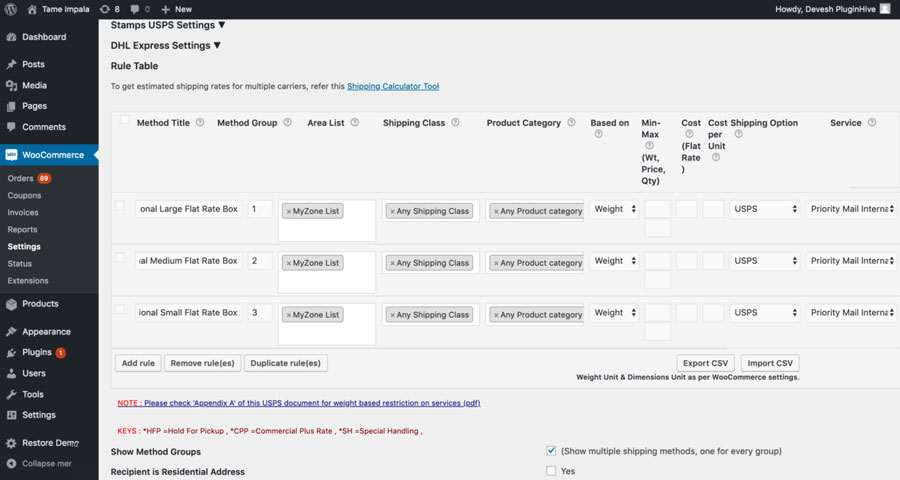 Using this plugin, you can display live shipping rates for both domestic and international services on your Cart/Checkout pages. So when a customer selects a service (in this case, Priority Mail International) along with an order, the plugin tags it to the order, and the total price is displayed as the sum of the product cost and shipping charge. Have a look at the following image.
Please note that we have only taken three services for demonstration—Priority Mail International Large Flat Rate Box, Priority Mail International Medium Flat Rate Box, and Priority Mail International Small Flat Rate Box. Also, you may notice the price difference in the shipping rates, and that is because the estimates provided on the USPS website are approximate amounts. Whereas, what you see on the Cart page are the exact shipping rates calculated by taking the weight and destination into account. Apart from the Priority Mail International service, you have other shipping services to choose from. You can have a look at the following image which shows all the shipping services available in the WooCommerce Multiple-Carrier Shipping plugin.
Final thoughts
The USPS is hands down, the cheapest delivery service option for companies that ship small items. The USPS provides the cheapest shipping for many packages under two pounds, and USPS simply can't be beaten for packages under 13 ounces. If you're shipping products under 13 ounces, you should use USPS and nothing else if you want to save money. The Priority Mail International service by USPS is an amazing service that you should consider using if you want to deliver items out of the United States without spending a lot on shipping. The delivery timing is average and businesses can make the most out of it.
---
I hope you liked the article. You can let me know your thoughts in the comments below. If you have any issues or help setting up shipping on your WooCommerce store then feel free to contact our customer support. They should be able to help you out.