It is amazing how you can come up with an online website for wine tasting sessions with the right tools. All it takes is a reliable platform, an elegant theme that helps showcase your passion for wines, and most importantly, a robust and efficient online booking system that makes sure you don't miss any bookings.
In this article, we will cover how Jennifer, the owner of The Dutch Wine Tasting, has successfully transformed her hobby of wine tasting into a business. This article will cover how Jennifer used Divi Theme, with PluginHive's Bookings and Appointment plugin to set up a full-fledged WooCommerce booking website.
Overview
The Dutch Wine Tasting is a WooCommerce website where Jennifer allows her customers to book a wine tasting session. Being a wine specialist, Jennifer has an inclination towards Dutch wines. On her website, she offers some of the finest Dutch wines for tasting along with snacks. Besides online booking, she also takes bookings over the telephone. So you can book a wine tasting session for your family and friends where she will make sure you have the best Dutch wine tasting experience.
Now, let us check out how PluginHive's Bookings plugin for WooCommerce along with the Divi Theme, made it easy for Jennifer to set up her WooCommerce store.
The Dutch Wine Tasting
Services Offered & Booking Availability Setup
Jennifer offers the dutch wine tasting booking on her website which lasts for 75 minutes. The wine tasting is provided at 2.30 pm, two days of the week – Monday and Friday. You just need to select the available date from the booking calendar and chose the time slot, as shown in the image below.
You can also set the same availability as well as the booking period for your bookable products. All you need to do is set the Booking Period to Fixed Block of 75 minutes, with the First booking and Last booking both starting at 2.30 pm, as shown in the image below.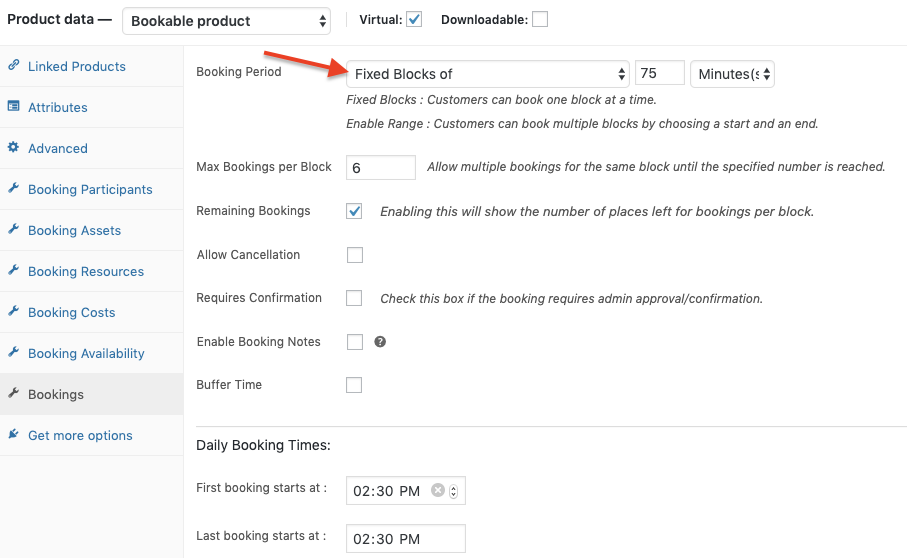 Booking Guests & Cost Setup
For the wine tasting, you will be offered 5 of the best Dutch Wine paired with delicious local cheese and Dutch snacks. The wine tasting booking cost is based on the number of guests and costs $54 per person.
Jennifer takes a group booking for up to 6 people. This way the cost is added together and displayed to the customers, as shown in the image below.
You can see clearly as the number of participants increases the total booking cost increases based on the participant cost set up for the bookable product. All you need to do is enable Booking Participants for your bookable products and set up the Minimum and Maximum Participants that can book the product. Once done, all you need to set is the Per Participant Cost as shown in the image below.
Handling Offline Bookings
Jennifer makes it really easy for her customers to place their booking. If they are not able to book a session, Jennifer also takes offline bookings via telephone. The process is simple and takes about 2 minutes. Once customers provide all the necessary details, all Jennifer has to do is place the booking using WooCommerce Bookings and Appointment plugin. 
Jennifer can select the customer's desired date and the time slot, and place a booking on the customer's behalf. She can also send the payment details to the customers via an email.
Design & Calendar Setup
Jennifer's The Dutch Wine Tasting uses Divi Theme by Elegant Themes. One of the major benefits of the Divi Theme is the intuitive user interface and the Graphics Builder that allows you to make interface changes in the design view. This allows you to create stunning designs with fewer efforts and in lesser time.
And the best part, the booking calendar is all customizable based on your preferences and business requirements. Since the WooCommerce Bookings and Appointments plugin is fully compatible with the Divi Theme, you can use both of them together without any issues.
---
Do you want to Set Up WooCommerce Wine Tasting Booking Website..?
In this article, we discussed how Jennifer's is able to set up The Dutch Wine Tasting successfully and provide an amazing wine tasting experience to her customers with the help of WooCommerce Bookings & Appointments plugin and Divi Theme. WooCommerce alone is a great platform for people who want to run their own business. By integrating WooCommerce with a robust and intuitive Online Booking System like WooCommerce Bookings plugin, even you can set up your own business.
---
Read More – How to Set WooCommerce Wine Tasting Booking using Bookings & Appointments plugin..?