This article will cover some of the frequently asked questions regarding the FedEx Freight shipping services. Besides, this guide would help you if you're an online store owner looking ways to integrate the FedEx Freight shipping services to your WooCommerce or Shopify store.
What is FedEx Freight?
Freight is the service of transporting goods in large quantities via land, air or sea. FedEx Freight is an easy to ship economical freight all included in one streamlined LTL network. This shipment method saves both cost and space, which is in accordance with the principles of small business. On comparing UPS Freight and FedEx Freight, you'd find comparatively more services under FedEx. Moreover, UPS does not deliver freight shipments to as many countries as FedEx does. But there isn't much difference between the two when it comes to packaging.
Does FedEx Freight have any Weight Restrictions?
In order for your shipment to be eligible for FedEx Freight, the package needs to be heavier than 150 lbs. This shipping method can be used when the overall orders weigh between 150 and 15,000 pounds.
What are the services provided by FedEx Freight?
FedEx Freight provides Air and Ocean Cargo apart from LTL (Less than Truckload) Freight services. Some of the services provided by FedEx Freight are listed below.
FedEx 1 Day Freight
FedEx 2 Day Freight
FedEx 3 Day Freight
International FedEx Economy Freight
International FedEx Priority Freight
FedEx First Freight
FedEx Freight Economy
FedEx Freight Priority
FedEx Next Day Freight
Some of the primarily used FedEx Freight shipping services along with their advantages
Below is a list of some of the widely used FedEx Freight Shipping Services along with the advantages for the particular shipping services,
Name of Service

Advantages

FedEx International Priority Freight

Delivery typically in 1, 2 or 3 business days to more than 130 countries

and territories

U.S.-inbound delivery by 10:30 a.m. or noon to many locations

Pickup and delivery options at your door or the airport

FedEx International Economy Freight

Delivery typically within 5 business days to more than 130 countries

and territories

Delivery in 2 or 3 business days to key markets such as Canada, Mexico

and Puerto Rico

U.S.-inbound delivery from more than 50 countries and territories

One-day Freight

Next business day delivery between 10:30 AM and noon. Available throughout the US exception is that Hawaii service is to and from Oahu only.

Two-day Freight

Second business day delivery around noon. Available throughout the US exception is that Hawaii service is to and from Oahu only.

Three-day Freight

3 business day delivery around 3:30 PM in the afternoon. Available throughout all states

except Alaska and Hawaii.
What are Freight Classes?
Freight Classes have been created to provide users with a common standardized freight pricing. They are based on weight, height, and length. The list of available Freight classes is listed below.
| Freight Classes | Cost | Notes / Examples | Weight range per cubic foot |
| --- | --- | --- | --- |
| Class 50 – Clean Freight | Lowest Cost | Fits on the standard shrink-wrapped 4X4 pallet, very durable | over 50 lbs |
| Class 55 | | Bricks, cement, mortar, hardwood flooring | 35-50 pounds |
| Class 60 | | Car accessories & car parts | 30-35 pounds |
| Class 65 | | Car accessories & car parts, bottled beverages, books in boxes | 22.5-30 pounds |
| Class 70 | | Car accessories & car parts, food items, automobile engines | 15 to 22.5 pounds |
| Class 77.5 | | Tires, bathroom fixtures | 13.5 to 15 pounds |
| Class 85 | | any crated machinery, cast iron stoves | 12-13.5 pounds |
| Class 92.5 | | Computers, monitors, refrigerators | 10.5-12 pounds |
| Class 100 | | boat covers, car covers, canvas, wine cases, caskets | 9-10.5 pounds |
| Class 110 | | cabinets, framed artwork, table saw | 8-9 pounds |
| Class 125 | | Small Household appliances | 7-8 pounds |
| Class 150 | | Auto sheet metal parts, bookcases, | 6-7 pounds |
| Class 175 | | Clothing, couches stuffed furniture | 5-6 pounds |
| Class 200 | | Auto sheet metal parts, aircraft parts, aluminum table, packaged mattresses, | 4-5 pounds |
| Class 250 | | Bamboo furniture, mattress and box spring, plasma TV | 3-4 pounds |
| Class 300 | | wood cabinets, tables, chairs set up, model boats | 2-3 pounds |
| Class 400 | | Deer antlers | 1-2 pounds |
| Class 500 – Low Density or High Value | Highest Cost | Bags of gold dust, ping pong balls | Less than 1 lbs. |
This information given above will help you determine which class of freight shipping your products will fall under. It's important to keep in mind that using the wrong freight class for your products can cost you dearly. The class will be changed by the freight carrier but this process is normally time-consuming and relatively difficult and usually comes at a charge of the difference in the amounts.
Where do we find the FedEx Freight Test Account Credentials?
Upon signing up with FedEx you're provided with test credentials for both the regular FedEx services as well as FedEx Freight shipping services. The credentials provided are generic and can be used by anyone who wants to have the live FedEx Freight account. *Note – Make sure to specify the Shippers Address under Plugin Settings as the FedEx Freight LTL Shippers Address.Please find the credentials in the image below.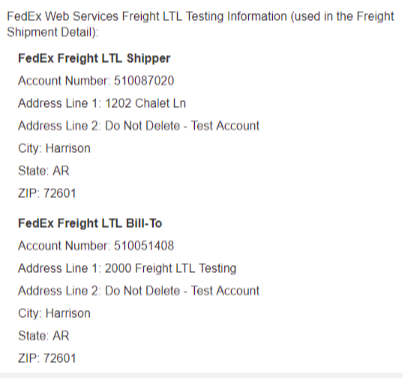 What is BoL (Bill of Lading)?
VICS Bill of Lading is a standardized bill of lading form created by the VICS (Voluntary Inter-Industry Commerce Standards) and is primarily used by the general merchandise retail industry. The Bill of Lading is a legally bound document which details the type, quantity, and destination of the goods being transported. This document is to accompany the shipped goods no matter the form of transportation. The BoL is a document which needs to be duly signed by, the shipper, the carrier and the receiver. Once the bill has been signed by the carrier (FedEx) it means that the carrier agrees with the contents of the shipment. When the bill is signed by the retailer it means that the retailer agrees with the contents that are being shipped. In layman's terms, the BoL is a legal document which assures the safe delivery of the merchandise.
Does WooCommerce support FedEx Freight Services?
No. Not by default. WooCommerce does not allow FedEx Freight to be calculated or setup. However, with the help of the WooCommerce FedEx Shipping plugin, you will be able to configure your FedEx Freight Account, have live rates appear on the storefront and you will also be able to generate labels (BoL) for FedEx Freight.
WooCommerce FedEx Shipping Plugin with Print Label
The WooCommerce FedEx Shipping plugin with Print Label is the best FedEx shipping plugin for the WooCommerce store owners. It is an automated shipping solution which provides,
Live FedEx Shipping Rates for domestic as well as international shipments
Support for FedEx Freight and SmartPost shipping services
One-Click FedEx Label Generation and Download for Bulk Orders
Live FedEx Shipment Tracking from within the WooCommerce store
Support for Commercial Invoice and FedEx Pickups
And much more! Read more about the amazing features of the WooCommerce FedEx Shipping plugin.
How to set up FedEx Freight Shipping using the WooCommerce FedEx shipping plugin with Print Label?
It is relatively easy to set up FedEx Freight in the plugin, there are a few steps to be followed which will be discussed in this article.
Set up the WooCommerce FedEx Shipping plugin

on your WooCommerce store.

Access the FedEx LTL Freight Settings

Enable FedEx Freight option.
Fill the FedEx Freight Account information along with the Address and the Freight Class in the fields shown below. Note: Please enter the credentials and the address correctly. You will be able to get the live FedEx Freight Shipping Rates and generate the BoL for your Shipments, only if the Freight account address and account number are correct.

LTL Freight Settings Page

The Default Freight class option provides the user with the appropriate freight shipping class that will determine the Freight Class the products will fall into. The Freight Class will need to be the exact class of the products that are to be shipped out via FedEx Freight. The selection is a drop-down as shown below.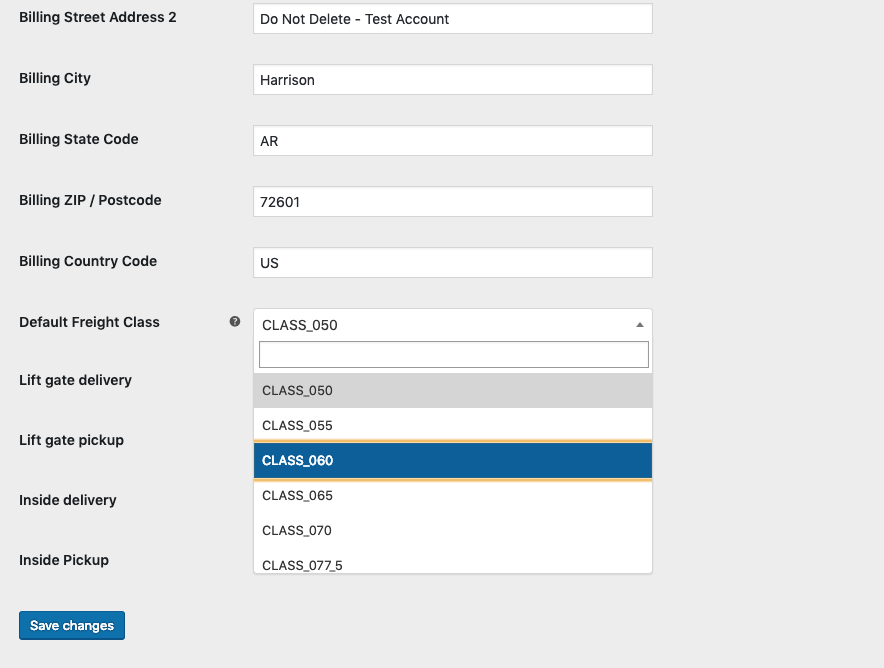 When the form has been filled up and saved, you will be able to view the Freight shipping options in the cart/checkout page.
FedEx Freight shipping rates on the Cart page
It's really easy to show real-time FedEx shipping rates on your WooCommerc Cart/Checkout page. The plugin allows you to edit the services' name, adjust the shipping cost, and finally, even allows you to either enable or disable them.
If you have both regular and freight shipments, you can enable both the shipping options under the plugin settings. Doing this will help you show the regular shipping options along with the freight options depending on the shipment weight.
We've taken a product (Rubber Tyres) with a standard weight of 30 lbs and have added 11 items in the cart (total – 330 lbs) – This will enable FedEx Freight shipping options as the overall weight is well above the restricted minimum 150 lbs. The following rates will be displayed on the cart page:
FedEx Freight Priority – 1760.34 USD
FedEx Freight Economy – 1666.69 USD
Generate Packages and Shipping Labels for your Freight Shipments
The WooCommerce FedEx shipping plugin also allows users to print FedEx shipping labels right from their online store. They can even print FedEx shipping labels in bulk. Now that the order has been created in the store, creating packages and generating labels will be a fairly simple process if Automatic Label Generation has not been enabled. NOTE: Before the Label can be generated please make sure the Print Label Size and the Image type are configured to PAPER_LETTER and .PDF This is mandatory as the BoL that has to be printed can ONLY be printed using the above-mentioned label format and label type.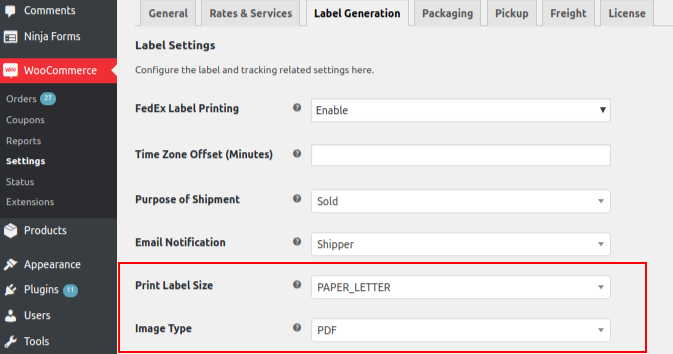 Visit the Orders page in the WooCommerce Dashboard.
Click on the order which you want to fulfill and click on the Create Shipment option as shown in the image below.
Once the shipment has been created, the page will refresh and provide you with the option to Print Labels

. The label for FedEx Freight will be the

BoL (Bill of Lading), which you can generate by clicking on the Print Label option.

Below is a sample label/Bill of Lading generated for FedEx Freight shipment generated via the WooCommerce FedEx Shipping plugin with Print Label, within the WooCommerce store.
The plugin auto-populates the BoL

by storing the following details for printing:
'Ship From' & 'Ship To' Addresses
Carrier Name (FedEx)
Customer Order Information
Carrier Information
Order Value
Shipping smaller items along with LTL Freight shipments
You can ship smaller items(less than 150 lbs) along with freight items using the WooCommerce FedEx Shipping Plugin. In order to do that, you need to select a more optimal parcel packing method, i.e, Pack into boxes with weights and dimensions.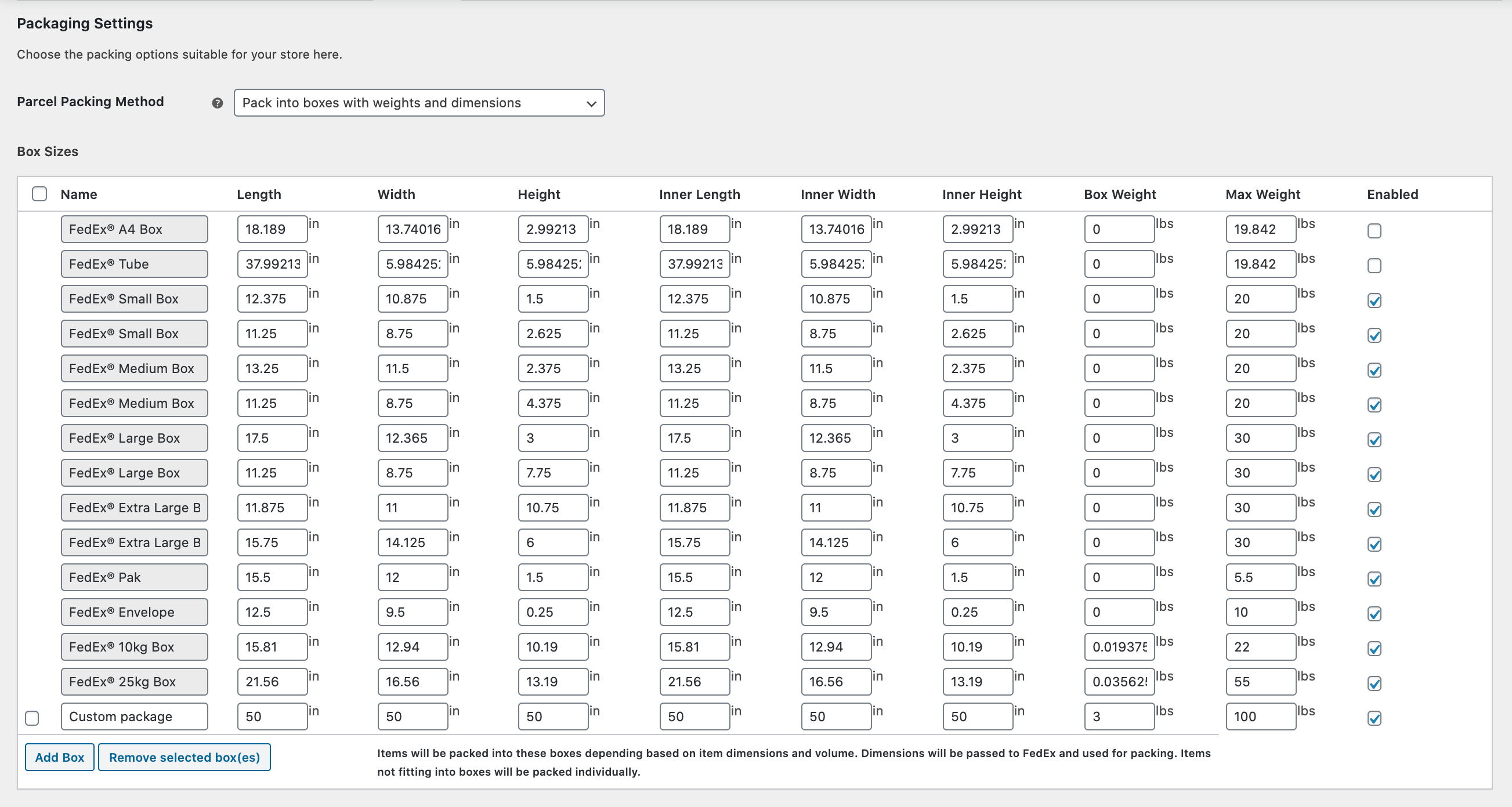 In the above image, you can see the option to create custom packages with weights and dimensions. When you create your desired parcel/box with custom weight and dimensions limits, you can easily adjust the small items along with your freight items. As a result, when a small item is added to the shopping cart with an LTL Freight item, the returned shipping charge won't be high.
Using FedEx Freight services in Shopify
Shopify does not offer FedEx freight services from within. If you're a Shopify store owner then you may use the Shopify FedEx App to handle your freight shipments. You can display real-time shipping rates for your FedEx Freight services and print shipping labels for them. Here is the list of services available for store owners looking to ship freight shipment using FedEx services.
Alongside the shipping services, you also have the option to edit the service names and adjust the shipping prices. You can also choose to either enable or disable the FedEx Freight services. The App also comes with many features like print FedEx shipping labels in bulk, enable shipment tracking, schedule FedEx Pickup, and more. You can check out the Shopify FedEx App to know more about other amazing features offered by this App.
Final Thoughts…
This article covers FedEx Freight Services and their functionality. It also covers how you can make the best use of the FedEx Freight for your WooCommerce or Shopify store using the WooCommerce FedEx Shiping plugin or Shopify FedEx App respectively. The plugin, in particular, is one of the best tools to accomplish all your WooCommerce shipping needs. It covers all the FedEx shipping services availability, live shipping rate calculation, label generation within the WooCommerce store, live shipment tracking, and much more! If you have any query regarding this article, feel free to share your views in the comment section below. You can contact our customer support if you have any issue setting up FedEx shipping on your online store. Happy selling!