This WooCommerce tutorial entails everything related to WooCommerce and provides an in-depth setup process of WooCommerce.The most famous website-building platform, WordPress, is used to best websites of all kinds. You can blog, run a full-fletched online business, have a portfolio website, and build a community, the list is endless. With the introduction of WooCommerce, e-Commerce websites have emerged like nothing we've seen before. It is elegant, simple to use, and comes with a ton of features necessary to build an online store. There's no denying that WooCommerce will keep your cash registers ringing. 
What is WooCommerce and why is it so popular?
WooCommerce was founded by WooThemes which soon became popular after its launch in 2008. WordPress users from all around the world started downloading this free plugin in order to set up their business online. Later in early 2015, Automattic, one of the core contributors of WordPress acquired both WooThemes and WooCommerce, bringing them into the fold. WooCommerce collected their annual revenue north of $11 million last year alone making it one of the most successful plugins in the market.
What features make WooCommerce so special?
But what makes WooCommerce so successful and desirable? Let's go through some of the points to understand this.
Sell all kinds of products
It doesn't matter if you want to sell digital products, downloadable items, or physical goods, WooCommerce lets you sell almost everything.WooCommerce Bookings and Appointments plugin, for example, is a plugin that lets you convert products into Bookable products. Meaning, clients can book any resource or service right on your website.
Adding WooCommerce plugins
Some time ago, WooCommerce introduced the concept of 'REST API' that essentially allows third-party plugin authors to integrate their plugins with WooCommerce.The obvious expansion of the plugin market with numerous plugins supporting WooCommerce is unaccountable. No surprise in its dominance over the current eCommerce platform market. There is a pool of WooCommerce Plugins to choose from, both free and paid. There are presently hundreds of plugins in every category and hundreds more are about to pop up this year. 
WooCommerce Shipping and Order Fulfillment
WooCommerce Shipping is another area where this plugin performs beautifully. WooCommerce is capable of allowing shipping to a single zip code or a range of countries, managing drop-shipping, providing multiple shipping options, and table rate shipping, the list is endless. Here's a small list of the Top 13 WooCommerce shipping plugins that are currently ruling the WooCommerce Shipping category.
Best Store Management Features
WooCommerce allows you to have product variations based on colors and sizes. You can easily add multiple fields to your products using a good WooCommerce Product Addons plugin. WooCommerce also offers download functionality for products that are digital, keeping affiliate products as an option too. That's a good way to handle other kinds of products. Coming to the payment options, you have credit cards, PayPal, bank transfers, and cash on delivery. But you can always add more payment gateways like Stripe, Authorize.net, and Amazon Payments by installing the plugins.
Security and Ease for Developers
Security comes first in your mind when you let a foreign online solution access your personal and sensitive information. But there's none with WooCommerce.The security patch is regularly audited by the developers which keeps your website secure and updated. So you don't have to worry about your private and valuable information being leaked. 
Customizations and Future Expandability
For the developers, WooCommerce is a natural playground where they can always customize it to fit their needs and work. And since it's an open-source platform, developers can easily make new plugins, add code snippets to extend functionality, etc., Talking more about the look and feel, it also comes with a started theme called the Storefront, which is a default. Other than that, you have a plethora of themes available for you to choose from. 
---
It should be apparent by now why WooCommerce is so popular and widely used. Now's the time we see how to use it, shall we?
Setting up and installing WooCommerce
Like any other WordPress plugin, you can easily download the plugin from the Add New option in the Plugins menu. Just type WooCommerce in the Search Plugins section and tap on Install Now. You can later Activate it after the installation is done.


Right after the activation, you'd see the installation wizard.
1. Configure your WooCommerce store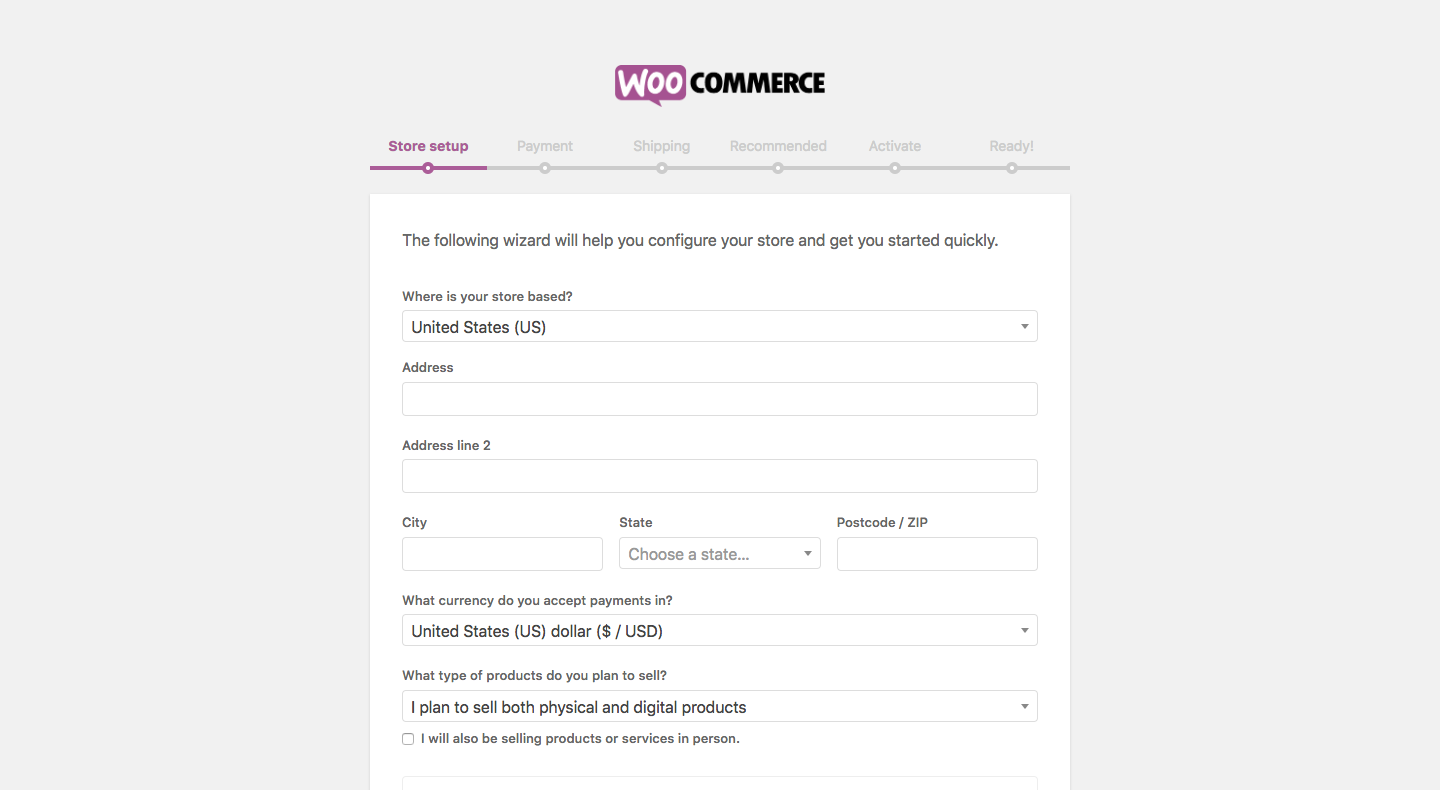 You need to enter your store details here. This includes important information like Store location and address, currency, and the type of product that you will be selling in your store.
2. Configure WooCommerce Payment Gateways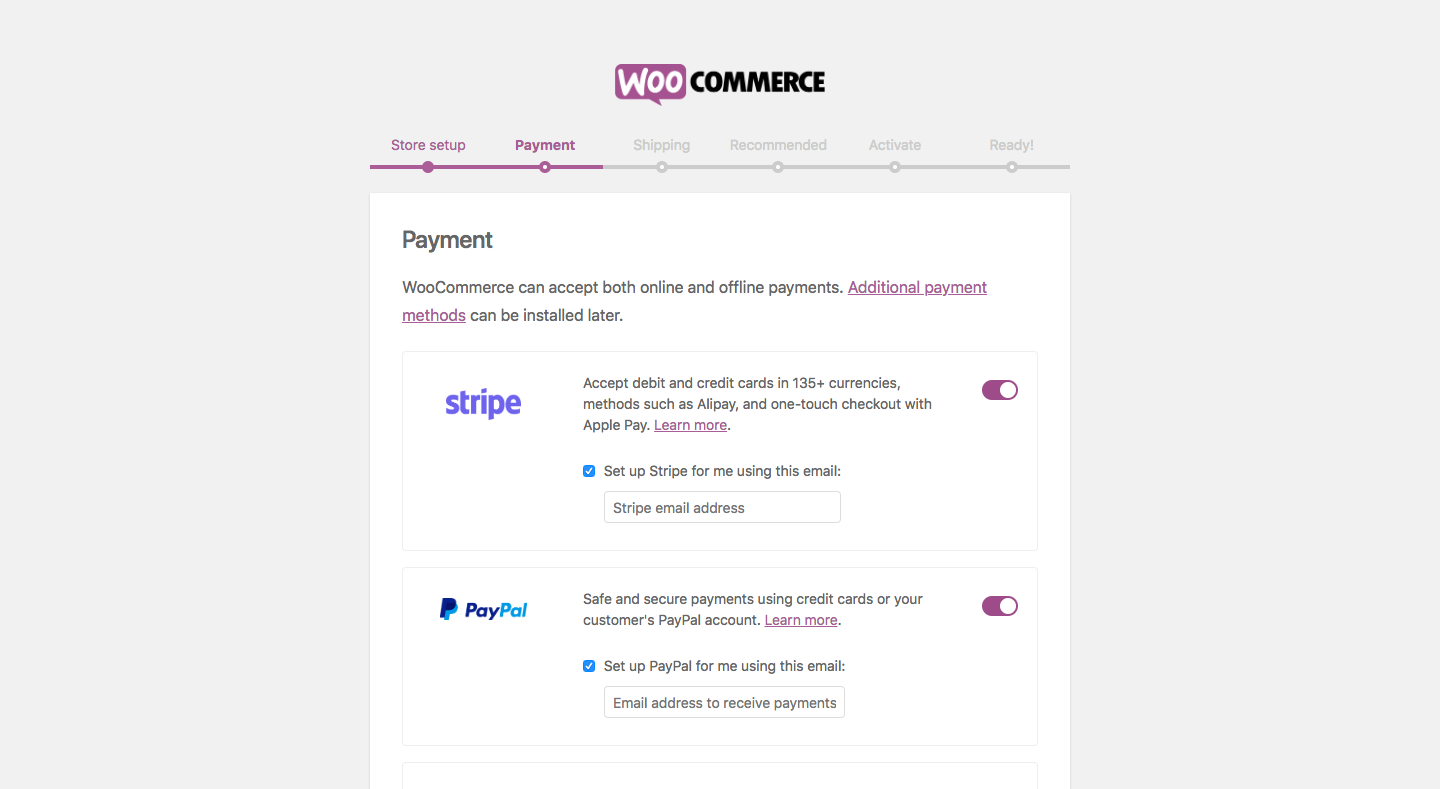 Here you will set up your payment options. Decide whether to accept PayPal (plus, enter your credentials) as well as payment via cheque, cash, or bank transfer. As mentioned, these can be extended via add-ons.
3. Set up WooCommerce Shipping and WooCommerce Taxes
In this next step, you can set up shipping costs and whether to include sales tax in your prices. Don't worry if you don't know these things yet, you can just skip ahead or change the settings later. Depending on your location, WooCommerce is also able to suggest starter tax rates.
4. Final steps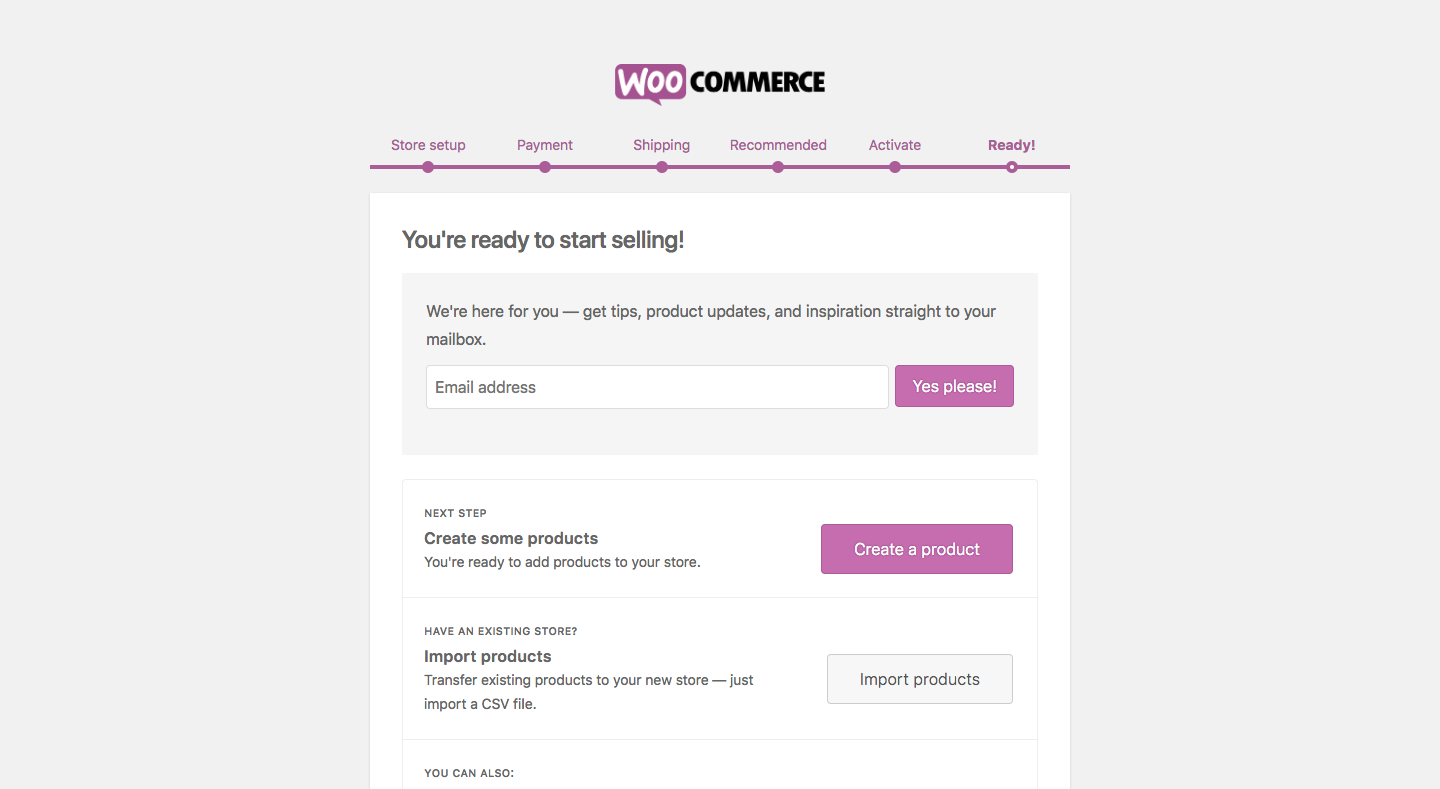 We had to fly over the other two options(Recommended and Activate) as they were optional. But don't you worry as you can set them up later.
5. Create a WooCommerce product
You now have your basic info set up. If you want, you may allow WooCommerce to collect diagnostic data and start creating your first product. If you click on the Create a product option, WooCommerce will move you to the following page: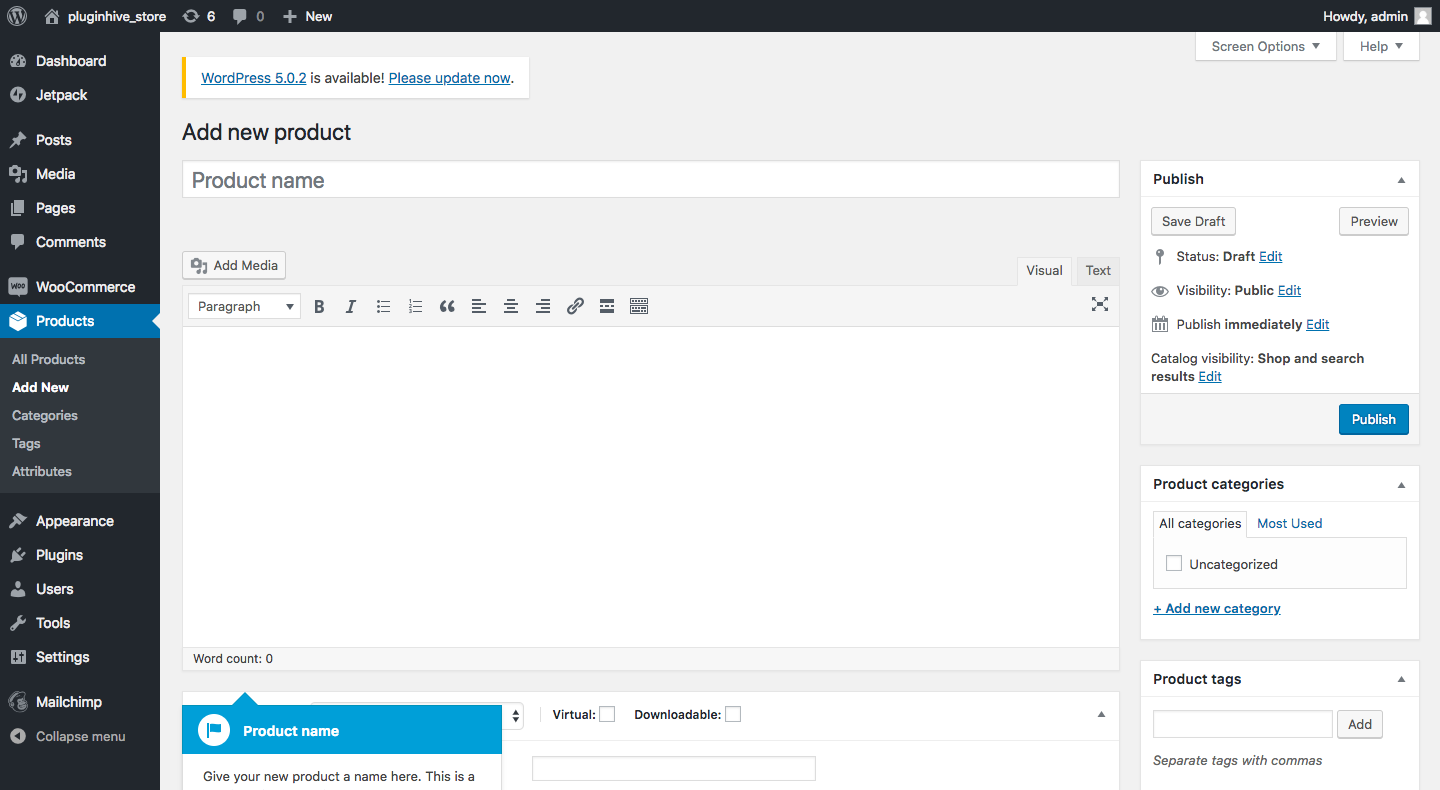 However, to gain a better overview, we will use the Return to the WordPress Dashboard link at the bottom. Upon clicking Add Product at the top or in the menu on the left you can start creating one. The following screen will look very familiar. It is basically the normal WordPress editor with a number of additional options.
At the top of the screen, you can give your product a title and add a description like in a normal post. This includes images and other media. The information here will appear on the main product page. There are also a few other options that are very similar to the ones found for posts and pages:
Product Categories: Create and assign categories and subcategories to order your products and make them easier to browse.
Product Tags: Distinguish products even further with tags.
Product Image: Works like a featured image. Whatever you upload here will automatically spit out on the product and shop page.
Product Gallery: In addition to the product image you can also add an image gallery, for example, to show different product variations, different angles, and more.
---
So far so easy, however, the product creation screen has additional important options.
How to Manage WooCommerce Products?
Below the main editor, you will find a panel for additional product data. For your shop to work, it is crucial that you fill this in. First, you need to choose which type of product you are selling from the following options:
Simple product

Grouped product

External/Affiliate product

Variable product
Depending on what you pick, the configuration options will change. Overall, you can configure these settings:
Virtual/Physical: If what you're selling is not a real-life product but software of some sort, check this button. It will also remove the shipping options.
Downloadable: In addition to that, you can determine whether your product is downloadable, upload the file, and add information as well as download conditions.
General: Give your product a Stock Keeping Unit (unique ID, mandatory), provide product URLs and button text for affiliate products, price, and sales price (if applicable) as well as the date range for any upcoming sales. You can also set up whether it's a taxed product as well as its tax class.
Inventory: Determine whether the product is in stock and — if it's a physical product — note down the quantity available and whether you accept backorders.
Shipping: Weight, dimensions, and shipping classes are configured here.
Linked Products: In this menu, you can include related products that will get recommended as up-sells or cross-sells and create product groups.
Attributes: This is where you define custom product attributes like color, size, etc.
Variations: When you have set up attributes, this menu allows you to offer variations of your goods.
Advanced: Here you can add a custom purchase note that will be sent to customers after a purchase, change the product order inside the menu and determine whether to allow reviews.
The final step is to fill in the short description at the bottom of the screen. The content entered here will show up under the product title. When you have set everything up, the finished page will look like this: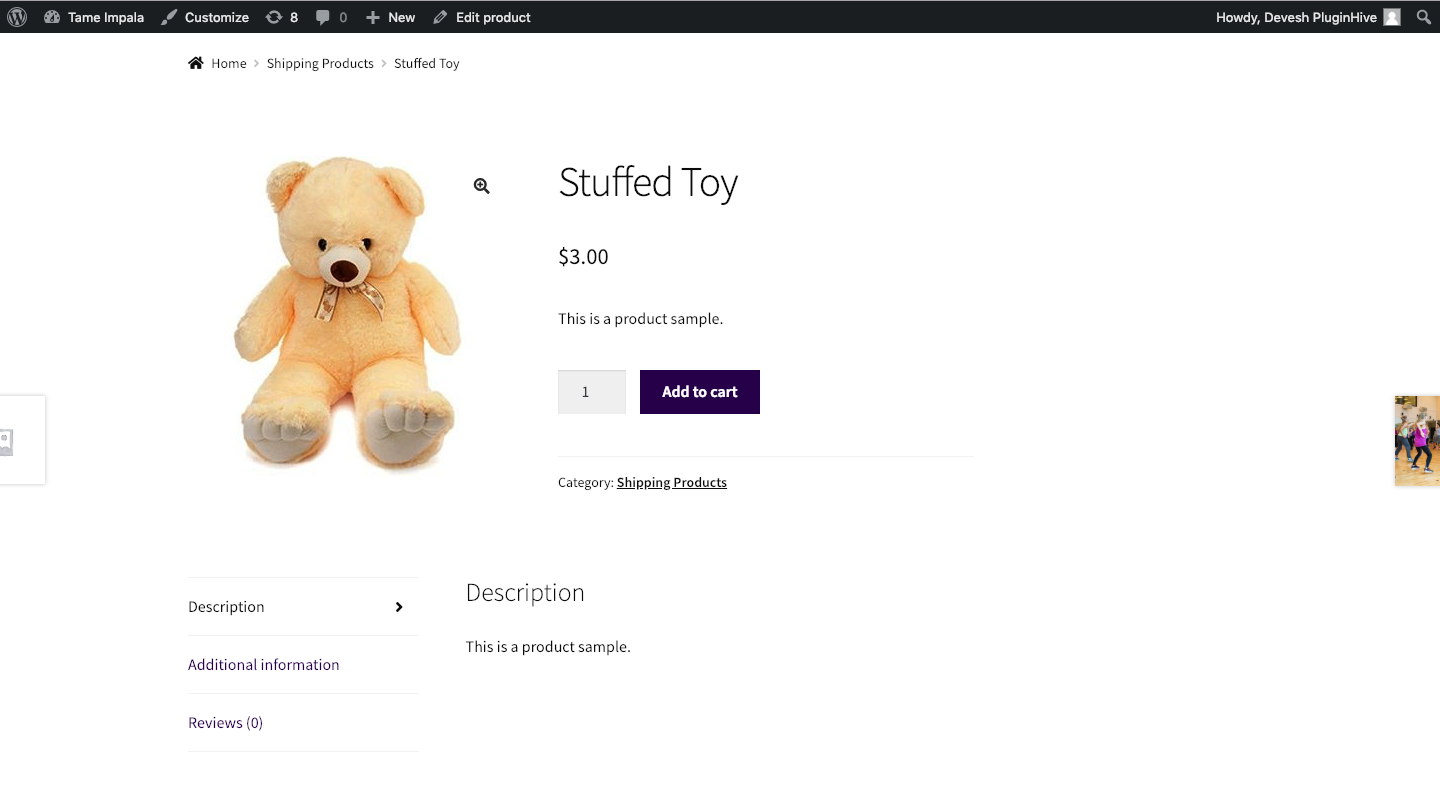 Congratulations, you created your first product with WooCommerce and can now access it from the Products menu.
Other Product Settings
The other items in the Products menu are pretty straightforward. If you have used WordPress before, categories and tags should be second nature to you. The only difference worth mentioning is that in WooCommerce you can add thumbnail images to product categories. What should also be brought to attention are the other two menus for additional product data named Shipping Classes and Attributes. The first one allows you to create product groups by shipping and can be used for calculating shipping costs by class.

We had already mentioned attributes above and in the corresponding menu, you may create sizes, colors, and other characteristics that can be added to products as variations. Let's move on to other things.
---
Managing your WooCommerce store
From here on out we will look at the menus available under WooCommerce. We'll explain each and every menu item one by one so you know exactly what's going on there.
WooCommerce Orders
As you can imagine, this screen shows the current order status of your shop. If you are strictly dealing in digital products there isn't much to see here except for how many products you are currently slinging and who bought what. Physical goods, on the other hand, can be sent on to shipping and have their order status changed (pending payment, on hold, refunded, failed, etc.).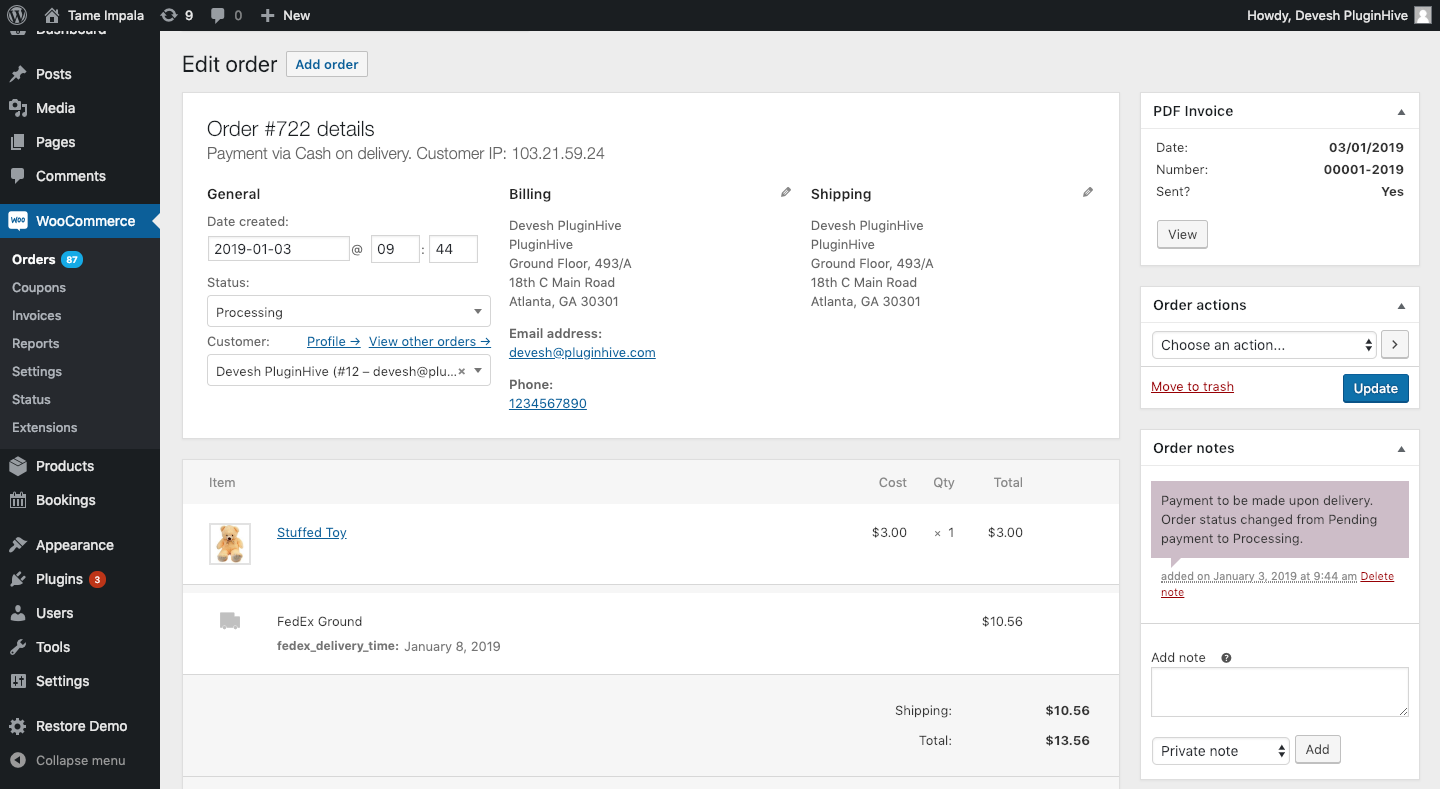 You can also modify billing or shipping addresses, resend order emails, add notes, change the content of the order, and more.
WooCommerce Coupons
This part should also be a familiar concept. Under Coupons, you may create and manage discount codes.
Determine the type and amount of discount, set expiration dates, restrict usage (for example, in conjunction with other coupons), and set limits on how many coupons can be used overall or per user.
WooCommerce Reports
Here's where it gets really interesting. The report section is one of the highlights of WooCommerce. The plugin automatically creates detailed summaries of every aspect of your shop.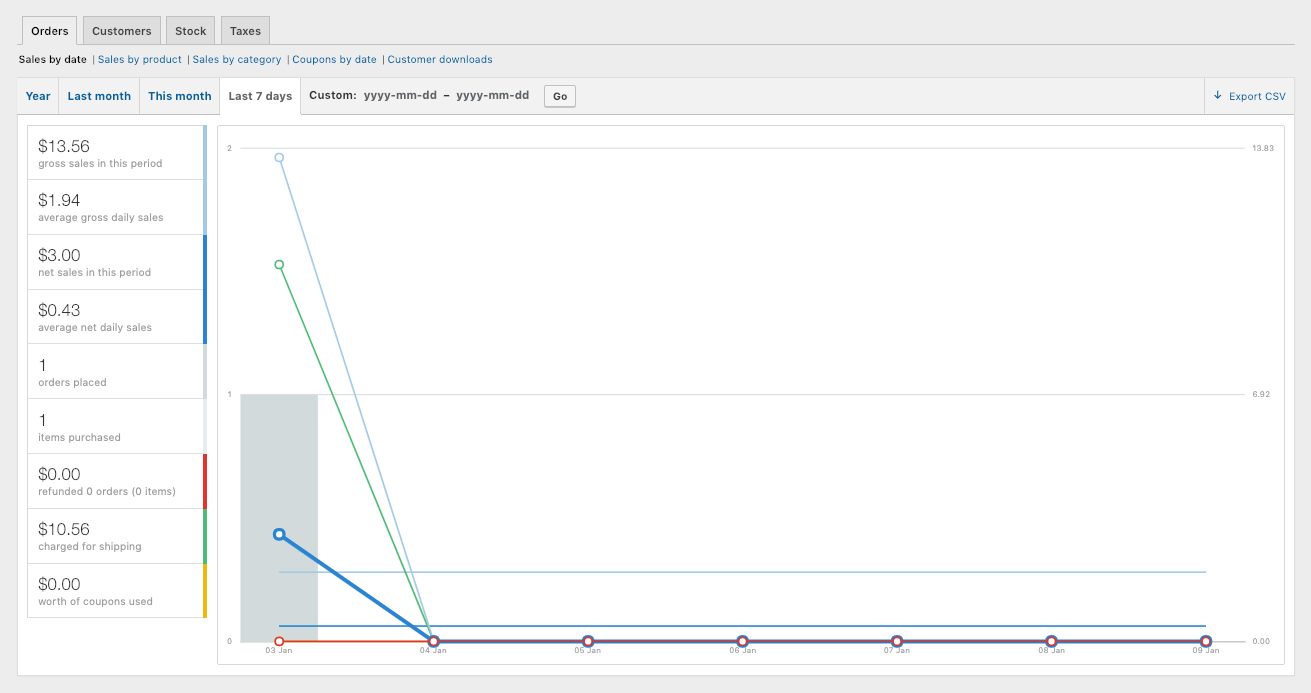 Check gross and net sales of the last seven days and other time frames, view orders placed, items purchased, refunds issued, shipping costs taken in, and coupons used–all at a glance. It doesn't stop there. The same overview is available for customer sales, product stock, and taxes and can be exported in CSV form to import into your own books.
WooCommerce settings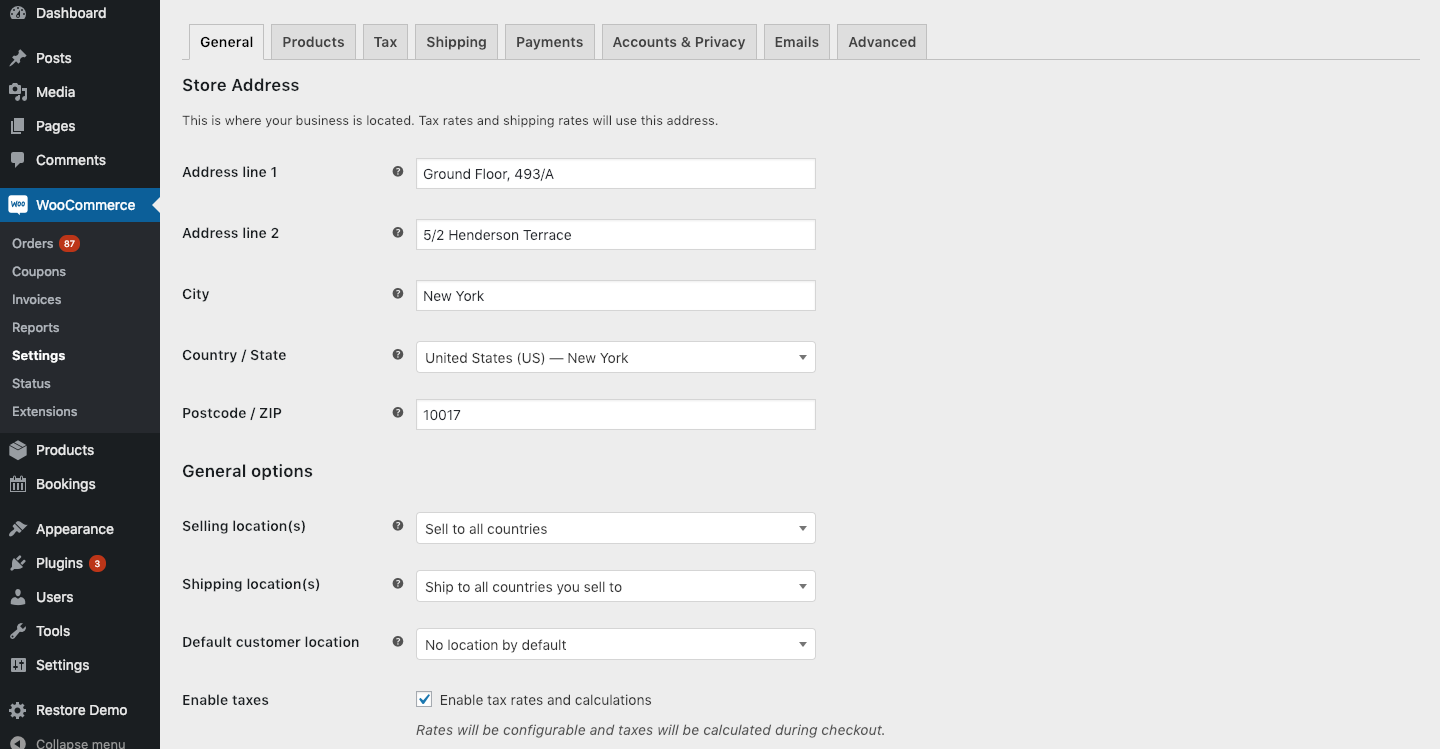 This section is where you control quite literally every aspect of your WooCommerce online store. Even the free plugin version offers loads of configuration options and I will go over them briefly to give you a good understanding of WooCommerce's customization capabilities.
General settings
Location Settings: Control the base location of your store, choose the countries you sell to or set to worldwide, and create example address details for customers.
Store Notice: Display a site-wide notice text for all customers.
Currency Settings: Set the currency you will be paid in, change the currency format, thousand separator, decimal separator, and how many decimals to display after the comma.
WooCommerce Products
General: Change weight and dimension units as well as settings for product reviews, ratings and who can leave them.
Display: Determine the shop page and whether or not to display categories, change the category archive design as well as product order, shopping cart behavior, and image dimensions.
Inventory: Enable or disable stock management, how long to hold unpaid orders, notifications for low-running stock and their recipients as well as stock thresholds and inventory display on the page.
Downloadable Products: File download delivery method and access restriction for downloadables.
WooCommerce Taxes
Tax Options: Enable and disable taxes globally, determine whether to use the net or gross prices, configure the calculation method for product and shipping taxes, set up the rounding method, add Shipping tax classes, configure the price display in the shop and how to show tax totals.
Additional Tax Classes: You can list additional tax classes below(1 per line). This is in addition to the default "Standard Rate".
Standard Rates: Set up different tax rates to use in your shop.
Reduced Rate Rates: Same for reduced rate items.
Zero Rate Rates: Same for tax-free items.
WooCommerce Shipping
Shipping Options: In this section, you can define how to calculate shipping costs, and set shipping/billing addresses as well as shipping locations and methods. This section also has a Debug option.

Shipping Zones

: A shipping zone is a geographic region where a certain set of shipping methods are offered. WooCommerce will match a customer to a single zone using their shipping address and present the shipping methods within that zone to them.
Shipping Classes: Shipping classes can be used to group products of similar type and can be used by some Shipping Methods(such as "Flat Rate Shipping" to provide different rates to different classes of products.
WooCommerce Payments
Direct Bank Transfer(BACS): Enable and disable bank wire transfers and customize user messages as well as bank connections.
Cheque Payments: Cheque payment options including description and instructions.
Cash on Delivery: Determine whether to accept cash on delivery, for which shipping methods and give instructions for clients paying cash.
PayPal: PayPal payment options, credentials, testing and debugging, advanced options, and API settings.
WooCommerce Accounts & Privacy
Account Options: Determine where users can check their account info, define unique identifiers for different actions on the account page, enable customer registration in different places and whether or not to automatically generate customer usernames and passwords.
Privacy policy: This section controls the display of your website privacy policy. The privacy notices will not show up unless a privacy page is first set.
Personal data retention: With this section, you can choose how long to retain personal data when it's no longer needed for processing. You can leave the options blank to retain the entered data indefinitely.
Emails
Email Options: Determine the recipients and content of different important checkout email notifications, sender names, and email addresses and configure the email template (header image, footer text,

and color scheme).
Advanced
Page setup: This option will allow you to choose from the various pages that WooCommerce has to offer.
Checkout endpoints: Endpoints are appended to your page URLs to handle specific actions during the checkout process. They should be unique.
Account endpoints: Technically, Account endpoints have the same concept but they can be left blank to disable the endpoint.
API Settings — Enable/disable the WooCommerce REST API, set up endpoints and permissions for external applications to access your shop data, and create event notifications for integrating third-party services.
WooCommerce Store Status
The system status section provides you with an overview of the health and performance of your online shop. In the same place, you can also download a system report in case you need to get in touch with WooCommerce support. Apart from that, you will also find a number of tools for debugging and resetting cached data and the possibility to see data logs for your shop.
WooCommerce Plugins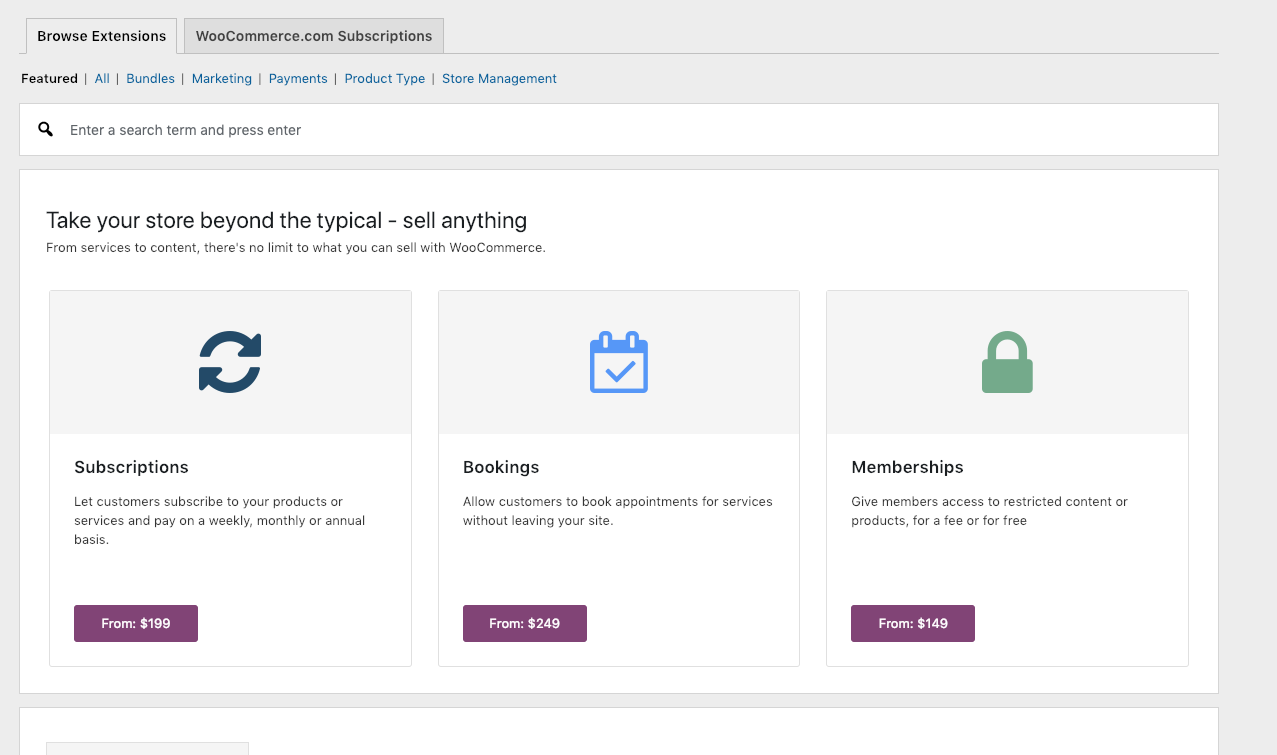 Finally, through the add-on section, you get access to the aforementioned extensions. Everything is ordered by category and a click on any extension takes you right to the website where you can purchase it. You may look further out of the WooCommerce Plugins option if you need additional or advanced features. For example, the WooCommerce FedEx plugin does not come with features like shipment tracking and printing shipping labels. Whereas our plugin, WooCommerce FedEx Shipping Plugin, offers the above features along with a few additions like FedEx Freight and FedEx International services. You can compare them in this comparison article if you'd like.

Here are a few other cool plugins that should suit your business case:
---
Well, now you're ready
Although it isn't often advertised as such, eCommerce is another strong suit of the WordPress platform and WooCommerce is clearly the star in this particular arena. The online shop plugin offers a powerful and free solution for building extensive online shops for both digital and physical products. While the basic WooCommerce is all you need to get your shop up and running, users can also rely on hundreds of paid and thousands of free extensions to further customize their shop. The overview above provides you with enough knowledge to get your own WordPress online shop up and running. All that's left for you it is to come up with a good product. Thanks to WooCommerce, the infrastructure is already in place. We hope this article would have helped you set up WooCommerce on your WordPress website. Please Contact PluginHive Customer Support if you need help setting up shipping on your WooCommerce store.

Happy selling!