In the bustling world of online retail, WooCommerce stands as a beacon for e-commerce entrepreneurs. Within this WordPress plugin's arsenal, coupons emerge as the secret weapon for driving sales and fostering customer loyalty. This concise guide delves into the core of WooCommerce coupons, elucidating their pivotal role.
We'll navigate the creation process, spotlight plugins elevating coupon flexibility, share vital tips, and unveil exclusive 2023 deals. Brace yourself for a WooCommerce-centric exploration, as we unravel the power of coupons, propelling your online store to new heights of success.
On this page
---
Why use coupons in WooCommerce
In the vast landscape of e-commerce, deploying coupons on your WooCommerce platform isn't merely a trend; it's a strategic imperative. Coupons serve as potent tools with multifaceted benefits, each contributing to the overall success of your online store.
Attracting and Retaining Customers:
Coupons serve as powerful magnets, enticing potential customers with tangible incentives to explore and make their initial purchases. This initial attraction sets the stage for building lasting relationships and customer loyalty.
Increasing Sales and Revenue:
The strategic use of coupons directly impacts sales and revenue. Offering discounts on specific products or during particular seasons creates a sense of urgency, prompting customers to make prompt purchasing decisions to capitalize on exclusive savings.
Creating a Sense of Urgency and Customer Loyalty:
Coupons, with their psychological allure of discounts, generate a sense of urgency among customers. This urgency not only leads to immediate sales spikes but also fosters loyalty, as customers associate your brand with exclusive and timely offers.
Competing Effectively in the Market:
In the fiercely competitive e-commerce landscape, coupons provide a distinct edge. They position your WooCommerce store as customer-friendly and savvy, standing out amidst a sea of options. Embracing coupons is not just a trend but a strategic imperative for staying ahead in the market.
How to create coupons in WooCommerce
Unlocking the potential of WooCommerce coupons begins with navigating the user-friendly dashboard and employing a systematic approach. Follow this step-by-step guide to seamlessly create coupons:
Navigate to the WooCommerce Coupons Section:
Access the WooCommerce dashboard, navigate to 'Marketing,' and select 'Add Coupon' to initiate the creation process.
Specify Coupon Type:
Diversify your promotional arsenal by choosing from various coupon types, including percentage discounts, fixed cart discounts, or free shipping. Tailor these options to align with specific marketing goals.
Set Coupon Usage Restrictions: Precision is key. Set coupon usage restrictions, such as minimum spend thresholds or product exclusions, ensuring your coupons align seamlessly with your business strategy.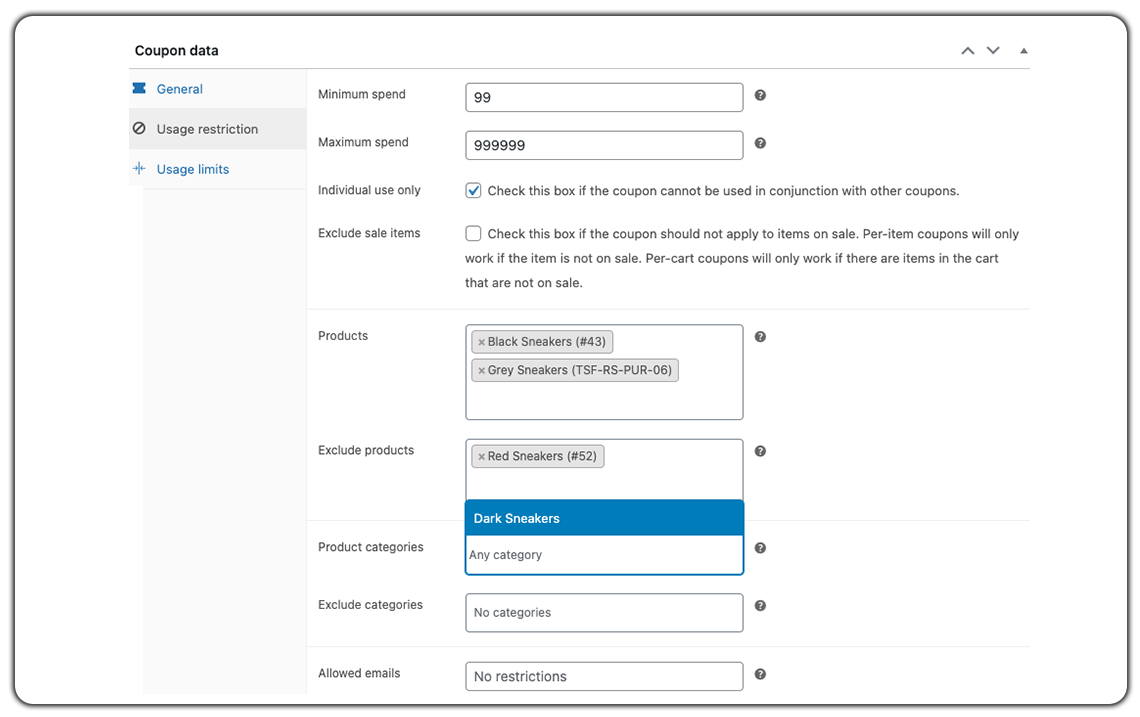 Coupon Expiry Dates and Usage Limits: Infuse urgency and control by incorporating expiration dates and usage limits. Establish specific expiry dates to motivate prompt customer action, while usage limits add exclusivity to your offers.
Utilizing Coupon Categories: Organize your coupon system efficiently by utilizing categories. Whether categorizing by product type, seasonal campaigns, or customer segments, this feature optimizes management, contributing to a well-organized and impactful promotional campaign.
---
WooCommerce plugins for enhanced coupon flexibility
Elevating your WooCommerce coupon game goes beyond the native settings. Selecting the ideal plugin is pivotal for unleashing the full potential of your WooCommerce coupons. Consider the scale of your business, the complexity of your coupon strategy, and the desired user experience. The right plugin not only enhances flexibility but becomes a catalyst for sustained growth and customer engagement in the competitive e-commerce landscape.
The following standout plugins offer unparalleled flexibility and features.
WooCommerce Smart Coupons
Smart Coupons is a versatile WooCommerce coupon plugin that offers a wide array of features to
enhance your sales and customer retention strategies. It's known for being the original, most
complete, and best-selling WooCommerce coupons plugin in the market.
Key Features:
Gift cards, discounts, coupons, store credits, BOGO deals, and more
Advanced coupon restrictions
Automatic coupon issuance
Free gift coupons
Bulk coupon code generation
Import and export capabilities
URL coupons
Auto-apply coupons
User-friendly design and management
Whether you're running a fashion, electronics, or digital download store, Smart Coupons caters to various businesses. It allows you to use coupons effectively throughout the year, even during peak shopping seasons, without slowing down your website's performance
Smart Coupons for WooCommerce Coupons by WebToffee
Smart Coupons for WooCommerce Coupons is an advanced coupon plugin that extends the functionality of default WooCommerce coupons. It enables you to create BOGO deals, apply various coupon restrictions, enable auto-apply coupons, manage coupons effortlessly, and more.
Key Features:
WooCommerce BOGO deals
Full or partial discounts
Auto-apply coupons
My Account page coupon viewing
Coupon restrictions based on products, categories, and user roles
Product Quantity/Subtotal-based discounts
Shipping, payment, and user role-based coupons
Giveaway coupons
Coupon categorization
Coupon customization
Duplicate coupon creation
Coupon URLs
Seasonal discount offers
Display available coupons on the cart and checkout pages
Coupon shortcodes for easy display
With Smart Coupons for WooCommerce Coupons, you can create enticing promotions and manage them efficiently to drive sales and customer loyalty.
Tips While Using Coupons on WooCommerce
In the dynamic landscape of e-commerce, the strategic use of coupons on your WooCommerce platform demands finesse. Here are three key tips to optimize your coupon strategy:
Set Clear Terms and Conditions: Clearly define the terms and conditions attached to your coupons. From expiration dates to usage limitations, transparent communication ensures a positive customer experience and minimizes confusion.
Monitor and Analyze Coupon Performance: Regularly monitor the performance of your coupons through analytics. Assess which promotions resonate most with your audience, enabling data-driven adjustments for future campaigns. This iterative approach ensures continuous improvement and maximizes the impact of your coupons.
Personalize Coupon Strategies for Different Customer Segments: Recognize the diversity within your customer base. Tailor coupons to different segments based on preferences, purchase history, or demographics. Personalization enhances relevance, fostering a deeper connection and loyalty among diverse customer groups.
By incorporating these tips, you not only mitigate common pitfalls but also cultivate a positive customer experience, ultimately amplifying the effectiveness of your coupon initiatives on WooCommerce.
2023 Deals and Coupons for WooCommerce Plugins
As we step into 2023, seize the opportunity to supercharge your WooCommerce store with exclusive deals and promotions. This section delves into the latest offerings from popular WooCommerce plugins. Discover current promotions and discounts tailored to the evolving needs of your online business.
PluginHive WooCommerce Shipping and Bookings plugin
Coupon Code: PH_BFCM_2023
Valid from 15th Nov – 1st Dec
Eligible for all WooCommerce Shipping & Bookings plugins
Cloudways
20% off when you sign up to Cloudways and make a purchase using promo code "PLUGINHIVE"
Valid till: 3 months
TemplateMonster
Conclusion
In conclusion, the advantages of employing coupons on WooCommerce are undeniable— from attracting and retaining customers to boosting sales. The key lies in strategic coupon deployment for sustained success. As you harness the power of discounts, remember to stay vigilant, analyzing performance and adjusting strategies accordingly. Additionally, the ever-evolving e-commerce landscape invites you to stay abreast of the latest plugin deals and offers.
By embracing strategic coupon usage and staying updated on cutting-edge plugins, you not only ensure immediate gains but pave the way for continuous business growth and a thriving online presence in the long run.