In this guide, we will see how to get the Australia Post shipping account details and API credentials.
These applications help you integrate Australia Post with different platforms.

WooCommerce Shipping Services
Shopify Australia Post Shipping Rates & Labels app
Shopify Multi Carrier Shipping Label app
Magento Australia Post Shipping & StarTrack
---

---
Create an Australia Post Business Account
Create an Australia Post Business Account. Visit the eParcel option under Login, as shown in the image below.

---
---
Log in using the same email ID and password that you used with your Australia Post Account.
---
---
If you already have a Personal Account, you can place an inquiry for the eParcel account and request a callback from Australia Post account specialists. They will help you to set up an account. Fill in the form shown below to request a callback.
---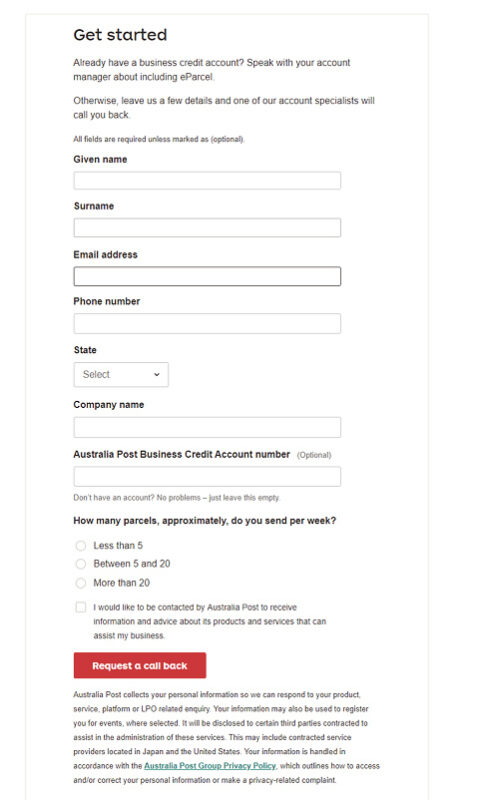 ---
You can talk to an Australia Post account specialist and obtain the eParcel account number and Same Day service account number.
For the StarTrack account number, you have to place an inquiry on the StarTrack website.
---
Login/Register an account at the Developers Centre
Login/Register to Developers Centre with the email & password.
---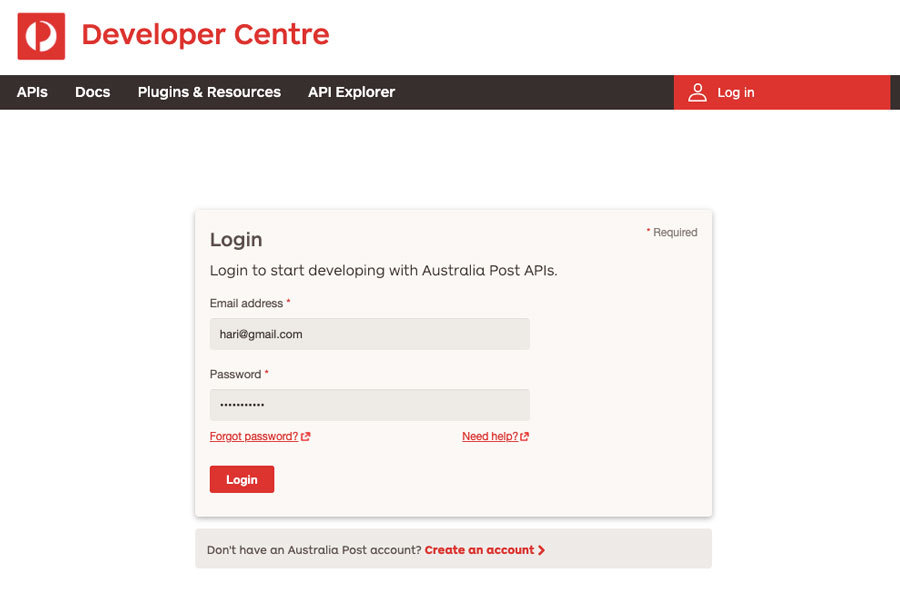 ---
Register for Australia Post Shipping API Key
Click on "Register for a key" under the shipping and tracking section as shown in the image below.
---
---
On the next screen, click on the "Complete Registration" button to proceed further.
---

---
Enter the Australia Post Shipping Account details
On the next screen, enter details like your name, company name, email address, and phone number. Choose the required service and enter the account number. A general API key will be generated for the selected services. For an Australia Post eParcel account, tick the respective checkbox, enter the account number, and click on "next".
---
---
Note:
For other account types like StartTrack, select the corresponding checkbox and enter the account details to proceed further.
---
Choose PluginHive as the Platform partner
As a customer of PluginHive, choose the option "Yes" and select the platform as PluginHive from the dropdown list, as we have partnered with Australia Post. Click on "Next" to proceed.
---
---
Choose the location where you will be handling your billing
On the next page, you need to select the Australian state where you will be handling your billing. Enter other details if necessary and click on "Send".
---
---
Once your request is sent, Australia Post takes around 24 hours to accept the application. As you have registered with Pluginhive as the platform partner, you will receive an email containing the API key (Ensure that you check the spam folder if you haven't received the mail).
---
If you have any other queries regarding the Australia Post account creation, do contact PluginHive support. We will be able to help you with any issues that you face.
---