In this article, we will show how to get the Australia Post account details and API credentials. Along with Australia Post account, we will also show how to get StarTrack account credentials, which is a business of Australia Post.
Step1. Create Australia Post Business Account
Create an Australia Post Business Account.
Visit the eParcel option under Login, as shown in the image below.
Log in using the same email ID and password that you used with Australia Post Account.
If you already have a Personal Account, you can place an inquiry for the eParcel account and request a callback from Australia Post account specialists. They will help you to set up an account. Fill in the form shown below to request a callback.
You can talk to Australia Post account specialist and obtain the eParcel account number and Same Day service account number. For StarTrack account number, you have to place an inquiry on the StarTrack website.
Step2. Create Australia Post and StarTrack Developer Account
StarTrack is a business of Australia Post. Once you receive Australia Post account number, request for the API credentials by following the steps below
You will receive a confirmation e-mail to confirm and activate your account
After confirmation, you will be redirected to the "Developer Centre APIs" page. On this page, click on "Register now for an API key" under "Shipping and Tracking"
"Shipping and Tracking API registration" form will pop-up as shown below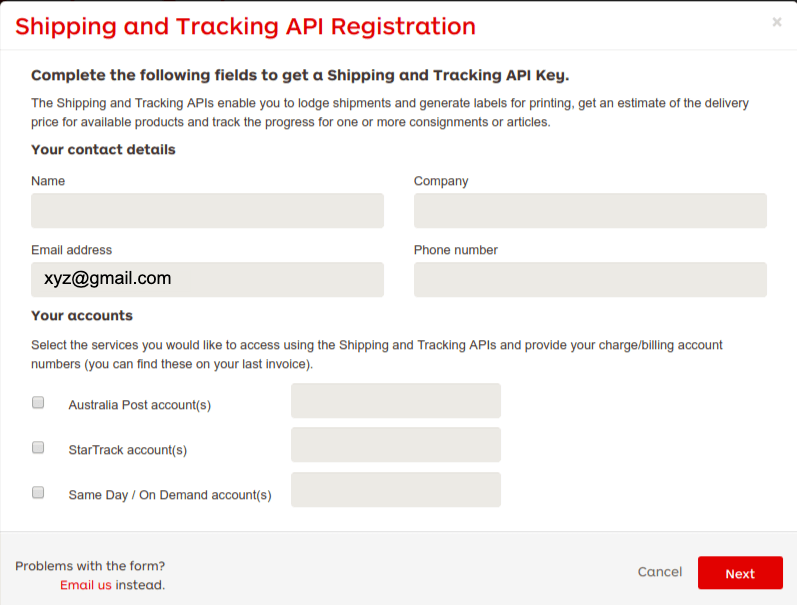 Once you fill this form and submit, you will be contacted by Australia Post
Get Australia Post API credential via Email
You can also get the Australia Post Credentials via Email. Follow the steps below
Compose an e-mail to "customer_connectivity@auspost.com.au"
Add Subject as "Shipping and Tracking API registration" and request them for Shipping and Tracking API suite

You will receive a test and production API credentials from Australia Post
---
If you have any queries, please do contact us. We will be able to help you with any issues that you face.