Canada Post is one of the primary parcel delivery companies in Canada. It handles domestic & international shipping in more than 190 countries across the world. By signing up with Canada Post a small business gets access to exclusive offers such as discounts and the ability to use flat rates for shipping across the country.
To get started with your business on eCommerce platforms like Shopify, WooCommerce, Magento & Bigcommerce , one will need a Development Key and Production Key to automate Canada Post with any shipping solution.

Follow these mentioned steps to get the required Canada Post account credentials for your online store.
---
Sign up for an account with Canada Post
Firstly click here to register your Canada Post account
Then go to the top right section and click on the Sign In option and select Sign Up.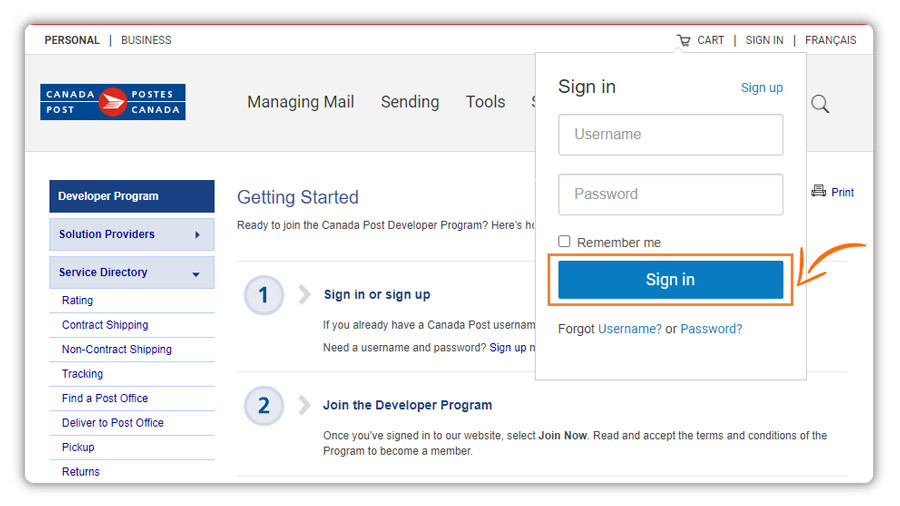 Choose the type of account you need: Personal account/ Business Account.
Fill up all the fields by providing all your contact information.
Then provide your company information & fill up the required fields.
Finally, choose a username and the password & add two security questions with answers & click To Continue as shown below:
---
Verify email to generate Canada Post API Keys
Once all the details are entered, you will receive a verification email to activate your Canada Post account. After verifying you will get your Canada Post Development & Production keys as shown below:

---
Integrate Canada Post with your eCommerce store
Once you get the Canada Post account details, you can integrate Canada Post with your eCommerce store (Shopify, WooCommerce, BigCommerce and Magento) and start shipping.
To connect your Canada Post account all you need to do is choose Canada Post carrier under Settings & click Connect & Get Credentials.
Then sign in to your account with the username and password.
Then choose the Methods of Payment. You can either go for Pay by Account or Credit card based on your convenience.
Complete the payment details & click Continue.
Once it is done your online store will be configured with all the Canada Post credentials automatically & you can start shipping. Do not forget to enable the Production Key.
---
PluginHive allows eCommerce merchants to streamline their Canada Post shipping by enabling them to display live shipping rates, print shipping labels, schedule pickups & tracking orders at every step. Contact the customer support team to learn more about integrating PluginHive shipping solutions into your eCommerce store.
---