A tour booking website is vital for any tour operator, travel agency, or any company in the travel industry. It enables you to showcase the offered tours & activities and allow travelers to reserve them for a selected period. However, for all of this to come true, you would require an attractive website with the best Booking solution backing it up.
WooCommerce is known to be a steady platform for people to build all kinds of websites. You can surely make a tour booking website if you have the proper accessories and tools with you.
Our theme recommendation for your trip-booking website is the Avada theme. It's a unique theme that offers about everything you'll ever need from a WordPress theme. It lets you explore your hidden website-designing talents by offering ample set of design options and features. 
Coming over to bookings, you have the PluginHive WooCommerce Bookings plugin — the best-in-class online reservation solution for WooCommerce that works excellent with your tour/travel business.
Let's check out how the two products, when used together, allows you to set up the most fabulous tour booking website.
At the top of its game – Avada theme
Avada theme seems to be the right choice for users who want to launch their website quick. With some of its shinning tools like Fusion Builder Live and Fusion Theme Options, you can beautify your site in the way you want.
Going over to the specifics, it comes with 49+ pre-built demo websites so you can get started like in an hour or so. Avada is also SEO-friendly, supports multi-lingual and comes packed with GDPR toolkit which allows you to set up things like GDPR Privacy Banner and Contact Form Consent. 
An industry-leading booking solution – PluginHive WooCommerce Bookings
PluginHive WooCommerce Bookings plugin is the most trustworthy online booking management software available in the WooCommerce environment. It helps you convert time, services, and rental items into bookable products. 
The plugin attaches a booking calendar next to your products that can be used by the customers to select the period. It offers a set of parameters that administer this calendar – Availability, Costs, Participants, Resources, and Assets. 
The above parameters allow Admins to configure and set up the booking rule for your products. In addition to that, the plugin comes with an exclusive booking management area where you can keep things organized. 
Matching the availabilities of your tours
Compared to other forms of online business, a tour booking website depends a lot on the availability of its tours. So you would have to plan the trips and corresponding offerings before proceeding further. 
Let's say; you offer a trip named Heritage Golden Triangle. It has a specific day-wise itinerary with a standard booking period of 7 days, no more or less. However, the bookings are subject to availability of the tour guide, and each booking goes through an approval process supervised by an Admin. 
The WooCommerce Bookings and Appointments plugin can quickly fulfill such a business requirement. As seen in the image above, users can define the booking period of 7 days and enable the Booking confirmation option. You can also notice how well the theme presents the calendar. 
You can set the booking prices under the Booking Costs section. Whereas the tour availabilities can be configured under the Booking Availability section as shown in the image below. This option can even help you block the months that may qualify as the off-season.
Syncing bookings to your calendar
The fear of losing customers can be daunting for any business owner. No reminders and late booking-approvals are the two primary reasons for customers' no-show. Well, that's not the case with PluginHive WooCommerce Bookings.
You see, the plugin comes tied with features like 2-way Google Calendar Sync and Email Notifications. With the two tools combined, neither you or your customers would miss the bookings. 
The Calendar Sync feature, for instance, lets you add bookings from your Google Calendar to your WooCommerce. So even if you somehow miss to approve a reservation on time, you would still have the chance to add it manually. You can learn about manual bookings here.
Adding trip members and charging accordingly
Trips and tours usually involve more than one traveler. It's imperative to provide a section/field where customers can mention the number of travelers.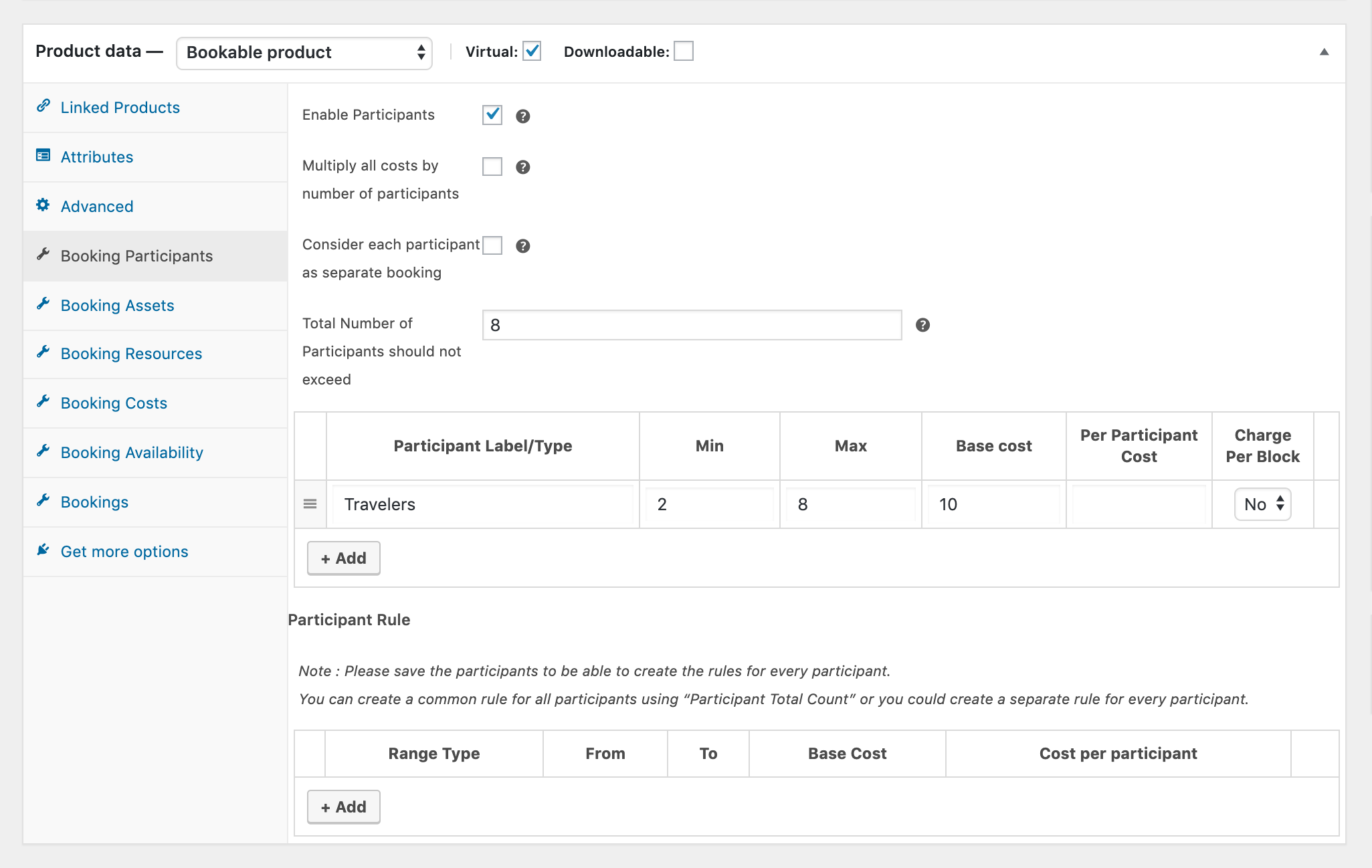 WooCommerce Bookings and Appointments plugin allows you to set up and display this field, but it's not just limited to that. You also have an extensive set of options including, setting up the min & max number of travelers and defining prices on a per-person basis. 
You can even set varying prices for the members based on the time and day. This particular feature gives you supreme authority over the acceptable number of trip members and the corresponding charges. 
As seen in the above image, the Avada theme displays the two fields excellently. This way you can get the number of travelers and rooms required. You can learn more about Booking Participants if you need to know more about it. 
Choosing your booking calendar style
Aside from the usual web-pages and icons, many other design elements require attention. The booking calendar, for example, is an integral part of a tour-booking website and its design should match and go well with your site's look & feel.  
Avada is capable of handling almost everything related to website design. The WooCommerce Bookings plugin provides an equal level of calendar customization. Any user can use this tool to customize the booking calendar design and color to match his/her website's theme.
Tour booking experience with Avada theme
Providing a pleasant booking experience for your customers will go far and beyond any other customer satisfaction strategy. Both Pluginhive Bookings plugin and Avada theme work great together. 
Avada carries over the booking information to the Cart as soon as a tour booking is requested. Every detail is elegantly illustrated and structured, which you can see in the sample image below. 
The Checkout page is also quite attractive and offers quite a detailed view of the booking information and payment details. 
Final thoughts
So a tour booking website built with WooCommerce requires a good-looking theme and a robust booking solution so you can stay ahead in the game. 
Both the Avada theme and WooCommerce Bookings plugin prove to be the best options for you. They offer a variety of design options and functionalities and thus, are the ideal choice.
Good luck 🙂