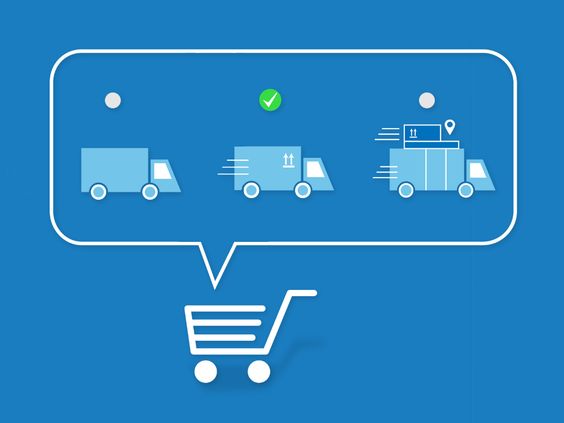 Display Live Chilexpress Shipping Rates at WooCommerce
Checkout
Automatically display discounted Chilexpress shipping rates from your account directly on the WooCommerce checkout page.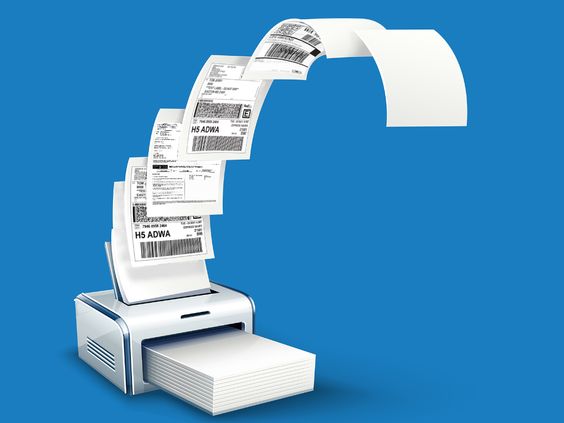 Print Chilexpress Shipping
Labels from Within
WooCommerce
Download and print Chilexpress shipping labels with a single click directly from your WooCommerce store.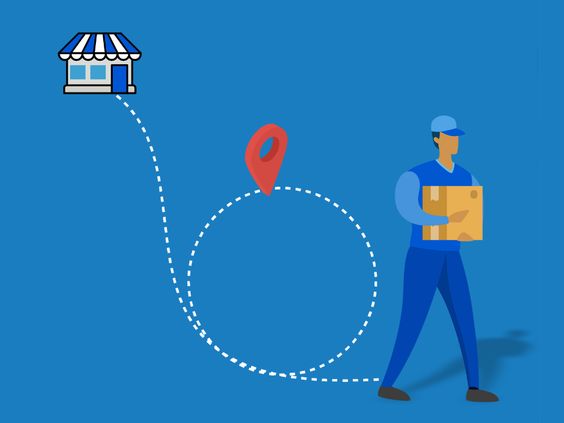 Schedule Pickups and Track Chilexpress Packages in
Real-time
Schedule Chilexpress pickups for all your orders, generate manifest and track your Chilexpress shipments in real-time.
AUTOMATE Chilexpress shipping on your WooCommerce store
Integrate Chilexpress with your WooCommerce store using PluginHive WooCommerce Shipping Services.
PluginHive WSS completely automates the order fulfillment process by displaying Chilexpress shipping rates at checkout, printing Chilexpress shipping labels in bulk right from the WooCommerce dashboard, and automatically fulfills the WooCommerce orders along with Chilexpress shipment tracking in real-time.
Display Live Chilexpress Shipping Rates at WooCommerce Checkout
PluginHive WooCommerce Shipping Services displays live Chilexpress shipping rates at the WooCommerce cart and checkout based on the product weight & dimensions.
It uses your own Chilexpress account credentials to calculate the shipping rates. So, you can display the discounted shipping rates for your account.
Automatically Select Cheapest Chilexpress Shipping Service for Order Fulfilment
If you provide free shipping or flat-rate shipping to your customers, PluginHive WSS will automatically select the cheapest available Chilexpress shipping service and lets you print the labels in a single click.
Download & Print Chilexpress Shipping Labels from WooCommerce Dashboard
Print Chilexpress shipping labels for different Chilexpress domestic and international shipping services selected by the customer.
Request Chilexpress Pickups from your WooCommerce store
You no longer have to log in to the Chilexpress account to request a pickup for the orders. You can request Chilexpress pickups for the shipments directly from the WooCommerce dashboard.
Automatically Mark WooCommerce Orders as Completed
Save time and effort by automatically marking all your WooCommerce orders as Completed.
Select all the orders and click on Mark As Shipped option to fulfill them in a single click.
Download Chilexpress Shipping Manifest right from WooCommerce Dashboard
Get an automatically generated manifest for your Chilexpress shipments as soon as you mark the orders as Shipped. The manifest will contain a list of shipments that are to be handed over to the Chilexpress agent when they pick up your package. 
The manifest for daily shipments is available under the Manifest tab and can be printed with a single click.
Track WooCommerce Chilexpress Shipment in real-time
The Chilexpress shipment tracking number is automatically added to the WooCommerce orders. You can use the tracking number to track your shipments to ensure timely deliveries.
This tracking number is also sent to the customers via order completion email so that they can track their orders without having to call you for the delivery status.
The Live Shipment Tracking Dashboard lets you monitor the delivery status of all the orders within your WooCommerce store. The order status is also updated automatically as soon as Chilexpress updates the tracking status.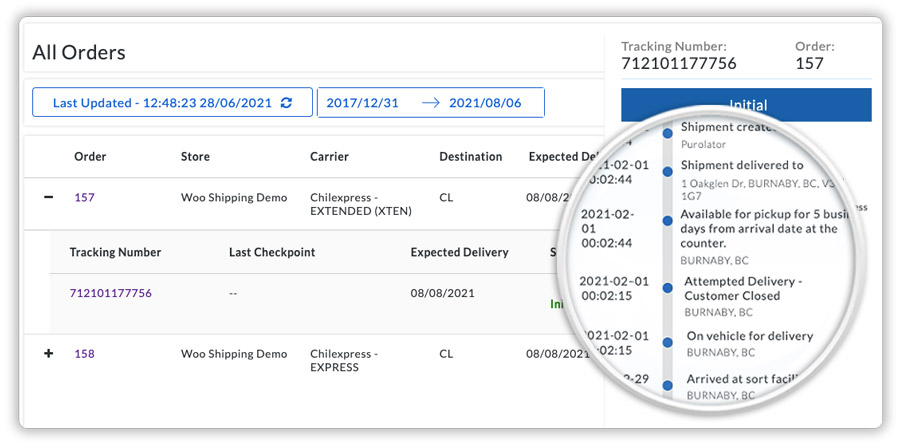 WooCommerce Chilexpress Shipping Rates, Labels & Tracking

Integrated WooCommerce Chilexpress Shipping Solution
PluginHive WSS is an integrated Chilexpress shipping solution that lets you display Chilexpress shipping rates on the WooCommerce cart page, lets you print Chilexpress shipping labels, pickups requests & track shipments from your WooCommerce dashboard.
Support for Chilexpress Shipping Services
You can choose from a list of Chilexpress shipping services, based on your business requirements and display them on your WooCommerce store. This way you won't require multiple shipping solutions to ship using different services.

Multiple Parcel Packing Methods
You get complete control over how you want to pack the products. You can choose from the cost-effective Weight-based packing or the Box-packing if you use your own custom boxes to ship the products.

WooCommerce Chilexpress Shipping Cost Adjustment
You can adjust the Chilexpress shipping cost for each shipping service as per your requirements. You can add a fixed handling fee to the shipping cost and even provide a percentage discount to the customers.
Cheapest Chilexpress Shipping Services
If you provide free shipping or a flat-rate shipping to the customers, the plugin automatically chooses the cheapest Chilexpress shipping service for order fulfillment.

WooCommerce Chilexpress Order Tracking
The Chilexpress tracking number is attached to each order while generating the shipping labels and allows you to view the status of all the orders from the Tracking Dashboard within the WooCommerce store.

Chilexpress Shipping Automation for Multiple Vendors
PluginHive WSS allows your vendors to carry out shipping using their own Chilexpress carrier account with the help of WooCommerce multi-vendor solutions like DOKAN & WCFM.
why choose PluginHive WooCommerce ChilExpress Shipping Solution?

1000+ Five Star
Customer Reviews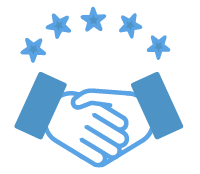 98% Customer Satisfaction Rating
for Fast & Excellent Service

Best WooCommerce Shipping Integrations
with 5+ Years of Existence
Supported ChilExpress Shipping Services
Chilexpress Ultra Rapido

Chilexpress Priority PREX

Chilexpress Express
Chilexpress Extended XTEN

Chilexpress Extreme XTRE
CREATE A Chilexpress SHIPPING ACCOUNT

This plugin requires you to have your own Chilexpress shipping account to get the live shipping rates on the WooCommerce cart & checkout page. If you do not have a Chilexpress shipping account, follow the steps below to get one without any hassle.
Setting up Chilexpress Shipping with WooCommerce Shipping Services

Within the PluginHive's WooCommerce Shipping Services dashboard, visit Settings and add Chilexpress as your preferred shipping carrier

Enter the Chilexpress account credentials including the Company Name, Account Number, Username and Password and enable the Production Key.

By default, all the available Chilexpress shipping services will be enabled. You can select the preferred shipping services within the Rates Automation.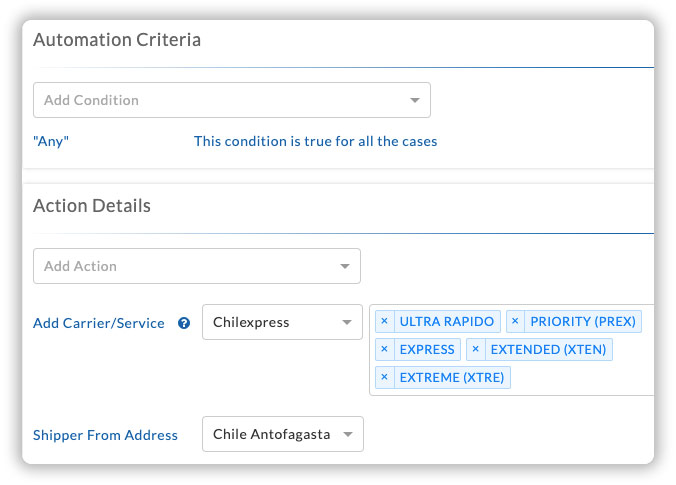 For more details, you can check out the PluginHive WooCommerce Shipping Services set up guide by clicking the link below.
How to Set Up?