Being one of the oldest mail delivery systems in the world, Royal Mail is the best choice for delivering parcels and mail throughout Great Britain and internationally. The best part about Royal Mail is that, it delivers mail to the whole of the UK, dedicated to reaching every customer.
For businesses based on eCommerce platforms like WooCommerce, Shopify, Magento or BigCommerce, you will need a "Client ID", "Client Secret", "Username" & "Password" to automate your Royal Mail shipping with any shipping solution. Follow the below steps to get the required Royal Mail account details.
---
On this Page
---
For any eCommerce store owner using Royal Mail to handle the shipping process, the below applications help you integrate Royal Mail with your online store and automate the complete shipping process.
Signup for a Royal Mail Business Account
Head to Royal Mail website to register for a business account.
Add all necessary details related to your business including business name, address, etc.
---
Verify, Activate & Set a password for your account
Once the account is set up, you will get an email to verify and activate your account.
After your account is activated, the page redirects to set a password for your account.
---
Register for an account at the Royal Mail API Portal
Head over to the Royal Mail API portal to register for an account.
---
Find the right APIs for your business requirements
After you create the free API account with Royal Mail, head over to the "API Library" to find the required APIs for your business. For example, if you require shipping & tracking functionality, choose the following APIs;
Royal Mail API Shipping V3 (REST)
Royal Mail Tracking (for Server-side app) v2 REST API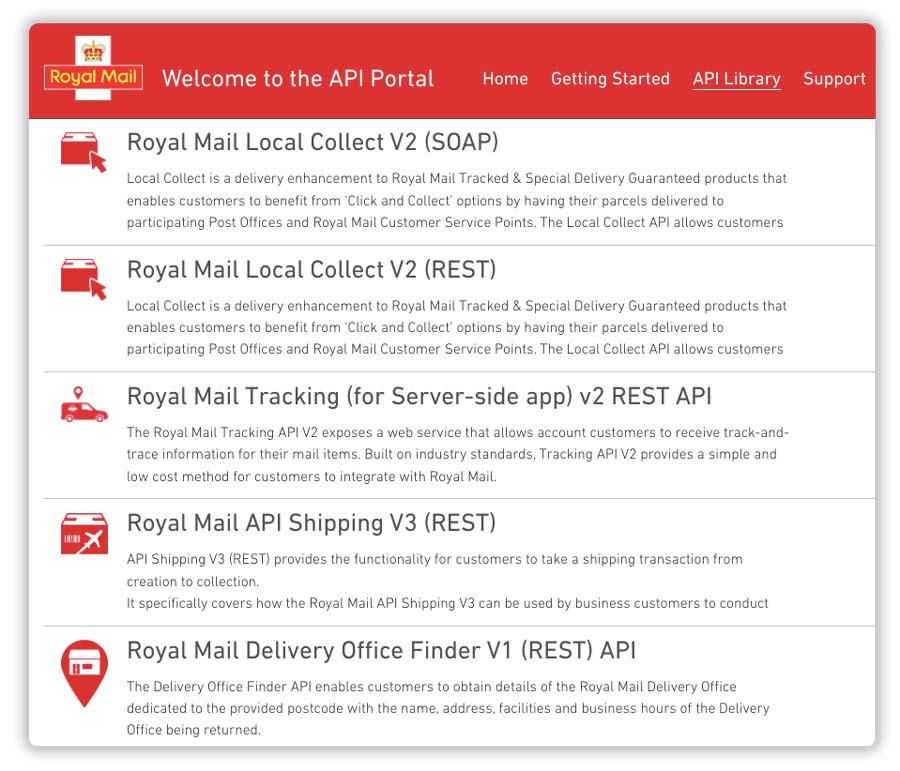 ---
Register the application under your Account
Once you have chosen the required APIs, you'll need to register your application in the "My Apps" section of your account.
When you register, your application is allotted a unique client ID and client secret. These details will be used to identify your application when you want to use any Royal Mail API.
---
Subscribe to the required Royal Mail APIs and initiate API Integration
After you've registered your application, simply select and subscribe to the API you want. If the particular API is subject to approval, the process will take at most one week.
After the process is completed, please contact your Royal Mail account manager or Business Helpdesk to initiate your API integration.
---
Integrate Royal Mail Business Account with your eCommerce store
Once you get the Client ID, Client Secret, Username & Password, you can integrate Royal Mail with your eCommerce store (Shopify, WooCommerce, BigCommerce or Magento) and start shipping.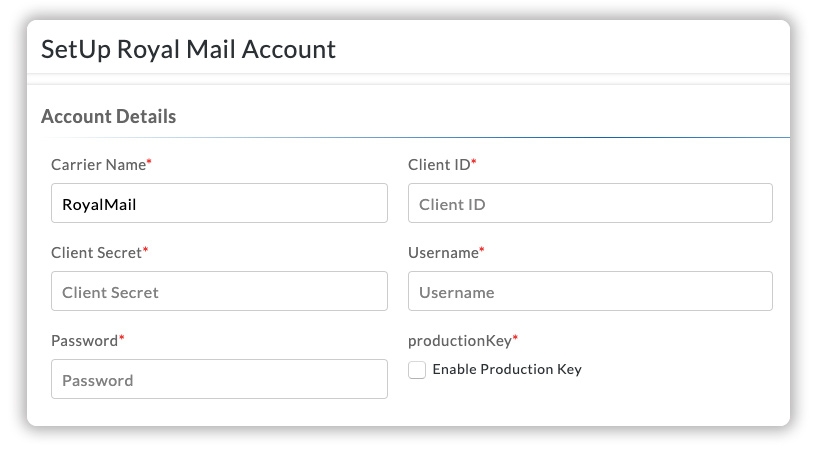 ---
PluginHive allows eCommerce merchants to streamline their Royal Mail shipping process right from cart to customers' doorstep through real-time shipping prices, tracking options, automation of shipping labels and more. Learn more about integrating PluginHive shipping solutions into your eCommerce store by reaching out to our customer support team.