Now is the best time to open your eCommerce business. Online shopping has skyrocketed in Canada over the past year. Canadians now do 10% of their shopping online. That means shopping doubled during the pandemic and is still going strong.
Opening an online business is a process and deciding which eCommerce platform to use in Canada is only one decision of many. Thankfully, we can help make this decision a little easier for you so you can spend more time focusing on your product and meeting your customers' needs.
We've done our research and are here to provide you with the best eCommerce platforms in Canada based on cost, functionality (such as easy integration with automated shipping apps), and ease of use, and how they compare to the giant, which is Shopify.
---
Shopify Canada
Shopify has a special place in most Canadian hearts. It's a Canadian-based eCommerce platform that has taken an active role in the community as well as providing Canadian companies with a user-friendly platform to do business. Shopify's tagline is that anyone anywhere can start an eCommerce website. Every website is important to Shopify. You don't need to be a tech guru or business giant to get started.
Shopify is searched on Google almost three times as much as our second top eCommerce platform (Wix).
The perks of Shopify? No transaction fees when using Shopify Pay, lots of payment options (more than most other providers), hundreds of features, and amazingly scalable with your business!
The cost of Shopify: Depending on the features and functions you require, Shopify offers different monthly plans. Basic Shopify is about $29 per month, Advanced Shopify is about $299 per month, and Shopify Plus is usually around $2000 per month.
We don't want to declare a winner too soon, but Shopify is definitely hard to beat in Canada. With this in mind, we're going to compare the other top eCommerce platforms to Shopify so you can get a better idea of how they rank.
---
Wix vs Shopify
Wix is the second most searched eCommerce platform Canada. That's understandable based on the great features that Wix provides. Not only can you build your website using their easy click and drag function, but you can also build your online store and integrate other applications with ease. For example, when it comes to printing Canada Post shipping labels, both Shopify and Wix make it easy for you to unite your own preferred apps with their platforms. If you're a small business that prefers having a little more creative freedom without the need for more "salesy" types of features, then Wix could be a great choice.
The cost of Wix: The pricing for Wix eCommerce starts at about 23$ a month for their basic plan. If you need more features, such as the ability to sell in multiple currencies or automatic sales tax based on the customer's location, then you'll need to upgrade to Premium.
---
Squarespace vs Shopify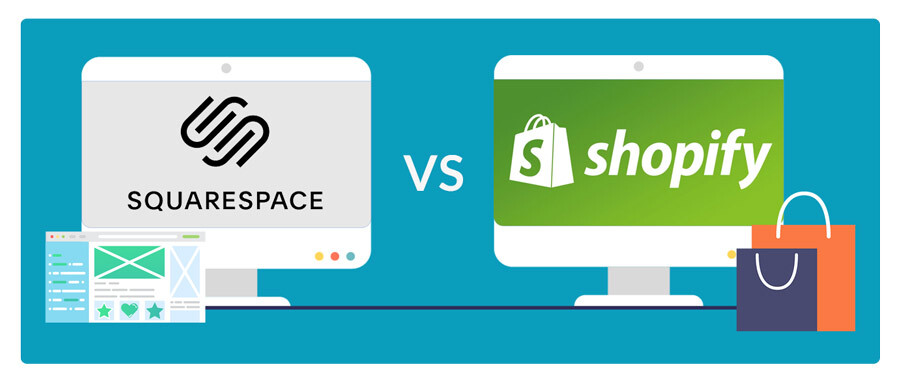 Squarespace is another popular web and eCommerce platform for small businesses that don't require the entire site to be shopping-based. Users typically want a little more freedom to easily design their website without the need for any web design experience. All of the features offered by Squarespace are also offered through Shopify, so it all comes down to your own preference.
The cost of Squarespace: A basic Commerce site on Squarespace is 26$ per month while an Advanced site is $40 per month. With these plans, you can expect 0% transaction fees, eCommerce analytics, and more. Advanced allows you to sell subscriptions, as well as advanced shipping options, however, there are far more shipping options and integrations with Shopify.
---
WooCommerce vs Shopify
WooCommerce is one of our favourite eCommerce platforms because it allows for easy integrations with many of the apps you love, including PluginHive. It's more flexible than Shopify, but you may have more difficulty tracking your spending and we're about to tell you why.
The Cost of WooCommerce: What's great about WooCommerce as it starts as free. You pay for your domain, host, and then for the applications and features you need. So, for example, your domain might be $12 a year and host maybe 5$ per month, and you add two applications at 25$ each, and a theme for $25. You can see how your monthly fee may add up. For many, though, they prefer this freedom over being stuck paying a monthly fee for features they don't need.
---
Magento vs Shopify
Magento is free to install, like WooCommerce and is self-hosted rather than hosted by the platform itself. Shopify, therefore, takes care of all your hosting needs which are important especially if you don't have the know-how yourself or the ability to hire someone to do it. Magento does offer many add-on features such as applications, themes, and security.
The cost of Magento: How much your business pays for Magento is based on how many orders you receive and your online revenue. Usually, you can expect to pay anywhere from up to and around $2000 per month.
If you want to migrate your store from Magento to Shopify, LitExtension will assist you in transferring all of your data precisely, smoothly, and securely.
---
Other eCommerce platforms vs Shopify
There are other eCommerce platforms other than the top 5 mentioned above, such as BigCommerce, Big Cartel, Prestashop, and Opencart.
Each of these eCommerce platforms is great in its own way for Canadian small businesses. They offer their own advantages but are much more easily compared to Shopify, which is usually the clear winner for those who really compare the offerings. You may find their costs are cheaper and you have more freedom to build via your own code and applications. Be sure to check and do your research on whether you can scale your business with these applications and if they offer the opportunity for easy shipping and payment options.
Whichever eCommerce platform you choose, having shipping automation integrated into your website is important for ensuring you don't fall behind on orders, can scale your business when the time arises, and you can save your team time to focus on other business needs.
PluginHive offers a flexible and easy-to-use automated solution for Shopify, WooCommerce, Magento, BigCommerce, PrestaShop, and more! Reach out to PluginHive Support today to find out how to integrate PluginHive into your eCommerce platform.