Are you a Shopify store owner looking to drive more sales and increase your average order value (AOV)? Product bundling is a powerful strategy that can help you achieve these goals. By offering customers related products at discounted prices, you can entice them to make larger purchases, ultimately leading to increased revenue for your business. To help you implement this strategy effectively, we have curated a list of the top Shopify product bundles apps. These apps come equipped with advanced features, customizable options, and seamless integration to provide the best shopping experience for your customers. Let's explore these apps and find the perfect one for your store:
On this page
1. Bundles Upsell – PickyStory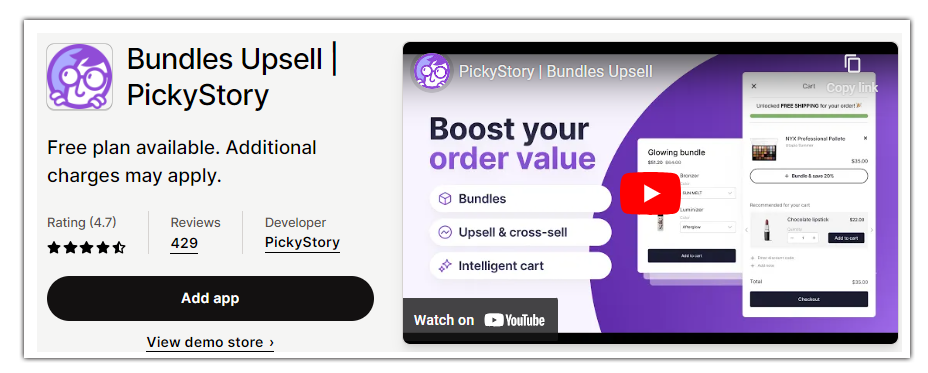 PickyStory offers a complete upsell platform with AI-driven personalized offers, ensuring maximum revenue at every stage of the shopper's journey. From pre-purchase to post-purchase upsells, this app covers it all. Offer bundle builders, shop-the-look options, one-click upsells, and more to maximize your AOV. The app's customizable designs and A/B testing feature help you optimize your upsell offers effectively.
Key Features
Complete upselling platform with personalized offers
Pre-purchase, in-cart, and post-purchase upsells
Customizable designs and A/B testing for optimization
Pricing: Start Free (generate up to $500 with PickyStory), Tier-1 from $49.5
---
2. Rebolt – Shopify Product Bundles
Rebolt Product Bundle is a powerful Shopify product bundle app designed to increase your AOV through enticing discounts. With this app, you can showcase popular products together, encourage mix & match bundles, and offer volume discounts to attract more sales. The bundle builder allows you to create an unlimited number of product bundles, providing you with flexibility and creativity. You can track top-selling bundles and analyze total sales with the help of advanced analytics.
Key Features:
Incentivize customers with discounts on bundle products
Create unlimited product bundles, including mix & match and volume discounts
Track top-selling bundles and analyze total sales with advanced analytics
Pricing: 14-DAY FREE TRIAL, $12.49/month (Advanced)
---
3. Fast Bundle – Shopify Product Bundle

Fast Bundle offers a wide range of bundle types to increase your conversion rates and AOV. Create mix and match, frequently bought together, volume discount, and buy X get Y bundles to offer more choices to your customers. The app also supports combo products, perfect for creating bundles as single products, kits, and sets. With multilingual and multicurrency capabilities, you can cater to a diverse audience.
Key Features:
Various bundle types, including mix and match and frequently bought together
Combo products for single products, kits, and sets
Multilingual and multicurrency capabilities
Pricing: FREE (Up to $500 of monthly bundle sales) – PREMIUM ($139.99/month)
---
4. Easy Bundles – Bundle Builder
Easy Bundles – Bundle Builder enhances your AOV through customizable upsell bundles and box builder features. Increase gifting options with greeting cards, gift boxes, and videos to promote bundled products effectively. The app seamlessly integrates with your store's UI, providing a distraction-free flow for a seamless checkout. Tag-based filtering facilitates product discovery, making cross-selling tactics a breeze.
Key Features:
Customizable layouts for unique bundles and build your bundles, gifting bundles with greeting cards, gift boxes, and video messages.
Tag-based filtering for product discovery and cross-selling
Pricing: 21-DAY FREE TRIAL, $19/month (Starter Plan)
---
Conclusion
In conclusion, implementing a Shopify product bundle is an effective strategy to boost sales and increase AOV on your Shopify store. These top Shopify product bundle apps offer a range of features and pricing plans to suit your business needs. Choose the one that aligns best with your goals and start maximizing your revenue today