The packaging process has always been a hassle for most Shopify merchants, especially those who sell products of different sizes and shapes. Configuring product weight & dimensions for each of the products, adding different box sizes for your products, choosing the right box based on what the customer orders; the complete process requires a lot of calculations and can still end up with higher shipping rates.
Along with these challenges what if you also have a unique product that needs to be always packed in a separate box? For Eg: A free gift applicable on certain orders or a combo pack of products that cannot be packed with other items?
In this article, we share a hack to manage the packaging and shipping of such unique products. We'll explain how you can add a pre pack to your unique product and simplify the Shopify shipping packaging process with the Shopify Multi Carrier Shipping Label app.
---
On this Page
---
What is Pre packing a product and which businesses require it?
In simple words, pre packing a product means pre-assigning a package/box to a product so that, it is always packed and shipped separately in one package. If you want to send certain products individually and other products in one package, the pre pack option can make the process easier. Getting to the point, there are businesses that require a particular product to be sent separately even though there are other products.
If you are running a store that sends gifts along with the products, you can add a pre pack to the gift item so that, it goes in a separate package.

---
How can Pre packing a product help Shopify merchants?
For example, if you are running a wine store, and you provide a bottle of special wine as gift over a particular number of wine bottles. The gift bottle always need to always go in a separate package and shipping needs to be charged separately. In such cases, adding a pre pack option for the gift wine bottle with make the packing process much simpler.
Consider another example; you have a store that sells sports equipments. One of your items, say, Hiking shoes, comes from a wholesale store in a separate box and you can directly ship it since it comes in a well packed box. In such cases, you can add a pre pack to the Hiking shoes and whenever someone orders them, it will be shipped separately.
One more example to make things clear! Assume a store sell bottle of different spices (or anything) in two ways. The customer can buy a combo pack of spices, or they can select a particular variety of spices and buy it in multiples of 6 bottles. You want to charge the shipping for combo box separately and have one package for a combo box. In such cases, you can apply pre pack to the combo box so that, it is shipped separately in a single box.
For all the three stores, pre packing the product has helped to simplify the packing process and ship the items without any dilemma.
---
Pre pack your product with ease using the Shopify Multi Carrier Shipping Label app
The Shopify Multi Carrier Shipping Label app helps you add a pre pack to any of your products so that, the product is packed individually and charged separately for shipping.
To add pre pack to a product, head to Products –> Select the Product –> Head to shipping section.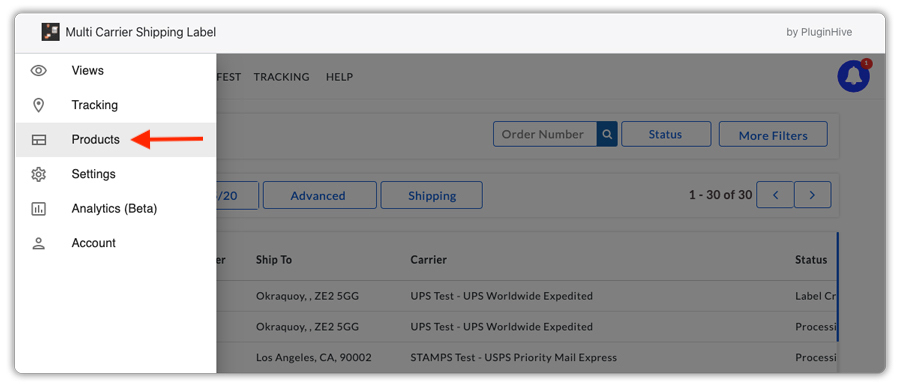 Choose the "Edit" icon and enable "Is this a Pre Packed product", as shown in the below image.
---
How does it work?
As shown in the above section, the Pre pack option is added for Running shoes. Now, if a customer orders Running shoes along with any other item (say two hiking shoes), the running shoes will go in a separate box and two nos. hiking shoes will go in a separate box, as shown in the below image.
Now, the running shoes will be sent in a separate box and shipping cost will be charged separately for this item.
---
To know more on the different packing methods available in the app, check out the guide on packing methods in Shopify Multi Carrier Shipping Label app. If you have any queries or need help with the Pre packing process, do contact our support.