While there are hundreds of shipping carriers available to choose from, USPS continues to be one of the best shipping options for almost any online business operating in the US today. USPS helps to grow your online store by reaching nearly every residential and business address in the country on a daily basis.
To use USPS shipping services & other USPS special services, one must first create a USPS account. In this article, we'll show you how to set up your USPS account and explain USPS e-VS, a cost-effective strategy for merchants who send a high volume of packages regularly.
---
On this page
How to create USPS account?
What is USPS (eVS) or Electronic Verification System?
How to apply for USPS e-VS?
What are the advantages of USPS e-VS?
USPS eVS easy integration for your eCommerce store with PluginHive Shipping Solution
---
How to create a USPS account?
First, go to https://www.usps.com/
Click on the "Register/Sign In" link on the header bar at the top of the Homepage and then click "Sign Up Now."
Enter a username and then click & check if the entered username is available. If it is not available, the system will provide recommended usernames that are available. Choose the desired password and enter it in the two different fields.
Choose two security questions and respond to each.

Select the account type: Personal account or Business account & then enter your contact information including; name, address, phone number, and email address.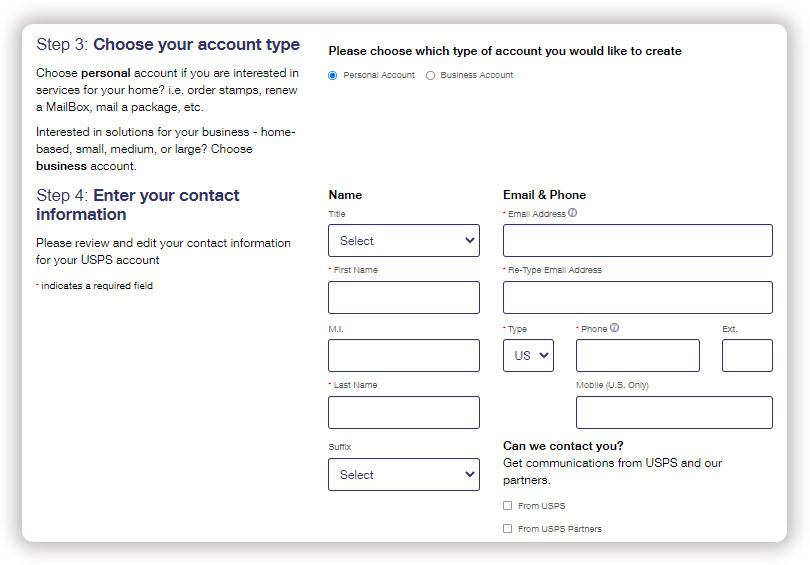 Finally, click on the "Create Account" button
Once the details are entered and you have successfully registered, you'll receive a USPS User ID. The user ID gives you access to track your packages, rates, and service delivery standards APIs with USPS.
Having your own USPS account helps you ship with USPS shipping services, fetch accurate postage rates, secure deliveries with insurance, provide weekend delivery, use USPS flat rate boxes & many more. Also, having your own account means you can follow up on delayed packages or any other issue directly with the carrier and get it resolved rather quickly.
Since USPS is the largest & cheapest shipping option, nearly many businesses ship large volumes of packages every day. So, to help such businesses that ship a high volume of orders USPS introduced the Electronic Verification System (eVS).
One important point to note here is that for having a USPS e-VS account you need not have to have a USPS account.
So, how can you use this?
Let's see how you can create a USPS (eVS) account & why it is going to be beneficial for your business.
---
What is USPS (eVS) or Electronic Verification System?
The e-VS, or Electronic Verification System, allows merchants who ship high-volume packages to document and pay postage, using electronic manifest files. Basically, the USPS e-VS is designed to make it easy for eCommerce store owners who ship regularly to save both time and costs.
---
How to apply for USPS e-VS?
To use e-VS or Electronic Verification System one needs to follow the steps below:
Complete the application found in the technical guide. For a copy of the e-VS Technical Guide contact:

[email protected]

Submit electronic Microsoft Excel spreadsheets that include the list of the Post Offices by area, district, and sectional center facility where mailings will be deposited, along with estimates of frequency and an average number of packages deposited at each office.
Computer software must meet e-VS electronic file and barcode specifications. If you are participating in the Confirmation Services program, you have already met the majority of these requirements.
Complete the Confirmation Services Certification process if you have not already done so.
Develop and administer effective quality assurance procedures that ensure the integrity of the system.
Complete and submit PS Form1357-C, Customer Request for Web Access.
Successfully complete a parallel run during which you must present mailings in accordance with both existing Plant Verified Drop Ship requirements and e-VS requirements.
Enter into a service agreement with the Postal Service.
---
What are the advantages of USPS e-VS?
If you have an eCommerce store that has a relatively higher number of packages to send, USPS e-VS can offer you several advantages like streamlined & cost-effective shipping. Let's see some of the benefits of using e-VS in greater detail:
You will be given a single national permit for all of the locations from which you ship.
When you have a large number of shipments to deliver on a regular basis, it is a more cost-effective choice as there is no need to pay annual mailing permit fees.
Shipping with USPS becomes more efficient and simple. Furthermore, you do not need to be concerned about the original post office's operating hours. You will be able to arrange a convenient appointment time to enter your packages into USPS.
It significantly reduces paperwork because shipping documentation can be managed electronically. As a result, paper manifests and other documentation are no longer required.
---
USPS eVS easy integration for your eCommerce store with PluginHive Shipping Solution
PluginHive is a USPS e-VS certified shipping solution. It provides you with a seamless USPS eVS integration for your Shopify & WooCommerce store with Multi Carrier Shipping Label app & WooCommerce Shipping Services respectively. All you need to do is follow these steps to configure it in your online store: Settings>Carriers>USPS (eVS)
Once you click USPS (e-VS) you have to set up your account by filling up with the account credentials as shown below:
So you are set for shipping your packages with a USPS eVS account!
With the PluginHive shipping solution, you can now configure a USPS eVS account in your Magento and BigCommerce store as well.
To know more about this & other shipping automation-related queries for your eCommerce store reach out to our support team.
---