It doesn't matter if you're an independent hotel owner or run a hotel chain, you need guests. But it won't be exactly a revelation if you find your potential guests online. In fact, that's very true.
Your chances of capturing new guests would depend on how good is your online booking system. Which is why in this guide, we are going to help you understand why an online booking system like WooCommerce Bookings plugin is so important for your Hotel. Read along and find out more.
What exactly is WooCommerce Bookings plugin?
The WooCommerce Bookings and Appointments plugin, one of its kind, is a universal booking solution for WooCommerce/WordPress users. It's capable of automatically scheduling days and corresponding length of stay for the guests. Admins, on the other side, don't have to sit for hours waiting to approve the oncoming bookings.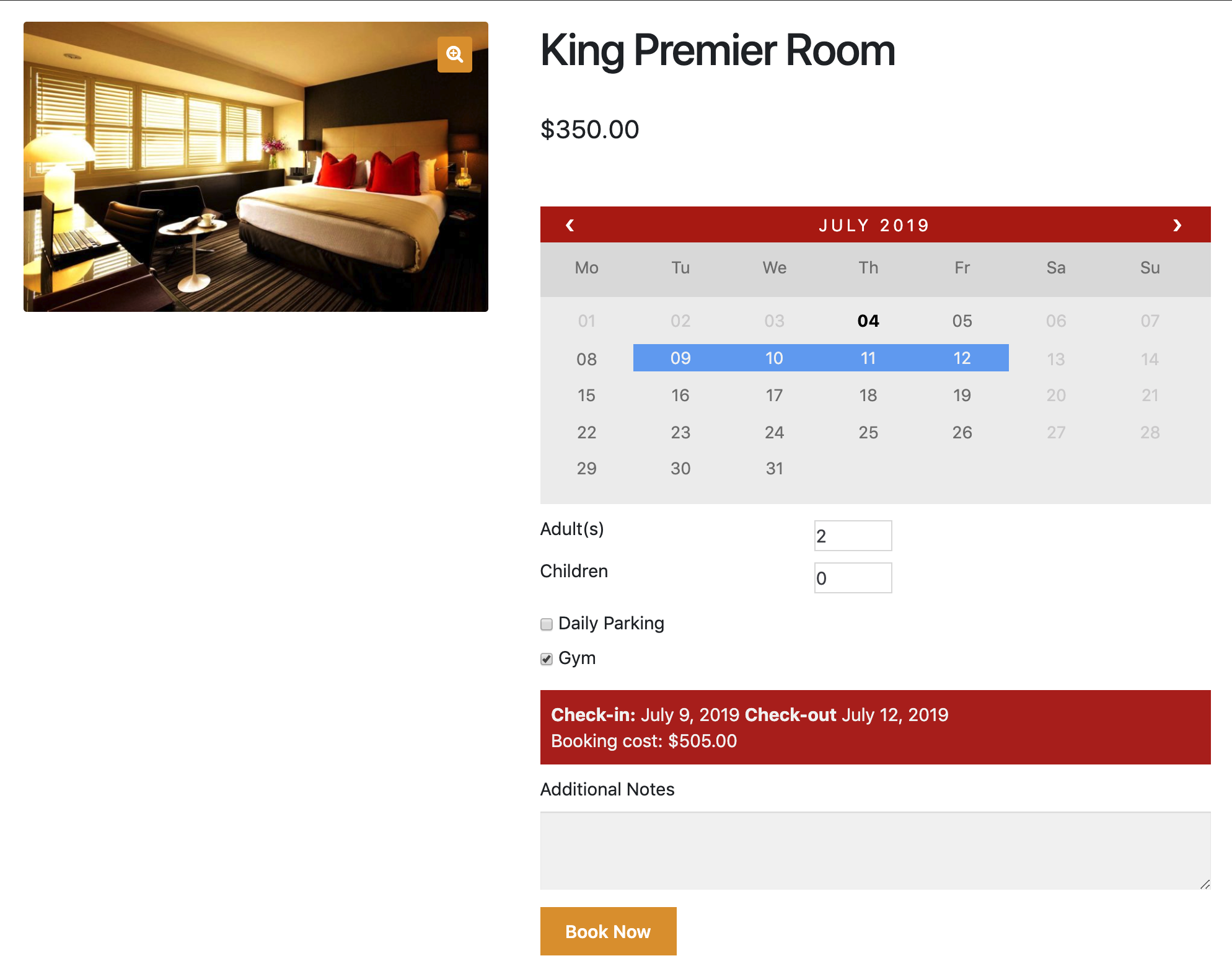 Guests can choose the room type and the length of stay by selecting the start and end date on the calendar. The booking calendar will display the booking prices and other necessary information right below the calendar. The prices are calculated dynamically so there's no chance of mistake.
The plugin enables admin to offer customer additional niceties like wine, flowers, fruit, extra bed, etc., This is an advanced feature which is not available in most of the WooCommerce Bookings plugin out there. You can learn more about the WooCommerce Bookings plugin here.
Who is it for?
An online booking or reservation system, though it might sound like a tool used at the reception desk, is actually a type of software that enables guests to book their stays on their own. That way, they can complete the transaction quickly and efficiently right from their home. So, in a way, you don't need anyone to be actually present in front of the computer or phone all the time.
Another thing is the entire process is really simple and there's no need for your staff members to manage anything. Unless your business requires you to confirm the booking instead of the conventional patch-through bookings. Yes, that's right, this plugin allows admins to set up a booking confirmation process and only upon the approval of the admin, guests' booking would be accepted.
How do you make it work?
Like any other WordPress plugin, WooCommerce Bookings and Appointments doesn't take long to set up. The process is quite simple and easy to come by. And since the installation process takes hardly any technical expertise, you would save money by not having to hire a trained developer.
So once you're done with the 'click-through' installation process, you would be welcomed with a back-end where you can set up your booking conditions. You get the liberty to set the booking durations, pricing, availability of your rooms, and other advanced features like additional services and activities.
Learn more about the booking setup and installation process.
What benefits should you expect from WooCommerce Bookings plugin?
WooCommerce itself is quite an extensive and flexible e-commerce platform. You can achieve almost anything if you know how. With this booking solution, bringing in a similar concept again, you can set up any booking-based business including your hotel booking.
But what are the benefits of using such a solution for your hotel? How can a hotel business take advantage of the WooCommerce Bookings plugin? Let's check out the range of benefits that this solution brings.
Less work for you, and the office
When guests book their own stays, the reservation simply pops up in your booking system. This data is accessible under the admin's dashboard where each booking comes with all details intact. So all you have to do is get ready for their arrival when the time comes. This allows your staff members more time to tend to their other tasks.
Reduced chances of losing a reservation
Human error is a far less significant factor when you allow guests to put in their dates and specificities themselves. However, even if something goes wrong, you could take back the wheel in the back-end. This way you could still provide them with a solution while keeping your reputation protected.
Every feature in the plugin is calculated, synchronized, and programmed in such a way that there's no chance of two separate bookings colliding together. The plugin allows you to modify the bookings. Cases when a customer wants to, for some reason, change the dates of the booking, you can step in and change the dates for him/her.
Receive bookings 24/7
Unlike conventional hotel booking methods, an online booking system would be open 24/7 to receive bookings. Which means your rooms would be bookable at all the time even when you're not awake. So rather than being constrained by your working hours, you can accept a countless number of bookings at any moment. Eliminating the need for an admin to verify if the simultaneous bookings end up crashing or not.
Gather important data
An online booking system stores a huge amount of data right into your system. Once you have your guests' data with you, it becomes really easy for your marketing team to promote your business. You can easily learn the number of guests that are traveling when they come, what additional amenities/services they prefer, where they live, so on and so forth.
Such data also enables you to keep your customer service in check. If you and your staff members know what rooms your guests prefer or what food they like, it becomes easier to make the necessary customizations even before they arrive.
Reduce no-shows
Advanced online hotel booking systems like WooCommerce Bookings plugin sends automatic reminders to your guests helping them to show up on time. This way your guests would be less likely to miss their booking. Moreover, it displays real-time booking cost on right then and there to avoid any confusion.
In cases when customers do have to cancel or reschedule an appointment for genuine reasons, the time slot is immediately freed up for new bookings. So last-minute bookings can be easily filled, helping you use your time optimally. So all-in-all with WooCommerce Bookings plugin, you get more bookings for your hotels and reduced no-shows.
Handle more simultaneous bookings
Taking bookings calls in between your ongoing hotel booking can be very distracting for your receptionist. It's even more annoying to your guest on the other end of the line. You know your guests are rather busy would like to get full attention when they're ready to pay. It doesn't really give a good impression when you attend calls in between a booking.
Online hotel bookings, on the other hand, will enable you to completely focus on your ongoing service. So instead of spending time evaluating bookings, your admins would have the free time to serve your guests in other ways. Not to forget everything would continue to go in order with WooCommerce Bookings plugin working in the background at 100% efficiency.
Less maintenance cost
Online Booking solutions like WooCommerce Bookings are considered as smart investments. It doesn't require you to handle a bunch of servers or own any sort of hardware to maintain and continue receiving bookings. Your website will hold off to the bookings and store the entire information right then and there.
With WooCommerce Bookings and Appointments plugin, you focus more on the quality of your work and also the more important aspects of your business like marketing, advertisement, and finance. More focus on important aspects means more bookings and more business for you.
Conclusion
It's clear that the online hotel solution, WooCommerce Bookings plugin, is quite an important part of your hotel business. And as hotel businesses increasingly move online, WooCommerce Bookings Plugin allows both customers and businesses alike to take their bookings on the road.
WooCommerce Bookings and Appointments is a great plugin which is simple yet very effective and suits all types of businesses. So go ahead explore and try the WooCommerce Bookings plugin.
If you need any help with setting up bookings on your WordPress/WooCommerce website then feel free to Contact PluginHive Customer Support.
Good Luck! 😊