As a part of the European Union, Britain enjoyed many concessions on eCommerce transactions with other countries in the EU.
Impact of Brexit on the eCommerce industry can be seen by how transactions are conducted now between Britain and the European Union. Significant points to consider are EORI number, HS Tariff code, currency, and country of origin, which impact how duties are imposed at international borders.
In this article, we have elaborated on these points and also discussed how carriers like UPS were able to cope with the changes of Brexit without affecting the operations between Britain and the European Union.
Impact of Brexit on International Trade and International Shipping
With eCommerce, business owners have been given an opportunity for growth, and it has allowed people to shop for their favorite products from any country. A person from France can order from a British store and expect it to be delivered to his doorstep.
Although this was a smooth process before Brexit, there have been quite a few changes in shipping products from Britain with the new rule. Whereas the long-term effects are yet to be seen, there have been a few significant short-term changes.
Here are the major points to consider in international shipping between Britain and the EU.
Trade Agreements
Under the previous free trade rule between the European Union countries, no duties or taxes were applied to imports and exports between the United Kingdom and Europe. Now, Britain has to draw up trade agreements between each trading country to finalize rules and regulations. These trade rules make it easier for individual countries to continue international transactions without pause.
EORI Number
Every company that operates by importing or exporting into and out of the European Union, respectively, is assigned a unique number – Economic Operators Registration and Identification number (EORI). With Britain's exit, any business conducting international trade will need an EU EORI number. This number will be printed on the commercial invoice along with all information about a shipment. In case a company has a VAT number, the EORI number is based on this number. With an EORI number, customs authorities can identify your company and speed up the process of customs clearance.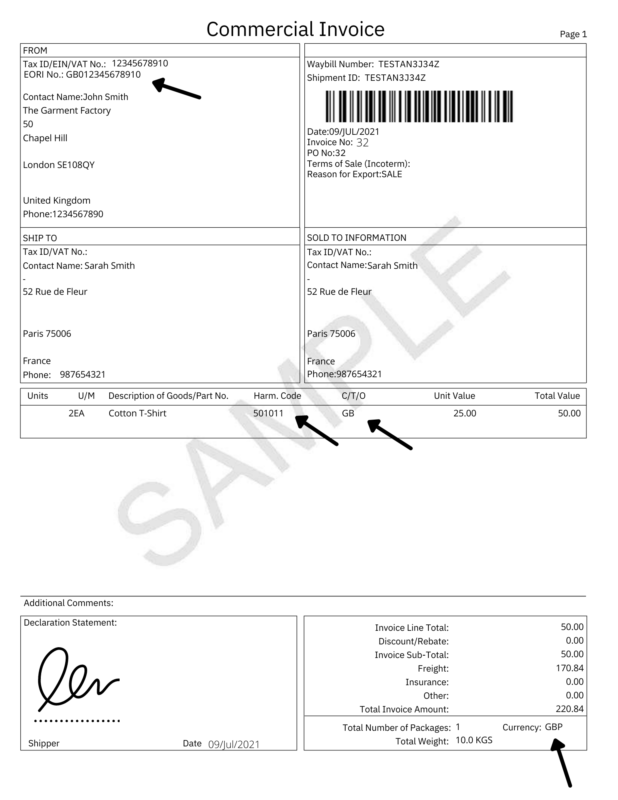 Commercial Invoice
International trading between the UK and the EU will also need shipments to include a commercial invoice. With the free trade agreement between Britain and the EU, there was no need for a commercial invoice for international shipping. However, with Brexit, any international trade between the UK and the EU will need a commercial invoice with all the relevant details need to conduct trade.
HS Tariff Code, Currency, and Country of Origin
Any product that comes in or goes out of the country needs to be disclosed at customs to ensure that correct duties and taxes are paid. In addition, the country of origin, the currency transacted, and the HS Tariff code needs to be accurately provided to calculate duties and taxes on a shipment. Furthermore, having the currency mentioned in the invoice could save the shipper from unnecessary charges levied due to inflation or any fluctuation in foreign currency. Shipping software like PluginHive's UPS Shipping plugin allows a store owner to input the HS Tariff code and country of origin for each individual product.
---
Note

If you are shipping from UK to EU from 1 March 2023, all the shipping carriers must communicate, prior to departure, these data to EU customs authorities about all shipments entering the EU, Norway, and Switzerland by air, regardless of origin, in order for the shipment to clear customs.

---
How Did UPS Manage the Effects Of Brexit For WooCommerce Orders
From a general point of view, there has been no change for UPS in fulfilling WooCommerce orders. In the earlier scenario, any transaction between Britain and the EU was considered as domestic shipping and required no commercial invoice.
With Brexit, Britain is no longer a part of the EU, and any WooCommerce orders beyond the borders to the European Union will be considered as an international shipment. UPS Paperless Commercial Invoice is a convenience offered by UPS for all its international shipments. For shipping between Britain and the UK, this paperless invoice will now become part of the shipping documents. The invoice will be helpful in assigning custom duties and taxes on the shipments.
Automatic shipping software like PluginHive's WooCommerce UPS Shipping Plugin has integrated this paperless invoice option into its settings. Once an order has been processed, the commercial invoice is available for printing. The plugin also provides its users real-time rates picked up from the UPS database for the destination address.
For WooCommerce owners, with this UPS plugin, the shipping process is entirely automated. Once the UPS service has been chosen, the commercial invoice and the shipping labels can be printed. Based on the information on these documents, UPS will deliver the orders swiftly with minimal delays. To ensure that a shipment is on time, the plugin also allows you to track your shipment at all checkpoints.
To know more about how the plugin works and how the features can help you in shipping within your borders and beyond visit the product page for WooCommerce UPS Shipping Plugin. If you have any questions about the plugin, contact PluginHive support.