WooCommerce UPS Shipping Plugin is a WordPress / WooCommerce extension that helps you completely automate UPS shipping by displaying real-time rates in cart/checkout page, pay postage & print label from within your WooCommerce store, choose boxes automatically and enable tracking.
Get real-time UPS Shipping rates.

Generate labels Manually or Automatically as soon as the order is placed.

Track your shipments from within WooCommerce or get your customers notified via email.

Get UPS Email notifications for the label generated.

Create Shipments in Bulk.

Schedule Pickups for your UPS shipments.

Supports both domestic and International Shipping.

Supports UPS Freight Services.

Supports Surepost Services as well.

Allow your customers to drop their shipments at UPS Access Point locations.

Multi-Vendor Support with Dokan Multi-Vendor Plugin.
HOW DOES

IT

WORK?
Step 1: Install the Plugin, input your UPS Account details and enable UPS Shipping Method for WooCommerce.
Step 2: Customer sees UPS shipping rates based on items in their cart before placing an order.
Step 3: Pay Postage, Print Label and Generate Tracking info from within WooCommerce order page.
Note: 
Adding weight attribute to all the products is a pre-requisite for the UPS plugin to work.
MAIN FEATURES
Live Shipping Rate: Based on the product weight, box dimensions, shipping destination etc., this plugin fetches postage rates from your UPS account for both domestic and international shipping services using WooCommerce ups shipping calculator. You can choose to display default UPS list rates or account specific(negotiated) rates. There is an option to set conversion value in case the shop uses a different currency.
UPS Shipping Methods (Domestic): Get prices for following domestic shipping services.
Next Day Air

Early Next Day Air

Next Day Air Saver

2nd Day Air AM

2nd Day Air

3 Day Select

Ground

Standard
UPS SurePost Services: Supports UPS SurePost services which provide the convenience of UPS shipping and USPS-delivery to customers' mailboxes
Freight Services: UPS Freight offers a full range of freight services for heavyweight shipments over 150 lbs. Our plugin offers the following freight services:
Worldwide Express Freight

Freight LTL

Freight LTL – Guaranteed

Freight LTL – Guaranteed A.M.

Standard LTL
UPS Shipping Methods (International): Get prices for the following international shipping services with International Price Calculator.
Worldwide Express

Worldwide Express Plus

Worldwide Expedited

Saver
Shipment Tracking: Shipment Tracking: The tracking number returned from UPS while generating the label is included in the order notes and sent to the customers via the order completion email. This enables easy Shipment Tracking for customers and shop owners.
Parcel Packing: Configure the plugin to automatically determine how items should be packed. This information will be sent to UPS while creating shipment online. You can choose to
Calculate shipping on the basis of order total weight.

Pack into boxes with weights and dimensions.

Pack items individually.
Services: Enable/disable, edit the names of, and add costs to services
Handling Fees: Set up handling fees based on the rules you define
Print Shipping Label: Woocommerce UPS plugin automatically generates professional shipping labels of different sizes as soon as the customer completes an order on your WooCommerce store (which you can print with a single click). You just need to enable the Automatic Label Generation feature in the advanced plugin settings. The plugin sends shipment details to your UPS online account and generates the shipping label (GIF/PNG/ZPL/EPL), which you can print by clicking the Print Label button. Postage is automatically paid on these labels using your UPS account.
There is an option to change the shipping service and box/parcel dimensions manually before generating the label (if automatic label generation is not enabled). You can set a default service for printing the label. This plugin integrates with UPS Label APIs to print domestic or international shipping labels with a tracking barcode. The plugin also supports printing label in different sizes according to your specific requirements. These are professional labels with address validation (city, state, and postal code) for addresses in the United States.
Bulk Shipment Creation: No need to individually prepare your shipments for processing. WooCommerce UPS plugin allows you to create shipments in bulk thereby reducing the number of steps to order fulfilment drastically. The shop-owner must only select the orders, create shipment for them in one single step and then print the labels as per his convenience.
10,000+ Active Installs
135+ Customer Reviews
97% Customer Satisfaction Rating
OTHER FEATURES
Supports Residential delivery

Use Pounds/inches or Kilograms/Centimeters

Option to Set Customer Classification Code

Offer all returned rates or cheapest

Enable Insurance(Set your own insurance amount for every product)

Choose UPS WooCommerce standard packaging options

Collect On Delivery

Set fallback rate in case WooCommerce UPS doesn't return any rates
Supports Declaration Statement with Commercial Invoice for international shipping

Option to switch between Test and Live mode. Transaction in test mode will be treated as sample transactions by UPS

Supports Direct delivery option at the product level

Supports HS Tariff code at the product level

Supports Estimated delivery option

Supports Volumetric weight option

Supports Bulk label printing in pdf and image format

Send label to shipper and customer.
They did an amazing job at finding the right solution for our request, and was very patient when I had to wait on client answers.
I have a lot of experience contacting support teams for several plugins and PluginHive is amongst the best.
I was not familiar with PluginHive until I had to solve a problem on this particular site. Will think of PluginHive now first if I need a WooCommerce plugin.
Thanks so much!
Superior plugin and excellent support staff. I needed a small customization of the plugin and the team happily assisted with our request. I have tried the Woocommerce version, Extension Works and this plugin. I highly suggest this plugin over the others available. Especially, when support is this responsive. Two thumbs up!!!!!
10/10 from the support team and a nice plugin to interface with the UPS API. Well recommended
WooCommerce UPS Account Integration
You need to enter the following details for the plugin to work. You can get these details from UPS.
UPS User ID – Get this from the UPS developer site when you signup

UPS Password – As set by you on sign up

UPS Access Key – This will be sent to you after sign up

UPS Shipper Number – This will be sent to you after sign up

Origin Postcode – This should be set to the postcode from which you will ship. It is sent to the UPS API

Origin Country – This should be set to the country from which you will ship. It is sent to the UPS API
WooCommerce UPS Shipping Plugin allows you to
Display Real-Time Shipping Rates from UPS
Print UPS Shipping Label Automatically
Adjust WooCommerce UPS Shipping Rates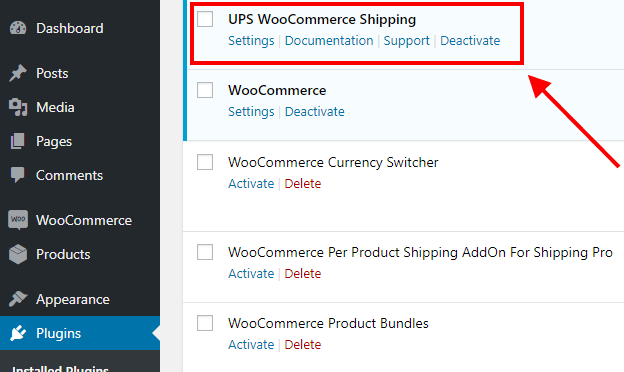 Where to find UPS Plugin Settings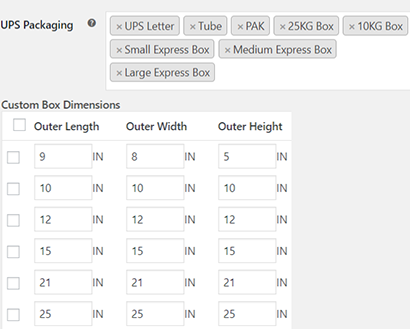 UPS Standard Boxes with Custom Shipping Boxes
Email Notification with Shipment Tracking Details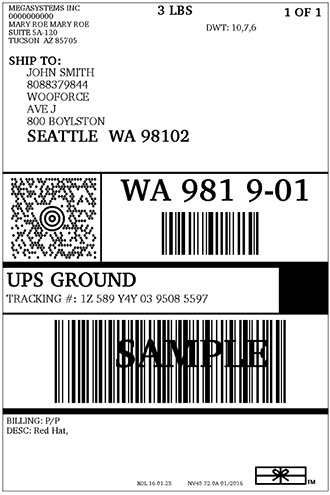 Official WooCommerce UPS Shipping Label