Join the 10,000+ WooCommerce Stores that use
WooCommerce UPS Shipping Plugin
UPS Ready partner: Seamless integration & access key creation

Migration to UPS OAuth 2.0: Upgrading API security for enhanced protection

Get real-time UPS Shipping rates on WooCommerce Cart & Checkout page

Generate UPS Shipping Labels Automatically as soon as the order is placed

Track your shipments from within WooCommerce & get your customers notified via email

Get Email Notifications for the UPS shipping labels generated

Print UPS Shipping Labels in Bulk with a single click

Schedule UPS Pickups for your shipments

Supports UPS Domestic and International Shipping

Supports UPS Freight Shipping & UPS SurePost Shipping Services

Drop shipments at the UPS Access Point Location

WooCommerce Multi-Vendor Support with Dokan Multi-Vendor Plugin (requires WooCommerce Multi Vendor Shipping addon)

UPS Shipping support for Bookable Products using the WooCommerce Bookings and Appointments plugin
WooCommerce UPS Shipping Plugin is a WordPress / WooCommerce extension that helps you completely automate UPS shipping by displaying real-time rates on the cart & checkout page, printing UPS shipping labels & paying postage from within your WooCommerce store, choosing boxes automatically, and sending UPS tracking details to customers via email.
Get REAL-TIME UPS SHIPPING RATES FOR WOOCOMMERCE
WooCommerce UPS Shipping Plugin with Print Label calculates and displays real-time UPS shipping rates based on the destination address.
The plugin supports all the domestic and international UPS shipping services available for shipping.
Print UPS SHIPPING LABELS right from your WooCommerce Dashboard
Download and print 100s of UPS shipping labels with one click using the Bulk Shipment Generation feature.
Select all the orders for which you want to print the UPS shipping labels and click on Print.
SEND UPS tracking details to your customers
Tired of the "Where's my package?" queries from your customers?
WooCommerce UPS Plugin automatically sends email notifications to customers with the UPS tracking details. The tracking details contain the date of shipment, UPS tracking number and the tracking link to let customers track their packages effortlessly.

Main Features of WooCommerce UPS plugin
Live UPS Shipping Rates
Get real-time UPS shipping rates based on the product weight, box dimensions, shipping destination, and more directly on your WooCommerce cart page, checkout page, and individual orders page. You can choose to return either list rates or account-specific rates.
Domestic & International Services
Automate shipping rates from UPS domestic and international shipping services. The plugin would display the shipping rates & print UPS international shipping labels based on the availability of the service.
Track All Your UPS Shipments
Automatically Generate and attach UPS tracking numbers to all your orders while generating shipping labels. This way, you can keep an eye on all your orders as soon as they are shipped.
UPS Freight Shipping for WooCommerce
Ship heavy products using UPS freight shipping services based on your own UPS account. Provide pickup and delivery along with real-time shipping rates for your customers.
UPS Address Classification
Classify your customer addresses automatically as residential or commercial. The plugin makes sure to include surcharges while calculating shipping rates for a residential address.
Display Estimated Delivery Dates
Provide customers with an estimated delivery date for their orders directly on your cart and checkout page. You can modify the delivery dates based on your preferences and stock availability.
UPS SurePost Shipping for WooCommerce
Enable UPS SurePost services and send your packages to the remotest areas for your customers.
Schedule UPS Pickups
Request pickups for all your orders from within your WooCommerce store. Choose from different UPS pickup services based on what serves your business requirements.
UPS Insurance
Safeguard your precious or antique products with UPS insurance. Enable the insurance option and enter a declared value for your products.
Multiple Parcel Packing Methods
Configure the plugin to determine how items should be packed automatically. You can choose to calculate shipping based on order total weight, pack items into boxes with weights and dimensions, or pack them individually.
Ship using the cheapest UPS shipping services
Enable your preferred shipping services or display only the cheapest UPS shipping services on your WooCommerce cart & checkout page.
UPS Commercial Invoice for International Shipments
Generate all the required documents for your shipments for a more relaxed shipping experience. The plugin generates a commercial invoice for all your international shipments with just one click.
UPS Access Point
A complete UPS shipping solution for your WooCommerce store with UPS Access Point to help you safeguard your parcel. The plugin allows you to use an efficient UPS parcel delivery and retrieval method for your orders.
COD Collection Type
Provide UPS COD service on your WooCommerce store. The plugin supports Cash, Cheque, Cashier's Cheque and Money Orders.
Weight & Volume-Based Packing
Combine cheaper shipping rates with the packaging efficiency with weight-based product packing. Take your savings to another level with built-in volumetric weight support for your shipments
Transmit UPS Shipment Data Electronically
Send UPS Electronic Export Information (EEI) Data Document, Commercial Invoice & other customs documents electronically for hassle-free customs clearance of your shipments.
Print All Shipment Documents within WooCommerce
Download & print all shipment documents including shipping labels, commercial invoices, UPS packing slips, Certificate of Origin, NAFTA agreement, Return Shipping labels & many more right from your WooCommerce store.
WooCommerce Shipment Tracking Email Notification
Send customized email notifications to your customers containing shipment tracking details such as UPS tracking number, date of shipment, and a tracking link to let customers know the whereabouts of their orders.
Download & Print UPS Shipping Labels
Print UPS shipping labels directly from your WooCommerce store with a single click. The plugin sends shipment details to your UPS online account, generates the shipping label and charges the postage automatically to your UPS account.
UPS Return Shipping Labels
Manage returns on your store by sending customers a UPS return shipping label. Generate the return within your WooCommerce store or let customers generate and print a return label from the My Accounts page.
Automatically Print UPS Shipping Labels
Automatically print UPS shipping labels as soon as the customer places an order. The plugin generates labels for the services selected by the customers or you can set a default domestic and international service.
Print UPS Shipping Labels in Bulk
Automate shipping on your store with one-click shipping label generation and printing from within your WooCommerce store for all your orders.
ADDITIONAL FEATURES OF WOOCOMMERCE UPS SHIPPING PLUGIN
Supports UPS Residential delivery

Use Pounds/Inches or Kilograms/Centimeters

Display UPS Shipping Cost based on different Customer Classification Codes

Display UPS Shipping Service with the cheapest shipping rates

Supports UPS Insurance & Declared Value for each product

Choose UPS Standard Boxes for packaging

Supports UPS Collect On Delivery

Set fallback rates in case UPS services do not return any rates

Set UPS Freight Classes for your shipments

Supports UPS HazMat Shipping for WooCommerce Simple & Variable Products

Generate UPS Control Log Receipt if the declared value is between $999 to $50,000

Supports UPS Shipment Weight Limits for Israel

Supports UPS Electronic Export Information (EEI) Data Document
Supports Declaration Statement with UPS Commercial Invoice for International shipments & UPS Return shipments

UPS Residential Delivery for UPS Freight Shipments

Supports UPS Direct Delivery option for each product

Supports HS Tariff Code

Displays Estimated Delivery Date on WooCommerce Cart, Checkout & WooCommerce Order Completion Email

Supports Volumetric Weight for Shipping Rate Calculation

Supports Shipping Label Printing in bulk in pdf and image format

Send shipping labels to customers via Email

UPS Freight Shipping Billing Options for Prepaid or Third Party Billing

UPS Freight Shipping with Weekend Pickup option

Attach UPS Movement Reference Number (UPS MRN) to your shipments

Generate North American Free Trade Agreement (NAFTA) for your WooCommerce shipments
Trusted by WooCommerce Store Owners Globally

Great plugin and support. The WooCommerce UPS shipping plugin has saved us a ton a time and streamlined our workflow. I ran into one issue and got an initial response within an hour and an update to the plugin to fix my issue within 24 hours. The support staff were all helpful and friendly.

This is a great solution for my client's site. We needed a solution to make it easy to put products in multiple boxes. The support team is always quick to respond and give a detailed reply.

Great customer service! I had a question about the plugin WooCommerce UPS Shipping Plugin with Print Label and they answered my question within a few minutes. The plugin fits what my customer needed and was easy to configure.
WooCommerce UPS Shipping Plugin allows you to
GET UPS REAL-TIME SHIPPING RATES
Display live WooCommerce UPS shipping methods on your cart/checkout page automatically using your own UPS account.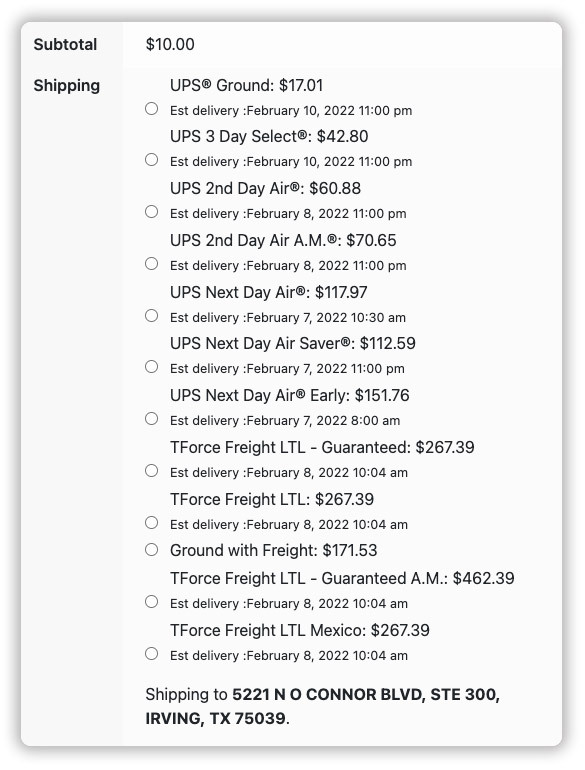 ADJUST UPS SHIPPING RATES
Adjust UPS shipping rates to add handling charges or provide shipping discounts.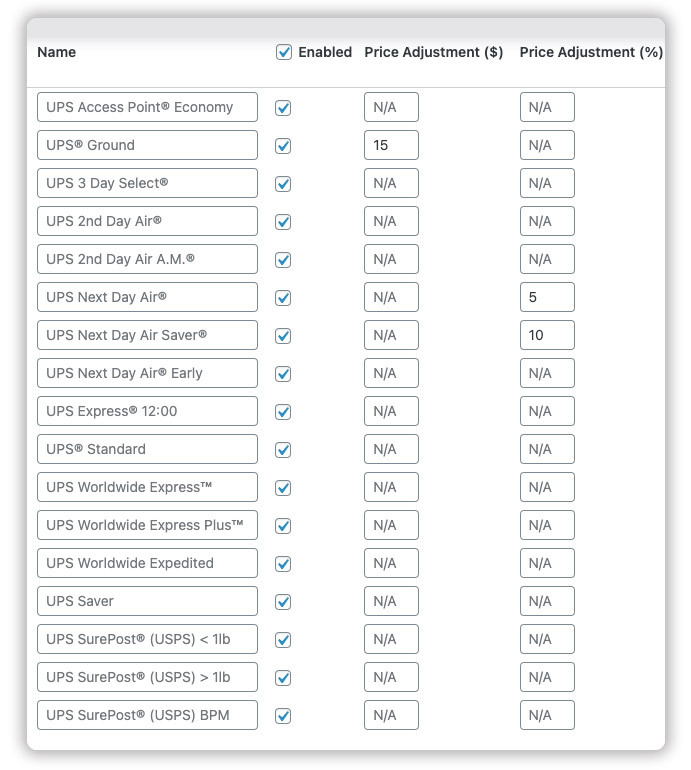 PRINT UPS SHIPPING LABELS IN ONE CLICK
Automatically download and print official UPS shipping labels from within your WooCommerce store without any hassle.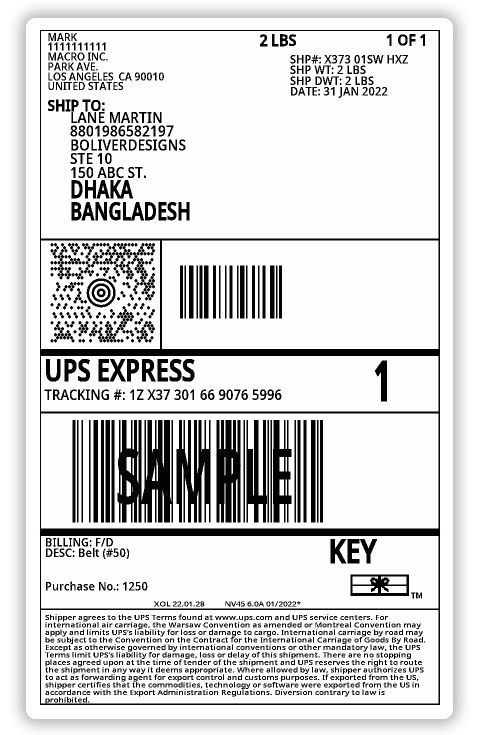 SEND UPS TRACKING DETAILS TO CUSTOMERS
The plugin automatically sends UPS tracking details to the customers via the Order Completion Email.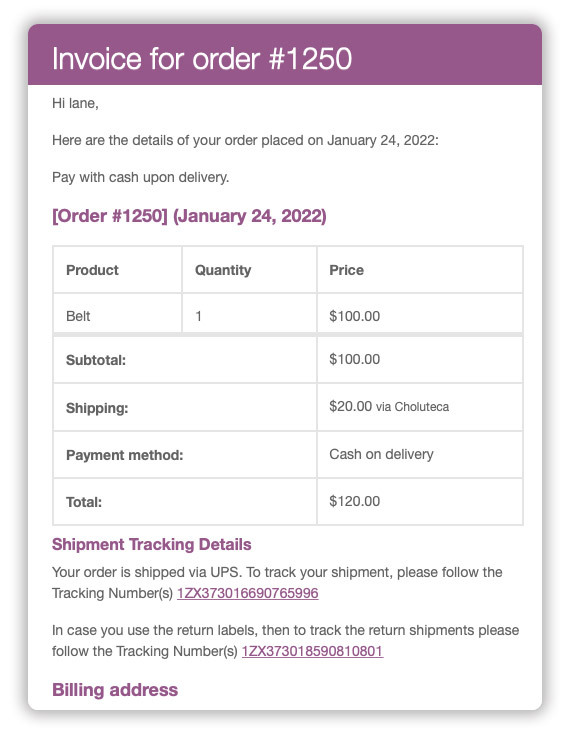 USE UPS STANDARD SHIPPING BOXES
WooCommerce UPS Shipping plugin supports all the UPS Standard Boxes for efficient packing.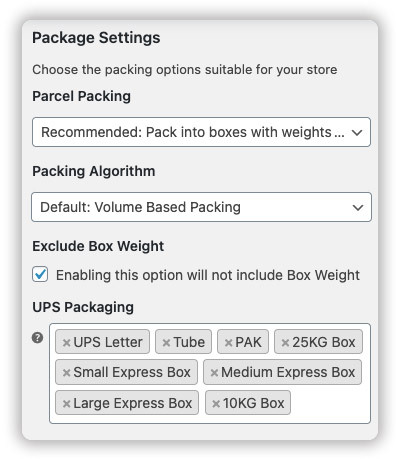 SCHEDULE UPS PICKUPS FOR WOOCOMMERCE ORDERS
The plugin allows you to schedule UPS pickups with a single click right from your WooCommerce store.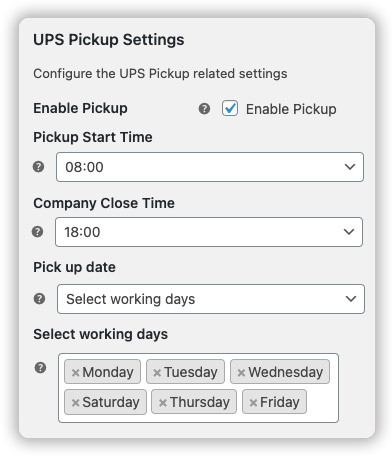 Gerald Scott
"I've been using these guys for a while. Their customer service is top-notch! Every issue I've had they were quick to respond and walked me through it. I see a long and fruitful partnership in our future."
SUPPORTED UPS Shipping SERVICES
UPS Domestic Shipping Services
UPS Next Day Air

UPS Early Next Day Air

UPS Next Day Air Saver

UPS 2nd Day Air AM

UPS 2nd Day Air

UPS 3 Day Select

UPS Ground

UPS Standard
UPS International Shipping Services
UPS Worldwide Express

UPS Worldwide Express Plus

UPS Worldwide Expedited

UPS Saver
UPS Special Shipping Services
UPS SurePost

UPS Insurance

UPS Signature on Delivery

UPS HazMat Shipping

UPS Alcohol Shipping

UPS Shipping with Dry Ice

UPS Access Point
UPS Freight Shipping Services
UPS Worldwide Express Freight

UPS Freight LTL

UPS Freight LTL – Guaranteed

UPS Freight LTL – Guaranteed A.M.

UPS Standard LTL

UPS Ground with Freight Pricing (UPS GFP)
Integrate YOUR UPS ACCOUNT WITH WOOCOMMERCE
Now, store owners can have a WooCommerce UPS integration using the best shipping solution for WooCommerce.
The plugin integrates your own UPS account with WooCommerce. To successfully add your UPS account within the plugin settings, you will need:
UPS User ID

UPS Password

UPS Access Key

UPS Shipper Number
Origin Postcode – The postcode of the shipper location. It is required to calculate rates and print shipping labels by UPS

Origin Country – The country where the shipper is located. It is required to calculate rates and print shipping labels by UPS
WooCommerce UPS Shipping Plugin is compatible with
WooCommerce FedEx Shipping plugin with Print Label

WooCommerce Canada Post Shipping plugin with Print Label

WooCommerce Table Rate Shipping Pro

WooCommerce Multi-Carrier Shipping plugin

WooCommerce Royal Mail Shiping plugin with Tracking

WooCommerce Shipment Tracking Pro

WordPress Multi Lingual WPML

Aelia Currency Switcher Plugin

WooCommerce Blocks Plugin

Print Invoice & Delivery Notes for WooCommerce

WooCommerce Mix and Match Products plugin
WooCommerce Bookings and Appointments plugin

WooCommerce Multi-Currency plugin

WooCommerce Multiple Address plugin

WooCommerce Subscription plugin

WooCommerce Estimated Delivery Date plugin

Dokan Multi Vendor

WCFM Multi vendor

WooCommerce Product Vendors

WC Vendors Pro

WooCommerce Product Bundles
Who's talking about the WOOCOMMERCE UPS SHIPPING PLUGIN?

WORDPRESS MULTILINGUAL SUPPORT
WooCommerce UPS Shipping Plugin with Print Label is readily available in:
♦ Spanish
♦ French
♦ English
♦ German
♦ Italian
If your language is not listed here, do not worry. You can easily translate the plugin into your chosen language. Alternatively, write to us at s[email protected], and we will translate the plugin for you.
Note — This plugin is also WPML compatible.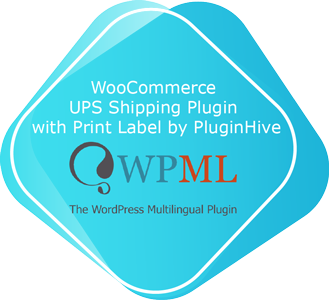 LIVE DEMO
Check out how it works on our Live Front-End & Back-End Demo
Documentation
Check out the plugin download, installation, setting up & update guide.
OTHER WOOCOMMERCE SHIPPING PLUGINS TO CHECK OUT