WooCommerce UPS Shipping Plugin is a WordPress / WooCommerce extension that helps you completely automate UPS shipping by displaying real-time rates in cart/checkout page, pay postage & print label from within your WooCommerce store, choose boxes automatically and enable tracking.
Get real-time UPS Shipping rates on WooCommerce Cart & Checkout page

Generate UPS Shipping Labels Automatically as soon as the order is placed

Track your shipments from within WooCommerce & get your customers notified via email

Get Email Notifications for the UPS shipping labels generated

Print UPS Shipping Labels in Bulk with a single click

Schedule UPS Pickups for your shipments

Supports UPS Domestic and International Shipping

Supports UPS Freight Shipping & UPS SurePost Shipping Services

Drop shipments at UPS Access Point Location

WooCommerce Multi-Vendor Support with Dokan Multi-Vendor Plugin

UPS Shipping support for Bookable Products using WooCommerce Bookings and Appointments plugin
HOW does WooCommerce UPS Shipping Plugin WORK?
Step 1
Install WooCommerce UPS Shipping Plugin, enter UPS Account Details, and enable WooCommerce UPS Shipping Method
Step 2
The customer sees UPS shipping rates based on items in their cart before placing an order.
Step 3
Pay Postage, Print UPS Shipping Labels, and Generate UPS Tracking ID from within the WooCommerce order page.
Note: Adding weight attributes to all the products is a pre-requisite for the UPS plugin to work.
Main Features of WooCommerce UPS Shipping plugin
Live UPS Shipping Rates at WooCommerce cart & checkout
Based on the product weight, box dimensions, shipping destination, etc., this plugin fetches postage rates from your UPS account for both domestic and international shipping services using WooCommerce ups shipping calculator. You can choose to display default UPS list rates or account-specific(negotiated) rates. There is an option to set conversion value in case the shop uses a different currency.
UPS Domestic Shipping Methods
Get prices for following domestic shipping services.
UPS Next Day Air

UPS Early Next Day Air

UPS Next Day Air Saver

UPS 2nd Day Air AM

UPS 2nd Day Air

UPS 3 Day Select

UPS Ground

UPS Standard
UPS Freight Shipping Services
UPS Freight offers a full range of freight services for heavyweight shipments over 150 lbs. Our plugin offers the following freight services:
UPS Worldwide Express Freight

UPS Freight LTL

UPS Freight LTL – Guaranteed

UPS Freight LTL – Guaranteed A.M.

UPS Standard LTL

UPS Ground with Freight Pricing (UPS GFP)
UPS International Shipping Methods
Get prices for the following international shipping services with International Price Calculator.
UPS Worldwide Express

UPS Worldwide Express Plus

UPS Worldwide Expedited

UPS Saver
UPS SurePost Shipping Services
Supports UPS SurePost services which provide the convenience of UPS shipping and USPS-delivery to customers' mailboxes
UPS Shipment Tracking Details in WooCommerce Order Completion Email
The tracking number returned from UPS while generating the label is included in the order notes and sent to the customers via the order completion email. This enables easy and convenient shipment tracking for customers and shop owners.
Efficient Parcel Packing Methods
Configure the plugin to automatically determine how items should be packed. This information will be sent to UPS while creating shipments online. You can choose to
Calculate shipping on the basis of order total weight.

Pack into boxes with weights and dimensions.

Pack items individually.
Set Custom Display Name for UPS Shipping Services
Display the UPS shipping service names as is or you can customize it based on your preference as Standard or Priority shipping.
Add Handling Fee to the UPS Shipping Cost
Set up fixed or percentage handling fees for your shipments that will be displayed on the WooCommerce cart page.
Print UPS Shipping Labels from WooCommerce Orders page
WooCommerce UPS Shipping plugin automatically generates professional UPS shipping labels of different sizes as soon as the customer completes an order on your WooCommerce store (which you can print with a single click). Enable the Automatic UPS Shipping Label Generation and you are good to go. The plugin sends shipment details to your UPS online account and generates the shipping label (GIF/PNG/ZPL/EPL format), which you can print by clicking the Print Label button. Postage is automatically paid on these labels using your UPS account.
Print Shipping Labels for your preferred UPS Shipping Service
There is an option to change the shipping service and box/parcel dimensions manually before generating the label (if automatic label generation is disabled). You can set a default service for printing the label. This plugin integrates with UPS APIs to print domestic or international shipping labels with a tracking barcode. The plugin also supports printing labels in different sizes according to your specific requirements. These are professional labels with address validation (city, state, and postal code) for addresses in the United States.
Bulk Shipment Creation
No need to individually prepare your shipments for processing. WooCommerce UPS plugin allows you to create shipments in bulk thereby reducing the number of steps to order fulfillment drastically. The shop-owner must only select the orders, create a shipment for them in one single step, and then print the labels as per his convenience.
Additional Features of WooCommerce UPS Shipping Plugin
Supports UPS Residential delivery

Use Pounds/Inches or Kilograms/Centimeters

Display UPS Shipping Cost based on different Customer Classification Codes

Display UPS Shipping Service with the cheapest shipping rates

Supports UPS Insurance & Declared Value for each product

Choose UPS Standard Boxes for packaging

Supports UPS Collect On Delivery

Set fallback rates in case UPS services do not return any rates

Set UPS Freight Classes for your shipments

Supports UPS HazMat Shipping for WooCommerce Simple & Variable Products

Generate UPS Control Log Receipt if the declared value is between $999 to $50,000

Supports UPS Shipment Weight Limits for Israel

Supports UPS Electronic Export Information (EEI) Data Document
Supports Declaration Statement with UPS Commercial Invoice for International shipments & UPS Return shipments

UPS Residential Delivery for UPS Freight Shipments

Supports UPS Direct Delivery option for each product

Supports HS Tariff Code

Displays Estimated Delivery Date on WooCommerce Cart, Checkout & WooCommerce Order Completion Email

Supports Volumetric Weight for Shipping Rate Calculation

Supports Shipping Label Printing in bulk in pdf and image format

Send shipping labels to customers via Email

UPS Freight Shipping Billing Options for Prepaid or Third Party Billing

UPS Freight Shipping with Weekend Pickup option

Attach UPS Movement Reference Number (UPS MRN) to your shipments

Generate North American Free Trade Agreement (NAFTA) for your WooCommerce shipments
WooCommerce UPS Shipping Plugin is compatible with
WooCommerce FedEx Shipping plugin with Print Label

WooCommerce Canada Post Shipping plugin with Print Label

WooCommerce Table Rate Shipping Pro

WooCommerce Multi-Carrier Shipping plugin

WooCommerce Royal Mail Shiping plugin with Tracking

WooCommerce Shipment Tracking Pro
WooCommerce Bookings and Appointments plugin

WooCommerce Multi-Currency plugin

WooCommerce Multiple Address plugin

WooCommerce Subscription plugin

WooCommerce Estimated Delivery Date plugin
why choose woocommerce ups shipping plugin
10,000 Active Installs
210+ Five Star Customer Reviews
30-Day Money Back Guarantee

98% Customer Satisfaction Rating for Fast & Excellent Service

Best WooCommerce UPS Integration with 5 Years of Existence
WooCommerce UPS Account Integration
You need to enter the following details for the plugin to work. You can get these details from UPS.
UPS User ID – Get this from the UPS developer site when you signup

UPS Password – As set by you on sign up

UPS Access Key – This will be sent to you after sign up

UPS Shipper Number – This will be sent to you after sign up

Origin Postcode – This should be set to the postcode from which you will ship. It is sent to the UPS API

Origin Country – This should be set to the country from which you will ship. It is sent to the UPS API
Great plugin and great customer service.
We have been using this plugin for years with no problems and when we needed some help with some customizations they were very helpful and prompt. We will be using this for a long time to come.
Superior plugin and excellent support staff.
I needed a small customization of the plugin and the team happily assisted with our request. I have tried the Woocommerce version, Extension Works and this plugin. I highly suggest this plugin over the others available. Especially, when support is this responsive. Two thumbs up!!!!!
Great plugin with many features.
The support is awesome. I've opened a ticket and I've got the reply in less than an hour.
WooCommerce UPS Shipping Plugin allows you to
Display Real-Time Shipping Rates from UPS
Print UPS Shipping Label Automatically
Adjust WooCommerce UPS Shipping Rates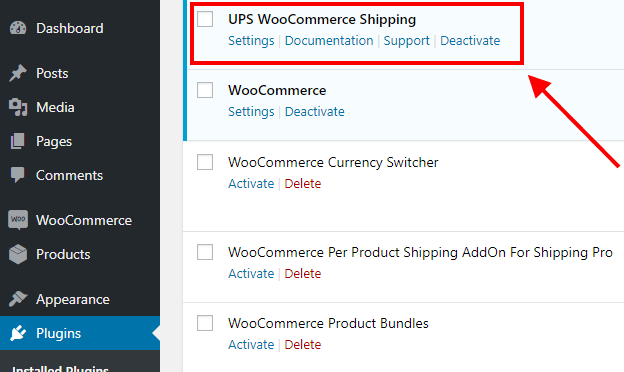 Where to find UPS Plugin Settings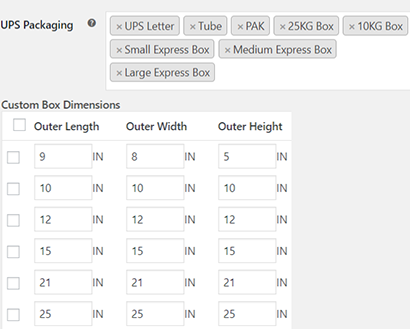 UPS Standard Boxes with Custom Shipping Boxes
Email Notification with Shipment Tracking Details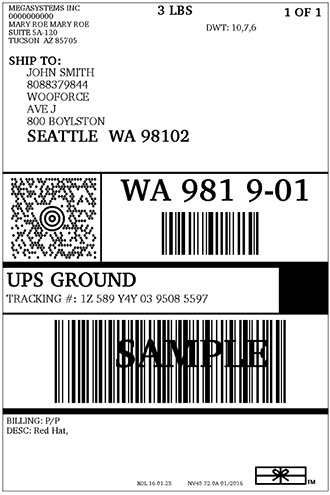 Official WooCommerce UPS Shipping Label
Along with UPS plugin, Customers usually purchase