With eCommerce businesses having access to an unlimited market of customers globally, choosing a dependable international shipping carrier is essential to keeping your business growing and your customers happy and satisfied. You can offer one or multiple shipping carriers from your Shopify, WooCommerce, or another platform-based website. Choosing to utilize DHL's international shipping services comes with multiple benefits for your business and your customers.
DHL International Shipping
DHL offers international and cross-border shipping services across the globe. DHL is a division of the German logistics firm known as Deutsche Post. DHL delivers over 1.5 billion parcels each year, making it one of the top and fastest-growing shipping companies in the world. They've developed a strong reputation for on-time, cost-effective delivery and many customers seek out eCommerce brands that automatically offer international shipping via DHL.
---
DHL Parcel International Direct for the US
Shipping into the US is easy with DHL Parcel International Direct. Shipping is direct as long as the parcel doesn't weigh more than 6.8 kg (about 15 pounds). Live tracking is also available with direct shipping from "end-to-end." If shipped via Priority, parcels can expect to arrive at their destination within 3 to 6 days. Standard shipping arrives between 5 to 9 days.
Maximum Weight: 6.8 kg
Maximum Dimension: Length + Girth ≤ 127cm
Duty and Taxes are paid by the Shipper.
Shipment Value Protection is included.
---
DHL Express Worldwide
DHL Express Worldwide is one of the world's fastest shipping options. It's the perfect option for eCommerce businesses that value top speed and have customers who require the arrival of purchase in as little time as possible.
For most major destinations, parcels arrive within 1 to 6 days. Many European parcels come with a guarantee that the shipment will arrive by the end of the next business day. DHL ships to 220 countries and has over 400,000 employees worldwide working hard to ensure your parcels are delivered quickly and safely.
Maximum piece weight: 70 kg per parcel
Maximum piece dim.: 120 cm (L) x 80 cm (W) x 80 cm (H) per parcel
Maximum total shipment weight: 3,000 kg
---
DHL International Shipping Cost
The cost of DHL International shipping (or DHL Express Worldwide) depends on multiple variables including the size and weight of the parcel, the destination, and the speed at which you want the package to arrive. You can expect international shipments, especially those intended to arrive in short periods of time, to cost more than shipping domestically. This is important to remember when shipping over large distances such as from Canada to Australia. 
There may also be surcharges added to your shipping costs. These may include a fuel surcharge, remote area surcharges, overweight or oversized parcel surcharges, and surcharges for dangerous goods.
You can calculate the estimated shipping cost of your parcel from the DHL shipping calculator. Also, eCommerce business is based on Shopify, WooCommerce, BigCommerce, or Magento, and can easily calculate and display DHL International shipping rates at the checkout.
International Shipping with DHL for Small Businesses
Small businesses can benefit from utilizing flat-rate shipping options to ship internationally. This makes it simple to ship anywhere in the world for the same price as long as it fits within the chosen box size. The parcel will also have to weigh within certain parameters. It's a great option as it allows customers to add items to their order for the same shipping cost or makes it simpler for your business to improve customer satisfaction by providing free shipping over a certain price. 
---
How to Ship International with DHL
There are multiple avenues in which you can ship using DHL International for your personal or business needs.
Using The DHL Website
DHL has an easy-to-navigate website where you can quickly find a quote for your shipment based on the size, weight, destination, and time required for shipping. From the DHL website, you can also track your shipments in real-time using a tracking code.
Using Your DHL Business Account
DHL Business Account holders gain access to extra services and features, as well as discounts based on the quantity and type of shipments being made. If you sign up for an eCommerce account with DHL, your business will gain access to discounts on Express and International shipping starting at 45%.
Integrating Your Website with DHL
Easily integrate DHL's APIs into your WooCommerce or Shopify platform-based website through the use of authorized applications such as the Shopify Multi-Carrier Shipping Label app or WooCommerce Shipping Services. This integration is done fully for you and it automates much of the services you would otherwise have to seek out from the DHL website itself. Rates will be generated for your customers based on their specifications and a label will automatically generate and print. Along with the shipping labels, you can also generate DHL Commercial invoices for your international orders.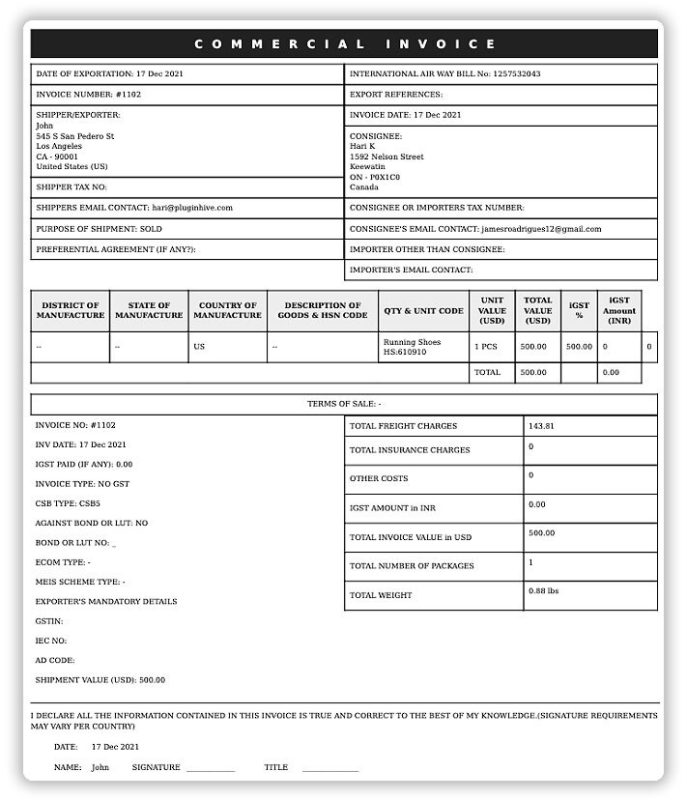 Customers will also be able to track their package in real-time right from your website. If they prefer, they can also use their tracking code right from the DHL website as well.
---
PluginHive allows eCommerce merchants to streamline their shipping process right from the cart to customers' doorstep through real-time shipping prices, tracking options, automation of shipping labels, and more. Learn more about integrating PluginHive into your Shopify, WooCommerce, or another eCommerce platform by reaching out to our customer support team.