This extension is a USPS Magento integration that helps you to completely automate USPS shipping using Stamps.com by displaying shipping rates in the cart/checkout page, paying postage & print labels from within Magento.
You have to Signup for a Stamps.com account and Subscribe Stamps service to make use of this extension. The base plan starts from $15.99/Month. For more details, Check out the Stamps.com pricing plan.
Real-Time Rates: Using this Magento USPS plugin, your Magento Store will be capable of presenting real-time Magento USPS shipping rates to your Customer during the checkout process. These real-time rates will be based on the shipping destination and weight of items in the cart. This accurate Magento USPS shipping cost will be charged to the customer while checkout and will be part of the order details.
Label Printing Postage: After order completion, the Seller will be able to go to the Order admin page and print the USPS shipping label with Postage Paid and ready to Ship.
Weight-Based Shipping: The USPS shipping rates charged while order and label printing will be based on the Weight of the Order / Package. The extension even has a configuration option on the Settings page to define the maximum package weight. In this case, the items in the order will be split into multiple packages based on weight.
Create and Cancel Shipment: Seller can Create the Shipment Label from individual order admin page. Once the shipping label is created, there is an option to Cancel the created shipment label, which will revert the amount paid during Create Shipment process.
How does it work?
Step 1: Install the Extension, input your Stamps.com Account details and enable Stamps.com – USPS Shipping Method for Magento.
Step 2: Customer sees Magento USPS shipping rates provided by Stamps.com, based on items in their cart before placing an order.
Step 3: Pay Postage and Print Label from within the Magento order page.
Works Great So Far. Had a few issues that were fixed quickly. Support is Great.
Support is the best of any extension I have purchased. They helped me through a theme specific issue and resolved it quickly. Their response time is very fast. Great extension!
Your support is amazing !
Some difficulties to configure it but it's work very well and do the job!
MAIN FEATURES
Live Shipping Rate:Based on the product weight, shipping destination etc., this Extension fetches USPS postage rates from your Stamps.com account for both domestic and international shipping services. You can choose to return list rates or account / negotiated rates.
Shipping Price Calculator: Get Stamps.com USPS postage rates for following shipping services.
First-Class Mail

Priority Mail Express

Media Mail Parcel

Library Mail Parcel

USPS Parcel Post

USPS Parcel Select

USPS Critical Mail

Priority Mail

Priority Mail Express International

Priority Mail International

First-Class Package Service International
Print Shipping Label: Print shipping labels within Magento.
Shipment details would be sent to Stamps.com online account and then the shipping label would get generated which you can print. Postage is automatically paid on these labels using your Stamps.com account.
This Extension integrates with Stamps.com APIs to print domestic or international shipping labels.
Weight Based Packing: Pack items based on weight using Magento packaging types.
Services / Packages Types: You can choose desired services to display while checkout.
Handling Fees: You have option to set up handling fees.
Following Packing Types are supported:
Package, Postcard, Flat Rate Box, Flat Rate Envelope, Flat Rate Padded Envelope, Legal Flat Rate Envelope, Letter, Large Envelope or Flat, Large Flat Rate Box, Large Package, Oversized Package, Regional Rate Box A, Regional Rate Box B, Small Flat Rate Box, Thick Envelope.
Other features
Disable Printing Postage Amount on Label.

Insurance Option.

Supports free shipping as a shipping method.

Option to define a minimum order amount for shipping.
About Stamps.com
Stamps.com is a leading provider of Internet-based postage services. With over 500,000 customers, Stamps.com's online postage service simplifies access to the lowest USPS shipping rates and the most popular USPS services for small businesses, enterprises and online retailers. Whether you ship one package a day or 1000, from your garage or from a giant warehouse, Stamps.com has the tools to make your USPS® shipping process faster, more affordable and more efficient than ever before.
Note:
For the integration to work, you need to enter user credentials in the settings screen of Stamps.com Extension
For obtaining Stamps.com credentials, you have to signup for a Stamps.com account.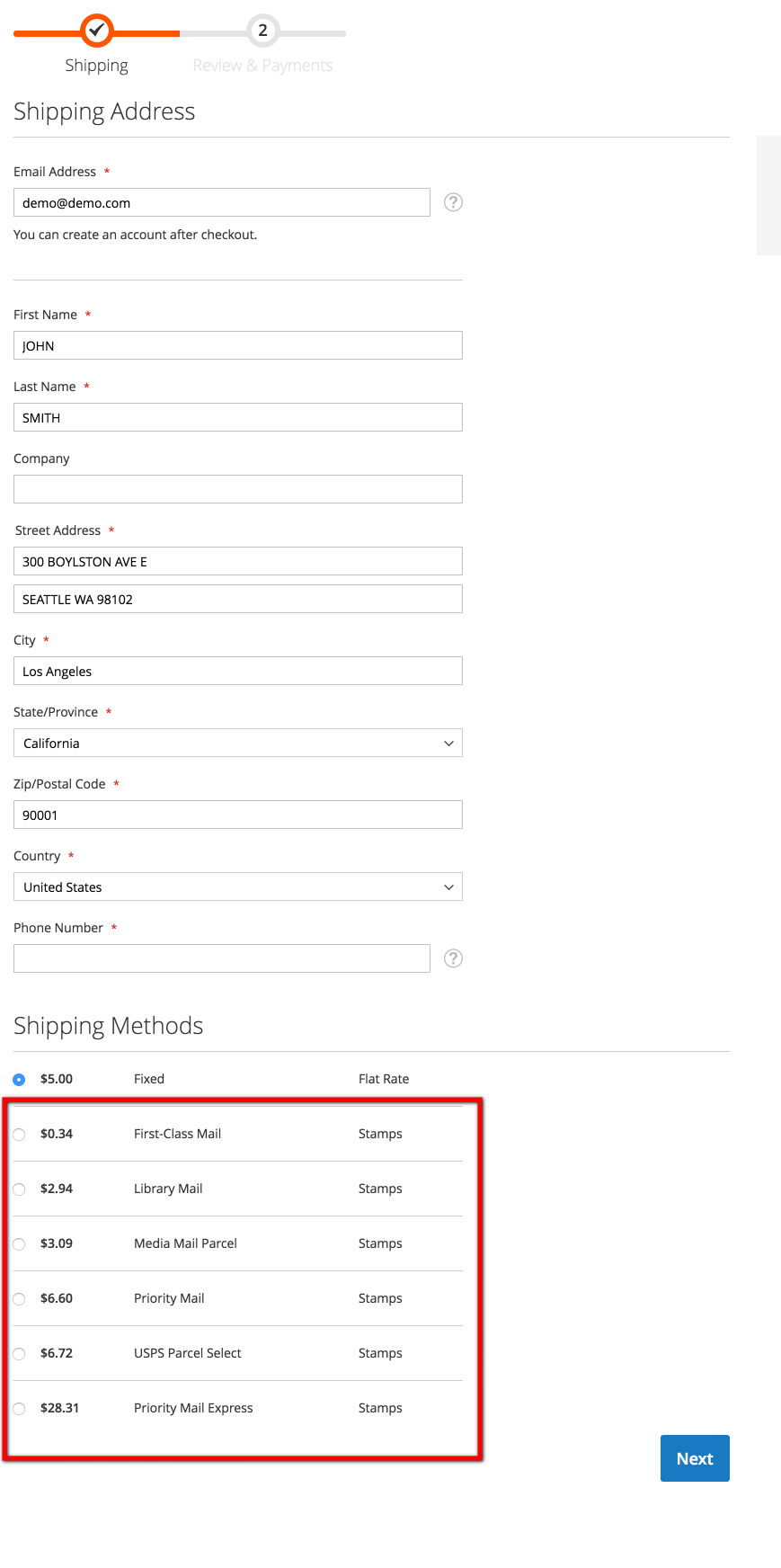 Real-Time Shipping Rates on the Checkout Page
Shipment Tracking Details for an Order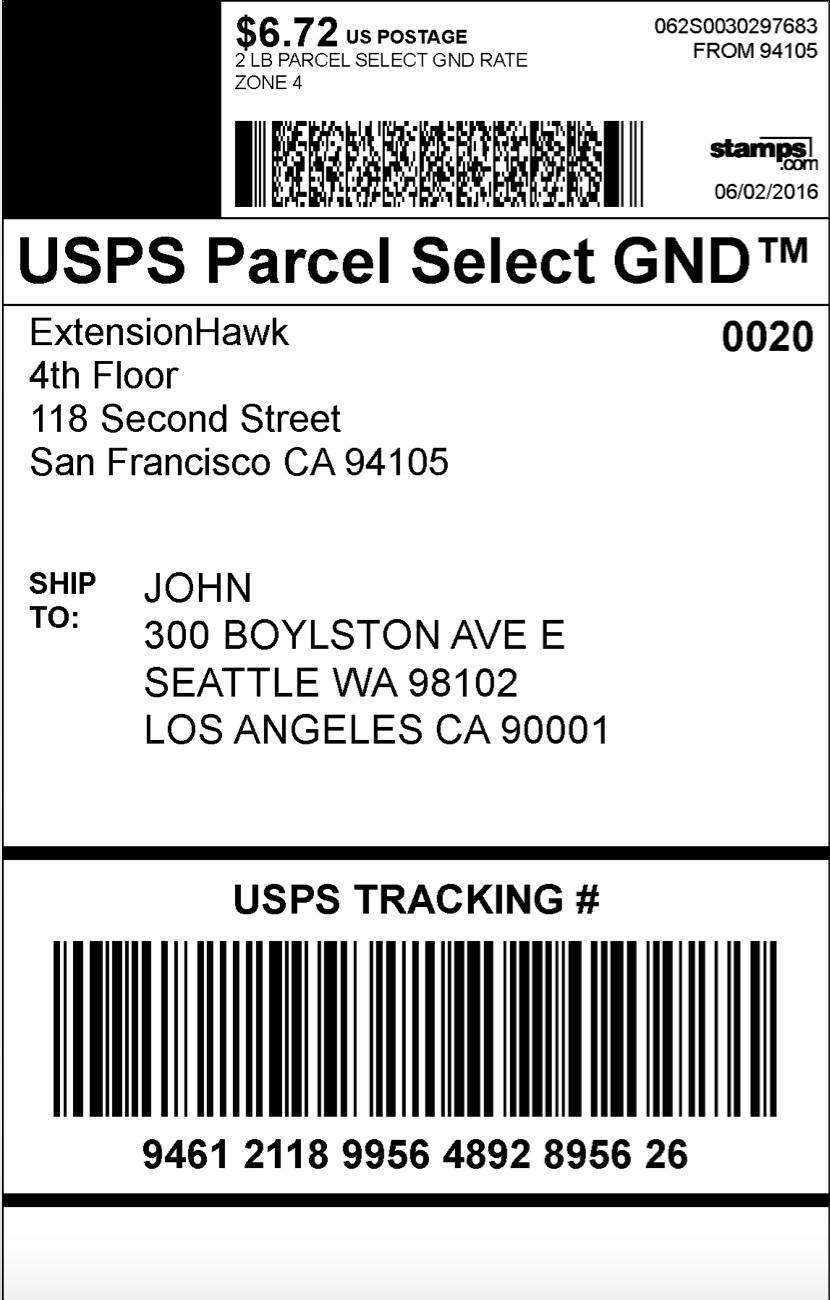 Official USPS Shipping Label