Join the 2000+ WooCommerce stores that use
WooCommerce Deposits Plugin
This plugin empowers you to offer your customers the choice of paying a deposit for your WooCommerce products or services, while also providing the flexibility to settle the remaining balance at a later time. Customers can opt for fixed amounts, a percentage of the total cost, or even split payments, all directly from your WooCommerce product page. With full control over the payment options, you can either enforce deposits or provide customers the freedom to select between partial deposits and full payments. Transform your payment system today and enhance the overall customer experience with the WooCommerce Deposits Plugin today!
Offer Partial Payments for your customers with the WooCommerce Deposits Plugin
Choose whether to set deposits as mandatory or optional
Offer your customers split payments by making a deposit or paying the full amount upfront.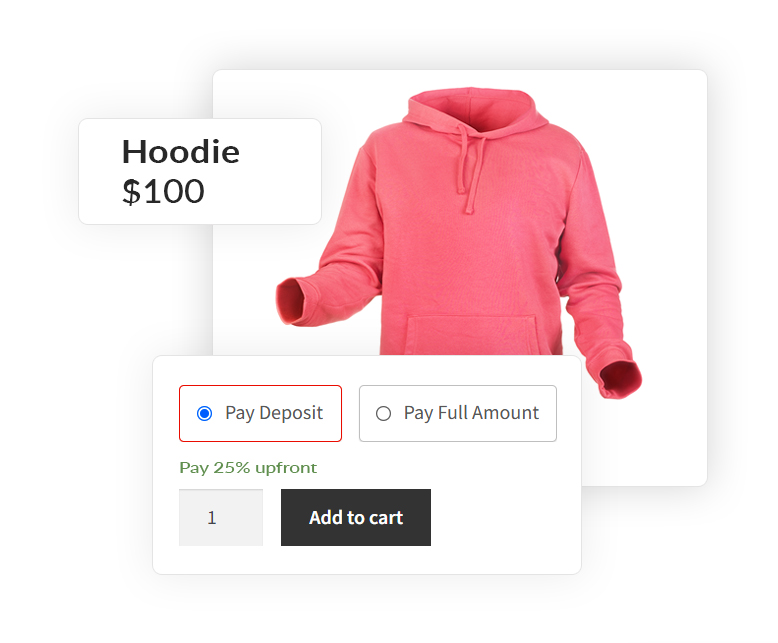 Allow Customers to Choose Partial Payment or Full Payment
Empower customers to choose between placing a deposit or paying in full based on their preferences.
Set Fixed Deposits or Percentage Deposit for your WooCommerce Products
Personalize your deposit choices with either a fixed cost or a percentage-based upfront payment.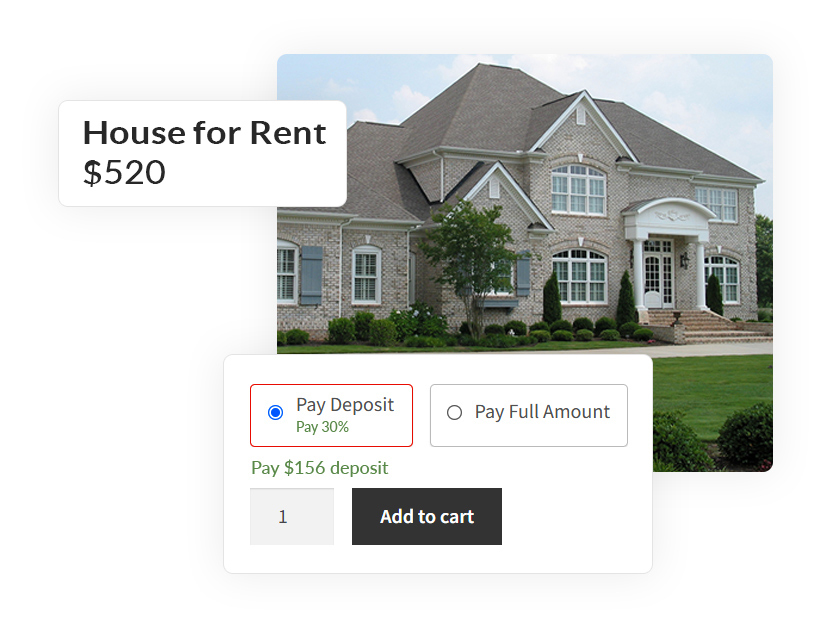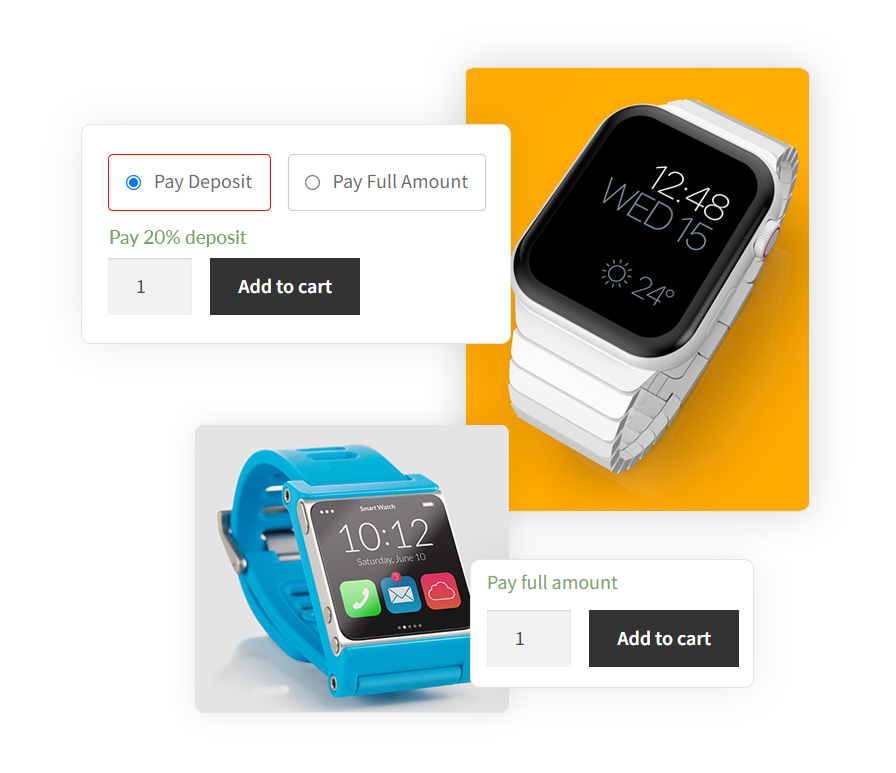 Enable Deposits for Specific Products on the WooCommerce Product Page
Tailor deposit options to your needs by applying them to all WooCommerce products or excluding selected ones from partial payment. Installment payments can also be configured for specific products.
Creating Flexible Payment Plans with the WooCommerce Deposits Plugin
Set Up Custom Payment Plans
The WooCommerce Deposits plugin allows you to provide your customers with highly customizable payment plans, whether on a daily, weekly, monthly, or annual schedule. Additionally, you can provide custom descriptions for your payment plans to help customers understand the plans clearly, including WooCommerce installment payments.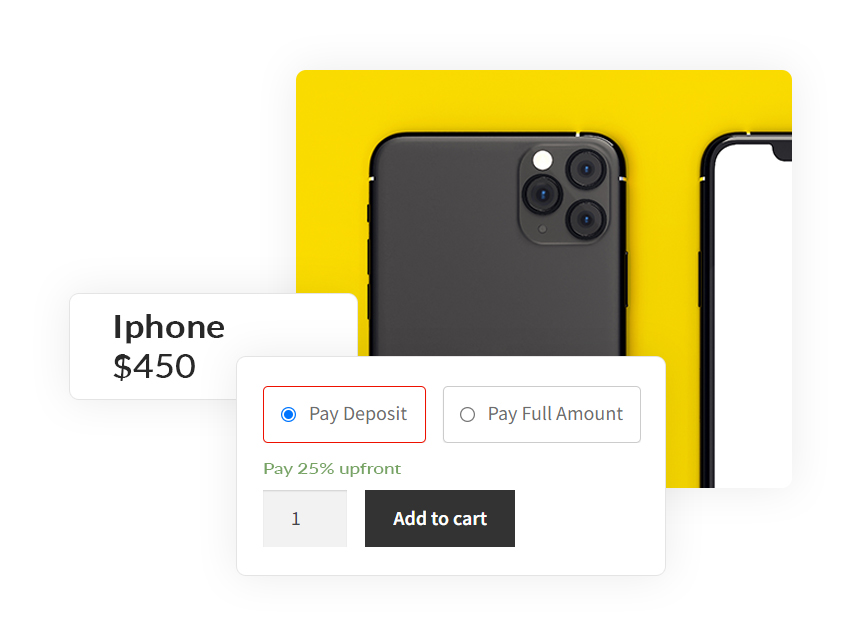 Send Email Reminders for Outstanding Payments to Your Customers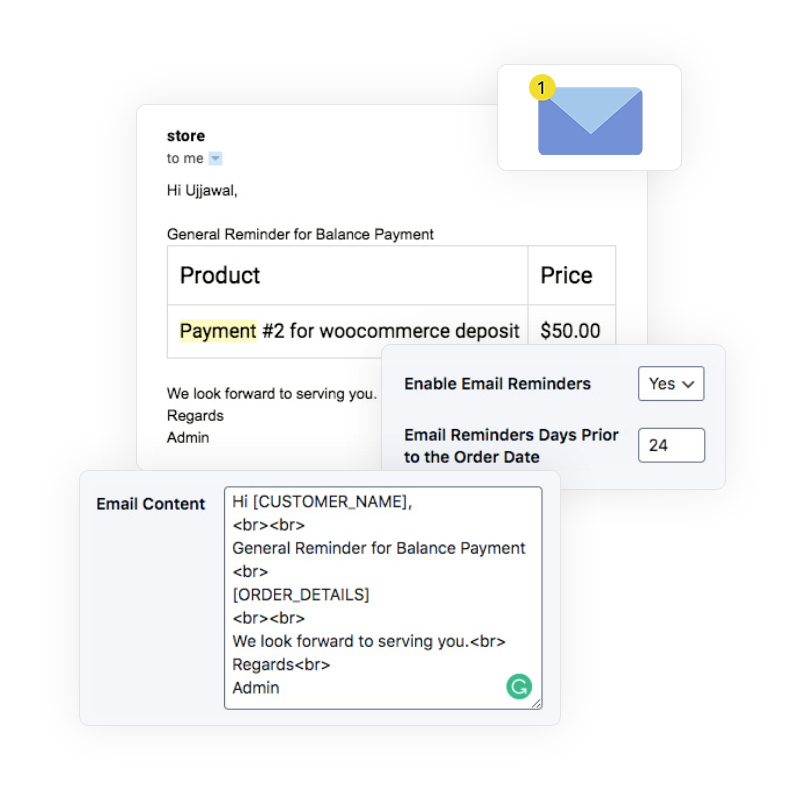 Effortless Email Reminders
WooCommerce Deposits automates the process of sending email notifications to your customers, gently reminding them about their outstanding payments, whether it's for the deposit, partial payment, or installment payments. With our plugin, you can effortlessly customize the reminder email template and schedule each email to suit your needs.
Customize Your WooCommerce Product Page
Select Your Preferred UI Designs
Customize your UI designs for selection boxes, offering both vertical and horizontal positioning. Tailor your user experience to your preferences, enhancing layout and functionality for a seamless and interactive interface.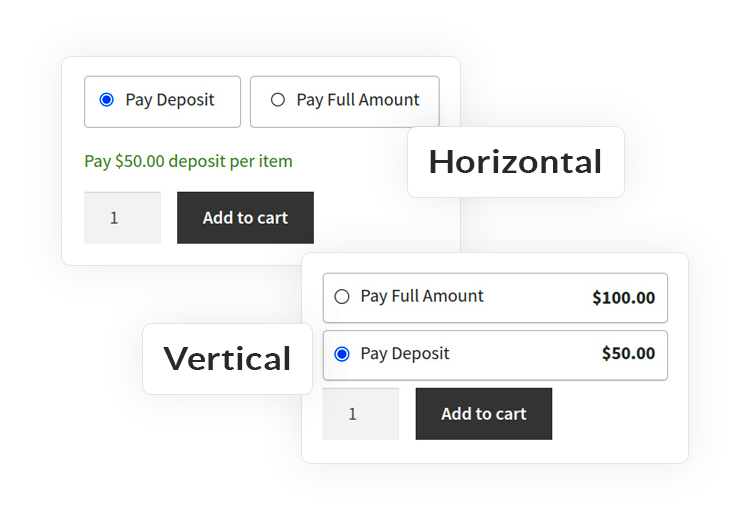 Tailor Your Balance Payment Strategy with WooCommerce Deposits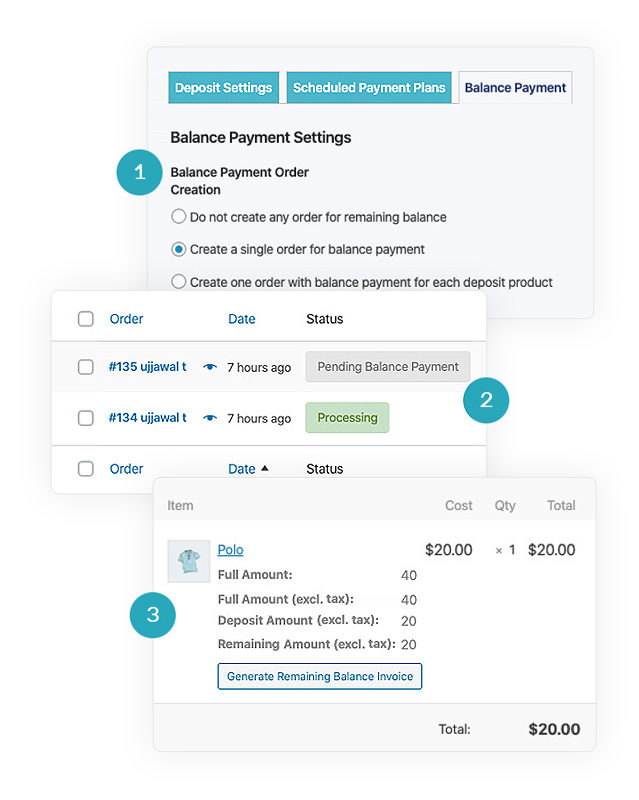 Flexible Balance Payment Plans at Your Fingertips

With the WooCommerce Deposits plugin, you have the power to customize how your customers settle their balance payments, including split payments and installment payments. You can effortlessly create new orders for the remaining payment amount, offering a seamless payment experience.

For online transactions, the WooCommerce Deposits plugin takes care of the entire process, automatically generating new orders for balance payments based on your preferences.

Alternatively, you have the option to manually initiate a new order with a single click, making WooCommerce installment payments simple and convenient.
Features offered by WooCommerce Deposits plugin
Accept Deposits with WooCommerce Deposits Plugin
The WooCommerce Deposits plugin empowers you to receive partial payments from your customers, enabling them to place orders with ease.
Flexible WooCommerce Deposits
With WooCommerce Deposits, your customers can choose between paying a deposit upfront or making a full payment at checkout.
Fixed or Percentage WooCommerce Deposits
Customize deposit options using WooCommerce Deposits, whether it's a fixed amount, a percentage, or split payments based on the product price.
Custom WooCommerce Payment Plans
Create tailored payment plans for your customers, allowing them to pay daily, weekly, monthly, or yearly. Split payments are also available.
Selective Product Deposits in WooCommerce
You have complete control over which products require deposits, split payments, or full payments within the WooCommerce framework.
Automate WooCommerce Balance Invoices
Effortlessly automate the generation of balance payment invoices, including those related to split payments, with the WooCommerce Deposits plugin.
Enhanced WooCommerce Checkout Experience
Elevate the checkout experience with customizable "Pay Deposit" and "Full Payment" buttons, catering to both deposit and split payment preferences.
Stay on Top with WooCommerce Reminders
Stay organized and ensure timely payments by sending automated reminder emails, covering outstanding balances and split payments, through the WooCommerce Deposits plugin.
Personalized WooCommerce Reminders
Personalize and schedule reminder email templates to keep your customers informed about their pending payments, including split payments, as they navigate your WooCommerce store.
WooCommerce Deposits plugin Compatibility and Integrations
Compatible with WooCommerce Bookings & Appointments plugin
Being extensively compatible with the WooCommerce Bookings and Appointments plugin, the WooCommerce Deposits plugin allows easy deposits for your bookable products.
Designed
Extensively
to Work with WooCommerce
WooCommerce Deposits plugin is designed to work seamlessly with WooCommerce & requires WooCommerce installation on your website.
Accept Deposits for WooCommerce Variation Products
Set up WooCommerce variation products and enable deposits for each variation.
WordPress Multi-lingual support
WooCommerce Deposits plugin is readily available in:
♦ English
♦ German
♦ Spanish
If your language is not listed here, do not worry. You can translate the plugin into your preferred language or write to us at [email protected] for a translation.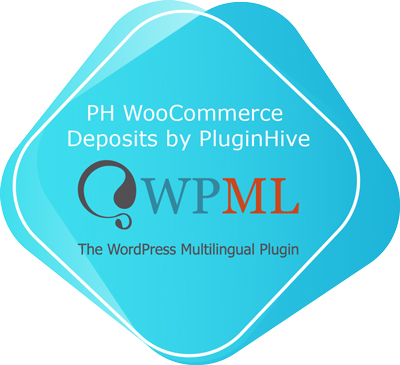 LIVE DEMO
Check out the plugin and how it works on a WooCommerce store.
Documentation
Check out the plugin installation & setting up guide.
Questions
Want to consult us on a unique case? Contact us. 
WooCommerce Deposits plugin is recognised by brands globally