Product returns are an inevitable part of every business. In order for your customers to return products, you may send them a return shipping label so they can return the product to your address. Return shipping labels ensure a prompt delivery return to the merchant, allowing the merchant to handle refunds to customers as soon as possible.
In this article, we will tell you everything about the Return Shipping label, its benefits & how you can create one. To help you save your time, we will also tell you how you can automatically create Return shipping labels from your Shopify & WooCommerce platforms.
---
What is a Return Shipping Label?
A Return shipping label is a type of label that is affixed to parcels to return them to their original address (seller or warehouse). It is similar to a forward shipping label, which is used to send a package from the store to the customer's address. A return shipping label has the same information, but with the addresses switched.
---
What are the benefits of including a Return Shipping Label?
The key benefits of a return shipping label are convenience, efficiency, and customer satisfaction. Let's see what are the advantages of Return shipping labels in detail:
Customers do not need to add costs when using return shipping labels because the merchant has already included shipping prices on the mailing label. This reduces address errors, improves the return procedure, and provides a positive customer experience.
Customers can use a return shipping label to send the package back to the store address without having to create the shipment again.
It also allows the seller to control shipping costs on returned items as the seller can choose the lowest cost mail option to have a product returned.
---
How to create a Return Label?
To create return shipping labels these are the following steps that you can follow:
The seller must select a shipping carrier and service, and enter the addresses. Return shipping labels include the customer's address in the "From" field; the seller's address in the "To" field; and the amount.
When all of the information is entered correctly, the customer gets an email with a printable copy of the return shipping label. Merchants may also print and mail a return shipping label to their customers.
Although the return benefits are many, the process of creating return shipping labels requires a significant amount of time and effort. Return Shipping Labels for your eCommerce business, on the other hand, can be totally automated. Continue reading to find out how!
---
How to create a return shipping label easily for Shopify & WooCommerce With PluginHive Shipping Solution?
Shopify & WooCommerce store owners can not only ship their products with ease, but they can also now easily create Return Shipping Labels with Shopify Multi Carrier Shipping Label App & WooCommerce Shipping Services. There is no need for manual work & spending your valuable time anymore. You just need to select the order for which you want to create a Return shipping label from your "Shipped" orders. After selecting that order, select the "Create Return Label" option from the Advance section.
A box will come up where you need to check the carrier, service, and the product order & return quantity. Once all is set, click on the "Submit" button as shown below: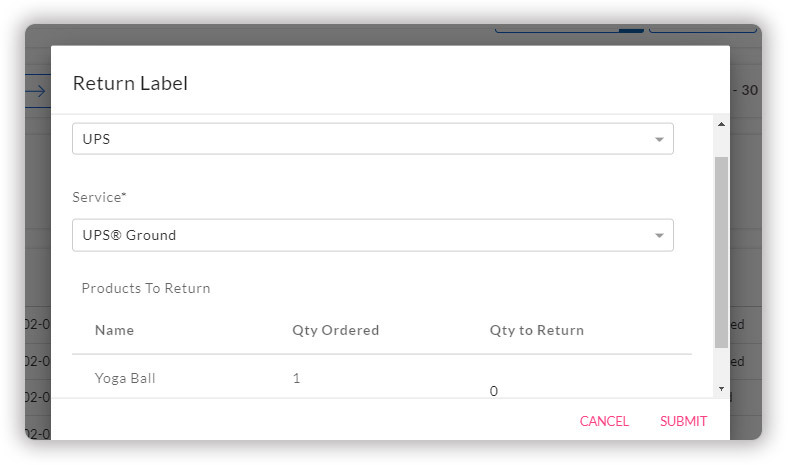 Once your label is created you can print your Return shipping Label from the same dashboard. All you need to do is select the "Print Return Label" option from the 'Advanced' section. Refer to the image to understand it better: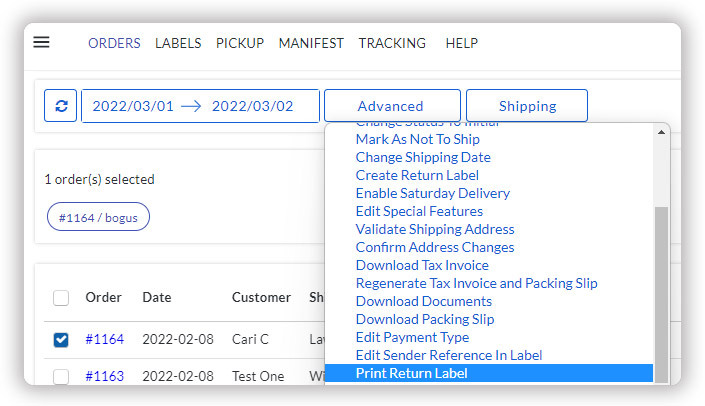 You can create a return shipping label for almost all the top shipping carriers like UPS, FedEx, Purolator, DHL, and so on. Here is one sample Return Shipping Label for your reference :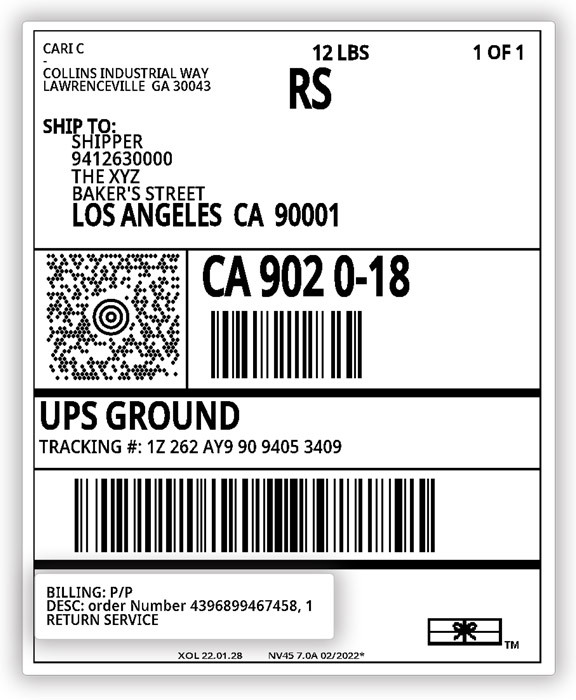 You can now automate creating Return Shipping Labels in your Magento and BigCommerce store using the PluginHive shipping solution.
To know more about this & other shipping-related queries reach out to our support team.