When shipping anywhere, you want to get the best deals you can. Shipping internationally can be quite expensive, so comparing different shipping companies can be beneficial in finding the best features and prices. If you have a business and are making multiple regular shipments, finding the best shipper to suit your needs is even more important.
With our shared border, many packages are being sent to Canada daily, and shippers want the fastest, most dependable, cost-effective shipping they can get. So, let's see just how USPS shipping to Canada compares with UPS & FedEx.
---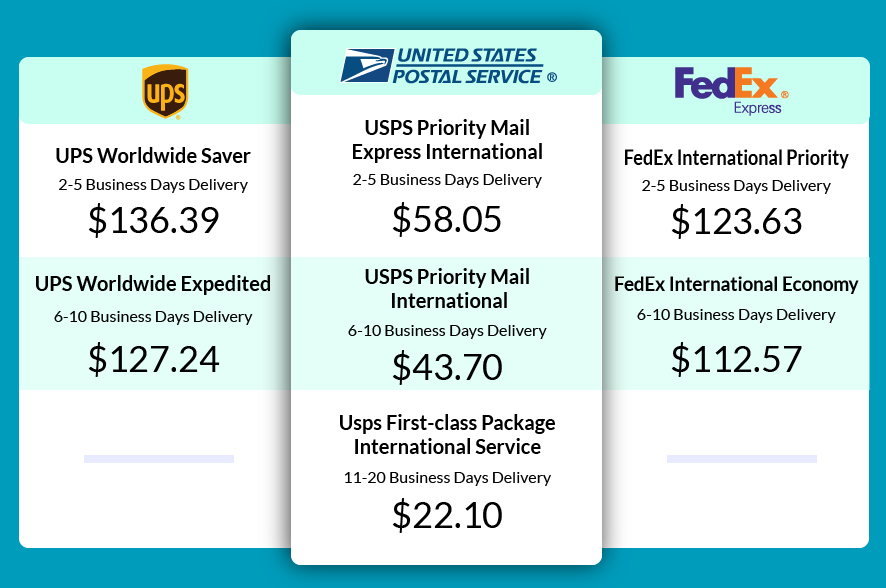 ---
USPS Shipping to Canada
Here are three popular shipping options to choose from when sending to Canada.
USPS Priority Mail Express International
One of the quicker shipping options, delivery time is 3 to 5 business days. Tracking is included, along with date-specific delivery being available. Rates start at $45.95 for flat-rate envelopes and boxes, or the price is determined by weight.
USPS Priority Mail International
This option has a delivery time of 6 to 10 business days, and the prices are lower because of the extra time. Rates start at $37.60 for flat-rate envelopes and boxes with tracking included.
USPS First Class Package International
Although this service has the lowest prices, starting at $14.25 for flat-rate envelopes and boxes, the delivery time is 11 to 20 days. This option can be used only for packages weighing up to 4 pounds. Tracking is also included in the price.
---
---
FedEx Shipping to Canada
It's important to point out first that FedEx Express fulfills packages and parcels sent internationally with USPS. This means that whether you choose USPS or FedEx shipping, your packages will still pass hands by FedEx at some point.
It might still be wise to choose FedEx International on its own as they offer many features and competitive prices. Not only do you and your customers get 24/7 tracking, but most parcels shipped as time-sensitive also reach their Canadian destination within 2 to 7 business days with 100% coverage to most Canadian businesses and residential addresses.
---
UPS Shipping to Canada
Shipping with UPS to Canada has never been easier – or faster. UPS Standard shipping to Canada guarantees delivery to most major Canadian cities within 5 business days. According to the UPS website, Standard is faster than FedEx International Ground on 84% of the US to Canada lanes. You can also easily drop off or pick up from one of the thousands of UPS Access Points across the US and Canada – so customers don't need to worry about being home when the delivery person comes to drop them off.
UPS My Choice for your Business is a great way to track and record shipments and payments from an authorized Shopify app or a WooCommerce plugin.
---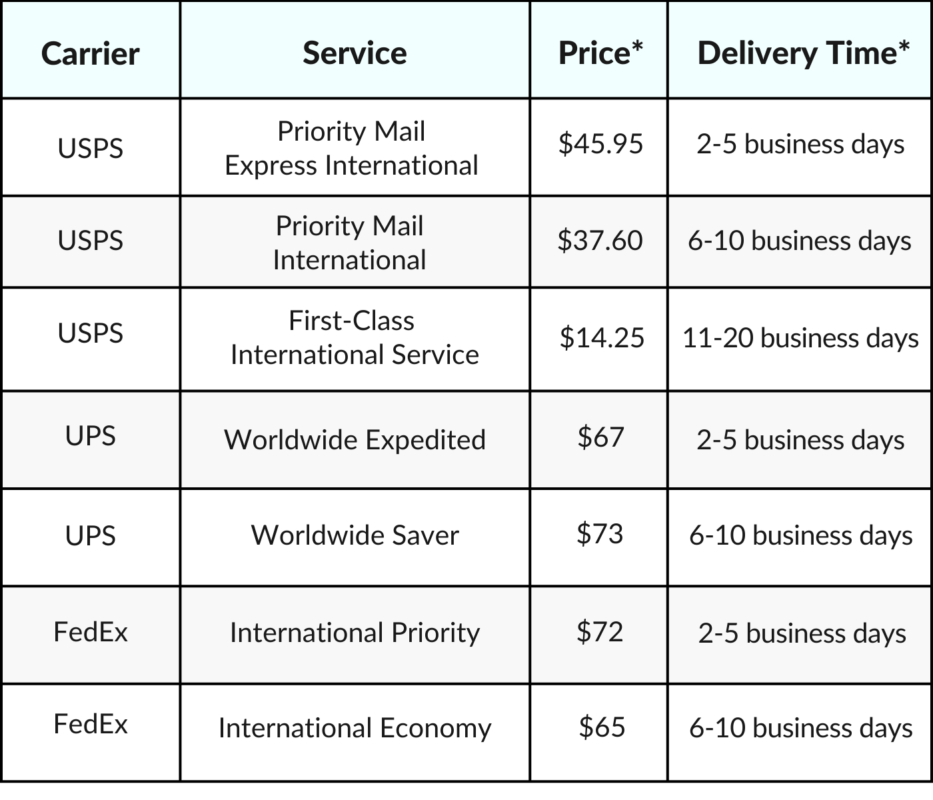 ---
Things to consider when Shipping to Canada
Customs and Duties: You need to be aware of the customs regulations and duties that apply to your shipment. You may be required to provide specific documentation, pay fees or taxes, or comply with certain regulations.
Packaging and Labeling: Proper packaging and labeling of your shipment are essential. You need to ensure that your shipment is adequately protected during transit and that all labeling requirements are met.
---
---
Regulations and Restrictions: You need to be aware of any regulations or restrictions that apply to your shipment. For example, there may be restrictions on the type of goods that can be shipped or on the amount of a particular product that can be shipped.
---
Advantages of Opening Your Online Business in Canada
The Canadian market is a huge opportunity for almost any online US business. More than half of Canadian online purchases are from businesses in the United States, and plenty of excellent shipping companies across the United States/Canadian border daily, including those highlighted above.
Not only do we share a language, a border, and time zones, but the excellent relationship with our neighbors to the north has created an "open for business" for both countries. If your eCommerce brand has yet to promote to Canadian customers, now is the time. With more shopping being done online than ever before, you will see exponential business growth and long-established customer satisfaction.
---
PluginHive allows store owners to completely streamline their shipping process to Canada from cart to doorstep through real-time shipping prices, tracking options, automation of shipping labels and more. Learn more about integrating PluginHive into your Shopify, WooCommerce, or another eCommerce platform by contacting our customer support team.
---